A Brief History of Ford Motor Company
Ever wondered how Ford became the motoring giant it is today? We take a look at the interesting history of Ford...
Ford are the second largest family-controlled company in the world, as the Ford family have controlled the company since its founding over 110 years ago. They also manufactured the only car Jim Morrison ever owned (a 1967 Shelby GT 500).
But how did Ford survive two world wars and a Great Depression? In this article, we take a look at the rich history of one of the most well-known car manufacturers in the world.
Henry Ford built his first car in 1896, which he called a quadricycle. His first venture into car manufacturing was the Detroit Automobile Company which was founded in 1899. However, the company foundered and was reorganised as the Henry Ford Company in 1901. In 1902, though, Henry Ford fell out with his financial backers and left the company with the rights to his name and just $900. Which in 1902 was probably quite a bit of money.
Anyway, Henry Ford turned to friend Alexander Y. Malcomson to finance another automobile company. The partnership 'Ford and Malcomson' was created and the pair designed a car and began ordering parts. However, money was running out fast and the manufacturing firm were demanding payment. Malcomson had to turn to his uncle, John Gray who was head of the German-American savings bank. He suggested incorporating Ford and Malcomson and bringing in new investors.
And so, in 1903, Ford Motor Company was incorporated with 12 investors owning 1000 shares.
The motor company was immediately profitable, despite some shareholders reservations.
However, there were internal frictions and when Ford and Malcomson fought over the future of the company and Malcomson was frozen out of the company when Gray sided with Ford. He sold his shares to Ford and then Gray died suddenly in 1906 so Ford took over the role of president of the company.
So Ford Motor Company got off to quite a dramatic start.
When was the first Ford car produced?
The Ford Model A was produced in 1903 and for a while Ford cars were simply named chronologically.
The Ford Model K was the company's first six-cylinder model and was known as the 'gentleman's roadster' and was going for considerably more than other cars available at the time. The Model K was sold for $2800 compared to the Enger 40 at $2000, the Oldsmobile Runabout was selling for $650 and the Success was going for just $250.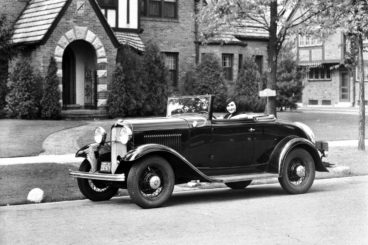 In 1908 the Model T was introduced. It was around this time that just a few cars a day were being produced at a rented factory in Detroit. In the Model T's first year just over 10,000 Model T's were produced. Because demand for the Model T's became so high, the company moved production to a much larger plant in 1910. By 1913, Ford had developed the basic techniques of an assembly line and had got production down from 12 ½ hours to just 2 hours and 40 minutes, lowering that even further to 1 hour and 33 minutes.
After a successful ad to increase sales by promising profit-sharing if sales hit 300,000 between August 1914 and August 1915, sales increased to 501,462 in 1915. By 1920, production would exceed one million a year.
When did Ford start producing cars overseas?
Ford didn't stay a domestic company for long, and it was actually in 1904 that they achieved international status with the founding of Ford of Canada.
However, it was in 1911 that the company really started expanding worldwide. They opened factories in Ireland, England and France in 1917. Denmark, Germany, Austria and Argentina soon followed. Factories were also opened in Japan, South Africa and Australia by 1925.
By 1920, Ford was producing 50% of the cars in the US and 40% of all British ones. In fact, half of all cars in the United States were Model Ts.
What happened to Ford in World War One?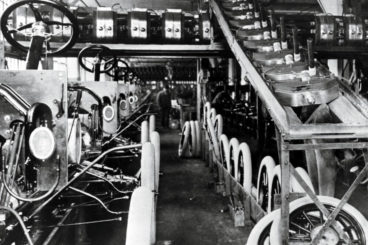 The First World War impacted many car manufacturers, and Ford was no different. Interestingly, in 1915 Henry Ford went on a peace mission to Europe with other pacifists to try and stop World War One. This subsequently led to Henry Ford himself becoming pretty popular.
Anyway, though Henry Ford was a pacifist, he did eventually support the war effort and the Model T became the underpinning for Allied military vehicles such as the Ford 3-Ton M1918 tank and the 1916 ambulance.
When was Dodge v. Ford Motor Company?
By 1916, Ford had a capital surplus of $60 million but Henry Ford declared that he was going to end special dividends for shareholders in favour of investments in new plants. This was so Ford could increase production and staff but cut prices.
However, the Dodge Brothers (the largest non-family shareholders) objected to this and took Ford to court in 1917. The judge ruled in their favour and Ford had to pay a $19million special dividend. The case was also upheld after an appeal to the Michigan Supreme Court in 1919.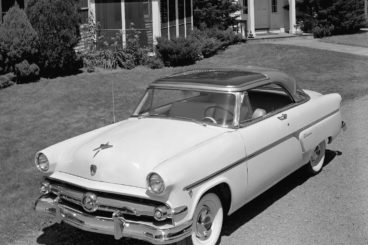 It was in response to the Dodge vs. Ford Motor Company case, Henry Ford became determined to buy out the remaining shareholders. To do this, he threatened to leave and set up a rival company and offered to buy out minority shareholders. This worked, and he gained complete control of the company in 1919, at the cost of $125 million.  
Of course, it wasn't long before the Wall Street Crash hit and the Great Depression began. Like pretty much all businesses at this time, Ford had to lay off workers and scale back production. Henry Ford helped a small number of families out with loans and parcels of land to work, he angered many by suggesting that the unemployed should do more to find their own work.
In response to this, the Ford Hunger March was held. On March 7th 1932, some 3,000-5,000 unemployed workers marched to Ford's River Rouge plant to deliver a petition demanding more support. Unfortunately, the protest turned ugly and police used tear gas and were sprayed with icy water from fire engines. It escalated even further and the police and the plant security guards ended up firing at unarmed protestors. As a result, four men were killed outright, a fifth died in hospital and up to sixty more were seriously injured.
Ford and the Soviet Union
It was in 1929 that Ford signed a deal with the Soviet Union, in which the Soviet Union purchased $13 million worth of automobiles and parts. In return, Ford agreed to give technical assistance until 1938.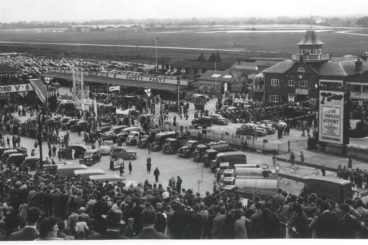 Many Americans moved to the Soviet Union to work on the plant and its production lines, the plant later named Gorki Automotive Plant in 1932. Most of the workers left after the plant was complete, though the few that stayed ended up being victims of Stalin's Great Terror. They were either shot or exiled to Soviet gulags.
The factory ended up producing the Ford Model-A passenger car, called the GAZ-A and a light truck, the GAZ-AA. Both of these were for military use immediately.
What happened to Ford during World War Two?
Initially, Henry Ford was against the Second World War. After all, he did have a subsidiary in Germany.
Interestingly, in 1936, a Ford executive visiting Germany was notified by a Nazi official that the plant manager in their Cologne factory was Jewish (he had one grandparent who was Jewish). Ford's Germany-US liaison demanded he be fired…and he was.
Ford kept a close relationship with Germany before the war, to the point where he was awarded the Grand Cross of the German Eagle medal from the regime. His anti-semitism caught the attention of many, leading them to believe that sympathised with the Nazi regime.
When many foreign-owned factories were taken over by the Nazi Government, Ford kept 52% of his ownership, though with no control or financial gain. The Ford factories in Germany contributed hugely to the build up of the German Armed Forces. Ford negotiated an agreement that meant that Germany could receive resources, particularly rubber. It was also around this time that Ford was hesitant to help with the war effort and personally vetoed plans to build aeroplane engines for the Allied forces when France fell.
However, it was Pearl Harbour that led to the company contributing hugely to the war effort. The company ended up producing 390,000 tanks and trucks, 27,000 engines, 270,000 Jeeps and hundreds and thousands of parts and machine tools.
After the war, the Nazi-era managers kept their jobs with Ford. They also built a new factory in Trafford Park in Manchester.
What happened to Ford after the Second World War?
Henry Ford died on 7th April 1947, and it was estimated that seven million people had mourned his death. Henry II took over as Chairman and CEO.
In 1955, Ford introduced the Thunderbird and the Edsel line in 1958. However, the Edsel line was cancelled less than two years later. However, it came back with the Falcon and the mustang by 1964. Ford of Britain also launched the first generation of Cortina in 1962. So, it wasn't all bad.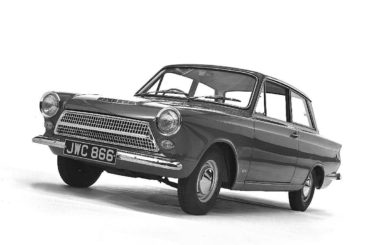 In 1965, Ford US sales exceeded 2 million units. It was also in this year that Ford of Germany and Ford of Britain launched the first generation Ford Transit.
In 1970, Ford introduced the Maverick and the third generation of the Cortina was launched in Europe. In 1974, Ford debuted the Mustang II, a smaller and more economical car.
When was the Ford Fiesta launched?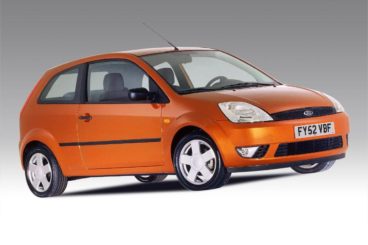 The Ford Fiesta was launched in 1976 by Ford of Europe. It was imported from Europe into the US market in 1978, and was launched into the economy segment. However, it was discontinued in 1981.
In 1979, Ford acquired a 25% stake in Mazda and in 1981, the third generation Escort won European Car of the Year for the first time. The following year, the Cortina was replaced with the Sierra after 20 years. Ford increased their stake in Mazda after it was having trouble in 1996.
When did Ford acquire Aston Martin?
Ford acquired Aston Martin Lagonda and Hertz Rent-a-Car in 1987, the same year Henry Ford II died. In 1989, Ford also acquired Jaguar. It was also in 1989 that the third generation Fiesta became the fastest selling Fiesta to date, selling 1 million units in less than two years.
When was the Ford Mondeo launched?
The first generation Ford Mondeo was launched in 1992 and was the first product of the global CDW27 platform. It launched in Europe in 1993 and also announced the American derivatives, the Ford Contour and the Mercury Mistique.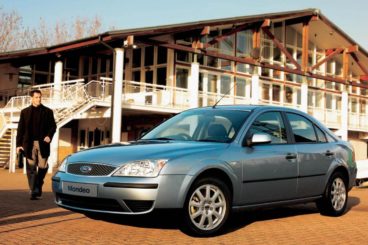 When was the Ford Focus launched?
The Ford Focus replaced the Escort in 1998 and became one of the best-selling cars in the segment and launched in the United States for the 2000 model year.
In 1999, Ford acquired Volvo car division from Volvo and later sold it to Geely Automobile in 2010. It purchased Land Rover in 2000 from BMW, the same year the Escort was discontinued in Europe.
Ford and the 21st Century
To mark their 100th Anniversary, the Ford GT is released along with Centennial editions of some Ford vehicles.
The Ford Escape was launched in 2004, and was the first petrol-electric hybrid SUV. The following year in 2005, the Mustang was redesigned to look reminiscent of the 1960s models.
In 2007, Ford sold Aston Martin and announces plans to sell Jaguar and Land Rover and sold them to Tata Motors in 2008. In 2007, Ford reported losses of $12.7 billion for 2006.
In 2014, the Ford Mustang celebrated 50 years of production with the launch of its sixth generation. The fourth generation Ford Mondeo was launched in 2012 at the Detroit Motor Show. This reunited Ford's mid-size platform for both Europe and North America for the first time since CDW27 first generation of Mondeo since 1994.
Check out the all-new Ford Mustang launched in 2017:
Ford continue to go from strength to strength, with the likes of the Focus and Fiesta still a common sight on our roads. If you are interested in any of the latest Ford models, use the search function below or request a call back via our contact form!

Holly enjoys: Reading, music and spending time with friends.

Within a week of Holly starting work at OSV she became an indispensable part of the marketing team. She's very intuitive and gets on with the whole office effortlessly.

Latest posts by Holly Martin (see all)