Progress In The Electric Vehicle Market In 2017
The Committee on Climate Change (CCC) recently urged the UK Government to set a target for the number of electric vehicles sold by the end of the decade. They believe that by 2029 at least 60% of new vehicles sold all over the UK should be electric. The committee has called for a 'boom' in the electric market. It is thought that this is the only way the UK will edge towards fulfilling their legally binding climate targets.
The CCC said that Government must work on how it can support this growth. Looking into tax incentives and financial support plus a strategy for rolling out strict emission standards. Making electric driving accessible and improving vehicle charging infrastructure beyond 2020. With this target published the manufacturers have had to take note. Companies like VOLVO and Ford have started moving towards an electric vehicle revolution all over the world.
There were over 750,000 electric vehicles (EVs) sold globally in 2016 and over 2 million electric cars already on the road. Experts believe that a new record has already been achieved. In line with this, the famous carmaker Volvo has recently reported that all its new car models would be completely or partially battery-powered from 2019.
Need For Immediate Action
Lord Deben, Chairman of the Committee on Climate Change said, "The UK has shown global leadership on climate change, but progress will stall without urgent further action." He added, "New plans, for a new Parliament are needed as a matter of urgency to meet our legal commitments, and grasp the opportunity offered by the global low-carbon transition, needed to protect people, businesses and the environment from the impacts of a changing climate."
The CCC's report to the Parliament has warned that the progress thus far will not be sufficient. In order to fulfil the UK's legally binding goal more must be done. The goal set to the UK is to reduce emissions by 57 per cent by the end of the next decade. This won't be achieved unless the Government starts a move to roll out electric cars. Meanwhile, governments in India and China have set high standards with their ambitions for the adoption of electric vehicles to curb air pollution.
India is currently mulling over radical action in support of rolling out only electric cars by 2032. Plus China, has said that it is seeking alternative fuel cars which can account for at least one-fifth of its 35 million car sales by 2025.
Richard Black of the Energy and Climate Intelligence Unit believes that a clear, detailed plan is required for bringing forward investments in low emission transport solutions. According to him, "Investors are ready and willing to put money into Britain's low-carbon future – they just need clear signals from the Government."
This clearly indicates that the Government cannot delay in its attempt to protect the Country against the harmful impacts of climate change. To be on track UK Government need to take some immediate action for meeting its climate goals.
Recent Trends
It is estimated that around 753,000 electric cars were sold all over the world in 2016. That equates to 60% of the world's new car sales. This is the highest ever registered sale of electric vehicles. China emerged as having the largest market for EVs and Europe as a collective, came in second.
With more people choosing to reap the benefits of EVs, the electric car market is growing at a rapid pace. Even the choice of vehicles for motorists have improved. Leading car manufacturers now offer a myriad of options in a wide range of models. This includes large family cars, supercars, superminis, hatchbacks and vans.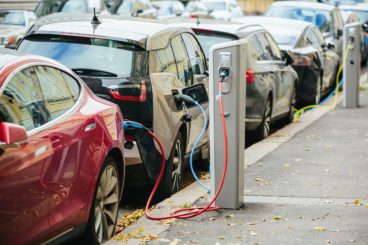 Experts believe that this trend is highly influenced by the government's commitment to cut emissions. During the United Nations Climate Change Conference last year, the government had reaffirmed that almost all its vehicles will be zero-emission by 2050.
Tracking The Progress of EVs
Progress in the UK electric vehicle market remained strong with a moderate increase of 40% in electric car sales in 2016. However, if sales objectives are to be achieved by 2025 this growth rate will need to be maintained in future years. Fulfilling the 2025 target will require a sales growth of 35% annually every year from the period 2017 to 2025.
According to Phil Gilbert, Director of Energy Solutions at E.O.N, "We're seeing huge growth in the number of new electric vehicles on the road, including hybrid technologies and pure electric vehicles from manufacturers such as Tesla, BMW and Mitsubishi." The leading manufacturers have made announcements regarding their ambitious production plans for EV's. urging that this needs to be followed by investment decisions around infrastructure. What will limit the progress of electric cars is the lack of charging infrastructure.
Latest Progress In Electric Cars
More and more electric cars are now seen on the road. Even autonomous cars are coming much sooner than expected. This clearly assures the transition to an EV-driven society within the next few years.
Tesla is undoubtedly leading the way in both of these categories. Famed for establishing an extravagant electric vehicle in the market, Tesla continues to make huge investments in battery technology and electric cars. They are undoubtedly outpacing other established carmakers in this field.
Volkswagen anticipates becoming a key player in the growing market of electric cars. Using its modular electric drive kit they can scale the chassis configuration up or down for manufacturing smaller and larger electric vehicles. The first high-volume electric Volkswagen vehicle will be a production version of the 5-door I.D. hatchback.
From 2019 onwards, every new vehicle that Volvo releases will be operating at least to some extent on electric power. The company has said that between 2019 and 2021, Volvo will be launching at least five electric cars, plus mild hybrids and plug-in hybrids.
Recommended Action to continue growth in the market
Public policies aiming to decrease the cost gap between conventional vehicles and electric cars are needed The value proposition of EVs still needs dedication and work.

Availability of good charging infrastructure

Financial incentives and rewards

Great EV performance against traditional vehicle rivals

The cost-attractiveness of electric vehicle ownership needs to be enhanced.

Conventional fuels have become more expensive and so EV costs need to be reduced in parallel to maximise on decarbonisation efforts.
With electrical vehicles gaining more popularity all over the world, the race is definitely on. The industry has realised that electric vehicles are building their way into the future. As the market increases around efficient vehicles, the availability of good charging infrastructure is extremely crucial.
We are waiting for the historical moment carmakers produce their final ever combustion engines. Truly, the end of an era.
Source-

Latest posts by Rachel Richardson
(see all)