Polestar 2 | Can it compete with Tesla?
Polestar vs Tesla
What do I get with the Polestar 2?
How do I charge the Polestar 2?
It's been a long time coming.
At the end of February 2019, Chinese-owned Polestar published a press release announcing that they had developed a brand-new all-electric luxury saloon that they were calling the Polestar 2 (Polestar 1 was already taken, the name of their first vehicle, a hybrid with a 3,000 unit limited global run and a rather hefty £140,000 price tag).
The press release also included information about the official debut, to be made at the Geneva Motor Show in March 2019. At the same time, Polestar stated that they had premiered the vehicle online because they felt that flying people in to witness the launch of an environmentally-friendly electric car didn't make sense.
After its physical debut at the Geneva Motor Show, Polestar took the vehicle on a world tour, which included 3 days at Goodwood's Festival of Speed.
At the end of June 2020, over a year after its release was announced, the first Polestar 2 vehicles rolled off a transporter in Zeebrugge, Belgium, having travelled from China where they were manufactured.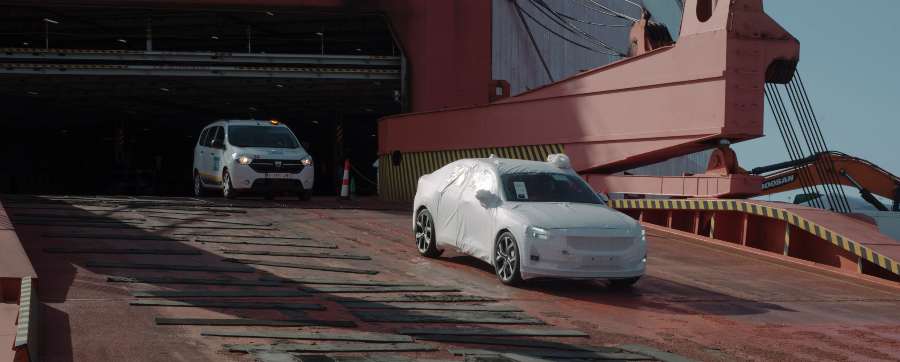 Delivery of the Polestar 2 experienced minor delays in mid-2020, unavoidable due to the global COVID-19 pandemic.
Things are now back on track and as of the end of December 2020, 850 Polestar 2 EVs were registered and already on UK roads.
Polestar vs Tesla
The Polestar 2 is being marketed as competition for vehicles from the world's most popular and successful EV manufacturer, Tesla. But how does it fare when compared to Tesla's prize-winning Model 3, or premium Model S?
Actually, it fares pretty well, with pricing similar to the Model 3 and styling similar to the Model S, and a range as good as the Tesla Model 3 Standard Range Plus. Interested in Tesla's reliability rating? Read more about that in our comprehensive article Is Tesla Reliable?
Searching for an electric car, but want to do a bit more research? Read our article all about the ins and outs of electric vehicles.
What do I get with the Polestar 2?
For the first year, the Polestar 2 is available as a Launch Edition. With a basic cost of £49,900 on the road, this model comes with two additional premium packs that have a multitude of amazing features including Pilot Assist, Adaptive Cruise Control, Panoramic Glass Roof, heated front and rear seats and a premium sound system, plus other items to enhance your driving experience.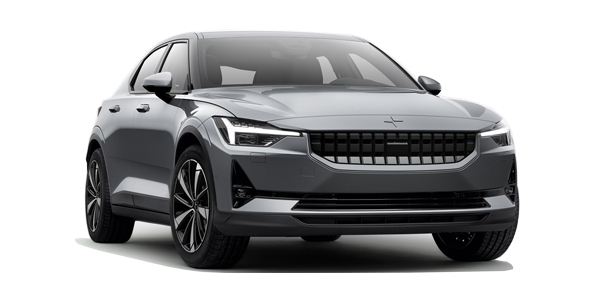 If you have the desire to make your Polestar 2 even more than it is then you can upgrade it with the addition of the Performance Pack which comes at a further cost of £5,000.
Polestar has definitely not been holding back when it comes to ensuring it is offering the best and most comprehensive information for new owners of this EV.
Not only is the Polestar website full of photographs of the new vehicle, but it also is jam-packed with useful information that is easily found. There is even a detailed and neatly designed range tool that not only shows you how far the Polestar 2 can travel but also gives the user the opportunity to amend the road type, the external temperature, wheel type and use of the air conditioning to find out how these many variations will improve (or not) the range that you can drive before requiring another charge.
It turns out that while the combined WLTP range is 292 miles, by playing with the range checker on the website, you can see it's possible, in optimal conditions, to get a massive 347 miles on a single charge. Of course, this is guaranteeing you have 19" wheels, are driving on city roads, aren't using the air conditioning (AC) and it's around 25℃ outside (so, not the best time to have the AC off).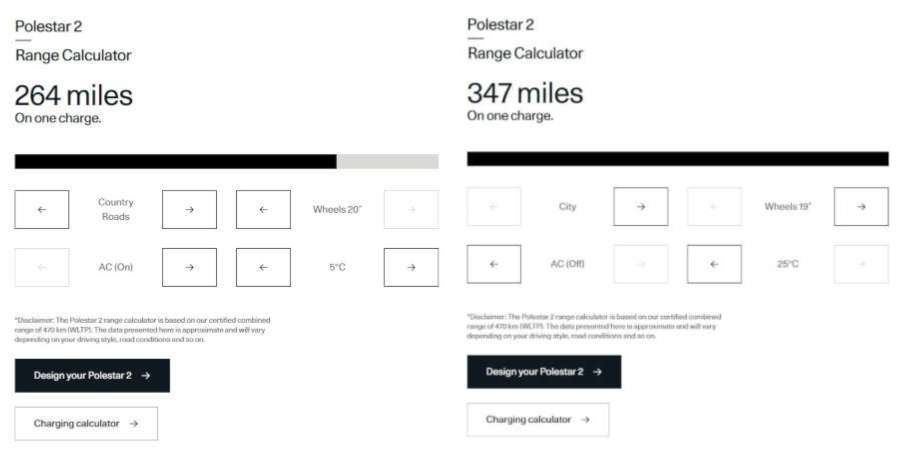 To commemorate the launch of the Polestar 2 globally, the company appropriately titled the first available model the Polestar 2 Launch Edition. This model comes with 2 additional premium packages as standard and both are rammed with additional equipment that is sure to make the Polestar 2 even more of a pleasure to drive than it already is.
Included with the Launch Edition is the Pilot Pack. This is a great one for anyone who wants additional safety in their vehicle as it includes Pilot Assist, Adaptive Cruise Control, Blind Spot Information System, Lane Keeping Aid, Front and Rear Park Assist and a great deal more.
The other pack included in this model is the Plus Pack, which is more about aesthetics and comfort, including as it does a Panoramic glass roof, LED front headlights, heated front and rear seats and a top-of-the-range sound system. The list for both packs is rather long but, needless to say, it makes a vehicle that already has a lot of selling points even more appealing.
Interested in leasing a new Polestar 2 but want to know more about the benefits of leasing? Download our Ultimate Leasing Guide.
How do I charge the Polestar 2?
When you look at the Polestar 2 you can see why people are comparing it with the Tesla Model S. They are both sleek and stylish saloons, with the Polestar being sold as a 5-door fastback model. They can both go more than 250 miles on a single charge, which is important to anyone who is concerned about range when contemplating the shift to an electric vehicle (yes, the dreaded range anxiety).
So, with that in mind, how is the Polestar 2 when it comes to charging? Are you going to be sitting around twiddling your thumbs for hours while you wait at a charging point for enough juice to get to your end destination?
For some, the idea of charging a car rather than just quickly filling it up with petrol or diesel is a frustrating thought. The fact that you may have to stop and wait around for longer than five or ten minutes is something that may put off many. So, the news that if you have access to a 150kW charging point at a public charging station it will only take you 40-minutes to charge from 0-80% will be welcome news. That's the length of a decent podcast or a couple of episodes of The Big Bang Theory!
In 2020, fuel prices dropped considerably due to a lack of demand, however, they have started to rise again over the last few months, with the average price of petrol currently standing at 118.2p* per litre and diesel costing 121.7p* per litre, making a gallon of either fuel over £5.
If you are currently looking at the Polestar 2 and thinking that it looks like the sort of vehicle you're interested in, but you are still concerned about range, the savings could be a big persuader.
We have put together a list of similarly-priced petrol and diesel cars (below) that will give you an idea of the general cost differences between running one of them and the Polestar 2 which costs an average of £10.37 to charge at home and £11.56 at a public rapid charger for the full 292-347 mile range.
*Prices as at 21/01/2021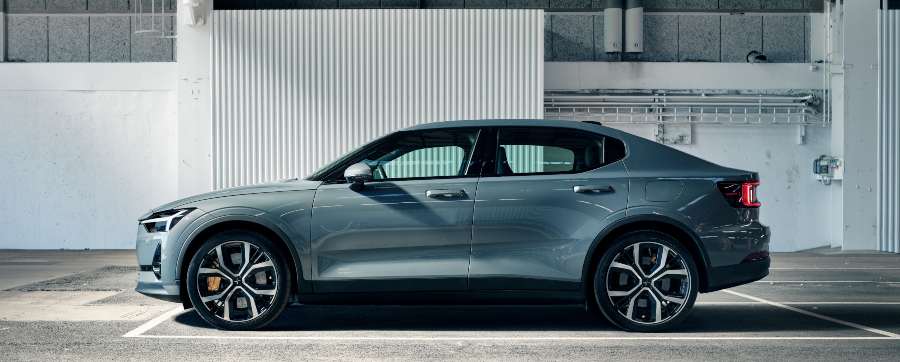 The Polestar 2 has a great deal to recommend, with a fantastic range that easily places it on equal footing with the Tesla Model 3. So, how will it fare against the already-established Tesla? Only time will tell if it will be able to knock the ever-popular electric vehicle off the top-selling spot that it has been holding in the UK for the last 18 months.
INTERESTED IN AN ELECTRIC VEHICLE?
Contact one of our experienced Vehicle Specialists on
01903 538835

, or fill in the form below
Fed up with looking for your next vehicle?
Need advice from an experienced Vehicle Specialist on what vehicle is right for you?
Book your FREE consultation now