Review Of The Bentley Continental GTC Convertible
Looking for an objective review of the Bentley Continental GTC Convertible? OSV has got you covered, from engines to lease deals.
Fancy getting your hands on the fastest four-seater soft-top on the planet right now? In this review, OSV gives you the low-down on the Bentley Continental GTC Convertible's engines, lease deals and more.
The brand new Bentley Continental GTC Convertible is a hyper-quick, supremely luxurious grand tourer which gives you a chance to catch the wind in your hair while looking like a million dollars. Elegant and composed, it's the most regal way to have fun in 2017.
OSV takes a closer look at what it's all about with our 2017 Bentley Continental GTC Convertible review.
Make no mistake, this is a big car. It's muscular and powerful – but still super fast. The size makes itself well known when you enter winding country lanes, where the car can feel awkward and out of place. This is a bit of a shame if you're looking for a top quality convertible to take out on lazy Sunday cruises around the country.
Indeed, performance is incredible, no matter which model you opt for. It's heavier than the Coupe, but floats like a butterfly. The V8 sits at the bottom of the range, and takes an aching 5.0 seconds to get you from a standstill to 62mph. If that's too long for you, the V8 S develops up to 528bhp, and uses it to cover the 0-62 sprint in just 4.7 seconds before maxing out at 191mph.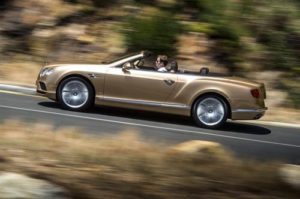 However, to get the utmost out of this car, you need to add the suspension tweaks, which slap an extra £10,000 on the listing price. It might sound a tad expensive, but it's definitely worth it.
There are also W12 models in the range, whose performance lags a bit behind the V8's. They're also more expensive, and don't offer the same spine-tingling engine note.
The GTC Speed model, on the other hand, has only good things going for it. As its name would suggest, it's a fast car that is capable of doing 0-62 in 4.4 seconds before maxing out at 203mph. Those numbers are hardly surprising when you consider that it develops up to 635bhp.
All models offer accurate steering, as well as the choice between 4 driving modes that let you flick between a comfortable setup, or sharper handling.
Bentley Continental GTC Convertible Interior, Design & Build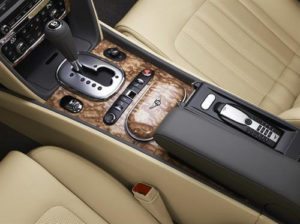 The aforementioned four driving modes allow you to tweak the suspensions setup so that ride quality is enhanced, and you're as comfortable as a king or queen. Switch to the comfiest setting, and the car turns into a magic carpet that glides over surfaces at your calling. Just ask and it shall serve.
If we're going to be picky, though (and at these prices you have to be a bit picky), we'd say that the Continental GT Coupe is comfier on the whole.
However, comfort is further assured by good insulation, with the triple-layer construction of the roof helping to this end.
On the whole, the cabin is permeated with luxury. The standard models miss out on hand-stitched quilted leather seats, but it's hardly a deal breaker. All models get lashings of chrome, wood, as well as a thick pile carpets that make you feel very welcome. In a word, it's all very indulgent.
But despite all this, it's hard to feel that Bentley is justified in billing the car as a gran tourer. The boot is smaller than the one in your mates Ford Fiesta, while the rear seats feel like a token gesture more than anything. Adults certainly can't fit in them, though if you have kids they'll certainly be excited to clamber aboard and tell their friends that their parents drive a Bentley.
Still, there are positives. The seats are adjustable, and storage spaces are good.
Equipment And Safety of the Bentley Continental GTC Convertible
Standard equipment across the range is good, but only the GTC Speed model gets the attractive Mulliner Pack as standard, which really raises the bar.
In terms of reliability, it's good to know that the engines are part of a joint effort with both Audi and Volkswagen, two brands that come with a strong reputation for reliability.
Build quality is good, and this is a car that will last. Safety kit includes four-wheel-drive and lots of airbags.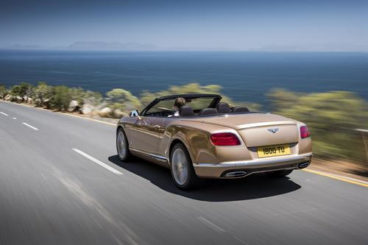 Costs Of The Bentley Continental GTC Convertible
Prices for the new car start out from £154,500 and rise to £186,000. If you prefer to lease, you can pick up a deal from £3,500 + VAT per month. For more information on our lease deals, you can check out our page here.
No one expected this car to be cheap to run, and we're afraid to say that we can't defy your expectations! The new 4.0-litre V8 power plants are cheaper to run than the old W12's, but that isn't saying a whole lot. According to Bentley, the best returns you can get from the V8's is 26mpg, but don't expect to average that figure.
The W12 is much thirstier, and you'll be looker to top 18mpg. Road tax, meanwhile, will set you back £505 for the W12 and £490 a year for the V8.
Pros and Cons Of The Bentley Continental GTC Convertible
Beautiful
You just need to look at this sumptuous work of art and your hairs will stand on end. If they don't, you need to see a doctor. Your nerve endings are broken.
Luxurious
At first, you might think this is too similar to the outgoing model. But there are lots of differences – each body panel is new, for example. However, it's every inch as luxurious as before.
Awesome V8 Engine
The new V8 engine is powerful and cheaper to run than the W12.
W12 Is Old And Expensive
The W12 engine is an old warhorse that's hugely expensive to keep on the road.
Lack of Rear Space
You'll get the full-fat Bentley experience in the front, but those in the back will feel squashed. Still, they're in a Bentley. So what's the issue, right?
Bentley Continental GTC Convertible vs Aston Martin Vanquish Convertible vs Mercedes S-Class AMG Cabriolet
Let's see how the car fares against its rivals in the comparison section of our 2017 Bentley Continental GTC Convertible review.
Bentley Continental GTC Convertible vs Aston Martin Vanquish Convertible
If you're prepared to buy a car based on looks alone, you might even argue that the open-top Aston Martin is underpriced. It's a stunning, self-confident car that dazzles.
The problem Aston Martin faced when converting their treasured Vanquish coupe to a convertible was that the Coupe was a hefty car. There was always going to be trouble somewhere.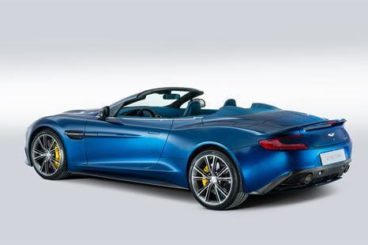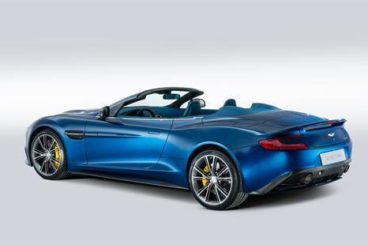 That trouble has popped up with the ride and handing, which have suffered from a loss of stiffness. Moreover, thanks to the addition of a roof, more weight has been added to an already seismic car. That has blunted performance somewhat.
And in a further pickle that Aston Martin found themselves in, practicality was always going to be compromised by the addition of that roof.
You might argue that these are problems faced by all coupe-derived convertible. The difference here is that this one costs a lot of money.
However, our beloved Aston Martin say that all these gremlins have been dispensed with, an that this fourth-generation Vanquish Convertible is easily the best yet.
We're happy to say that you can largely take Aston Martin at their word. The suspension has been fine-tuned so that the convertible handles almost as good as the coupe, while the roof adds less than 10kg to the total kerb weight. That's impressive, and means it doesn't offer inferior performance to the Vanquish Coupe. Result.
And you can tell how much improved this car is once it's in full flow. Stiffness is much better, especially at pace, while torsional rigidity is some 14% better than in the DBS Volante. This has enhanced drivability even more.
But despite all the explosive noise the roaring V12 engine emits, it never feels as fast as the coupe. You can do 0-62 in 4.1 seconds when you're in the mood, but it doesn't feel as fast as that either.
And practicality? Well, the boot is 89-litres smaller than the coupe's, which means you get 279-litres of luggage space max. However, the good news is that the figure is the same whether the roof is down or up. Moreover, it's doubly bigger than the boot in the monstrous DBS Volante.
But arguably the biggest problem facing this car is its price tag. Few of us buy cars for their looks alone, not unless we've got millions in the bank. And when you consider that this car is up against not only the exquisite Bentley Continental GTC Convertible, but indeed also other (cheaper) Aston Martins (such as the DB9 Volante, which is some £60,000 cheaper), it may take some more convincing before you decide that this car is the one for you.
In a final dagger to its heart, the Vanquish's interior just doesn't justify the huge price tag. We like the glass key (in fact, we love it), but, like many other Aston Martin's at the moment, the cabin here looks dated compared to its rivals.
Price:
Bentley – £154,000 – £186,000
Aston Martin – £205,000 +
Bentley Continental GTC Convertible vs Mercedes S-Class AMG Cabriolet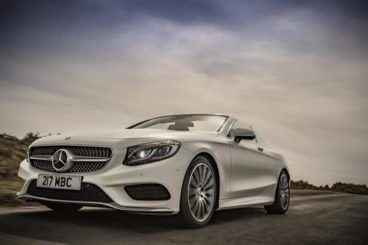 The new Mercedes S-Class AMG Cabriolet is a luxurious four-seater convertible that offers speed, comfort and plenty of advanced tech.
Despite being an AMG model, this Mercedes convertible is super comfortable. Especially when the roof is up, the suspension does a good job of absorbing some of the worst bumps and lumps in Britain's road.
And despite being such a big car, it handles well. The steering is assured, precise and direct, while body lean is kept to a minimum. However, you will notice its size – it's impossible not to. Performance is still good, though.
The AMG models are the fastest in the range, and can do 0-62 in just over 4.0 seconds. Its engines can deliver up to 624bhp, and both have a maximum speed of 155mph in standard form. If you add the lucrative AMG Driver's Package, you can extend this to 186mph. It's worth adding, as it will help you to get the best out of a car like this.
The model comes paired with a 9-speed automatic transmission. It's smooth enough, but on the motorway it has a penchant for kicking down now and then to get the engine to hit its sweet spot.
In terms of the running costs, the Mercedes S-Class AMG isn't cheap. The S63 has an official fuel economy figure of 28mpg, but we think this is a bit too optimistic. It will also cost you £505 a year in road tax.
The AMG S65 model, meanwhile, is powered by a huge V12 turbocharged nine that is good for 23mpg (again, according to Mercedes themselves), and which will cost you £515 a year to tax.
The cabin gets 5/5 from us. It's been sumptuously conceived and deftly executed. The four-seater convertible is comfortable, luxurious and laden with advanced technology. Leather-upholstered seats are standard, with the two in the front also benefiting from cooling and heating systems in-built into the seats.
LED ambient lighting, wood veneers and metal switch gears are a few of the niceties in and around the cabin, while a dual 12.3" screen, Bluetooth, DAB radio and a 590-watt thirteen speaker Burmester stereo and Napa leather upholstery are part of the standard kit exclusive to the AMG models.
This is a pretty practical four-seater convertible, too. It's got more interior space than both the Bentley and Aston Martin, plenty of storage spaces, accessing the front and back is easy without the roof, and the roof opens and folds quickly. Our only complaint is that the boot is on the small side.
Price:
Mercedes – £111,000
Verdict Of Our 2017 Bentley Continental GTC Convertible Review
It's hard to imagine that a car which looks as stately as this is the fastest four-seater convertible on planet earth right now. It looks too elegant. But while it burns tarmac like there's no tomorrow, it also burns fuel in much the same way.
However, if you can get past the running costs, the 2017 Bentley Continental GTC Convertible is powerful, fresh, commanding, prestigious and attention-grabbing. One of a kind.
Get in touch with a Vehicle Specialist
Fill out the form below with your details, and one of our highly qualified specialists will be in contact within 24 hours.
When you lease a car with OSV there are no hidden costs, request a call back and we'll find you a finance, lease or purchasing deal designed just for you.