Review Of The Volkswagen Up! Hatchback
As cute as a puppy but even cheaper, the new Volkswagen Up! The hatchback is here to put a smile on your face. If you need something dinky but fun for the commute to work, the inoffensive and charming Up! has all the answers.
That said, it's not just a smiley face that gets you from A to B. The Up! boasts Volkswagen's usual top-notch build quality and it comes with a surprisingly spacious interior and super adorable low running costs.
OSV takes a closer look at what it's all about with our 2017 Volkswagen Up! Hatchback review.
There's not really anything to dislike about the way the car drives. Its compact dimensions mean it's easy to control and park, precise steering helps you to manoeuvre narrow turns, while the tight turning circle also helps when you're in a crowded city.
The engine is a bit vocal but there's a certain charm to its thrum, although it does perk up a lot more when you put your foot down. However, the soft suspension setup means that the Up! soaks up lumps and bumps with ease.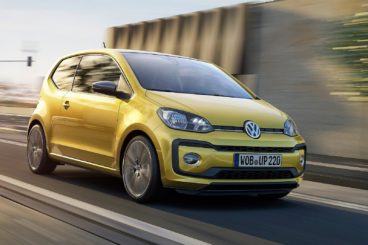 On the whole, the driving experience could even be described as fun. Moreover, the car doesn't feel overwhelmed on the motorway, and there is plenty of grip on offer.
In terms of its engines, there are no diesels available. VW decided there was no point, as most city car buyers are low-mileage drivers.
So what you've got to choose from are a handful of perky petrol engines. They're actually all sized 1.0-litres but come in either 59, 74 or 89bhp guises, the latter of which is the only one to benefit from a turbocharger. It's a powerful little engine that can get you from rest to 62mph in just under 10.0 seconds.
That's pretty darn fast when you consider that the 74bhp engine covers the same sprint in 12.9 seconds. It even feels faster than the clock suggests, and better still? It doesn't make much noise.
This turbocharged 89bhp engine is the one to go for if you'll be spending a lot of time on the motorway, but each engine is adept at cruising speeds. However, with a 0-62 time of 14.4 seconds, the 59bhp variant really is the runt of the family and might be worth overlooking if your budget allows.
When choosing your engine, you also need to take into consideration how often you'll be driving on a full load. If it's just you and a passenger, the smaller 59bhp option will be fine. However, if you'll be travelling with four people inside, the 89bhp is your best bet.
Volkswagen Up! Hatchback Interior, Design & Build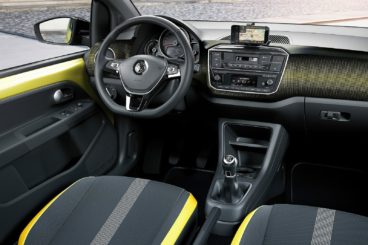 Inside, Volkswagen's midas touch is all over the Up!'s impressive cabin. Build quality is excellent, and the interior is comfortable and classy. The standard of fit and finish, moreover, is just as high as the likes of the VW Golf.
The materials used are also first-rate, and there's plenty of scope for customisation. The dash gets swathed in a body coloured trim that will resonate with younger drivers, while getting comfy is easy for the driver, with all models coming with a height-adjustable steering wheel.
In terms of how practical it is, Volkswagen has packaged the Up! well. Four adults can sit in relative comfort, the car is easy to park, and space up front is superb. Headroom is a bit cramped in the rear thanks to the low roof while access is tricky if you opt for the three-door model.
There are plenty of storage spaces, including some hefty door bins, while the boot measures 251-litres. That compares well in this class, and the boot comes with a false floor. The presence of a lip, however, will frustrate.
Equipment & Safety Of The Volkswagen Up! Hatchback
The starting price for the Up! is higher than most of its rivals, but it's well-equipped. The entry-level model is a bit sparse and gets an auxiliary socket for your MP3 player, a CD player, electric windows and colour-coded bumpers, but things get interesting when you check out the Move and beyond the model.
The Move model gets 15" alloys, split-folding rear seats and air conditioning, while the Beats trim gets a subwoofer in the boot and a 300w Beats by Dre sound system. The High model is a bit more sensible and gets heated front seats, front fog lights, a leather steering wheel and sat-nav.
Is the Volkswagen Up! Hatchback safe? It was awarded all five stars for its crash test performance by Euro NCAP, while its selection of standard safety features includes the likes of six airbags, a seatbelt reminder buzzer, antilock brakes and electronic stability control. However, the entry-level model misses out on central locking, while autonomous emergency braking is also optional.
Costs Of The Volkswagen Up! Hatchback
Prices for the new car start out from £9,135 and rise to £13,015. If you prefer to lease, you can pick up a deal from £147 + VAT per month. For more information on our leasing deals, check out our page here.
In terms of its running costs, the 59 and 74bhp variants of the 1.0-litre petrol engine are able to return 64.2mpg economy, while the 89bhp variant returns just over 60mpg at best. The smaller two emit 101g/km of CO2, while the more powerful 89bhp variant emits 108g/km.
However, if you opt for the BlueDrive version, the economy goes up to 70.6mpg. The Up! is cheap to ensure, with the most affordable model occupying group 1 and the most expensive model occupying group 5.
Pros and Cons Of The Volkswagen Up! Hatchback
Keen Sense of Fun
In the town, it's a ball.
Practical
Its size gives little away about how sophisticated this little helper is.
Cheap to Run
Go for the BlueDrive model and you can return over 70mpg from the most powerful engine.
Expensive Compared To Rivals
The base level model is cheap enough, but if you want the top-spec Up! you'll have to shell out over £13,000.
Basic Entry Level Model
Meanwhile, the base level model might be cheap but it's as basic as basic does.
Volkswagen Up! Hatchback vs SEAT Mii vs Skoda Citigo
Let's see how the car fares in the comparison section of our 2017 Volkswagen Up! Hatchback review.
Volkswagen Up! Hatchback vs SEAT Mii
Cheaper than the Up!, the new SEAT Mii is just as impressively roomy as the VW and offers an entertaining driving experience.
On the road, there's a lot to love about the way the Mii goes about its business. Its max power is limited at just 74bhp but that doesn't discourage it from delivering a spirited performance that sees it potter about the city without any issues.
Its steering is good, its gearbox is slick and it doesn't weigh too much. Put that all together and you've got a very satisfying city car.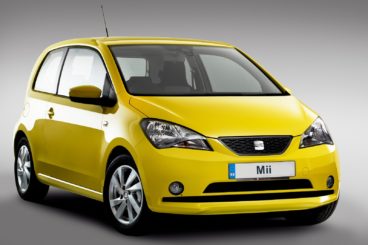 Even better, its suspension deals with coarser surfaces well and the Mii performs admirably on the motorway.
In terms of its engines, there's only one available. It's a 1.0-litre three-pot petrol unit that's available with either 59 or 74bhp. The smaller of the two sounds like it will be too underpowered, but the truth is that not a lot separates the pair. As such, we'd recommend saving a few pennies and going for the 59bhp variant. Of course, compared to the most powerful Up! neither are as confident on the motorway.
However, an Ecomotive engine has been ditched from the lineup and this means that best economy figures have dropped from 69mpg to 64.2mpg. That's still decent but it compares unfavourably to most rivals. Both variants emit 102g/km of CO2.
Inside, the amount of space and comfort on offer is so good that you'd be forgiving for thinking you were in a bigger, more expensive car. The quality of the materials used is good, the layout is excellent and insulation is decent (if not fantastic).
The dashboard is a simple, straightforward affair, while standard kit on all models includes remote locking, a height-adjustable driver's seat and air conditioning.
Is the SEAT Mii practical? It's got far more space than a car like this should have, and while there's the option of a three-door Mii, the five-door version is easier to access. Four adults should be able to sit in comfort but rear legroom is a bit tight, and the boot measures a very respectable 251-litres.
Price:
Volkswagen – £9,135 – £13,015
SEAT – £10,555 – £11,830
Volkswagen Up! Hatchback vs Skoda Citigo
The new Skoda Citigo is another dinky city car that boasts big-car quality and room for four adults.
Thanks to its compact dimensions, the Citigo is a cinch to park and copes well with tight streets. And although the city is its natural habitat, the Skoda doesn't mind you taking it out onto the motorway every now and then.
The suspension is a bit on the soft side which means body lean is a bit of an issue in bends, but the car manages to feel composed most of the time. There's lots of grip on offer, the well-weighted steer is accurate, and the range-topping Monte Carlo model gets stiffer and lower suspension to boost its agility.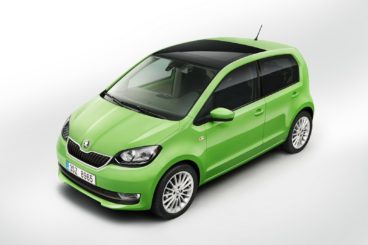 In terms of its engines, a pair of 1.0-litre petrols is your only options. They develop 59 and 74bhp, with the former using its power to get you from rest to 62mph in just under 14.0 seconds. It's not quick, then, but it does have a characteristic thrum if you work it hard. It quietens down once you're up to speed and there's no vibration.
The 74bhp variant does 0-62 in 13.1 seconds, so it isn't all that quick. In fact, you only notice its extra power when you work it hard. If you'll be spending most of your time in the city, we can't really think of a good reason to shell out extra for the 74bhp variant.
Moreover, there's nothing to separate the two engines when it comes to running costs. Both return 68.9mpg economy at best, and both benefit from stop-start tech and social low-resistance tyres if you opt for the GreenTech versions.
Where insurance is concerned, however, the smaller engine sits in group 2 and the bigger one sits in group 4.
Inside, the story is much the same as it is for the Volkswagen Up!, with the Skoda Citigo Hatchback able to offer far more space than its compact dimensions would suggest. There is more than enough room for four adults and lots of cute storage spaces for your bottles of water and smartphones. The glovebox, meanwhile, is fairly large.
The quality of the design and the materials used is good, with this new version getting a revised infotainment system, a multifunction steering wheel and enhanced instruments. However, standard kit is sparse if you go for the entry-level model. It even misses out on air conditioning.
The boot measures 251-litres, which is par for the course in this class. Fold the rear seats and you can extend it to 959-litres, while a variable boot floor can be added for an extra £65.
Price:
Skoda – £8,635 – £11,590
Verdict Of Our 2017 Volkswagen Up! Hatchback Review
The new Up! has come out to play but it's not all fun and games. While it's a born entertainer that makes nipping in and out of the city a breeze, it's also surprisingly practical. Even better, it doesn't feel out of its depth on the motorway and it looks great. All in all, the new Volkswagen Up! The hatchback is a winner.
Fancy the Volkswagen Up! Hatchback? Request a call back from one of our Vehicle Experts
When you lease a car with OSV there are no hidden costs, request a call back and we'll find you a finance, lease or purchasing deal designed just for you.