Review of the Bentley Mulsanne Saloon
Looking for an objective review of the epic Bentley Mulsanne Saloon? OSV has got you covered, from huge engines to lease deals.
Got a quarter of a million pounds handy? OSV takes a look at the ultimate statement-maker, covering the Bentley Mulsanne Saloon's engines and lease deals.
The sublime new Bentley Mulsanne Saloon pulses with luxury. It's super expensive, but you get what you pay for: In this case, that means a whisper quiet, hand-crafted cabin, an interior adorned in genuine wood trim and soft leather, and that all-important 505bhp.
You also get plenty of choices too, with the car available in twenty-four different colours and 9 types of leather. As far as ways to travel and investments go, it's hard to beat.
OSV takes a closer look at what it's all about with our  2017 Bentley Mulsanne Saloon review.
Everything about this car is unique, including the rather special driving experience. Let's not beat around the rose bush: This is a giant of a car. It's the size of it which gives it road presence and a sense of occasion.
But despite all that size, the car remains incredibly agile, poised and composed. You don't always feel as though you're thrusting around such a big car. The steering is precise, and the acceleration is effortless. Moreover, you're sat high up and feel proper regal.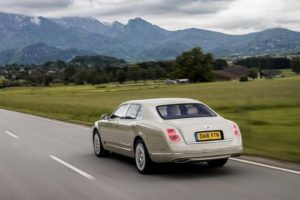 Despite looking like a piece of The Royal Family's motorcade, this Bentley is ridiculously fast. In standard guise, its V8 engine can get you from a standstill to 62mph in just 5.1 seconds, which means that it's got sports car prowess to match its sense of regality. It comes paired up with a smooth automatic transmission as standard, and we recommend that you leave it in automatic mode.
The Mulsanne Speed is an option if your budget allows. It's quicker than the standard model, has more horsepower, and can do 0-62 in just 4.8 seconds. However, it does come with a sportier suspension and bigger wheels which compromise ride quality slightly. With that said, it handles like the QE2 on water.
Bentley Mulsanne Saloon Interior Design & Build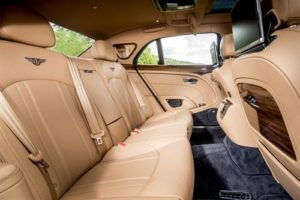 There's a sense of stateliness with this car, inside and out. It's a bold-looking machine that catches the eye. If you don't mind all eyes being on you, it's arguably the most jaw dropping car you can drive right now that isn't a super car.
And it doesn't even matter if you make the most of the ferocious performance on offer, the cabin always remains hush-quiet. You could slip a diamond ring off your finger and hear it.
The insulation is boosted by acoustic glazing, which have been fitted to the windows. Meanwhile, air suspension comes as standard, and this clever feature automatically adjusts to trickier road surfaces so that you don't feel Britain's worst lumps and bumps.
The front and rear seats are all power-adjustable and coated in leather, while the floor comes with thick wool carpets as standard. But while there is technically room for five, only four of you will be supremely comfortable. The unlucky one in the middle rear will have to make do with a high transmission tunnel.
If you've checked out a previous generation model, you will have been impressed by the excellent hand-crafted interior, but you may have thought the dashboard looked classic but slightly antiquated. Not so here. A brand new 8" infotainment system brings a touch of modernity to the proceedings. Part of its package includes a 60GB hard drive, and it's super easy to use.
The standard models are exquisite, but the Extended Wheelbase models are breathtaking. There is even more back-seat luxury on offer, including curtains if you and your passengers want more privacy. The rear seats recline, and come with massage functions. But perhaps the best feature is the glass cabinet, in which you can store your champagne glasses.
There are a few drawbacks of owning such a sizeable car, though. It's not easy to get out and about in the towns and cities, while reverse-parking (should you ever need to do it) will be a challenge. The boot isn't as big as we expected, and neither is legroom.
Equipment & Safety of the Bentley Mulsanne Saloon
The Mulsanne sure is expensive, but standard equipment is good. Included in the kit is voice control, parking distance control, adaptive cruise control, a 60GB multimedia hard drive, an 8" display screen, four-zone air conditioning and sat nav.
This car hasn't been crash tested by EuroNCAP, nor will it be. However, because Volkswagen Group own Bentley, it's safe to assume that this will be a pretty reliable and secure salon.
There are a few safety features on offer that should give you plenty of peace of mind. The doors come with side-impact bars, which offer protection during an accident, while the fact that the car weighs 2.5 tonnes should also be reassuring. Head, chest, front and rear air bags come as standard, as do electronic-tyre pressure monitors.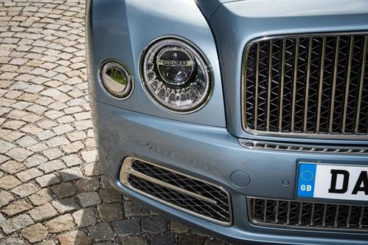 Costs Of The Bentley Mulsanne Saloon
Prices for the new car start out from £229,300 and rise to £275,000. If you prefer to lease, deals start out from around £4,700 per month. For more information on our leasing deals, check out our page here.
Its running costs are near astronomical. However, Bentley have worked hard to keep costs down as much as possible. For example, they've introduced a cylinder-deactivation system that switches the engine to four-cylinders whenever you're just cruising without speed.
Bentley have ensured that the switch is seamless and barely noticeable, and the result is that Bentley reckon you can average rule economy returns of 17mpg on a good day. However, that figure still requires deep pockets. Road tax, meanwhile, is £505 a year.
Pros and Cons Of The Bentley Mulsanne Saloon
Excellent Craftsmanship
The hand-crafted interior is a product of love, while the overall build quality is so good that it could probably survive in space.
Looks Like A Member Of The Royal Family
Bentley is one of Britain's most famous brands, and if a car has ever looked so royally British than this, we'd love to see it.
Massive Performance
It looks regal, but it performs like a powerhouse supercar. And despite all that power, it's still quiet and composed.
Expensive To Run
Bentley has tried hard to improve the economy, but despite their best efforts, you might only average fuel economy returns of 10mpg at best.
Not Exactly Subtle
If you're a bit hesitant of standing out too much, this conspicuous car is probably not a good idea.
Bentley Mulsanne Saloon vs Mercedes S-Class AMG Saloon vs Rolls Royce Ghost
Let's see how the car stacks up against its rivals in the comparison section of our Bentley Mulsanne Saloon review.
Bentley Mulsanne Saloon vs Mercedes S-Class AMG Saloon
It's unusual for a Mercedes to have less appeal than another car, but if the Mercedes S-Class AMG Saloon is to tempt you away from the Bentley, it's got to ace its audition. It's certainly a lot cheaper to buy, and viewed in isolation it's a luxurious saloon that takes some beating. Oh, and it's also as comfortable as a Rolls Royce.
The AMG is by and large a relaxed, refined cruiser more than a hardcore sports car. It's not the most fun in bends, but it never has been and probably never will be. Body lean is controlled well, and there is plenty of grip on offer to keep you feeling secure. It's a fast, powerful car that's actually pretty hard to lose control of.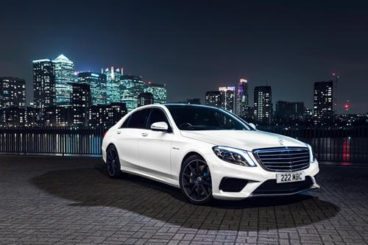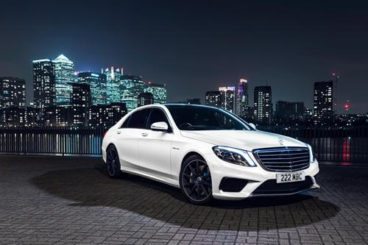 As mentioned, it's also super comfortable. It's helped to this end by Magic Body Control, a feature that ensures ride comfort can equal the Rolls Royce Ghost, a car we'll be looking at below. Magic Body Control is a clever feature that scans the road before you, checking out for nasty bumps and lumps so that it can adjust its suspension setup accordingly.
The AMG S65 is the fastest model in the whole S-Class range, and can do 0-62 in just 4.3 seconds. It's powered by a 6.0-litre twin-turbo V12 engine that develops up to 621bhp. The other AMG model is an AMG S63. Powered by a 5.5-litre twin-turbo V8 that produces up to 577bhp, it can thrust you from a standstill to 62mph in 4.4 seconds.
The S-Class as a whole is fairly economical, but the AMG model is the rebel of the family that doesn't play by the rules. Mercedes say the S63 can return fuel economy up to 28mpg, while the S65 should be good for 23mpg on the back of a sensible drive. Road tax, meanwhile, will set you back over £500 each year.
The Mercedes S-Class AMG Saloon might be less expensive than the Mulsanne, but there aren't many areas where it plays second fiddle to its rival. Its interior, for example, is a prime example of German automotive luxury. The cabin is exquisite, refinement is second to none, and the dashboard is breathtaking in both its execution and design.
The car also comes with plenty of advanced tech, including a pair of 12.3" TFT screens, voice control and an easy-to-use touchpad.
The S-Class AMG is also a big car, and can accommodate four passenger with ease. No one will feel cramped in the rear, with your passengers asking is "how much space do I really need?" You can choose from a short or long-wheelbase, with both offering ample room to stretch out.
One area where the AMG model does fall short somewhat is the boot. Whereas the standard S-Class gets boots that range from 500-litres onwards, the AMG's boost measures just 470-litres.
Price:
Bentley – £229,300 – £275,000
Mercedes – £180,000
Bentley Mulsanne Saloon vs Rolls Royce Ghost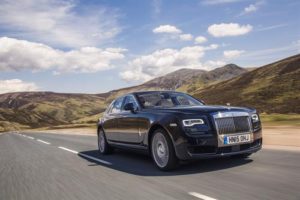 The princely Rolls Royce Ghost is probably the Mulsanne's only proper rival. Indeed, for most customers it will be a straight shoot-off between these two powerhouses of the automotive world.
Like the Bentley, it has awesome road presence, a hugely powerful engine, and an interior that would make the Queen blush.
It's powered by a colossal 6.6-litre twin-turbo V12 engine, which was developed by BMW. This engine develops up to 563bhp, and can get you from a standstill to 62mph in 4.7 seconds. That might sound slightly ponderous when compared to the Mercedes AMG we've just looked at, but it's on par with the Mulsanne.
Moreover, it's worth bearing in mind that the V12 engine here has to haul up to 2.4-tonnes of metal and machinery.
So, yes, it's a huge car. But its massive weight thankfully isn't too apparent, and it can hold its own in bends. Air suspension allows for a bit of body roll, but as long as you drive the Ghost with precision and diligence, you'll be just fine.
Road costs are no surprise, with the engine achieving fuel economy returns of 20mpg at best. Meanwhile, the Ghost demands a yearly tax bill of £460, which is actually less than the AMG.
There are no surprises inside either. This might be the Rolls Royce Phantom's little brother, but it's been treated to the same amount of opulence by its parents. The leather is exquisite, the lambswool carpets raise a few eyebrows (but in a good way), and the heater, clocks, switches and controls give the car its unique flavour.
In terms of practicality, the Ghost is a bit hit and miss. Thanks to its epic proportions it isn't easy to park. But, hey, once you're all parked up, you just know your car is going to be the most talked-about in the car park.
Interior space is excellent, and rear seated passengers in particular are treated to a generous amount of space. The boot, meanwhile, measures 490-litres.
Price:
Rolls Royce – £223,000
Verdict Of Our 2017 Bentley Mulsanne Saloon Review
No one who buys a car like this worries about the cost. And that's a good thing, as this is a cripplingly expensive machine. However, you get exactly what you pay for. In this case, that means massive engines that could launch a rocket, dazzling luxury, huge road presence, and that all-important sense of prestige and heritage.
If you want to make the ultimate statement in an epically British thoroughbred, the 2017 Bentley Mulsanne Saloon satisfies your every whim.
Get in touch with a Vehicle Specialist
Fill out the form below with your details, and one of our highly qualified specialists will be in contact within 24 hours.
When you lease a car with OSV there are no hidden costs, request a call back and we'll find you a finance, lease or purchasing deal designed just for you.