Review Of The Volvo V60 Sportswagon
The new Volvo V60 Sportswagon is a slick-looking family car that's comfortable and packed with lots of safety kit. Much more handsome than Volvo's of old, it's ideal for families who want Volvo's reliability, but who also want a car that can compete in the fashion department.
It might not have the badge appeal of its premium German rivals, but it can boast a relaxing interior and excellent build quality.
OSV takes a closer look at what it's all about with our 2017 Volvo V60 Sportswagon review.
One of the biggest drawbacks of owning the V60 is that you have to make do with a dated design. This means firm suspension and steering that feels artificially heavy. There's also a fair amount of body roll in bends, but predictable handling and lots of grip ensure the car feels safe and secure.
It's out on the motorway where the Volvo excels. Barely a noise is made as it cruises on stretches of road, and there's no arguing about how comfortable the seats are. They're some of the best in the business that offer lots of support to you and your passengers.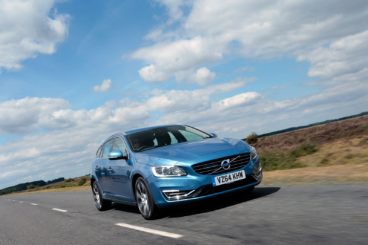 In terms of its engines, our top pick is the D4 diesel that develops 187bhp. That's enough to haul the V60 Sportswagon from rest to 62mph in 7.7 seconds, which is much faster than the ailing D2 can manage (it clocks 0-62 in a leisurely 11.5 seconds).
Moreover, just the extra power that the D4 provides makes it ideal for day-to-day driving.
However, to get the most out of it you'll need to specify the £1,500 8-speed automatic transmission that changes gears seamlessly. To get even more out of the engine, you'll want to specify the £150 steering-wheel-mounted-gearshift paddles.
A couple of rapid and ostentatious Polestar engines make up the small selection of petrols. These are expensive to run and range in power from 187bhp to 362bhp. The smallest of the two gallops from a standstill to 62mph in 7.3 seconds, while the bigger engine completes the 0-62 dash in 4.8 seconds.
The 362bhp variant gets four-wheel-drive as standard, as well as the impressive 8-speed automatic 'box. Its suspension settings are easy to tweak, allowing you to stiffen or soften things up. The luxurious Polestar models also get diamond cut alloys, as well as carbon fibre-crafted spoilers.
Rounding off the range is a pair of hybrid engines, starting with a D6 plug-in hybrid engine that's exempt from London Congestion Charge, but which costs a pretty penny to run in the first place. A D5 plug-in hybrid offers more value, and can sprint from 0-62mph in just under 7.0 seconds.
Volvo V60 Sportswagon Interior, Design & Build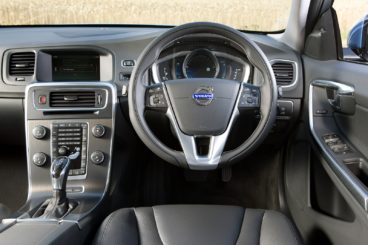 One of Volvo's strengths is its comfort levels. They're remarkably high, and you and your passengers can eat up the miles without feeling achy. This is even true in the performative Polestar models. Good sound insulation further helps to provide a pleasant cabin experience, and we'd go as far as saying that it's among the best in this sector.
Unfortunately, overly stiff suspension lets things down a tad.
The dashboard looks eye-catching with its "floating" centre console. Other than that, Volvo has gone for a simple but tasteful aesthetic that impresses. A 7" sat-nav display is a bit on the small side, but it's packed with features and is easy to use.
Volvo's aren't as practical as they used to be, however, and that's the narrative here. Once the best in class, its boot now measures 430-litres. That's a long way off its rivals. Still, the absence of a lip is a plus and you can fold the rear seats to boost capacity up to 1,246-litres.
Thanks to Volvo's quest to make their car more stylish, a sloping roofline eats into rear headroom, but there's plenty of space up front, while a massive glovebox contributes to a pleasing amount of storage space.
Equipment & Safety of the Volvo V60 Sportswagon
Standard kit is good across the range, with the entry-level Business Edition model getting the likes of cruise control, climate control, 16" alloys, Bluetooth, a digital radio and sat-nav as part of its standard kit.
A Business Edition Lux trim is new for 2017, and it adds a gloss black interior trim, an instrument cluster digital information display, 17" alloys and a reversing camera.
Next up is the SE trim which comes with upgraded upholstery, automatic folding door mirrors, rain-sensing wipers and 17" alloys. The SE Lux model adds strong xenon headlights, a power-adjustable driver's seat and a leather interior.
The R-Design model gets a few extra visual flourishes, such as stainless steel tipped exhaust pipes, matt silver door mirrors, and 18" alloys. It also gets aluminium trim and sports seats, while the Polestar model offers unique seat upholstery, unique colour options and carbon fibre door mirror covers.
Is the Volvo V60 Sportswagon safe? It scored all five stars when it was crash-tested by Euro NCAP, and its standard safety kit includes automatic emergency braking, electronic stability control, Adaptive Brake Lights, traction control and lots of airbags.
Costs Of The Volvo V60 Sportswagon
Prices for the new car start out from £24,145 and rise to £50,765. If you prefer to lease, you can pick up a deal from £237 + VAT per month. For more information on our leasing deals, check out our page here.
In terms of its running costs, the plug-in hybrid versions are the cheapest on paper, although Volvo's figure of 155mpg will be tough to achieve in real-world conditions. However, both variants emit just 48g/km of CO2.
The most affordable-to-buy diesel engine is also the most frugal. This D2 model returns an impressive 72.4mpg economy, while the bigger D3 model returns 68.9mpg. The D4 model offers even more power but is even more economical, and can return 70.6mpg.
The V60 Polestar petrol model, meanwhile, is good for returns of 34.9mpg at best.
Pros and Cons Of The Volvo V60 Sportswagon
Slick
Volvo's have rarely looked this good.
Economical
All the diesels are cheap to run, returning over 68mpg.
Safe
The car gets a wealth of safety kit which includes the likes of traction control and adaptive brake lights.
Relatively Small Boot
Volvo may have blundered by offering such a small boot.
Dated Interior
Its slick exterior looks aren't matched by an equally slick cabin.
Volvo V60 Sportswagon vs Toyota Avensis Tourer vs Peugeot 508 SW Estate
Let's see how the car fares against its rivals in the comparison section of our 2017 Volvo V60 Sportswagon review.
Volvo V60 Sportswagon vs Toyota Avensis Tourer
The new Toyota Avensis Tourer looks dull, but it boasts excellent build quality, a quiet cabin and a large boot.
Out on the road, the Toyota won't excite you. Its driving style is distinctly average, and while there are a handful of engines to choose from, none of them stand out.
For example, the sole petrol engine is sized 1.8-litres, but if you opt for the automatic variant it will take 10.7 seconds to get you from rest to 62mph. The manual version has a bit more get-go and can complete the same dash a whole second faster, but both feel sluggish to drive.
The diesel range kicks off with a 1.6-litre unit that does 0-62 in 11.7 seconds, while a 2.0-litre engine covers it in 9.8 seconds. It feels more spirited but, once again, it isn't especially quick. They also need to be worked very hard to get the best out of them.
However, counting for them both is their lack of noise, and they're super hushed. For anyone who's had to put up with diesel clatter too long, this lack of noise will be highly welcome.
In terms of running costs, the Toyota Avensis Tourer measures up well. The most expensive engine to run is the 1.8-litre petrol that returns 46.3mpg economy at best and emits as much as 143g/km of CO2.
The diesels fare better, with the 1.6-litre returning 67.3mpg and the 2.0-litre engine returning 61.4mpg while emitting just 120g/km of CO2.
Inside, the Toyota's ability to cruise benefits from soft suspension. Thanks to quiet engines, the cabin is also quiet and an overall comfortable and pleasant place to spend your time on the road.
The dashboard isn't visually exciting, but it's functional, uncluttered and easy to get to grips with. It's exactly what you need if you'll be using the car for long trips, but a Protection Pack is well worth adding for an extra £395 as it will help to protect your car from everyday family life on the road.
In terms of how practical it is, the Avensis can boast more interior room than the Volvo. Rear seated passengers are treated better, there's no awkward transmission tunnel, and a large glovebox is impressive. The boot, meanwhile, measures 543-litres, which is much bigger than the Volvo.
Price:
Volvo – £24,145 – £50,765
Toyota – £20,085 – £29,300
Volvo V60 Sportswagon vs Peugeot 508 SW Estate
The new Peugeot 508 SW Estate looks and feels like a premium product, both inside and out. It's significantly more expensive than the Toyota above but you get what you pay for.
Its engine lineup is strong, its steering is smooth and light at speed, but it does lack feedback. This can be problematic in cars as big as this, and it will undermine your confidence. Overall, though, it's good to drive.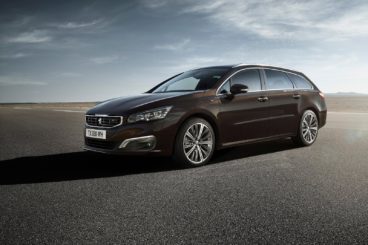 In terms of its engines, a 1.6-litre 120bhp diesel offers a relaxing driving experience, and despite a relatively small amount of power it never feels overwhelmed by anything. A 2.0-litre 150bhp might be a better bet, though. It blends economy with performance well, and can get you from a standstill to 62mph in just 9.1 seconds.
A 180bhp variant copes even better on a full load but won't improve the driving experience. It changes gears slowly, and it's clear that Peugeot had both eyes on keeping fuel costs down.
With no petrols available this time around, your only other option is an RXH model, which is a diesel hybrid that comes with four-wheel-drive. It's grippy, it's fast but it's expensive to buy.
In terms of the car's running costs, the 1.6-litre diesel impresses with its returns of 67.3mpg and emissions of 104g/km of CO2. However, the 2.0-litre 150bhp diesel is even cheaper to run, and can return 72.4mpg. It emits slightly more CO2, while the 180bhp variant returns 64.2mpg and emits 114g/km of CO2.
Inside, insulation is good and comfort is aided by a supple suspension. The two front seats have lots of adjustabilities but visibility is weakened by thick windscreen pillars.
The interior design is top-notch and the Peugeot 508 SW Estate feels genuinely upmarket. A touchscreen display looks great and is packed with features, but the software can get a bit confusing.
The car is practical, too. Four adults can sit in comfort on longer journeys, space up front is particularly fantastic, and there are plenty of storage spaces to keep the cabin free from clutter. The boot measures 512-litres which in isolation would seem average. Compared to the Volvo, though, it's just fine.
Price:
Peugeot – £26,685 – £35,125
Verdict Of Our 2017 Volvo V60 Sportswagon Review
There's no doubt that the new Volvo is stylish, upmarket and economical. These are all good qualities that are perfect for modern families who appreciate a bit of sophistication. However, a small boot disappoints, while the Volvo isn't as engaging to drive as premium rivals.
All in all, then, the new slick new Volvo V60 Sportswagon is hit and miss, but it's a refreshing substitute to the usual suspects in this sector.
When you lease a car with OSV there are no hidden costs, request a call back and we'll find you a finance, lease or purchasing deal designed just for you.