Review Of The Volkswagen Golf SV Hatchback
One of the rarest sights on British roads, the Volkswagen Golf SV Hatchback is the more practical version of the standard Golf. It's taller and has bigger proportions, which means more interior space and a larger boot. Visibility is also excellent.
The end result is that you get the same keen sense of fun of the regular car, but with added family friendliness. For example, there are roof rails for your bikes, while features such as a picnic table further enhance its appeal to families who are planning mini breaks.
OSV takes a closer look at what it's all about with our 2017 Volkswagen Golf SV Hatchback review.
Out on the road, the Golf SV drives a lot like the standard Golf. Its extra dimensions mean there is more body lean, but the steering is nice and sharp, while the suspension setup has been designed to optimise comfort.
Overall, the car is just as much fun as its smaller sibling. Responsive handling is the order of the day, and stiffer sports suspension is included on higher trims. It's a bit of an unorthodox feature on a family car, but optional adaptive dampers will help you to soften things up.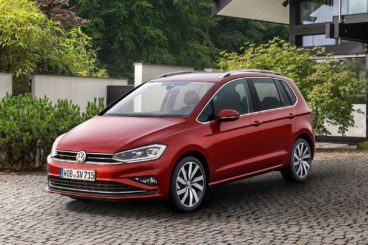 Entry-level models come with 15" alloys, but as you move through the trims Volkswagen has added 17" alloys which can further negate the cars ride quality.
In terms of the engines, a 1.2-litre petrol unit kicks things off. It's refined enough but develops just 84bhp. With a full load out on the motorway, it will struggle.
We like the 123bhp variant of the same engine. It can do 0-62 in 9.9 seconds, while its £1,415 optional DSG transmission knows exactly when to change gears.
Also available is a 1.4-litre 148bhp TSI petrol engine that offers plenty of performance, but which may seem like too much for most buyers. A more sensible option is a 1.0-litre BlueMotion petrol engine that's quiet, smooth and comes with a turbocharger. 0-62 is taken care of in 10.4 seconds, and while this is the economical choice, it's also great fun.
There are diesel engines available, too. A refined and smooth 1.6-litre TDI diesel unit can get you from rest to 62mph in 11.0 seconds, but it can feel out of breath on the motorway. Alternatively, there is the option of a 2.0-litre 148bhp diesel engine that does 0-62 in 9.2 seconds and copes well with a full load. Because of its good mix of economy and performance, it's our top choice for high-mileage drivers.
Volkswagen Golf SV Hatchback Interior, Design & Build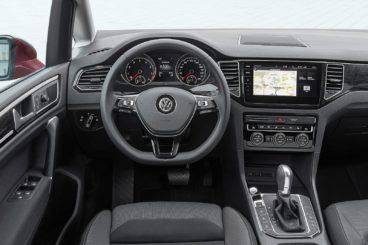 Inside, the Golf SV isn't focused on style as much as the standard car. Instead, this one is much more family-oriented and has a decidedly workhorse feel.
That said, it's not what we'd call unattractive by any means, but it's clear that the onus is on space and usability. It's the same on the outside, where proportions are bulkier. However, sharp lines disguise this well.
The dashboard has been pretty much lifted straight from the standard Golf. It's a bit less driver-focused, but it's still crisp, nice to look at and easy to operate. The switchgear feels strong and is precise to use, while the fit and finish of the dash is excellent.
Refinement is good, even at speed. Overall, though, some buyers might find the interior a bit too bland, especially compared to rivals.
It is, however, practical for a car of its type. It's larger than the standard Golf, and has a 48mm increase in length between the rear wheels and the front. This has made access easier.
Where the car doesn't add up is as an MPV. If that's what you're looking for, you'd be better off checking out a Citroen C4 Picasso. The Golf SV might be fairly spacious, but it lacks a versatile seating arrangement that MPV's get.
There is no shortage of room for five adults, and you can slide the rear seats forward to increase the boot space to an outstanding 590-litres. Fold them flat and the boot measures 1,512-litres.
Equipment & Safety Of The Volkswagen Golf SV Hatchback
The entry-level model is a bit spartan compared to the rest of the range, and it gets a few blanked-off buttons on the dash. Its standard kit includes a battery regeneration system, air conditioning, a digital radio, Bluetooth and a 6.5" touchscreen infotainment system.
The SE trim is our top pick. It gets automatic lights and wipers, different driving modes, 16" alloys and adaptive cruise control as standard. The BlueMotion SE model gets all of that but adds lowered sports suspension, cruise control and different tyres and wheels. Both models miss out on parking sensors.
The sportier GT model gets bigger 17" alloys and stiffer suspension, both of which are at odds with the car's family-friendly image. To ensure better ride quality, you'd have to pay an extra £830 for adaptive suspension.
Is the Volkswagen Golf SV safe? It was awarded all five stars when crash-tested by Euro NCAP. Autonomous braking was never fitted as standard across the range previously but it is now, while optional assistance systems include Trailer Assist, Emergency Assist and Traffic Jam Assist.
Costs Of The Volkswagen Golf SV Hatchback
Prices for the new car start out from £19,905 and rise to £28,260. If you prefer to lease, you can pick up a deal from £285 + VAT per month. For more information on our leasing deals, check out our page here.
In terms of its running costs, all models are economical but the standout choice if costs are a priority of yours is the 1.6-litre 108bhp BlueMotion diesel engine. It returns 67.3mpg and emits as little as 110g/km of CO2.
The 2.0-litre diesel isn't much more expensive to run, and can return 65.7mpg on a good day. That said, those "good days" will be few and far between, and it's unlikely that you'll achieve those figures all the time.
Where the petrol engines are concerned, the 1.0-litre 113bhp BlueMotion TSI is the most frugal. It returns 60.1mpg and emits 108g/km of CO2. From there, the petrols veer into the mid-to-low 50mpg ballpark.
Pros and Cons Of The Volkswagen Golf SV Hatchback
Massive Boot
Its 590-litre boot is by far one of the biggest in this sector.
Spacious
It's not quite a people carrier, but it's got as much room as families need.
Well Built
Volkswagen's trademark build quality is evident, and the Golf SV should stand the test of time.
Bland Looks
It's a lot dourer than the standard Golf.
Higher Specs Are Compromised
Expensive and overly firm, the top-spec models seem redundant.
Volkswagen Golf SV Hatchback vs Mercedes-Benz B-Class vs Audi A1 Sportback
Let's see how the car fares against its rivals in the comparison section of our 2017 Volkswagen Golf SV Hatchback review.
Volkswagen Golf SV Hatchback vs Mercedes-Benz B-Class
The new Mercedes-Benz B-Class is well-built, safe and looks great.
In terms of its engines, there are six to choose from, including four diesels and a pair of petrols. There is also an all-electric variant that, according to Mercedes, has a range of 124 miles.
A 6-speed manual 'box is offered as standard, but you can upgrade to a 7-speed automatic transmission if you prefer. It's smoother and offers a more pleasant experience.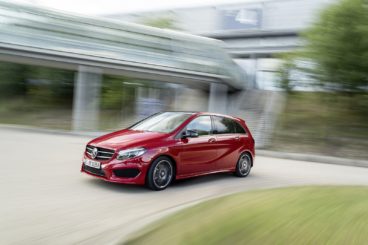 Four-wheel-drive is available with the B220d diesel model, but all the other B-Class engines are two-wheel-drive only. This B220d diesel is the range-topping engine, which means it's expensive, but it's also grippy, smooth and fast.
Most buyers will instead look at the B200d diesel engine, though. It has good pulling power and rewarding economy figures. It's also relaxing to drive, but a B200 154bhp petrol engine offers more power and pace if that's what you're looking for. It costs more to run, but its returns of a 49.6mpg economy are still respectable. The B200d diesel, on the other hand, returns as much as the 67.3mpg economy. All models benefit from energy-saving stop-start tech, which helps the four-wheel-drive B220d model return 56.5mpg.
Inside, the Mercedes starts to flaunt its upmarket colours. It's comfortable and roomy, the quality of the materials is high, and it genuinely looks like a cabin that's been built to last. Comfort is excellent for the driver, visibility is great and the car is easy to park.
There is an AMG model which gets a harsher suspension, but all the other models get a soft suspension that adds to a relaxed driving experience.
Is the Mercedes-Benz B Class practical? Access is easy, headroom is better than last time and so is legroom. Generous door bins and two big cubbies make up the storage spaces, while its wide opening boot measures 488-litres. That can be extended to 1,545 by folding down the rear seats.
Price:
Volkswagen – £19,905 – £28,260
Mercedes – £23,195 – £32,265
Volkswagen Golf SV Hatchback vs Audi A1 Sportback
The new Audi A1 Sportback is essentially the five-door version of the regular A1 Hatchback. As well as two extra doors it's got style, efficiency and a top-notch interior.
There isn't much not to like about this car. It might be taller and wider than its sibling, but because it's still relatively small and not too heavy, it's also agile. Its steering is sharp, there is lots of grip on offer, and it offers an overall entertaining driving experience.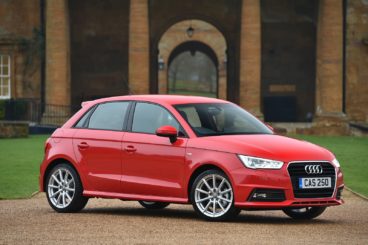 Electronic differential comes as standard. This boosts grips as and when it's needed, and thus improves the driving experience further.
In terms of the engines, there are a handful of petrols to choose from. A slightly more powerful new 1.0-litre TFSI engine replaces the outgoing 1.2-litre unit, and it will do 0-62 in 11.1 seconds.
A 1.4-litre TFSI petrol, is available with either 124 or 148bhp, with the latter able to complete the 0-62 dash in 7.8 seconds.
The sole diesel engine is a 1.6-litre TDI unit that develops 114bhp and covers the 0-62 sprint in 9.4 seconds. It returns 76.3mpg according to Audi, but the TFSI petrols are better all-rounders. The 1.4-litre 124bhp TFSI, moreover, can return a respectable 55mpg when paired up with a manual 'box, and emits just 118g/km of CO2.
Inside, the Audi A1 Sportback might be small but it's comfortable. Like the Golf SV, there are sportier models available which come with a harsher suspension that negates ride quality and comfort somewhat.
The dashboard is just as classy as the one in bigger Audi's. It looks easy on the eye, while high-gloss black air vent sleeves and a three-spoke leather steering wheel are the kind of upmarket touches that the more rugged Volkswagen doesn't have.
What the VW has is practicality on its side. Where the Golf SV can comfortably seat five adults, three people in the back of the Audi will feel cramped. The extra doors make good headlines but they're not enough to turn the car into Family Car Of The Year.
There is a bit more head and legroom over the standard Audi A1, but with the rear seats in place the boot measures just 270-litres. That's way off what the Golf SV can offer. Fold the rear seats flat and you can extend its capacity to 920-litres, and while it gets a small lip and a large opening, you might find that its overall measurements are too small.
Price:
Audi – £15,995 – £24,635
Verdict Of Our 2017 Volkswagen Golf SV Hatchback Review
The Golf SV has never sold well on these shores, but 150,000 Germans have snapped them up. And despite the SUV supposedly signalling the death knell of the humble Estate car, this one has shown a lot of promise this time around.
It looks better, has more kit, and while it's bigger and not as handsome as the standard Golf, that just means it's more practical. Moreover, the new Volkswagen Golf SV Hatchback is still fun to drive and is a solid choice for families.
When you lease a car with OSV there are no hidden costs, request a call back and we'll find you a finance, lease or purchasing deal designed just for you.