The new Volkswagen California Diesel MPV has never been this good – but it's also never been this  expensive.
If you liked the T5, the chances are you'll love this one. If you thought the T5 was okay but not worth buying, the chances are you'll feel differently about this new T6 model. Although VW have not reinvented the camper van wheel by any means, they've made a number of changes to their California van that have boosted its appeal. It feels more  upmarket overall, it costs  less to run, and there is better  refinement. All in all, it's a  better product
Is £50,000 value for money? OSV takes a closer look with our Volkswagen California Diesel MPV review.
Overview Of The Volkswagen California Diesel MPV
When you first take a look at the California, you might be inclined to suggest hardly anything has changed. VW would disagree. In fact, they'd point out that there are actually 6,000 alterations! The six-thousand changes are mostly invisible. But when you fire her up and get her out on the road, you should be able to  feel them, because most of the changes centre around the engines and suspension.                                                                                                
Without  any  petrol engines in the range, you get to choose from a trio of diesel units. All are 2.0-litre TDI diesel's in different power guises – a 100bhp, a 148bp, and a 201bhp variant. The 201bhp is going to be an alluring proposition, primarily because it's the most powerful engine used in a Volkswagen van.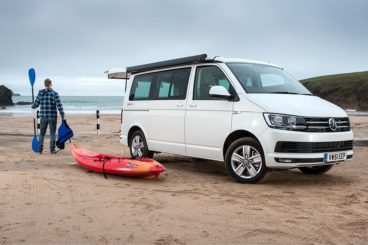 Despite its powerful appeal, the entry-level 100bhp unit is OSV's top pick. It impressed us with its tenacity, steel and the fact that it feels decidedly old-fashioned. For example, it's tuned the same way as the Mk IV Golf's Pump Duse diesel units. This means torque is all concentrated in a thin band at the lower end of the rev range. Pickup, then, is  instant.
As such, despite having double the amount of power available, the 201bhp doesn't actually feel twice as powerful. There is no denying that it's quick, though.
However, most buyers will opt for the mid-range 148bhp diesel. It's restrained at the bottom of the rev range and can get you from rest to 62mph in  14.2 seconds. But it does offer more punch than those numbers suggest.
Whichever model you go for, your engine will be paired up with a 7-speed DSG automatic gearbox. If you buy either the 148bhp or 201bhp units, you can mate them to the 4Motion four-wheel-drive for extra stability  and confidence in poorer conditions. Running costs, though, will be bumped up.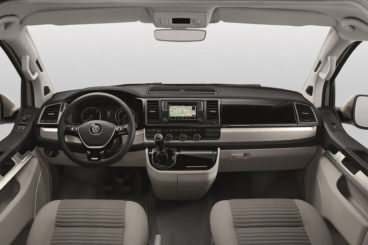 Inside, not a  great amount has  changed. The kitchenette of the T6 has been transferred to here with hardly any  modifications, although there are additional cup holders  and rails. The rear and front styling has been tweaked, but VW have spent most of their time, budget and efforts on improving ride quality, refinement and interior flair. They have also added some new advanced tech that is especially pleasing and raises this van's standards (and price).
The biggest change is the new "premium" cabin, which you unfortunately can't get with the entry-level Beach model. It gives the interior a decidedly more upmarket feel, with soft-closing compartments and glossy surfaces adding flair, ambiance and class. However, VW have refrained from including soft-touch surfaces, which would have elevated the cabin still further into truly premium territory.
Stripped of the star-studded cabin, the entry level Beach model then feels a lot less luxurious. We're assuming that Volkswagen's aim was to create a luxurious MPV, but it looks and feels more like a dolled-up van that doesn't want to admit its age. Our suggestion is that if you've got the money, ignore the Beach trim and go straight for the Ocean line.
Standard equipment is  reasonable. There are only a pair of trim levels to choose from:
Both models get a DAB digital radio, Bluetooth connectivity, LED tail lights, alloys, and climate control. They also get a useful auxiliary heater, which will warm you all up when the chill descends at night.
The Beach variant misses out on a  rear kitchen, although they do make up for it with a manual pop-up canvas, five seats, as well as a foldout double bed which fits two people. You can add another pair of seats as an optional extra, but you will then need to remove them whenever you want to use the lower bed.
The new  Ocean line is your best bet. It comes with a fridge, a sink, dual gas hobs, wood veneered storage units, a side awning which will shelter you from the rain when you're outside, and it can sleep and seat four. Volkswagen haven't quoted a boot volume figure.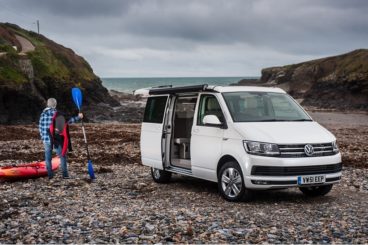 Costs Of The Volkswagen California Diesel MPV
Prices for the entry-level Beach model start out from £37,500. The  Ocean model, meanwhile, is listed at  £47,800. If you want to lease the car over  24 months, you'd be looking at paying around £450  for the cheapest model and up to £1,500 for the most expensive.                                                                
The diesel engines are all Euro-6 emissions-compliant, which means they offer improved economy and emissions across the board. In the past, the 2.0-litre TDI 138bhp T5 model could only achieve fuel economy returns of 39.2mpg. Now, it's equivalent here can achieve returns averaging  44.1mpg. It's a solid improvement.
Pros and Cons Of The Volkswagen California Diesel MPV
Cheaper To Run 
Volkswagen have done well to improve both economy and emissions. The 2.0-litre TDI diesel unit is good for returns of 441.mpg, and emits 169g/km of CO2 – a big improvement on last time.
Solid Amount of Standard Equipment
The prices look high, but the specification sheet is  pleasing and goes some way to justifying the outlay.
Cheaper To Buy Than A Proper Motor Home 
Okay, so it's relatively expensive compared to some rivals. But it's also relatively inexpensive  compared to a proper motor home.
Everything's relative, innit?
Lack of Soft Touch Plastics In The "Premium" Cabin
The "premium" cabin is only available with the Ocean model, and this might be a sore issue with you already when you consider how expensive the Beach trim is.
But even when you pay the extra for the premium cabin, you don't get the kind of soft-touch surfaces we have come to expect from premium VW models. Their absence is a disappointment.
Not As Much Charm As Of Old
Everyone remembers the original VW camper vans. They were iconic. Scooby-Doo immortalised them!
And if those camper vans had one thing, it was charm. This new T6 model lacks its predecessors  former magnetism, and while it looks friendly enough, it just doesn't look the same.
Volkswagen California Diesel MPV vs Mercedes Viano vs Volkswagen Caravelle
There are a handful of vans on the market at this price point that all offer solid value for money. Let's see how the van fares against its rivals in the comparison section of our Volkswagen California Diesel MPV review.
Volkswagen California Diesel MPV vs Mercedes Viano
The Mercedes Viano (now replaced by the V Class) really is like a van with a couple more seats. The upshot is that you get a lot more interior space.
The driving position is  fantastic, and there is plenty of room upfront. It's a lengthy vehicle, though, so while it performs well on the motorway, it doesn't perform quite so well when you try to park it. Moreover, take it out on twisting country lanes, and you might find that it moves with as much nimbleness as Paul Gascgoine after a few.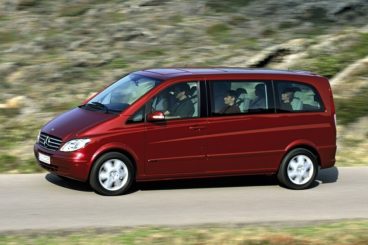 It doesn't fare as well as the VW California when it comes to running costs. Whereas the Cali has made improvements, the Viano hasn't. The most frugal in the range is a 2.0-litre 134bhp which is good for fuel economy returns of 38.7mpg.
The Viano comes in 3 body sizes, but  headroom is good whichever model you choose. Indeed, the really long models increase boot space without really improving interior head, leg or shoulder room. However, the standard model should be good enough for most buyers.
The seats are comfortable, while external noise is kept to a minimum. If you opt for one of the limited edition Avant Garde 125 models, you get treated to a truly luxurious interior. It is, however, super pricey.
Access is easy, thanks to twin-sliding doors. These doors also come in useful when you're parking. There is room for seven passengers, which is more than you can fit into the California, as well as plenty of interior storage options.
Price:
Volkswagen – £35,700 – £47,800
Mercedes – £42,900 – £47,000
Volkswagen California Diesel MPV vs Volkswagen Caravelle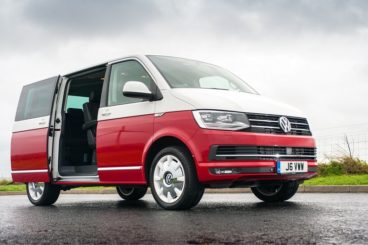 The new Volkswagen Caravelle's looks every inch like a dependable – if boxy – van. It's practical and  hugely spacious.
There are a pair of 2.0-litre diesel engines available, and both are quicker  than the California. The less powerful of the two can make the 0-62mph dash in 13.0 seconds, while the 201bhp variant covers the same distance in just 10.0 seconds.
The latter will be more expensive to run, however, but both can achieve average fuel economy returns that hover around 40mpg, which makes them competitive with all three of the VW Cali's diesels. They do not meet the Euro-6 emissions standard unless you top them up with AdBlue, though.
There are also petrol engines on offer, but they hardly seem worth considering. They offer barely any improvement  in performance, and they cost more to run.
Although it's not as luxurious as the California, the Caravelle at least hides its workhorse roots. The interior looks and feels good on the whole, and borrows a lot of its switches and dials from various other VW passenger cars. Standard equipment is okay, but there are a few surprises – rear parking camera and a park sensor display are missing.
Access is easy  despite the van's height, though it's actually easier to climb into the rear than it is the front. Space is good wherever you sit, though, and you get a choice between a standard or long-wheelbase variant. The latter is trickier to park.
Like the Viano, this is a seven-seater, but the seating arrangement is  unusual. The passengers in the second row of seats can, if they wish, swivel around 360 degrees to face those behind them or those in front.
Despite lacking some of the premium luxury of the California, the top of the range Caravelle is more expensive owing to extra practicality.
Price:
Caravelle – £37,000 – £55,000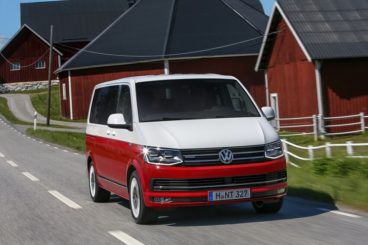 Verdict Of Our Volkswagen California Diesel MPV Review
The biggest problem the VW California faces is trying to convince you that it's okay to have an expensive luxury camper van in your garage. A camper is rarely an everyday vehicle, and at this price point the California is certainly a  bit of a luxury.
However, this camper can easily double up as an everyday van. It's practical, spacious, and you can keep the kids happy during those long and testing traffic jams by rustling up some dinner.
You can also have a kip in the middle of the night when you've had a few beers and can't drive home!
And if it's luxury that you want, we can't think of a better way to enjoy yourselves on the open road right now. It's comfortable, refined, drives well, and the Ocean model comes with all kinds of nice touches that will enhance your getaway breaks. The Volkswagen California Diesel MPV makes a lot of sense.
Want to learn more? Click below to view the review for the competitors in this article…
Looking for a price?
Fill out the form below with your details, including whether you're looking to lease or buy and we'll give you a quote within 24 hours.
[contact-form-7 id="32576″]
When you lease a car with OSV there are no hidden costs, request a call back and we'll find you a finance, lease or purchasing deal designed just for you.