Review Of The Bentley Flying Spur Saloon
Looking for an objective review of the new Bentley Flying Spur saloon? OSV has got you covered, from engines to lease deals.
The new Bentley Flying Spur Saloon looks like a prince but drives like a hooligan. Its aesthetics are all in the name of good taste, but its driving abilities are well and truly X-rated. Sound intriguing? It is.
The problem with all this intrigue is that £133,000 is a lot to spend on what is essentially a car that can't seem to make its mind up. However, it's a Bentley, it can do 0-62 in 4.5 seconds, it's one of the quietest cars in the world, and you're interested.
So join OSV as we take a look at what a car for the filthy rich is all about with our 2017 Bentley Flying Spur Saloon review.
Bentley have pulled out all the stops under the bonnet with this one, and this is now their quickest-ever four-door saloon.
However, despite all the bullet-speed on offer (which we'll get to soon), the Flying Spur manages to be refined and quiet. The soft-as-velvet suspension springs cushion you from the worst roads in Britain, while the steering is sharp, and body lean is at a minimum. All in all, the driving experience is involving, especially if you go for the V8 engine.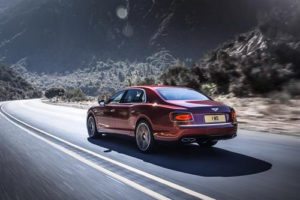 The further you go up the range, though, the bigger the alloys get. And the bigger they get, the less comfort you'll have.
It's also worth bearing in mind just how big this car actually is. It breaks the scales at 2.5 tonnes, which means it doesn't have the reflexes of, say, a Porsche 911 despite being able to compete with it on the speed front (yes, we'll get to that soon). If you drive it with enthusiasm, you'll notice it shudder from all that weight, though it largely handles well.
Each model benefits from four-wheel-drive. To ensure that the Flying Spur is as sporty as possible, most of the power is delivered to the rear wheels. For a bit more security, you can add the ceramic brake system if you go for the more expensive S model.
In terms of the engines, the 6.0-litre W12 delivers up to 626bhp if you do opt for the S model, which is enough to thrust you from a standstill to 62mph in a mere 4.5 seconds. And it can keep going beyond the 200mph mark – the first four-door saloon Bentley have produced that can do that.
The V8 500bhp is our preferred option, as it's more involving and handles better. It's twin-turbocharged and has less power than the W12, but can still do the 0-62 sprint in 5.2 seconds. For a car that has to haul this much weight, that's still impressive. It can also boast a better soundtrack than the W12, generally sounding more menacing.
Go for the S model, and you also get 21bhp more, too. This cuts the 0-62 time down to 4.9 seconds, and it can keep going until 190mph.
Bentley Flying Spur Interior, Design & Build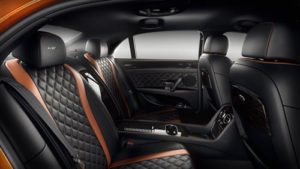 As you expected, the new Bentley Flying Spur's interior is a classy affair that treats you to some upmarket luxuries you won't find in too many other cars. There's a real sense of occasion in here, and this is helped by features such as the acoustic shield. This is a full-length shield that protects the cabin from exterior noises, ensuring that this is now one of the quietest cars on the road.
It's strictly a four-seater, but each seat offers comfort, support and room. Wood and leather detailing are pleasant to the eye and touch, while you can customise your interior with a number of colour schemes and trim options. However, a number of these are reserved only for the W12 S model, with the V8 missing out.
It's really the Flying Spur Mulliner model that has the last word in luxury, though. It gets chrome detailing, 21" alloys, and diamond-quilted seats. It's pure self-indulgence, and arguably the finest way to travel this side of a President's limo.
It's also a practical car, that can boast a 475-litre boot. However, while this should be enough space for most of you, it's worth mentioning that there are far cheaper saloons that have more space. The BMW 3 Series is one example.
As mentioned, passenger space is good, and there are a number of clever touches which boost the usability of this car. We like the fact that there are power sockets that let you charge your devices as you go, while a rear touchscreen means your rear-seated passengers can focus on the sat nav while you focus on driving.
Safety Of The Bentley Flying Spur
This kind of car is rarely ever crash-tested by Euro NCAP, primarily because it just doesn't shift enough numbers. However, most of its parts have been in use by Bentley in other cars, so any faults will have been ironed out by now.
You can drive with confidence in a car that has anti-lock brakes, electronic stability control, and plenty of grip from its four-wheel-drive system as standard.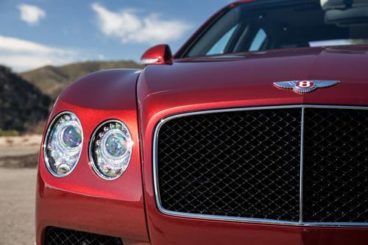 Costs Of The Bentley Flying Spur Saloon
Prices for the new car start out from £133,000 and rise to £155,000. If you prefer to lease, deals start out from around £2,500 + VAT per month. For more information on our leasing deals, you can check out our page here.
Running costs are exactly what you expected, we're afraid. However, most Bentley owners are less concerned by how much it's going to cost them to keep a Bentley on the road and more concerned by how many stops they'll have to make at the Esso garage. And with the V8 claiming fuel economy returns of 25.8mpg at best, there are going to be a lot of stops.
Moving up to the V8 S model won't inconvenience you any further, as it matches the standard V8's emissions and fuel economy. The W12, meanwhile, emits 343g/km of CO2, and costs £515 a year in road tax.
Bentley Flying Spur Saloon vs Aston Martin Rapide S Saloon vs Mercedes S Class Saloon
Let's see how the car gets on against its rivals in the comparison section of our Bentley Flying Spur Saloon review.
Bentley Flying Spur Saloon vs Aston Martin Rapide S Saloon
A Bentley or an Aston Martin? Choices choices! In a perfect world, you'd be able to have them both. The new Aston Martin Rapide S Saloon is more than a match for the Flying Spur. It has four seats, plenty of style and cool, and an arguably less pompous name.
The only thing bigger than the price tag is the engine. This is a fast car that offers smooth delivery. It's quiet, even at speeds, and can cover long distances at the drop of a hat. Performance is effortless and everything you've ever wanted.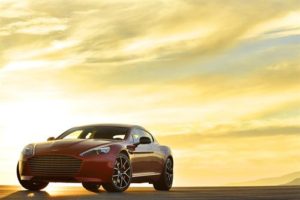 For a big saloon, it's jaw droppingly quick. The can can do 0-62 in 4.4 seconds, before maxing out at 203mph.
The suspension is adjustable, which means you can either be as comfortable as you want, or as stiff as you want. And the great thing about this car is that it does both modes so well. Comfort is palatial, and stiffness is akin to a racing car. It's a car that manages to hide its weight well, too. Tipping the scales at around two tonnes sounds like a recipe for plodding performance and cumbersome handling, but the opposite is true.
The brakes, meanwhile, are a force and offer plenty of confidence and security with their power.
It seems almost superfluous to even mention the running costs. But just in case you're curious enough, the 6.0-litre V12 engine can return fuel economy of 21.3mpg at best, which makes the Bentley's V8 engine the most cost-effective.
Inside the Aston Martin, the cabin is surprisingly comfortable. We say surprisingly because this car is positioned as a sporty GT. The driver's seat and steering wheel are adjustable, and the seats are achingly expensive and luxurious. And if you want you Rapide S Saloon to stand up, you can mix and match your interior colours.
This is a breathtakingly stylish car, but it's also a practical way of carrying four people. Any passenger who gets in here will feel it's their lucky day, and the rear seats are gifts that keep giving. It's essentially a spacious coupe but has more room in a 2+2 GT. Its boot, meanwhile, measures 317-litres. That's more luggage space than you'll get in your mates Ford Focus.
Price:
Bentley – £133,000
Aston Martin – £148,000
Bentley Flying Spur Saloon vs Mercedes S Class Saloon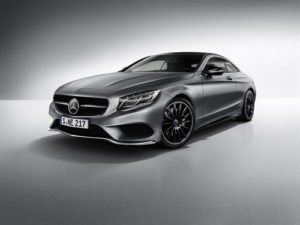 We've taken a look at the best that Britain has to offer. Now it's the turn of the Germans. The new Mercedes S-Class Saloon is yet another luxury saloon that, like the two above, is hard to beat.
If you're very much into British cars, convincing you to go with the Mercedes is probably already a lost cause. But it's well worth a look. German refinement is key to this car's on-the-road enjoyment, while the models are all smooth and comfortable.
The S-Class isn't an engaging, sporty drive by any means. Instead, it's an austere machine built for travelling in style and relaxation. There are a lot of engines to choose from, with the AMG S65 sitting at the top of the range. Petrol-powered, this model can do 0-62 in a jet-heeled 4.2 seconds.
There is a S500e plug-in-hybrid that represents an interesting option for the more green-minded among you. It's super super quiet when in all-electric mode, and combines an electric motor with a punchy 3.0-litre V6 petrol engine.
Two diesel engines round off the range, with the S350 BlueTEC proving popular with buyers so far. It develops up to 255bhp, and performs well in real world conditions.
We're going to guess that you don't care too much about running costs, but just for the more curious among you, we'll point out that the hybrid is good for fuel economy returns of over 100mpg, while the popular S350d 3.0-litre V6 diesel – though not offering as much might as the Bentley's V8 or W12 engines – is good for 47.9mpg. We'll leave that there.
The interior is as you expected – expertly crafted, gorgeous to look at, and filled with plenty of cutting edge technology, including a pair of 12.3" TFT screens. The cabin is faultless, and more than a match for the Bentley's, while refinement has never been better.
The Mercedes is also a very usable car. You're swathed in interior space, head and legroom is excellent, and if you need even more space the Mercedes-Maybach has an even longer wheelbase. The boot, meanwhile, measures a whopping 500-litres.
Price:
Mercedes – £69,000 – £184,000
Verdict Of Our 2017 Bentley Flying Spur Saloon Review
Bentley have a bigger four-door saloon on the market – indeed, this is small by their standards. Its got 6.0-litre engines, four-wheel-drive, and can do 200mph. What's not to love about the most famous British luxury since David Beckham? The new Bentley Flying Spur is a stunning, stunning machine.
Get in touch with a Vehicle Specialist
Fill out the form below with your details, and one of our highly qualified specialists will be in contact within 24 hours.
When you lease a car with OSV there are no hidden costs, request a call back and we'll find you a finance, lease or purchasing deal designed just for you.