Rare photos of Ford cars from the archives
A sneak peek of rare photos of Ford cars!
As part of their UK centerary celebrations, Ford are allowing us an exclusive peek into their Ford photo archives.
From these photos of Ford cars, each specially selected photo shows another aspect of Ford's continuing development and highlights historic moments for the brand.
The 5 millionth Ford Transit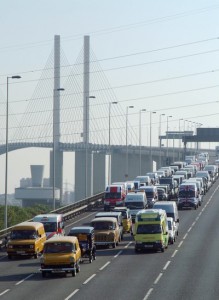 Photos of Ford cars: The much-loved Ford Transit, built and designed entirely in Britain, hit the 5 million mark in August 2005.
To celebrate, the Transit Van Club collaborated with Ford engineers and executives to put on a traffic-stopping rally across the Queen Elizabeth II Bridge in Essex.
Over 60 classic Ford Transits crossed the bridge, including ambulances, the Ford World Rally Transit and Transits proudly decorated with the Union Jack.
The Ford Transit is one of Britain's most enduring vehicles, maintaining a leading position for more than 46 years thanks to continual investment in development and technology.
The Ford GT40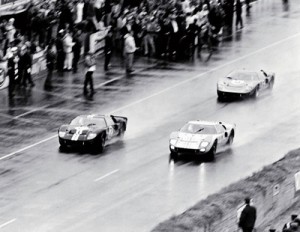 Photos of Ford cars: Emerging from Henry Ford II's disappointment after he failed to buy a Ferrari, the Ford GT40 became a racing icon.
Ford threw down the gauntlet to his designers, challenging them to create a car that would snatch victory at Le Mans 24 Hours from under the noses of their Italian arch-rival.
After an underwhelming first appearance in 1964, Ford engineers refined the car, building the GT40 Mark II.
In 1966 it took all three first places at Daytona 24 Hours, before going on to break speed and lap records at Le Mans where it also finished first, second and third.
The GT40 gained its name from its forty inch height, and was powered by a 7.0 litre V8 engine that hit a recorded top speed of 187mph.
Made from glass reinforced plastic, the Ford GT40 weighed a little over 1100kg.
Ford paid tribute to the much-loved GT40 with the release of the Ford GT supercar in 2002.
Ford cars journey overland to Alaska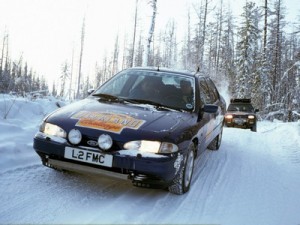 Photos of Ford cars: In the winter of 1993-94 a convoy of Ford Mondeo's and Ford Mavericks set out on a daring mission to get from London to New York – by land.
The intrepid expedition aimed to drive overland through Europe and Russia, crossing the iced-over Bering Strait before driving across North America.
Unfortunately, the Ford team weren't able to use their planned overland route, but they did manage to make it to Alaska by other means, and from there drove to New York.
Ford celebrated their centenary in a slightly more unusual way earlier this winter by commissioning fashion items made from Ford parts.
Keep yourself updated with the latest motoring news by liking us on facebook, following us on twitter or connecting with us on LinkedIn.
If you're interested in buying or leasing a new vehicle contact our sales team. Alternatively, visit our website where you will find new and used Ford cars and vans available for sale or on finance.
Thanks for visiting us today and looking at our very special Photos of Ford cars.
Fed up with looking for your next vehicle?
Need advice from an experienced Vehicle Specialist on what vehicle is right for you?
Book your FREE consultation now