VW Amarok at Dakar Rally 2012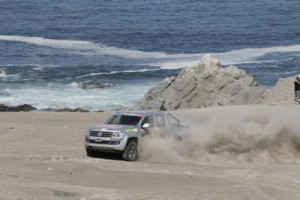 The Volkswagen Amarok is resuming its pivotal role as the official support vehicle at the 33rd Dakar Rally in January.
This is third year that Volkswagen Commercial Vehicles will be supplying vehicles to the event, the world's toughest marathon rally. 30 VW Amaroks will be accompanying the competitors throughout the Rally.
Volkswagen Amarok proves itself in extreme terrain
Covering 9,000 kilometres between Mar del Plata, Argentina and Lima, Peru, the Dakar Rally takes in some of the most extreme motoring conditions possible.
Not only is most of the fifteen day Rally off-road, but both the Amarok pick-ups and their drivers need to be able to cope with the wild Atacama Desert and an altitude of more than 4,000 metres in the Andes mountains.

It's not all hard work though
The VW Amarok will also be central to some of the rest day entertainment.
Participants and fans will get to see Formula One star Jacky Ickx showing boxing world champion Dariusz Michalczewksi and Scorpions guitarist Rudolf Schenker how to drive the Amarok off-road.
Last year, the VW Amarok support crew had fun winning an informal competition amongst the Dakar Rally crews to see who could be the fastest to scale a 600 metre sand dune.
Living up to the Volkswagen philosophy
Volkswagen created the Amarok around the idea of 'power intelligently applied' and its success supporting the Dakar Rally in 2010 and 2011 shows this in action.
In 2010, the Amarok moved almost straight from production to tackling the Rally routes harsh and challenging landscapes.
In 2011, Volkswagen's award-winning pick-up found that it's outstanding ability to cope with tough off-road conditions allowed it to take routes that simply wouldn't have been possible for other comparable vehicles.
Despite covering thousands of kilometres through dramatically different climate zones, the VW Amarok's only needed minor repairs, such as having flat tyres changed.
Ultimate 4×4 flexibility
One of the keys to the Volkswagen Amarok's success at the Dakar Rally is its innovative 4MOTION four-wheel drive system.
It comes with two different choices, optimising performance across a wide range of terrain and weather conditions.
4MOTION Selectable is designed for the most extreme elements that can be thrown at an off-road pick-up. It gives you the flexibility of switching between 4×4, low range 4×4 and rear wheel drive.
As the name suggests, 4MOTION Permanent keeps the Amarok locked in four-wheel drive mode, and automatically directs the vehicle's power to the wheels which most need the grip, vastly improving traction.
The Dakar Rally will take place between the 1st and 15th of January and here at OSV we're looking forward to following the different teams performances.
Keep yourself updated with the latest motoring news by liking us on facebook, following us on twitter or connecting with us on LinkedIn.
If you're interested in buying or leasing a new vehicle contact our sales team. Alternatively, visit our website where you will find new and used cars available for sale or on finance.
Thanks for visiting us today.
Fed up with looking for your next vehicle?
Need advice from an experienced Vehicle Specialist on what vehicle is right for you?
Book your FREE consultation now