Nissan and FedEx's London experiment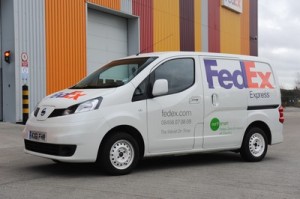 If you're in London over the next two months, you might see Nissan and FedEx's new experiment in action.
Nissan are collaborating with FedEx to test their new prototype all-electric van, the NV200.
Feedback from how the NV200 measures up to FedEx's demanding schedules will go back into further refining and developing the concept before it becomes a mainstream production model.
The collaboration builds on the small fleet of electric vehicles that FedEX already runs in cities including London, New York, Paris and Los Angeles.
The London trial is expected to run in parallel with a comparable scheme in Japan, where the national post service will take on a batch of the NV200s.
Nissan's mission
The Japanese manufacturer is committed to becoming the world's top manufacturer of zero emissions vehicles.
It sees the creation of a commercially viable all-electric small van as the next step in it's mission, following on the heels of the Nissan LEAF.
Nissan believes that the introduction of the NV200 prototype and its successors will improve the quality of life in towns, reducing air and noise pollution.
They also hope that its reduced running costs will ease the financial burdens that many companies are facing.
Developing award-winning technology
The NV200 uses the powertrain and battery of the Nissan LEAF, the world's best-selling electric car.
Having sold over 20,000 LEAFs, and taken the 2011 World, European and Japanese Car of the Year titles, Nissan has already shown its pioneering technology's ability to go from a concept to the road.
What makes the NV200 ideal for urban driving
As a zero emissions vehicle, the NV200 has significant environmental and economic benefits, including reduced congestion payments.
Energy regenerative braking means that instead of wasting energy in stop-start traffic conditions, it can conserve it.
Like the Nissan LEAF, the NV200 charges to 80% of battery capacity in just 30 minutes, with its full recharges taking place overnight.
Keep yourself updated with the latest motoring news by liking us on facebook, following us on twitter or connecting with us on LinkedIn.
If you're interested in buying or leasing a new vehicle contact our sales team. Alternatively, visit our website where you will find new and used Nissan's available for sale or on finance.
Thanks for visiting us today.
Fed up with looking for your next vehicle?
Need advice from an experienced Vehicle Specialist on what vehicle is right for you?
Book your FREE consultation now