Is the Audi e-tron Sportback really worth £63,000?
How does the Audi e-tron Sportback exterior look?
What is the Audi e-tron Sportback's interior like?
How does the Audi e-tron Sportback drive?
How safe is the Audi e-tron Sportback?
Should you consider buying, leasing or financing an Audi e-tron Sportback?
Eager to go to electric? Looking for that perfect electric premium vehicle? The Audi e-tron Sportback could be exactly what you're looking for!
The Audi e-tron Sportback is essentially a sporty version of the regular e-tron that went on sale in the UK back in 2019. It's set apart from its sibling by its coupé-like silhouette and roofline that slopes down into the rear where you'll find that lift-back style tailgate. At the front, the vehicle features a more aggressively styled front bumper and digital matrix led headlights that made their debut with this model.
The e-tron Sportback is produced alongside the regular e-tron at Audi's Brussels plant in Belgium and it's based on a modified version of the MLB Evo platform which is based on the widely used MLB platform from the VW Group. That underpins a lot of the brand's vehicles from petrol to diesel, to hybrid and fully electric so it's a very flexible system.
It is fair to say then that the e-tron Sportback has a fair few rivals: its closest competition is the Jaguar I-PACE which adopts similarly sleek and sporty looks. Then from other German brands, there are cars such as the BMW IX3 and the Mercedes EQC. However, they are a little bit bulkier than the e-tron Sportback and they lack that coupé-style appearance. ng or financing an Audi e-tron Sportback?
How does the Audi e-tron Sportback exterior look?
How does the Audi e-tron Sportback set itself apart from its competition? Is it a better option overall? We are going to help you decide in this in-depth review.
The design of the e-tron Sportback is not 100% unique as it shares a lot of design elements with other Audi models; however, it is unmistakably an electric car from the prestigious German brand. Along the side of the vehicle, sleek lines, that start from the rear, merge to the doors and continue onwards to the bonnet. The door handles match the colour of the exterior body style. This makes the design combine into one, emphasizing the very sleek and very professional design.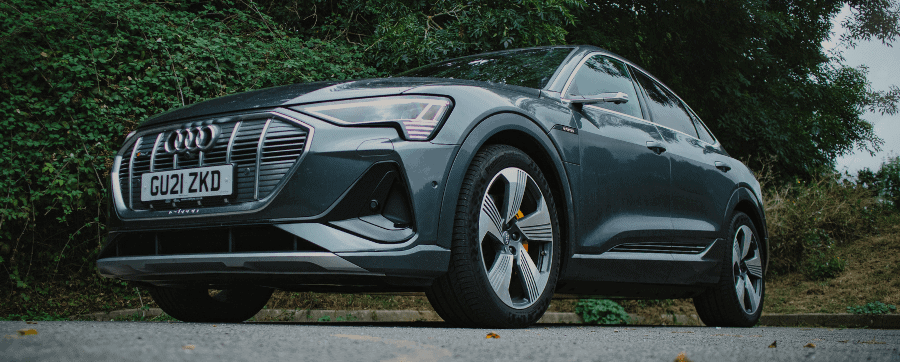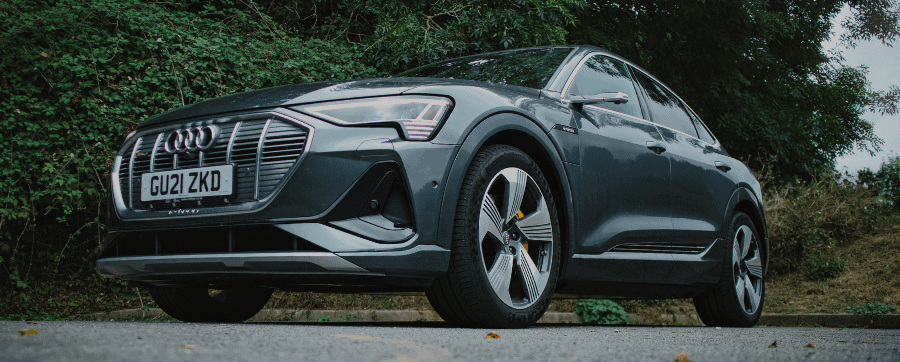 This SUV features generously sized 21-inch contrasting grey alloy wheels. These wheels will provide you with an enjoyable elevated ride height and commanding view of the road ahead. The wheelbase, which is the distance between the wheels, is 2,928 millimetres. While this may not sound like much compared to other models out there, it creates a spacious interior, especially in the back of the car.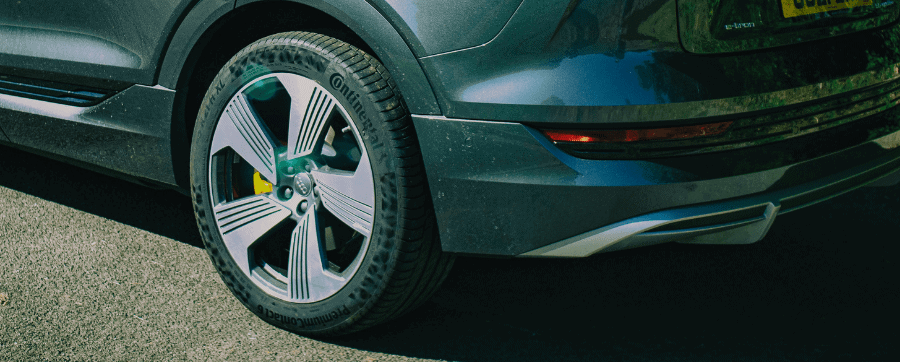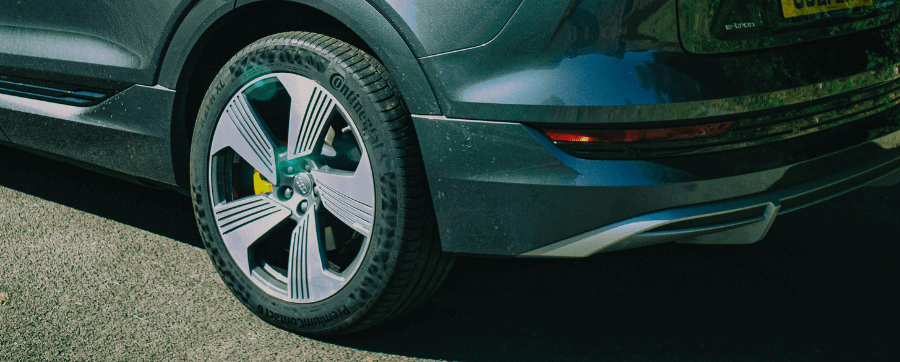 One of the most striking aspects of this car's sleek profile is the virtual door mirrors. These replace traditional mirrors with live cameras that project footage onto the inside of the doors. They take a while to get used to but the main reason Audi has added these to the e-tron Sportback is to make the car very aerodynamic. It has got a drag coefficient of 0.25 which makes it one of the most aerodynamic vehicles on the market. This optimizes range efficiency to its fullest extent.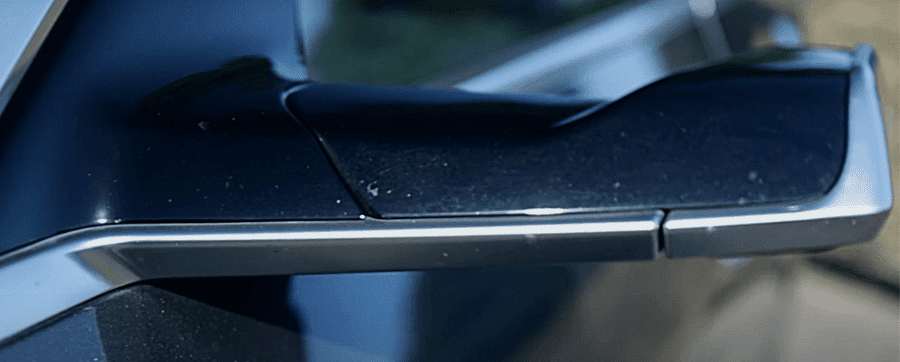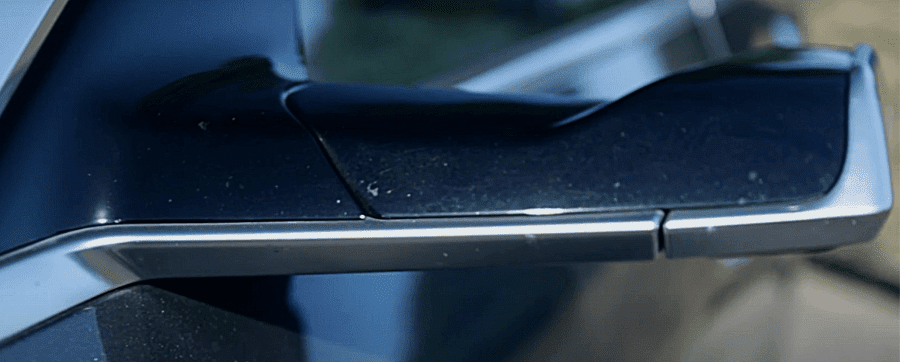 The front of the vehicle features gorgeous e-tron badging and with a press of a button, the charging ports are revealed. While the front of the e-tron Sportback resembles a usual Audi front, it holds a grill which is peculiar considering it is an electric car. However, the grille does serve a purpose: there are some cut-outs in the middle of the grill to allow air to flow, cooling the battery. There is also a larger air intake alongside the underside of the car. Underneath the logo, Audi has fitted a front parking sensor and camera. This is particularly helpful when trying to navigate out of tight parking spaces. This all-electric vehicle features one of the best panoramic sunroofs we have ever seen. However, this does not come as standard, meaning the option will need to be selected when configuring the vehicle.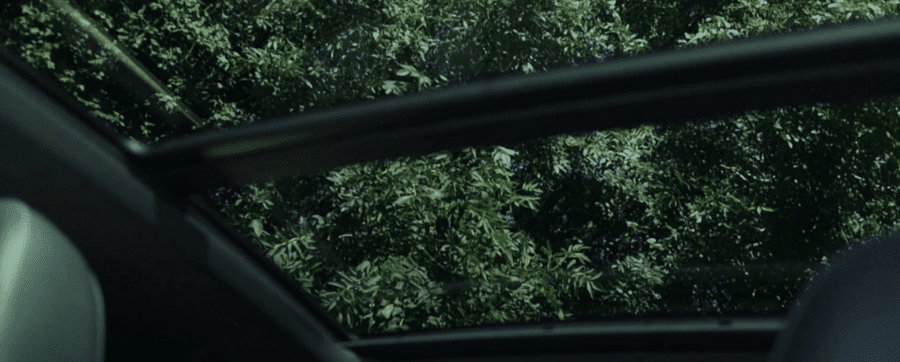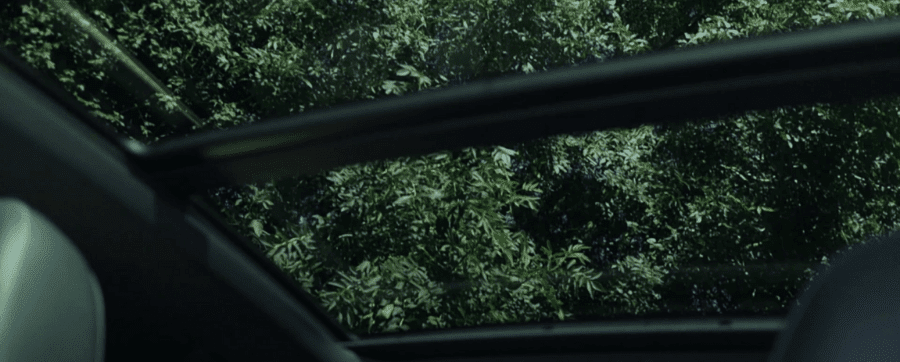 The overall width of the car is 1,935 millimetres which is relatively similar to other electric SUVs in the current market. The overall height, on the other hand, is 1,618 millimetres, which does mean it is smaller than Audi's mighty Q8. When the vehicle arrived at our offices, we were surprised by its size, so if you are looking for a compact SUV with premium stylings and a coupé shape, this could be the perfect solution.
The space on offer in the back of the Sportback is very generous with 615 litres of boot space. That's 38 litres more than the Jaguar I-PACE. While it is a 45-litre reduction in space over the regular e-tron, you can still easily fit six carry-on luggage when travelling. The boot also incorporates four hooks, spaced out across the boot, perfect for tightening objects that like to roll around while you're on the move. There are also two generous storing bays with netting and very generous space underneath the boot floor. There is also a 60-litre space in the front boot, ideal for charging cables.
The rear seats can be folded down to get 1,665 litres more space. However, there are no latches in the back to automatically fold down the seats. This means you're going to have to awkwardly climb over and unlatch them from the back or get into the back seats and unlatch them. It's set up as a 40-20-40 arrangement and they do fold down in a 60-40. To fold down the middle seat (this actually took us 10 minutes to figure out) you need to unlatch the centre armrest and pull down a latch. If this generous amount of space on offer is practical enough for your needs and you are already sold on the Audi e-tron Sportback then make sure to get in touch with OSV's Vehicle Specialists on 01903 538 835 or click the banner below to book your free consultation at a time that is convenient for you, and we will get the ball rolling on your brand-new EV.
What is the Audi e-tron Sportback's interior like?
The interior of this SUV feels very luxurious and features a combination of materials. On display, there is a very pleasant soft-touch plastic featured on top of the dashboard. This merges into gorgeous leather, stylishly embossed with stitching. It wouldn't be a premium vehicle without glossy materials that merge into the infotainment screen on the centre console. All in all, the interior is very impressive and very high-quality.
The driver's seat is very comfortable and provides your back with a fantastic amount of lumbar support. It is one of the best power-adjustable seats we've come across and you can recline fully if needed. To ensure your safety and comfort, there are cushions on either side to keep you from rolling around while going around a corner. Finally, there's a thigh cushion to ensure your left leg doesn't get cramped on long journeys. This is especially useful as you control the vehicle using your right foot only since it's automatic. Audi has truly created an extremely luxurious, comfortable, and spacious driving environment. As for the ride height, you do get a commanding presence of the road ahead, similar to the Jaguar I-PACE but you would receive a higher sitting position in the Audi Q7. We'd even say that you do sit quite low down, by SUV standards. This could be to accentuate the car's sporty appeal.

Thanks to the design of the centre console and the way it flows away from the driver's seat, you never feel like you're bumping elbows with a passenger as you're naturally led to rest your elbow on the centre compartment. There is a storage compartment between the two front seats and enough space for two flasks in the centre display. It also holds a couple of cup holders in there. This section also houses the wireless charging pad. Interestingly, it is angled on its side which is quite rare to see. A small clip can keep your phone in place to keep it from rolling around while on the move and there is a 12-volt socket to charge any other devices. The glove box has a good amount of space to easily fit your manuals, post or whatever you need to keep in there. Interestingly, there is also a long, spacious compartment on the right-hand side of the steering wheel. It's safe to say, Audi has put a lot of thought into the storage inside this electric vehicle.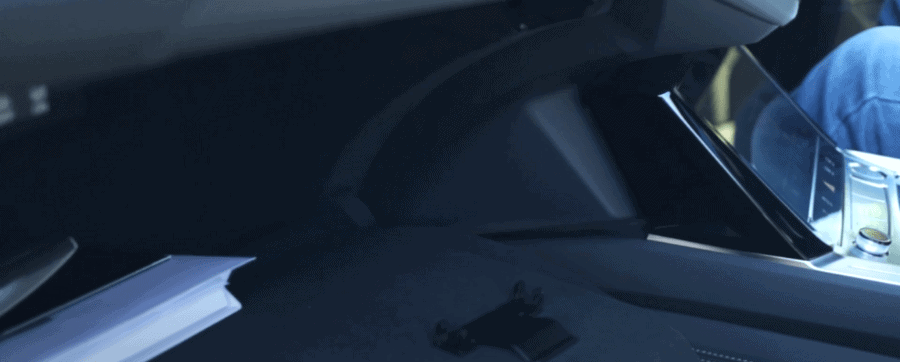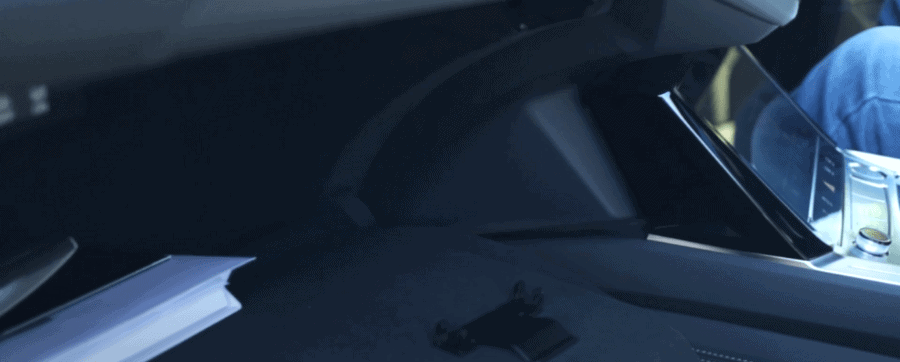 You can unlatch the boot just by toggling a button on the right-hand side of the driver's seat and you can also select your driving profile so you can adjust the seat to the way you like it whenever you enter the vehicle. From the driver's seat, you're able to get a better look at the vehicle's virtual mirrors. It may be a divisive feature as it is quite low resolution and you can get a considerable amount of glare coming off of the cameras. This may be a feature to get used to over time. This car features three screens, a lower 8.6-inch touchscreen display used to control the climate controls and has a keyboard to type in things that you want to show up on this upper 10.1-inch display. The graphics are sharp and eye-catching but not distracting. This bigger screen can be used for navigational software and show local points of interest on the map and has functions such as radio, media, telephone, and has Apple CarPlay and Android Auto compatibility. The screens are very easy to use and there is a sizeable amount of customization available. Unfortunately, due to the high-gloss material, it could easily get covered in fingerprints which means you will have to wipe it down now and again. The third screen is located in the back of the SUV. There is a 12.3-inch digital display behind the steering wheel which Audi calls the "virtual cockpit". This "virtual cockpit" shows all the information you'd need while driving, such as the speed you're driving, battery percentage, the distance you can travel before needing to charge the vehicle, outside temperature, and total miles travelled. It can also handle navigational needs, such as telling you when to turn after going from point A to B. In the light module, you can easily open up the panoramic sunroof mentioned earlier. This lets in a decent amount of sunlight into the inside of the car.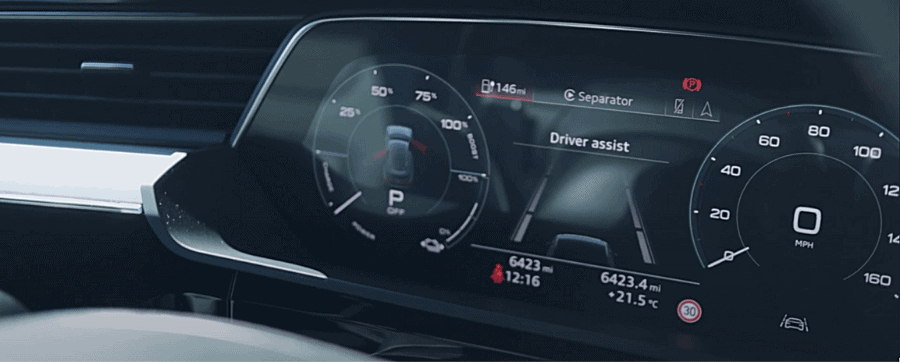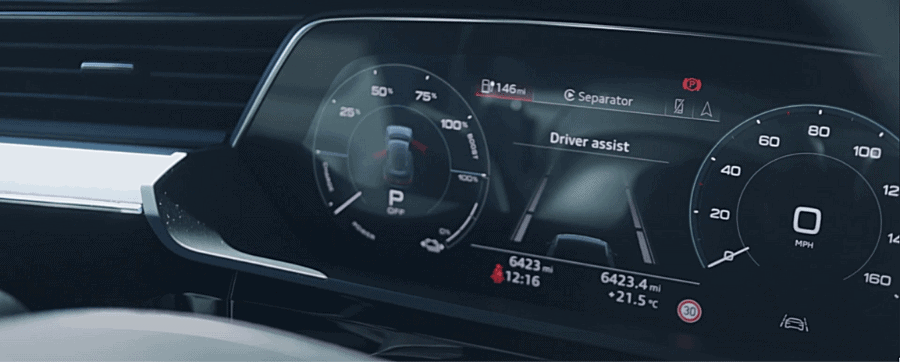 The back of the Sportback is pretty spacious, with room to stretch and get into a comfortable position. There is netting on the back of the front seats that can hold a sizeable number of magazines, books, or tablet devices. You can comfortably rest your arm on the side of the door and wind the window partially down. The middle passenger seat can also be opened up with a small bit of storage and some cup holders inside. Irritatingly, passengers over six-foot-tall might find the space in the back a little cramped compared to the regular e-tron model. This is due to the sloping roofline on the Sportback variant that results in a 20-millimetre reduction in headroom over the regular e-tron. But one of the most loved features in the back of the Sportback is another screen that's used to control the climate for rear passengers.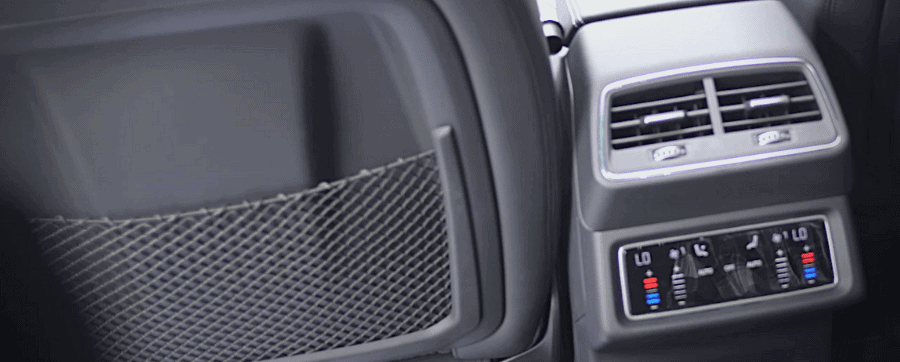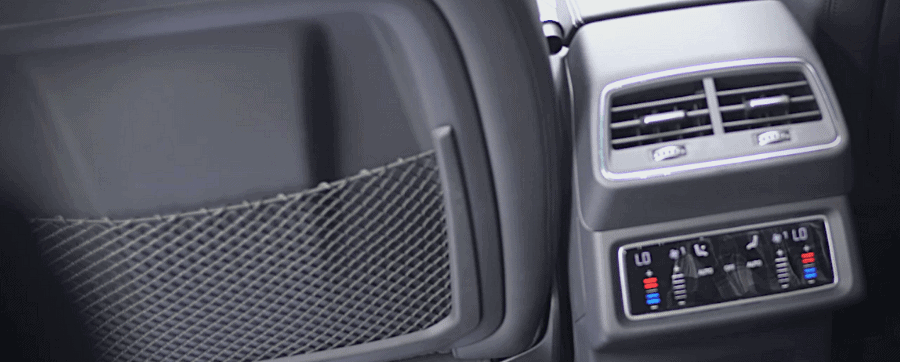 It's very easy and intuitive to use and unlike the screens in the front where the buttons have a little bit of haptic to them, you just lightly tap them to set the intensity of the air conditioning or heating. Sitting in the middle seat is fairly uncomfortable as you'll be sitting on both of the seat belt latches. Your legs will also be encroaching on the personal space of the other rear passengers unfortunately due to how the centre console struts out and there is next to no back support due to the fold-out section. If you have a large family and need more than five seats, we suggest looking at other options, such as the seven-seat configuration of the Tesla Model X. If you'd like to explore your options further, do get in touch with one of OSV's vehicle specialists by clicking on the banner below to book a free consultation at a time that's convenient for you or you can just call us on 01903 538 835 and we'd be more than happy to lend you a helping hand.
How does the Audi e-tron Sportback drive?
Despite this car's rapid 0 to 62 MPH time, it does feel a little bit sluggish off the block. That is due to its weight of two and a half tons. It is by no means a light vehicle; however, this is both a good and bad thing. Bad in the sense that you will need to put your foot down on the accelerator to get this car going, but, once it is, you get that exhilarating performance. Good in the sense that when you go over bumps in the road, you don't really feel it. When you go over potholes, the car just glides over them; it's quite smooth and it makes for a relaxing driving experience. The car's heavyweight can cause a little bit of a lean when you go round tight corners or when you're navigating around sharp junctions, a bit more so than a Jaguar I-PACE. However, the benefit of this is that you get low rolling resistance meaning it grips the road very nicely. We also noticed that the accelerator pedal is quite firm, so you will need to put your foot down fairly aggressively to get access to that full performance. However, that's something that you'll get used to very quickly. Similarly, the brake pedal is also firm but it's also very responsive. You'll find yourself just having to tap it very lightly as you come up to junctions and it will slow the car down very smoothly.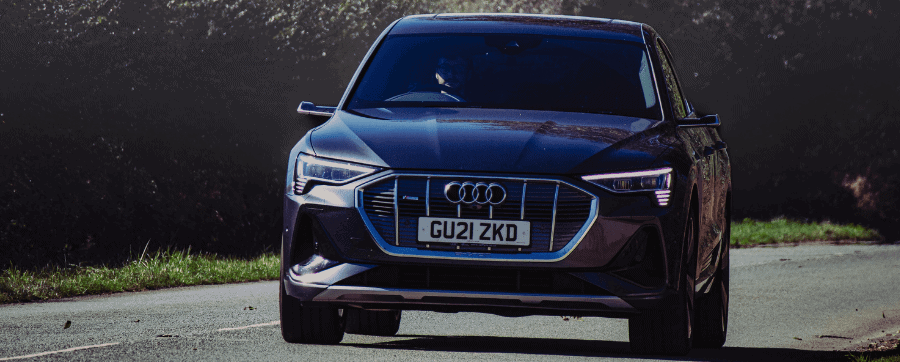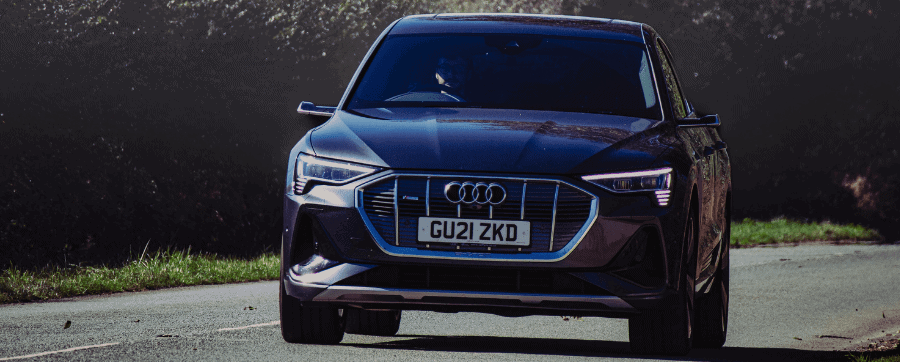 If you put this car in the "Boost" mode, it can go from 0 to 62 in 5.7 seconds. That's because the full force of the torque is sent to all four wheels and it provides you with an exhilarating driving experience. We were incredibly impressed with the lack of wind and road noise coming into the cabin when driving this Audi e-tron Sportback. It's very quiet and most likely one of the quietest electric vehicles we've had the pleasure of driving. The wind noise is reduced thanks to those virtual mirrors as they make the car more aerodynamic and help reduce wind noise. This electric vehicle has regenerative braking which is fairly common for EVs. This means that when you lift off the brake, it's going to harvest energy back into the battery, which makes for quite an engaging and fun driving experience. It could take a while for drivers to get used to that function as it depends on the skill of the driver, therefore, we recommend safely testing the three different intensity modes to find the one that's right for you.
One aspect of the Sportback, we were disappointed about is the lack of vision out of the rear window due to the coupé body style. We weren't able to see too much out there and we had to rely on the virtual mirrors which take a while to get used to. We asked our Marketing Executive and Car Review Presenter, Tom, what he thinks of these mirrors and he said that he'd prefer traditional mirrors as he believes they give you more of a view of the road behind you, but he's curious to see how this technology progresses.
How safe is the Audi e-tron Sportback?
As of the 20th of September 2021, the Audi e-tron Sportback hasn't been officially tested, however, the regular e-tron was awarded five stars for safety by Euro NCAP back in 2019 and 2021. In comparison with the Tesla Model X and the Jaguar I-PACE, the e-tron scored better when it came to child occupant protection but worse in the vulnerable road users and safety assist categories. All e-trons come with lane-keeping assist and autonomous emergency braking as standard and as you move up the range, you will gain access to a wealth of advanced safety systems. For example, with the S-Line trim, you receive the mentioned features plus cruise control, front and rear parking sensors and a rear-view camera. If you would like to hear more about Audi's reliability as a manufacturer, check out our helpful article in our Learning Centre.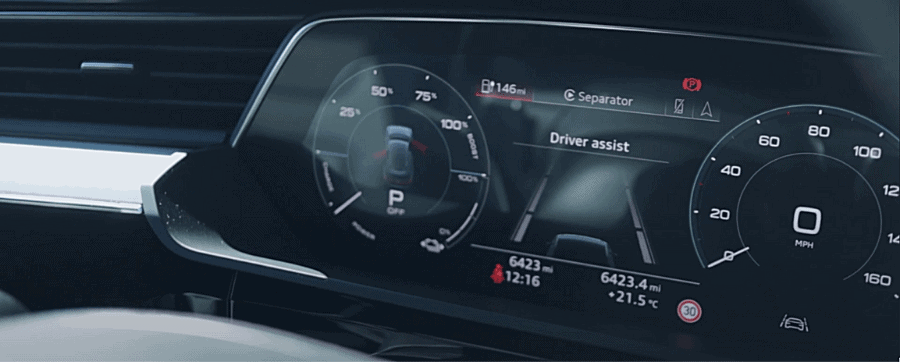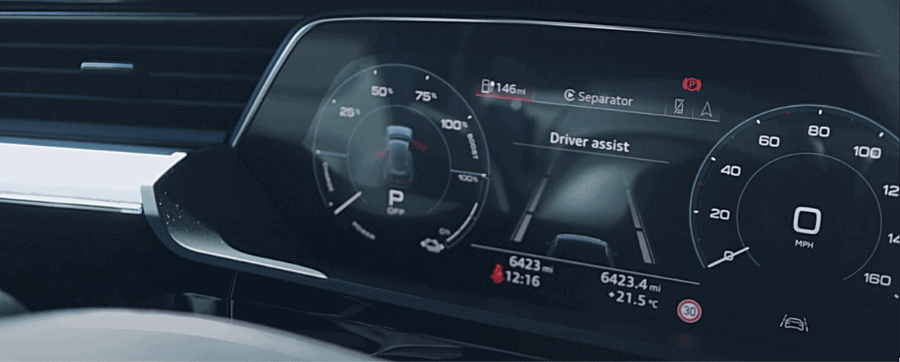 Should you consider buying, leasing or financing an Audi e-tron Sportback?
Well, we loved our time with this vehicle. We thoroughly enjoyed driving this electric Sportback. There's hardly any wind or road noise coming inside the cabin which makes for an exceptionally smooth and relaxing driving experience, and you can just put your foot down when you want that exhilarating performance. This car is also a lot more practical than we were expecting it to be, the boot is very generous as it can fit a considerable number of suitcases in there, perfect for family holidays up the country, and there's a lot of rare space for passengers in the back, apart from the middle passenger. If you're a family of four this is a great vehicle to go electric with. We were also overly impressed with the very luxurious and premium interior that is on par with what you'll find in the latest BMW models. The infotainment system works very nicely with those touch-sensitive buttons which grow on you as you get used to them quite quickly. We also love the haptic feedback that you get on them as well. Overall, the package that you would receive with the Audi e-tron Sportback is very impressive. The advantages of electric vehicles over petrol & diesel cars also apply to this car.
We did have two criticisms with the e-tron Sportback: firstly, we personally didn't enjoy the virtual mirrors as they feel like a little bit of a downgrade and the technology is not quite there yet. This could change, give it about five more years and it should get there but it is just not now. Secondly, we find this to be an expensive electric car. We imagine a lot of people considering this are doing so as a company car, in which case it's a brilliant option if you're a manager or business owner who wants to impress clients at the next meeting as it will do that and so much more. However, if you're just looking for a small-ish electric SUV to begin your move to electric, then there are more affordable options out there, for example, the Kia e-Niro and the Peugeot e-2008. Though they may not tick those premium boxes, the e-Niro offers a better range and a lot of the equipment you would find in the Audi e-tron Sportback.
If you're looking for a luxurious interior, an excellent driving experience, and superior practicality, then the Audi e-tron Sportback is definitely worth the price. It earned its place on our list of best electric cars. So, if you would like to explore your electric vehicle options that little bit further with a vehicle expert, then do get in touch with OSV on 01903 538 835 or just click the banner below to book a free consultation at a time that's convenient for you. If you'd like to watch our full Audi e-tron Sportback review or would like to watch us review any other vehicle, check out our YouTube channel. Alternatively, you can also check out our other written car reviews.
Fed up with looking for your next vehicle?
Need advice from an experienced Vehicle Specialist on what vehicle is right for you?
Book your FREE consultation now