F1 on the streets of Milton Keynes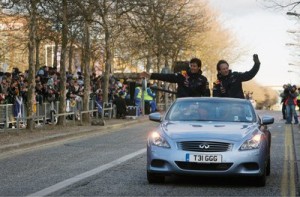 The streets of Milton Keynes turned into a Formula One track on Monday.
Sixty thousand racing fans turned out to see the unforgettable display from Red Bull Racing and Infiniti.
Traffic-stopping event
Roads in Milton Keynes were specially cordoned off for the event, allowing Red Bull Racing drivers Sebastian Vettel and Mark Webber to drive the World Championship-winning Red Bull F1 racers along the streets.
As well as getting an up-close look at the impressive F1 cars in action, fans also had the chance to meet and talk to Christian Horner, the Red Bull Racing Team Principal, and Adrian Newey, Chief Technical Officer.
Vettel and Webber completed hero laps in Infiniti's luxury G Convertibles, waving to the delighted crowd.
Car enthusiasts got to see the world's fastest accelerating hybrid, the Infiniti M35h, too, as it was chosen to transport the two drivers to the event.
Infiniti shows latest innovations
Infiniti's large stand at the event displayed a wide range of their top-end models, along with a chance to see the brand's more unusual vehicles.
These included the Infiniti FX Sebastian Vettel Version concept, which was launched at the Frankfurt Motor Show in September.
The latest addition to Infiniti's sports crossover FX line, Vettel contributed ideas leading to changes in its engine, styling and aerodynamics.
The resulting FX concept is billed as Infiniti's fastest and most exclusive road car.
Another rare car on show was the Infiniti FX30ds, branded in distinctive RB7 colours, which acted as the pace car for the F1 laps.
Celebrating a year of success
The first year of Red Bull Racing and Infiniti's partnership has achieved some notable successes, with the team winning the Drivers' and Constructors' World Championships.
According to Wayne Bruce, of Infiniti Europe, the event marked a fitting end to a remarkable first season for the Japanese brand.
Keep yourself updated with the latest motoring news by liking us on facebook, following us on twitter or connecting with us on LinkedIn.
If you're interested in buying or leasing a new vehicle contact our sales team. Alternatively, visit our website where you will find new and used Infiniti's available for sale or on finance.
Thanks for visiting us today.
Fed up with looking for your next vehicle?
Need advice from an experienced Vehicle Specialist on what vehicle is right for you?
Book your FREE consultation now