BMW's backbone has always been its saloons. The compact 3-series is a huge seller, as is the middle-management hero 5-series, but the 7-series is another level, and represents the pinnacle of BMW. It's now in its sixth generation, and has been a bit of a star previously, having featured in a Bond film and the famous 'Transporter' series of films. This new BMW 740Ld xDrive we're testing packs a  powerful diesel engine under the bonnet and combines this with extensive tech as well as the 'xDrive' all-wheel drive system for winter weather security. It's also the longer version, giving occupants in the back extra leg room to go with their luxury surroundings. With rivals providing such stiff competition in the luxury car market, can BMW's fresh super-saloon go toe-to-toe with the best of them? Let's find out.
Watch Tim's Test Drive Below
BMW's engine designations can be a little tricky to follow, but the '40d' attached to the 7 is actually a 3.0-litre six-cylinder turbo diesel engine that puts out 320PS. Perhaps more significant is the torque figure. At 680Nm – a huge amount by most standards – this can get the heavy saloon moving quicker than a lot of hot  hatchbacks, and the 1.9-ton BMW 740Ld xDrive can get to 62mph in just 5.2 seconds.
Of course, figures aren't everything, especially in a luxury saloon like the BMW 740Ld xDrive. It's about smooth power delivery and refinement, and this is something BMW does well in its diesel engines across its range. The best engines it makes are the six-cylinder diesels, and this one is a gem. Mated to a slick eight-speed automatic – that just so happens to be one of the best on the market – BMW 740Ld xDrive switches almost seamlessly, remaining quiet, but poised to deliver at all speeds.
Being a large and heavy car, the BMW 740Ld xDrive handles as you would expect it to. It's  cumbersome on small and twisty roads, but supremely comfortable on motorways. It isn't difficult to drive at all; clearly it has been engineered to give the most relaxing experience possible and it delivers on that. Just don't expect any exciting dynamics.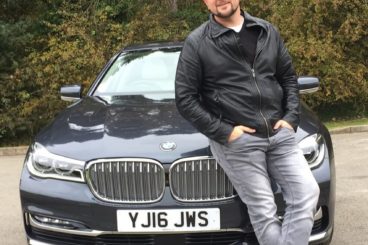 Interior, Design, and Build
Being a luxury car, the BMW 740Ld xDrive isn't going to disappoint when it comes to interior space. In a car like this, the  overall quality and feel of the cabin is arguably just as important as the engineering.
Inside, you'll find vast soft leather seating, a specially designed sound system just for the 7-series, and luxuries such as Wi-Fi and ambient lighting. It's instantly recognisable as a BMW interior, but this is a BMW cabin turned up to the max, and it's a brilliant environment to be in.
Design-wise, there are no real shocks or surprises. The BMW 740Ld xDrive looks as modern as you'd expect it to, but shares a family face with its smaller saloon siblings. Perhaps the most distinctive design feature is the line along the bottom of the doors, often metallic on most models, giving an added sense of grandeur that the 7-series is well worthy of.
Build quality is exactly what you'd expect of a  £75,000+ luxury saloon. There's nothing that feels flimsy or of a low quality; everything feels cared for and constructed with a sense of pride – exactly how a flagship model should feel.
Luxury saloon cars don't skimp on equipment. Levels of kit in the new BMW 740Ld xDrive are  strong, and of course, we're not just talking about technological features found in most cars.
Seats that massage you, piercing laser headlights; there's even a tablet for rear passengers to alter settings like climate control, ambient lighting, or which song is playing on the sound system.
BMW has made a lot of its new 'gesture control' system, but the technology is still in its formative years, and is so far limited to simple gestures like adjusting the volume. We're not convinced it will take off, but it's a great party trick to impress your friends with.
Friends may also be impressed by the key to the BMW 740Ld xDrive, which comes with a small built-in touchscreen that shows off the real trick of the new 740Ld. It can be summoned in and out of a garage or parking space using the key. If this wasn't enough, you can also choose the cabin temperature using this key, or check the fuel level.
BMW has also included a lot of carbon fibre in the construction of this new generation of 7-series, and has, in the process, managed to keep the weight under 2-tonnes, which is a good achievement for a large luxury saloon.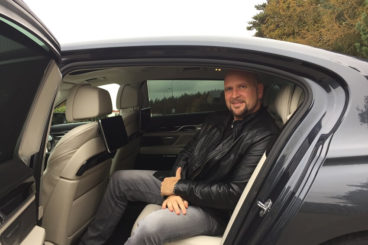 BMW 740Ld xDrive: Cost, Pricing, and Leasing Rates
Costing over  £75,000 new, the BMW 740Ld xDrive is not an affordable car, but it does represent decent value for the kind of vehicle it is. It can cost you more if you choose certain options or trim levels, but our car as, tested, was the more 'basic' option.
Leasing a 740Ld xDrive is a costly affair. We have seen them available for around £750 a month with nine months upfront, but most monthly lease deals come in at over four figures. Still, at least this helps you avoid the large depreciation these cars are prone to in buying one outright.
Finance deals from a dealer are probably going to be hard to find right now, but give it some time and deals should slowly start to appear on these models, as they are not sold in large volumes.
Pros and cons of the BMW 740Ld xDrive
Technology
The levels of technology in the new BMW 740Ld xDrive are incredible, and as we've discussed above, even if some of the tech is more show than go, it still offers a tantalising glimpse into the future of car tech.
Comfort
Obviously important in a car like this, the comfort levels take priority in terms of the driving experience, and we're very glad they do. The ride is incredibly smooth, and with all that power and torque under the bonnet, travelling distances is easy. Perfect for those in business who need to get around, if only we could take one onto Germany's Autobahns!
Efficiency
Thanks to the well-built diesel engine, the new BMW 740Ld xDrive is realistically capable of over 50mpg, and that's from an all-wheel drive car producing over 320PS. CO2 output is also relatively low (137g/km CO2), meaning cheaper road tax for owners, too.
Design
Sure, the BMW 740Ld xDrive is stylish and kind of grand, but it still looks quite a lot like every other saloon BMW sells, and that's a little bit hard to take when you're forking-out over £70,000.
xDrive Wasted
If you're living in any part of the world with a decent climate, the xDrive system is probably going to be wasted. The all-wheel drive set-up comes standard with the '40d' models of the 7 range, but we didn't really notice its road-holding effectiveness all that much. Really, it is there to give extra support during difficult seasons and weather conditions, but we can see the case for buying a lesser 730Ld, saving a bit of money and investing in winter tyres.
Gesture Control
It seems a little bit harsh to lay into a new technology, but as BMW has made so much of a big deal about it, we feel we have to have our say. This technology doesn't improve safety, and doesn't make any less work for the driver. Adjusting the volume with your hand waving around is fine, but a button on the steering wheel or knob on the dash does the same job much more efficiently. This is for showing off, nothing more.
BMW 740Ld xDrive vs Audi A8 vs Maserati Quattroporte
We like the BMW 740Ld xDrive. It's a luxury limousine for motorists who want the best from the renowned German car-maker. But how does it compare with two other major players in this sophisticated segment?
BMW 740Ld xDrive vs Audi A8
If there's one car the BMW 740Ld xDrive really has to stick it to, it's the Audi A8. Audi's large luxury saloon has all the tools it needs to take on the 740Ld, and it also comes with a long wheelbase option, like the big Bimmer.
As with the BMW 740Ld xDrive, the Audi A8 comes with a few choices of engine, but the closest rival unit to the diesel engine in our 740Ld is a 262PS 3.0-litre turbo, which is a bit down on power in this fight. It doesn't make a huge amount of difference in cars of this ilk, but it means that to compete with the diesel engine of the BMW – and beat it – you'd have to step up to a thirstier V8 diesel unit.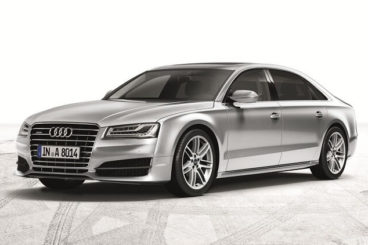 Comfort and luxury is much the same between these two, but you really notice the difference in technology. The new BMW 740Ld xDrive 740Ld feels bang up to date with the latest innovations, while the aging A8 is now obviously lagging behind.
The Audi A8 is also behind on price, but that's a good thing as it'll save you money. All Audi A8's with the 3.0-litre turbo diesel engine come in cheaper than the BMW 740Ld xDrive, but the 'Black Edition' comes very close to matching the price of its Bavarian rival. If you're considering one of those, it may be worth spending a little bit more to get the latest technological innovations.
Prices:
BMW 7 Series – £63,530 to £160,000.
Audi A8 – £63,520 to £99,265
BMW 740Ld xDrive vs Maserati Quattroporte GranLusso Diesel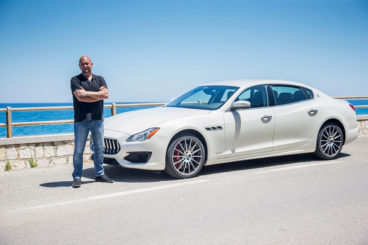 There aren't many cars as beautiful as a Maserati, but only when you put one alongside its rivals do you realise how much care and attention goes into the design of these Italian angels.
Maserati has perfected the ability to make saloons appear more beautiful than they should ever have right to, and it makes the offerings from BMW and Audi look rather unemotional and sterile in comparison. This, however, is the only place the Maserati does have the German competitors beaten, as it falls short in just about every other area and it also doesn't come with a long wheelbase option.
Inside, the attention to detail and materials in use just aren't quite up to the standard of those found in the BMW or Audi, and the infotainment system also feels very old and slow in comparison with the polished systems from the Germans. It's a shame, because that beautiful exterior leaves you expecting a lot from the interior space, but it just doesn't quite deliver, at least if you're used to cars of this nature.
The ride also isn't as comfortable, but it is set up to provide a more sporting sensation, and you just can't help but feel a petrol engine is far more at home in a Maserati than a diesel. The diesel engine is a quality unit, and with 275PS it certainly isn't lacking power, but it just isn't quite as refined, or at home, as the power-plants in the BMW or Audi.
Really, the Quattroporte is for a different type of customer. One who perhaps values something higher than just ultimate comfort, technology, and efficiency.
Prices:
BMW 7 Series – £63,530 to £160,000.
Maserati Quattroporte – £70,510 to £115,980.
As of this moment, the BMW 740Ld xDrive is the leader in this battle. The long wheelbase option is perfect for carrying important people in the rear, and the amount of technology on offer is staggering. This is a car that spoils you, and sometimes we all need to be spoiled.
The Audi A8 is also a fine car, but it is starting to age a little. If you're into petrol engines, you'll find a lot of joy from the 600PS+ 'S8', a car that adds pure power to the already tantalising amount of luxury and comfort. Maserati also does something similar with its Quattroporte 'GTS', with an engine tuned with Ferrari, but really, it doesn't quite deliver what a car in this sector needs to. For now, we'd say go for the BMW 7-series, and you'll avoid disappointment.
Get in touch with a Vehicle Specialist
Fill out the form below with your details, and one of our highly qualified specialists will be in contact within 24 hours.

Latest posts by Rachel Richardson
(see all)