Why is there a car and fuel shortage?
Is there really a shortage of fuel and cars?
Due to the recent European conflict manufacturers have struggled to receive the parts they need to make the cars you want. Now, the car shortage isn't solely down to the Russia-Ukraine conflict. This is not what we are implying.
However, these current events, along with the infamous microchip shortage have pretty much fueled the shortage of cars available today.
So, what caused the car shortage, is there really a shortage of fuel and is the Russia-Ukraine conflict really to blame? Read on to discover the answers to all your burning questions and more…
Is there a fuel shortage?
Before we dive into the car shortage, let's just establish and answer the burning question: is there a fuel shortage?
If you own a car, get driven around or simply know someone who drives, it's near impossible you won't have heard about the prices of fuel going up. UK fuel has nearly tripled in cost since the pandemic. Just 6% of the UK's crude oil is imported from Russia, however, the UK's cost of fuel is still impacted when global prices rise.
March 8th 2022 saw the price of crude oil more than triple since the pandemic on April 20th 2020 (see graph below). This spiked from £28.53 to a whopping £90.72 per barrel of oil.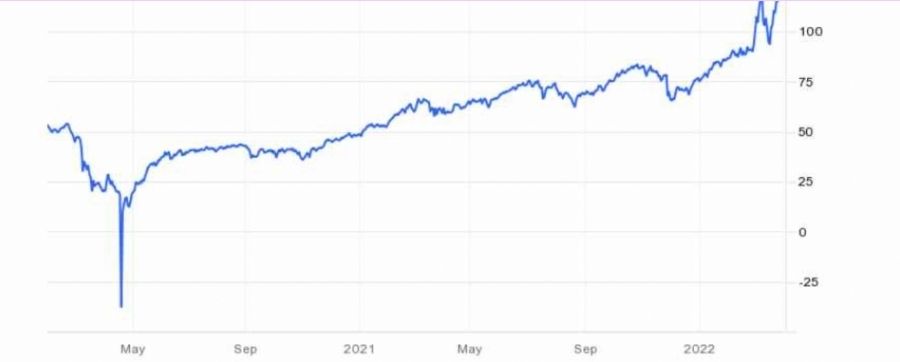 In relation to the events of the Russia-Ukraine conflict, and the media exploding on the Russian oil crisis, there may be some confusion about whether or not there is a fuel shortage.
It depends on how you look at the situation. There isn't really a shortage of fuel, but because of the hike in recent fuel prices, people may think this also means a shortage of fuel altogether.
If we compare now to the Autumn of 2021, when there was a fuel buying panic due to rumours around there being a fuel shortage, this is nothing really like that. Usually, a decrease in supply means an increase in demand and thus astronomical pricing. This does not mean a shortage.
There have been words like 'diesel rationing' come up which have scared motorists, understandably. This may be where the confusion lies.
Now that we have covered what is really happening with the fuel 'shortage' in the UK, what about the shortage of cars?
Why is there a car shortage?
Chip shortage
So, you may have also heard the recent news about a microchip, computer chip, semiconductor chip, or chip shortage – these are all the same thing. This is the cause of why it is so hard to buy a new car today and have it delivered within the month. Why is it so difficult to get a new car?
The microchip shortage is a shortage of chips, these chips are needed to make all new cars. A car is made up of around 3,000 of these chips. So if there is just one chip missing, it cannot be made, therefore your car won't be delivered until it can be made.
What happens when there is a global shortage of these chips? Well, you see, people from across the globe struggle to get cars and vans. What does this mean for you if you're trying to secure your new car? It means competition.
It also means that there is a car shortage in terms of what is in stock, what you can choose from and what can be delivered to you in a timely manner. Although the definition of 'timely manner' will likely change in due course.
Russia-Ukraine conflict
Another recent aspect of worldly events that have impacted car production is the conflict between Russia vs Ukraine. Factories, as well as many other places, have been forced to a close because of the invasion.
One piece of equipment Ukraine is solely responsible for making our wiring looms, these are also known as cable harnesses. These are an essential part of making a car and make up 3.1 miles of cables in the average vehicle. So, without wiring looms the car cannot be built.
The fact that wiring looms aren't simple to replicate or make yourself has meant manufacturers have been faced with challenges. Which manufacturers have been impacted?
Volkswagen's assembly plants have been disrupted in terms of delivery.
Porsche has been forced to reduce the number of shifts at its German Leipzig plant, whilst also suffering from production issues due to a shortage of parts.
Mercedes' plants are still running but have been forced to make shift adjustments to work around shortages of car parts. Certain model lines may not be built and could result in delayed delivery lead times.
Skoda has closed its factory in Ukraine, responsible for producing the Superb, Fabia, Karoq and Kodiaq.
Audi did put a hold on production at various Audi locations, this has since restarted but only at a reduced level. Namely affected models TT, Q8 and Q4 e-tron.
Now, going back to the chip shortage, the conflict has also fed into this issue. Ukraine is a supplier of neon gas, which is critical to producing semiconductor chips. It's estimated Ukraine produce around half of the global supply of neon. That's quite a bit, huh?
Let's imagine that the production of this half supply of neon has been halted, which has happened. Then the inevitable happens: long lead times and therefore a seemingly 'shortage' of cars.
On top of this shortage of neon gas and subsequently chips, China has boosted prices of the now very valuable neon gas by as much as 500% more. What does this do? Makes it more expensive for manufacturers to make cars, which in turn, increases how much cars are to buy overall whilst also growing the already very long lead times of new vehicles.
2022 could see the loss of millions of vehicles produced because of all these impacts. Although it's worth noting that some companies do have a backup of stock of around two to three months' worth of neon gas on hand, so it's not all bad, for now.

How long will the car shortage last?
Now, you understand why there is a car shortage. You are perhaps now thinking "how long will the car shortage last?"
The microchip shortage is said to return to normality by late 2023. How many cars are available will depend on a few things, mainly the brand. See below the expected lead times (time of writing 05/04/2022):
Volkswagen:
LVC order bank temporarily closed
4/5 month order to delivery for all cars
Audi:
SEAT:
These are just a few brands to name.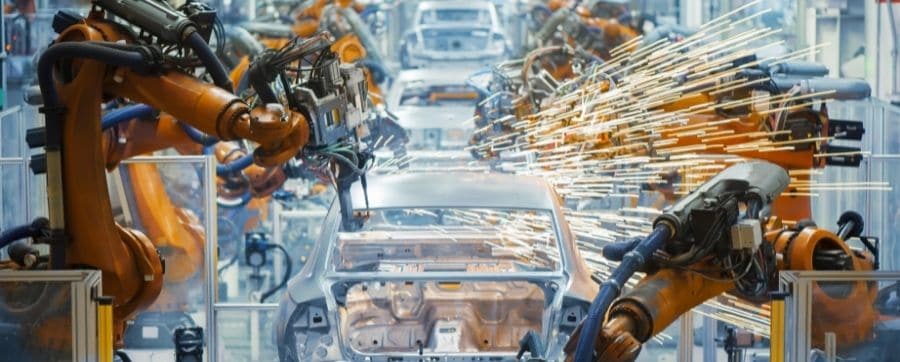 What needs to happen to solve the car shortage?
There are plans for £105 billion to be invested into creating 29 new plants, these plants will help make more cars. These plants also need over 2.6 million chips per month. Whilst we're in the middle of a microchip shortage crisis, this will take a while to readjust and make this plan a reality.
Plants also take around two years to build. So, perhaps in the time, it takes to build those plants, the chip crisis will adjust back to normal levels and be less of a crisis.
It's worth noting that these plants won't be created solely for the automotive industry. So there will be competition to use these spaces.
What can you expect moving forward?
From now (06/04/22) until the end of 2022 you can expect the wait for cars to return slowly back to 'normal'. However, 'normal' as we know it before covid will never be the same again. So expect changes in some form along the way.
New chip factories will have opened up and started working to create new vehicles once again. By 2023 there will be major new chip production facilities opening up, as mentioned previously, including the well-known TMSC (Taiwan Semiconductor Manufacturing Company).
Will the car shortage get worse?
Restrictions in relation to Omicron (COVID) have been relaxed in Shanghai, so component shortages will soon be less likely to be an issue.
However, if we keep in mind the recent events of COVID, the chip crisis, and the Russian-Ukraine conflict, there's no real telling of what will get better or worse. We can make calculated predictions as to how we can react to these situations.
What about if the car shortage goes away?
This is, at this moment in time, unlikely. However, we have said the future is unpredictable, so it's best to prepare for anything.
If the chip shortage returns to normal, COVID stops impacting our everyday lives, and the Russia-Ukraine conflict ends, then yes, by default (if nothing else happens) the car shortage should go away once the backlog has been fulfilled.
If this happens, then the used car value should go down, lead times will return to normality and you should be able to happily buy your car and take delivery of it within the same year…
However, to be brutally honest, this most likely won't be the case for a while.
So, what happens if the car shortage gets worse? What can you do now?
Our best advice would be to invest your money wisely. By this, we mean that you could be paying more if you were to purchase a new or used car outright than if you were to lease your vehicle.
Why is this?
The future value of used vehicles is estimated to plummet: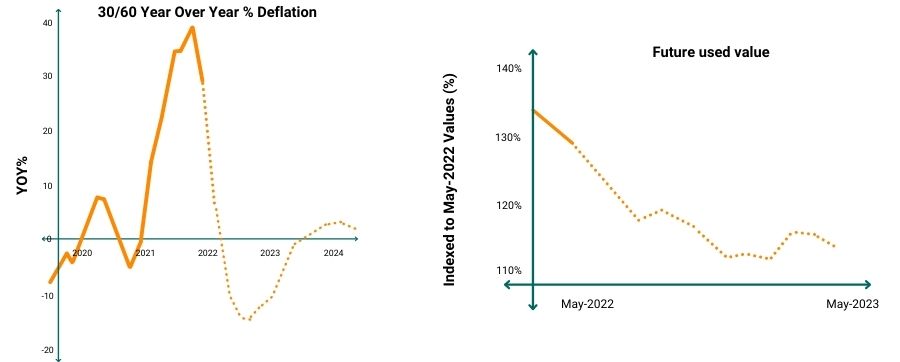 What does this mean for you? Purchasing a vehicle now could mean you are setting yourself up to fail when you come to sell your vehicle, as you may sell it for a lot less than you purchased it for. This isn't down to how well you've kept it, or how new the vehicle is, this is down to deflation which isn't something you can control.
What you can control is the way you 'buy' your vehicle, such as leasing which is likely to be your next best option.
Are you in need of a new car now? Financing a new vehicle through a sensible finance scheme where you aren't responsible for selling the vehicle, today is the best way to go. As you don't have to worry about the depreciation value of the car.

Fed up with looking for your next vehicle?
Need advice from an experienced Vehicle Specialist on what vehicle is right for you?
Book your FREE consultation now