Road trip tips
Road trip tips for travelling in the UK
Tips for travelling abroad
Road trips with children
How to stay calm on a road trip
Thinking of travelling over the Christmas holidays? Or perhaps you're going on a driving holiday, either in the UK or abroad? No matter what the reason may be, if you're planning on taking your car with you then it is worth ensuring you're prepared. That doesn't just mean making sure you've packed the right pair of shoes or remembered your passport.
Just like people, pets and work, you need to make sure you've prepared your car before you go on any journey, especially one that could mean you're going to be sitting in it for a while. If you don't carry out the right checks and prepare your vehicle properly then you could end up experiencing problems.
In this article, we've put together a list of our top road trip tips. We look at everything from travelling with children to keeping calm in traffic, we're going to list some of our best suggestions for making a long trip just a little bit less stressful.
Looking for a new vehicle? Want to know what's available right now? Sign up for our weekly special offer newsletter and get the best vehicle offers sent straight to your inbox.
Road trip tips for travelling in the UK
If you are taking a break in the UK or travelling to see family over Christmas, then you'll still have to prepare your car for the journey. Even if it doesn't feel like you're travelling too far, it will feel that way for your car. So here are some of our tips for travelling in the UK.
Make sure your car is prepared
Make sure that your car is in tip-top shape before you set off, Not only will this help prevent any problems on the journey or when you are driving around during your break, it's necessary when you're driving to and from work.
Here are some of the things that you should check:
Your tyres:

Check for cuts, bulges and gouges – if you spot any then take your car to a tyre fitter who will do a professional inspection
Check the tread depth – they should be at least 1.6mm across the middle two thirds of the tyre around the circumference. However, many suggest it should be at least 3mm.
Check the pressure – you can do this using either a specialist gauge, a gauge on a foot pump or by using a tyre inflator at a petrol station

Coolant

Wait until your engine is cool and find the coolant reservoir (refer to your manual for this). There will be coloured fluid inside and the level should be in between the minimum and maximum marks. If it needs topping up then you can pop to your local dealer and get the right type of fluid. They will also check the quality of the coolant.

Wipers

We're a country known for rain, so the chances are you'll find it necessary to use your wipers while you're travelling. Make sure you have enough washer fluid and make sure that the washer jets are directed at your windscreen and not over it. You can adjust these by putting a pin in the hole and moving them
Check your wipers by pulling each wiper off the screen at a 90-degree angle. Check to see if they have split or if they smear water. If they do, you'll need to replace them.
Plan your journey
Everyone knows the Cub Scout motto "Be prepared" and it's never truer than when you're going on a long journey.
With built-in sat-navs and live traffic updates and our phones, planning your journey in advance may seem a bit redundant, but we've all heard about people ending up in ponds or miles from where they need to be. Always make sure that you have a back-up plan.
Make sure that you've planned out your journey ahead of time. Check out the different routes you could take and which way is the best for your needs. Sometimes it's worth thinking about choosing a route that's more interesting. Travelling through villages and towns can also mean that you end up avoiding congestion on busier roads. We have some gorgeous countryside in the UK and we don't often see it because we're stuck on a motorway, so if you can then taking the time to go a different route could make your journey much more relaxing and enjoyable.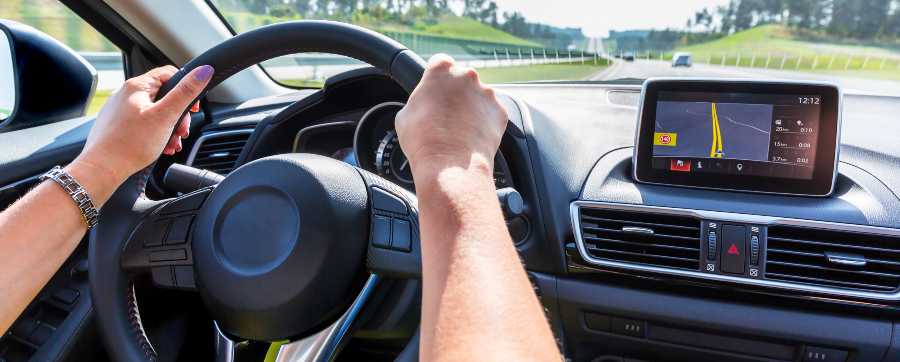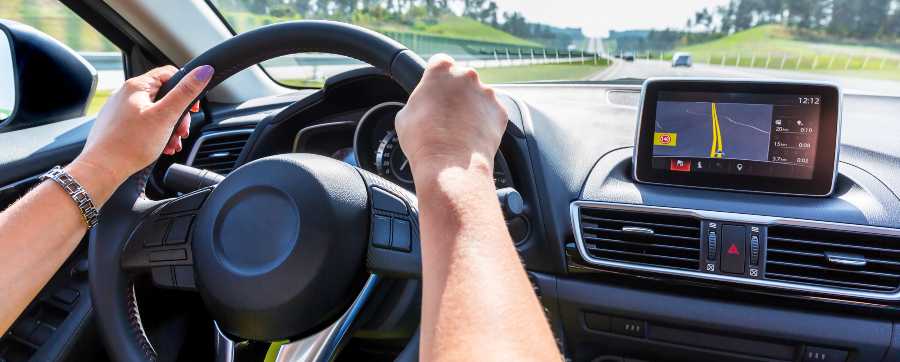 Before you leave on your road trip you should also double-check for any potential traffic issues. Look for any road works, road closures and anything that might slow your journey down. If you're driving through towns or villages then make sure you take into account their busy periods as well, such as during the school run.
It's also worth planning your service stops. Some service stations are nicer than others and have more facilities than others.
We also recommend printing off directions or alternative routes. Once upon a time, everyone had a big map in the glove compartment (my parents had a huge red book sitting in the back of the car) but this isn't always the case nowadays. In the event of a total technology breakdown (the sat-nav going, no 4G or your phone battery dying) it's always worth having a map. It could also double up as a fun geographical game for kids if you get really desperate.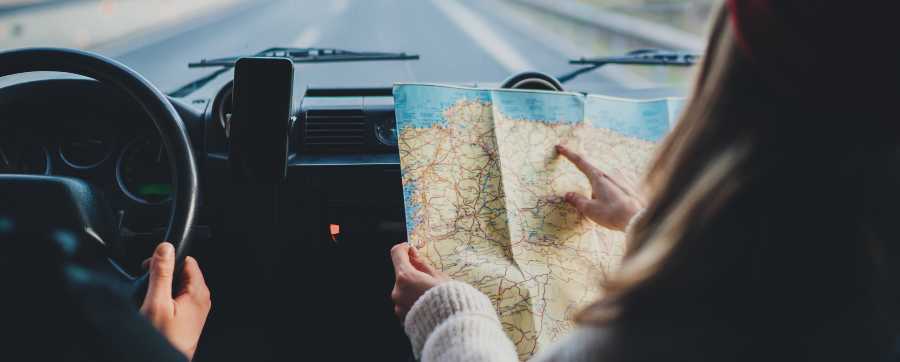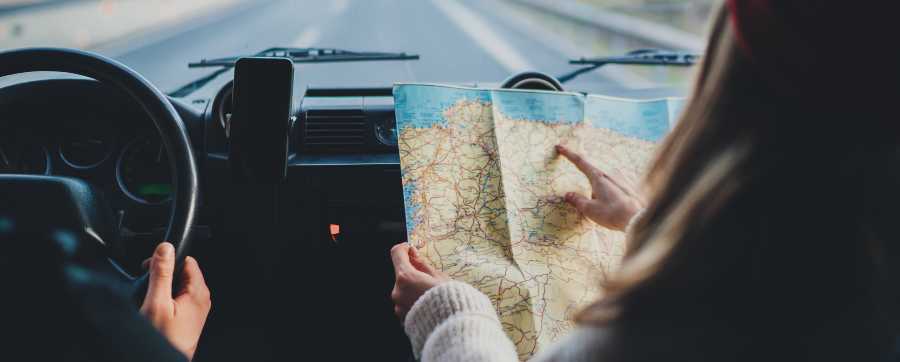 Make sure you have the right documents to hand
It's advisable to have things like your driving licence, insurance details and any breakdown cover documents in your car with you. Hopefully, you won't need them, but it is always a good idea to have them close to hand just in case.
Also, if you are travelling with your partner and they aren't insured on your car, then it's always worth getting them insured on it even if you are the one who plans on doing all the driving. If your journey is a long one we'd advise you to split the journey, but even if you decide against it then it would still be a good idea to get a second driver insured on your car for the journey.
Tips for travelling abroad
If you're planning on going for a driving holiday abroad then there are some extra things you should do to prepare.
Know the law
You should brush up on the road laws for the country you are visiting.
Take France, for example. It is a legal requirement for you to have a warning triangle, a reflective jacket for each occupant of the car, and a breathalyser in your car at all times. You will also be required to have a 'Clean Air' sticker displayed on your car when travelling in certain cities. Speed camera detector technology is banned so you will have to check your sat-nav. Some companies sell 'French Driving Kits' which will include all the items you need.
In Spain, you aren't allowed to use your full beam in built-up areas. So there's a range of different laws that you will have to be aware of before you travel.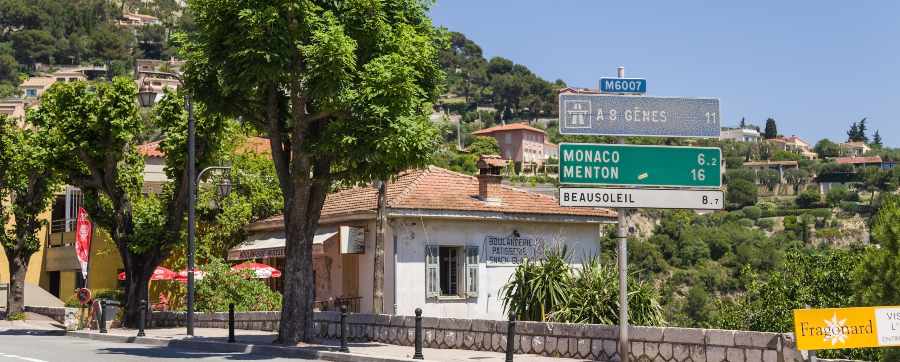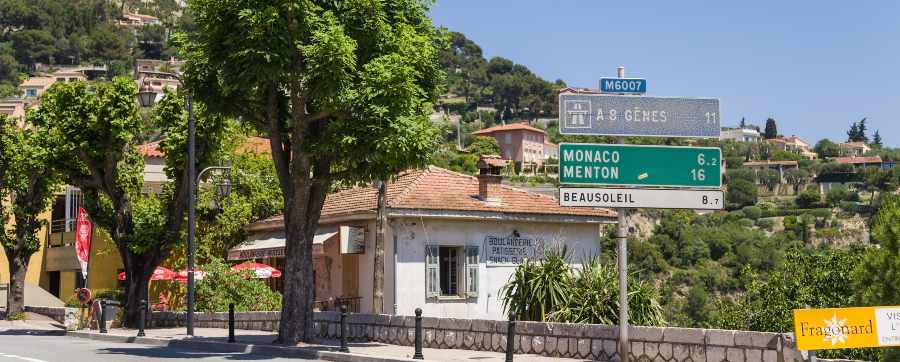 Check your insurance
Make sure that you're insured to drive in other countries and what sort of cover you will have when you are there. Third-party cover is often compulsory but you might not want just third-party insurance, instead preferring better cover. Talk to your insurer, they will be able to give you a range of options and you can work out which cover is best for you.
You'll also want to check your breakdown cover. Make sure that it covers you if something happens abroad and find out what the procedure is if your car does breakdown. For example, will they collect your car? Will they provide a replacement?
WANT TO FIND OUT MORE ABOUT COMPREHENSIVE CAR INSURANCE?
Whatever the model, whatever the cover, we can help.
Road trips with children
We aren't going to tell you how to parent, obviously. But going on a long car journey with your children can be very trying.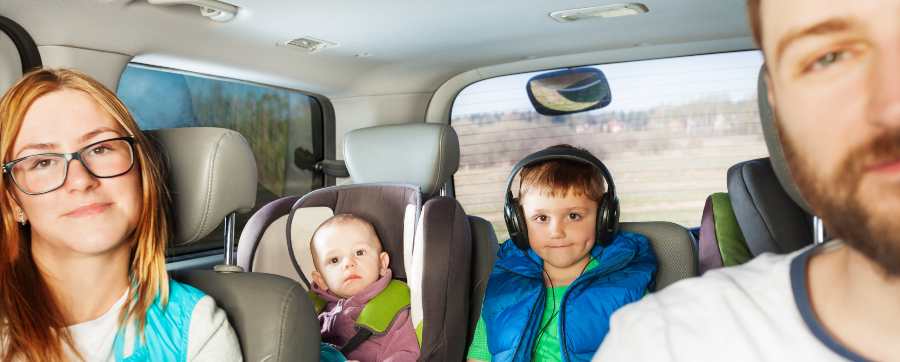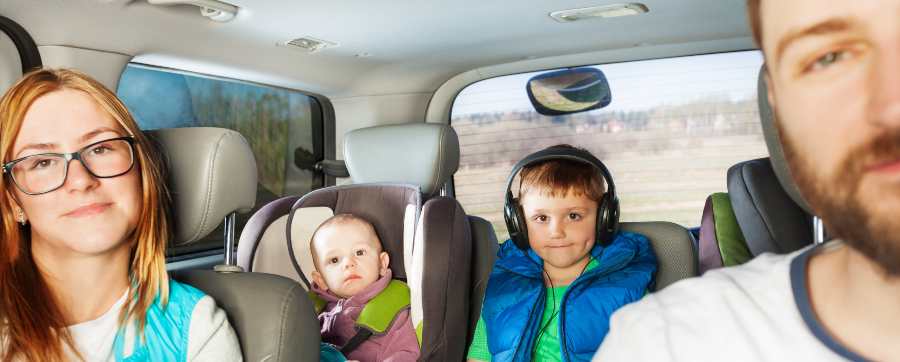 So here are some of our top tips for road trips with children.
You can never do too much planning
There are already so many things you need to do before you set off on a long car journey with children, including making sure that their bags are packed with everything you could need once you reach your destination. However, what about what you might need for the journey?
The biggest tip we have for you when it comes to car journeys with children is make sure you have a bag packed with the essentials that you keep within reach throughout the trip. Many of these may seem very logical, but having a tick list can be really useful.
Wipes

You can never have too many. They are great for wiping up everything from drink and food spillages to sticky fingers and faces.

Food and drink

The last thing anyone wants if they're on a long journey is to keep on having to find somewhere to stop because someone is thirsty or hungry. So why not pack a fun lunchbox (or car picnic) with some easy-to-eat food and drinks in containers that don't spill easily. We would definitely recommend you avoid packing anything too sticky though (but then you do have the wipes!).

Tissues

Tissues, like wipes, can be really useful even if you aren't travelling with kids. From sorting out a runny nose to cleaning up an unexpected scrape or cut, you never know what you're going to need them for.

Travel sickness medication/travel sick bags

Everyone's been there at some point, you're on a long journey and someone in the car starts to feel sick. The immediate instinct is to panic, but with a bit of planning, disaster can be avoided. Making sure anyone who suffers has taken medication and that you have some travel sick bags in the glovebox will give you some reassurance and mean you're prepared should the worst happen.
When planning your journey, it's definitely worth planning for toilet breaks. Children have much smaller bladders than adults so they will naturally need the toilet more frequently than you will. The last thing anyone wants is to have to pull over to the side of the road unless it's an emergency.
Provide as much entertainment as possible
It's a cliche that everyone is familiar with, they've even made films about it, but the eternal cry of "are we there yet?" is a cliche for a reason. The last thing you need when going on long distance road trip with children is for them to get so bored that they're disruptive and distracting.
Time was that travel Scrabble was the thing, however, these days it's all about having a tablet (or two) loaded with games and TV shows. If you are going the tablet route then make sure that you have the chargers for the tablets close to hand. There's nothing more frustrating when the battery starts to run down, than finding you packed the charger cable at the bottom of your suitcase.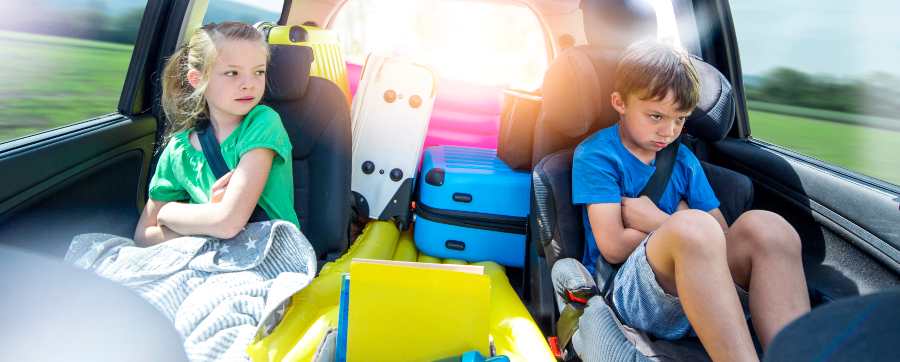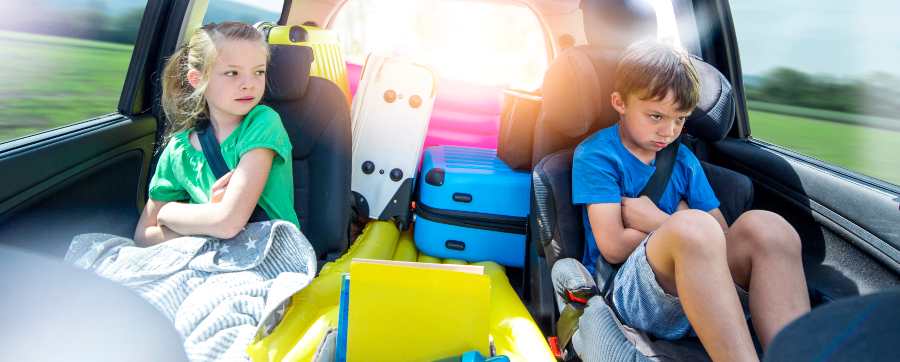 We would also recommend that there are other analogue things to keep them entertained in the back of the car. Books, magazines and travel games are all really good ideas to keep them entertained if they don't want to play on a tablet, or if the battery has run out and needs to be charged. It's also worth remembering that reading and other activities can contribute to car sickness if you're susceptible.
If you're really stuck, there are games you can play as a family, ones that require no equipment and everyone (including the driver) can join in. Games such as I Spy, Twenty Questions, or the Car Colour Game are ideal. The Car Colour Game is best played when you're driving on the motorway rather than when you're stuck in traffic. Everyone chooses a different car colour and you keep count of how many cars of that colour you see. The idea of all these games is to keep your children distracted and concentrating on something other than how long the journey is taking. It's also a really good way of getting them to focus on something other than a screen.
Keep calm
It doesn't take a stressful situation for kids to get irritable, but put them in an enclosed space with little room to move for any length of time and an argument can quickly follow. The key, in these situations, is to keep calm.
It's important that you don't lose your temper. If you do, it can easily set the holiday off to a bad start and make the rest of the road trip a stressful one. It's best to try and resolve any arguments before they begin and, if you have to, pull over somewhere safe so that you can all take a breather and stretch your legs.
Enjoy your time together, there is very little chance for people to spend a lot of time together these days and if your kids are slightly older then sometimes the only way you can spend time with them is to keep them in a moving vehicle for an extended period of time with no escape!
How to stay calm on a road trip
Traffic jams are an unfortunate, but inevitable, event when it comes to travelling, especially at certain times of the year (like Christmas). No matter where you're travelling to, there is a chance that you'll get stuck in traffic. It can be frustrating and can make the whole journey seem incredibly stressful. However, there are some things that you can do in order to stay calm in this situation.
Stock up on your favourite sounds

This could be anything from podcasts to audiobooks. Find something to listen to that will take your mind off the fact that you're stuck in traffic.

Keep a stress-buster in your car

Keep a stress ball or similar in your car with you. This will help relieve frustration and will also prevent your hands from getting stiff and tense.

Keep an emergency traffic kit

This could include a phone charger, some CDs, something to distract the kids and even some non-perishable foods to keep yourself happy when you are in traffic.
Hopefully, this article has given you an idea of how to prepare if you're planning on a road trip, either in the UK, abroad or with children. The key is to prepare. Plan for every eventuality and then you will not run into any nasty surprises and potentially ruin your journey. Keep everything you think you'll need on the journey in the car with you at all times. The last thing you need is to find you need something while on the motorway that you've stuck in your suitcase in the boot.
Make sure you have plenty of water, food and some of your favourite things with you to hand. If you have kids in the car, then make sure you have a few games ready to play in your head to keep them occupied and plan for more toilet breaks than if you were on your own. Treat the road trip as part of your holiday, enjoy the time you have with your family and appreciate the views you are driving by.
PLANNING A TRIP? NEED A NEW VEHICLE?
Get in touch with our team and let us help. Call us now on 01903 538835 or request a callback.
Fed up with looking for your next vehicle?
Need advice from an experienced Vehicle Specialist on what vehicle is right for you?
Book your FREE consultation now