Citroën e-C4 Review: Electrifying Comfort?
What does the interior of the Citroën e-C4 offer?
How is the Citroën e-C4's exterior styled?
How big is the boot on a Citroën e-C4?
How was our Citroën e-C4 test drive?
What are the Citroën e-C4's specifications?
What Citroën e-C4 trims are available?
Should you buy, lease, or finance a Citroën e-C4?
Looking for an electric family car? Meet the Citroën e-C4, the electrified version of the popular C4 Coupe SUV. It's part of the growing trend of electric SUVs. Competing with models like the Peugeot e-2008 and Kia e-Niro, as well as hatchbacks like the Nissan Leaf and Volkswagen ID.3, what sets the e-C4 apart?
This car shines with exceptional cabin comfort, advanced tech, practicality, a good electric range, and a remarkably smooth, quiet ride. If you seek these qualities in your an electric car, the e-C4 could be the perfect fit.
What does the interior of the Citroën e-C4 offer?
Our initial impression of the Citroën e-C4 was highly positive. The interior exudes a premium and plush feel, showcasing excellent build quality. In contrast, the Volkswagen ID.3 disappoints with its abundance of cheap, hard plastics.
The e-C4 boasts a cohesive interior with a high-quality dashboard material that extends throughout the cabin. While it leans towards a consistent design, it complements the central display beautifully.
Gloss black surrounds enhance the infotainment screen, and silver accents grace the air vents. Citroën's interior design here takes inspiration from Mercedes and BMW, resulting in a fantastic outcome.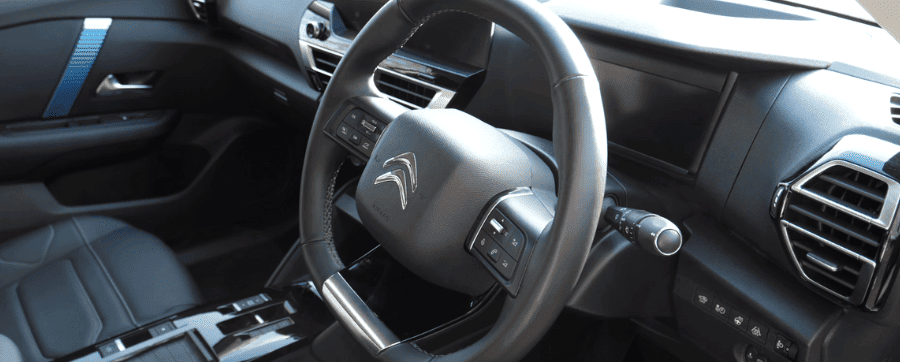 Citroën's seats offer standard lumbar support across the range, ensuring comfort for long motorway journeys. While adjustability is ample, there's no electric memory seat option.
Instead, you'll find manual levers on the right side of the seat to control height, slide, and recline. It's straightforward to find your perfect driving position.
However, the wide side pillars leading to the roof can make the front feel a bit cramped, though headroom remains sufficient.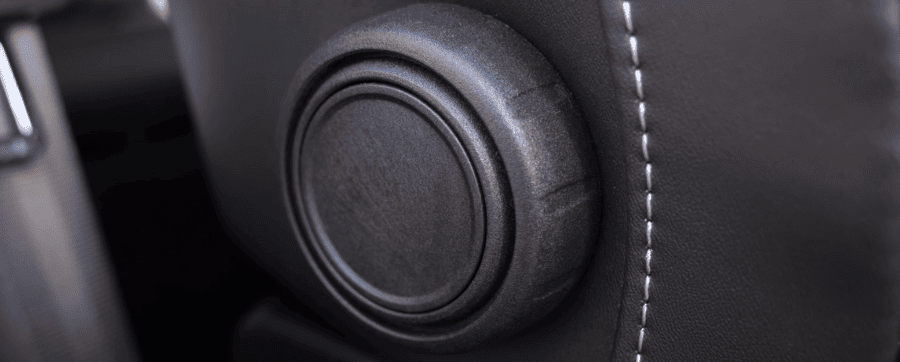 What tech does the Citroën e-C4 come with?
The Citroën e-C4 features a 10-inch HD touchscreen with Bluetooth, DAB radio, and standard Apple CarPlay and Android Auto. If you prefer, you can mirror your smartphone apps on the screen.
While there's some slight input lag, it's a significant improvement from previous models. The software is well-organized and user-friendly.
Additionally, the elevated dashboard display is easy to see while driving. You can charge your smartphone wirelessly or through USB-C and standard USB ports, offering great convenience.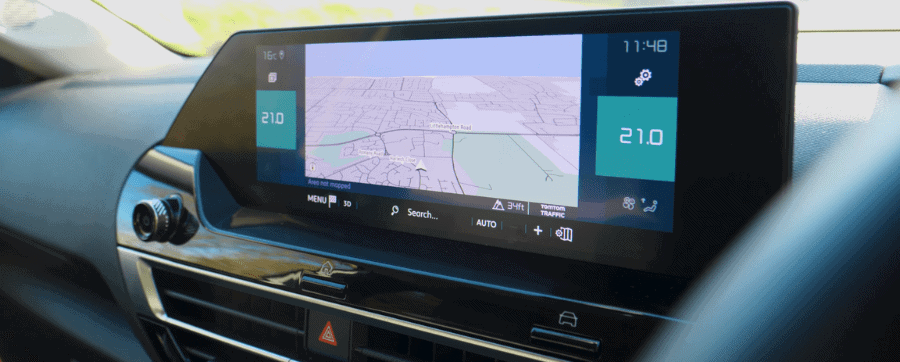 We configured the Citroën e-C4 with the optional heads-up display. This pops up when you turn the car on and it projects the speed and speed limit directly in front of the driver, which is handy.
However, if you don't want to configure the vehicle with this display, you do get a driver display behind the steering wheel that shows your speed, mileage left on the battery, and the selected drive mode.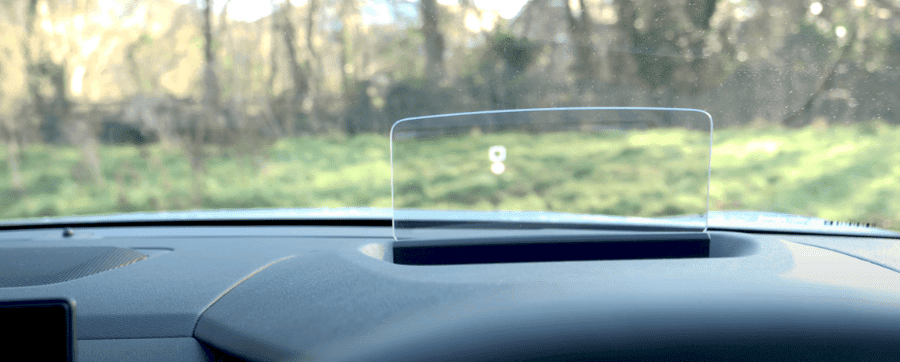 Inside, we truly appreciate the physical climate control buttons. They're a preferred choice over touch-sensitive controls found in the Volkswagen ID.3 or integrated infotainment screen buttons like the Citroen C3 Aircross. If you're interested in other Citroën models, check out our C3 Aircross review.
Additionally, there are handy storage cubbies throughout the cabin, including one with a 12-volt socket for your smartphone. Hidden cupholders slide under the front seats, and the glove box offers standard size and decent storage.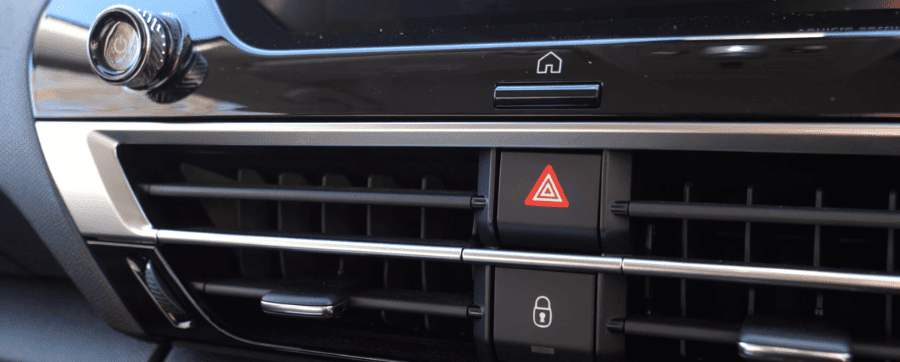 How is the Citroën e-C4's rear space?
The rear space in the Citroën e-C4 is decent, offering sufficient legroom and generous headroom. However, the middle seat is slightly elevated due to the battery underneath, resulting in compromised headroom and a less comfortable experience. We recommend it for short journeys only.
We were also disappointed by the absence of a sliding rear bench, a practical feature found in the Citroën C3 Aircross. This addition could enhance the e-C4's versatility. Otherwise, the rear space is standard and functional.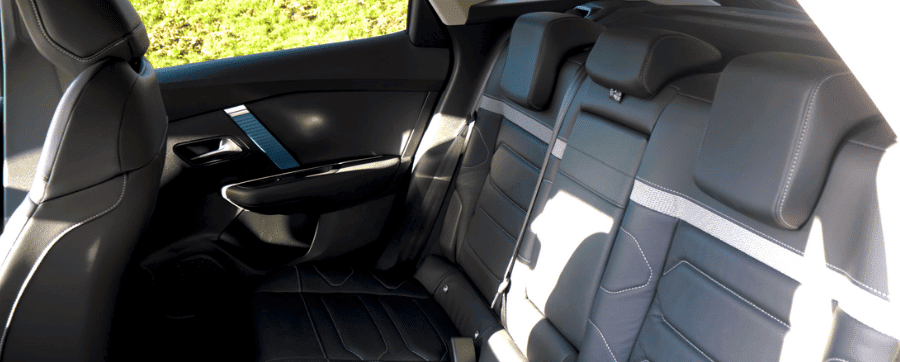 Other features in the rear of the cabin include a pouch in front of the rear seats, perfect for an iPad or magazines, you also get your own climate controls which allow you to adjust the intensity of the airflow, and a couple of USB ports.
Also, if there isn't a middle passenger, you can fold part of the middle seat down, providing you with a couple of cup holders. Overall, we were pretty impressed with the back.
How is the Citroen e-C4's exterior styled?
Let's begin with the front end of the Citroën e-C4's exterior design. LED headlights are standard on all trims, accompanied by striking V-shaped daytime running lights.
These lights also feature a charming "welcome and goodbye" function, adding personality.
The front lacks a traditional grille, typical for electric cars. Instead, it has a small air intake at the top and a larger one at the bottom for battery cooling.
The only drawback we noticed was the two large indents on the bonnet. Nevertheless, overall, it's a sleek and uncomplicated design, making it one of Citroën's best-looking models currently available.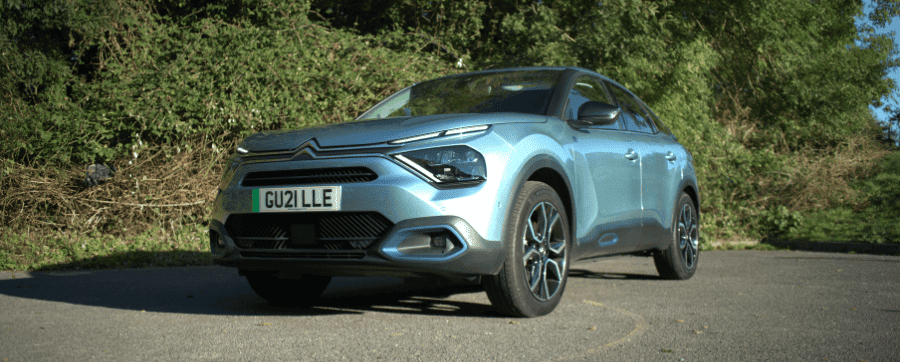 As for the Citroën e-C4's wheels, you'll receive 18-inch CROSSLIGHT diamond-cut alloys.
You get these regardless of which e-C4 trim level you opt for and they look fantastic as they nicely complement the rest of the exterior design.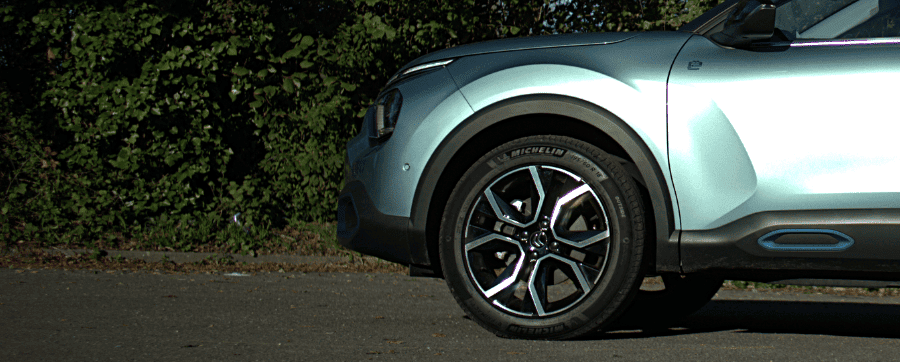 Just in case you need reminding that it's an electric car, you have some e-badging near the wing mirrors. Speaking of which, the body-coloured door mirrors fold electronically inwards when you lock the car and outwards again when you unlock it.
They also feature indicators on the side. Sitting nice and flush against the doors are the body-coloured handles, matching the rest of the exterior.
You also get tinted rear glass with the charging flap, just underneath the left rear glass.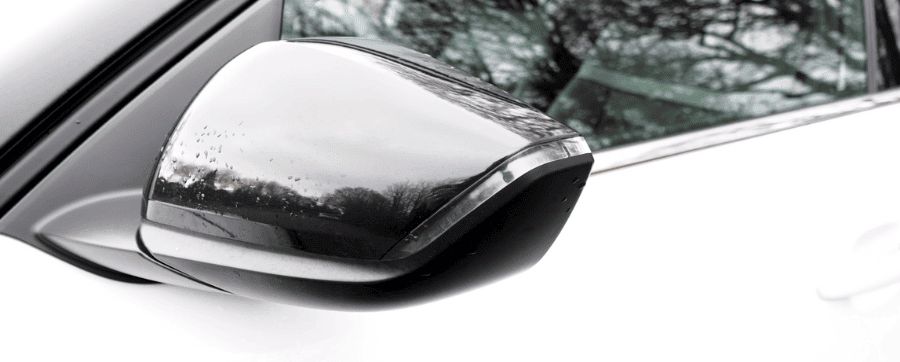 The wheelbase, which is the difference between the front and rear axles, is 2,670 millimetres, which is exactly the same as the standard C4.
In fact, dimensions are pretty much identical to the standard C4, however that car is only five millimetres longer and wider.
It's nice to see that by going electric with this vehicle, you're not sacrificing any practicality or space that may be available with the non-electric version.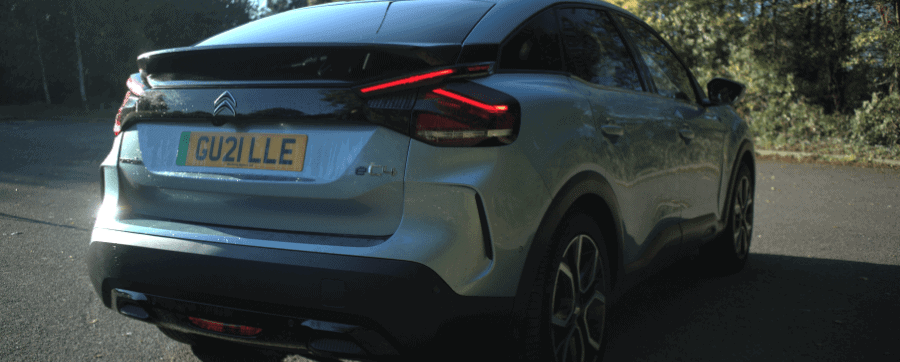 On the rear end of the Citroën e-C4 are the darkened LED light clusters, a slight spoiler (which we were slightly confused at as it's not a particularly sporty car), and a rear-view camera, hiding just underneath the Citroën logo.
Otherwise, that's it for the rear. We quite liked the rather angular and aggressive design on the rear end, but let us know what you make of it.
How big is the boot on a Citroën e-C4?
Let's move on to the boot storage. The Citroën e-C4 offers 380 litres of luggage space, which is around the same size as the Volkswagen ID.3, but 70 litres less than the larger Kia e-Niro, so that's something to bear in mind.
The loading lip is quite low, making it really easy to load luggage into the back. You can fit about five carry-on luggage underneath the parcel shelf, and by removing the shelf, it gives you some more space to play with.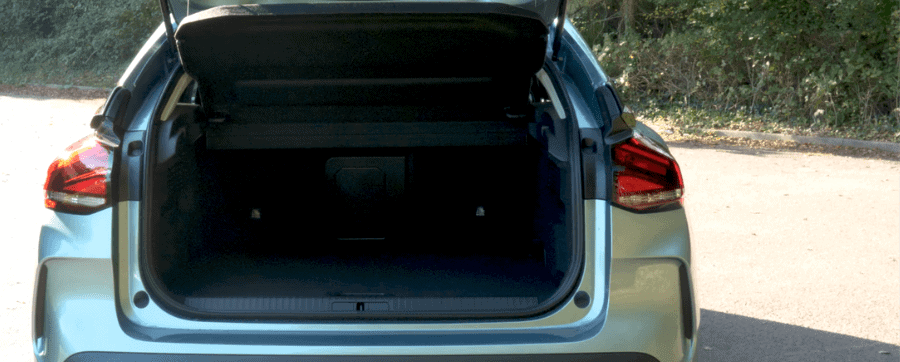 On either side of the boot, are some hooks to attach any objects that like to roll around while on the move, and a storage compartment.
You also get a height-adjustable boot floor, and when it's completely flat and you fold down one of the rear seats, there's no awkward gap, making it really easy to slide awkwardly sized items like golf clubs or camping equipment into the rear space.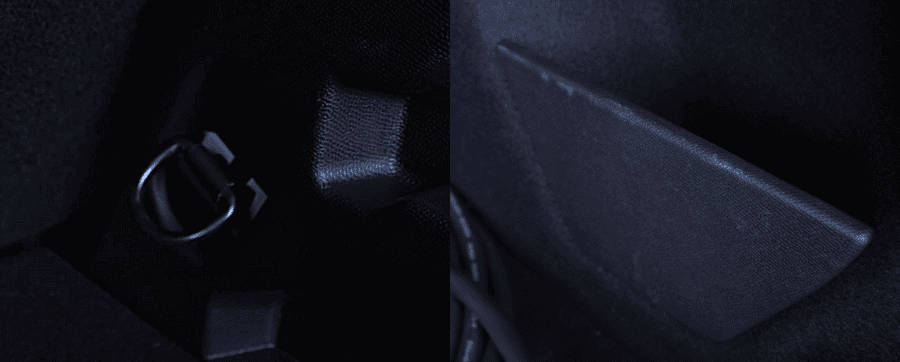 To maximize luggage space, fold down the rear seats, and you'll have a total of 1,250 liters of room, which we find ample for large suitcases or trips to the tip.
There's also convenient space beneath the boot floor for your charging cables. Our main gripe is the lack of 40/20/40 rear folding seats, which would allow passing objects into the rear cabin by folding down the middle seat.
However, this is a minor concern. Overall, we're pleased with the practicality of the boot space.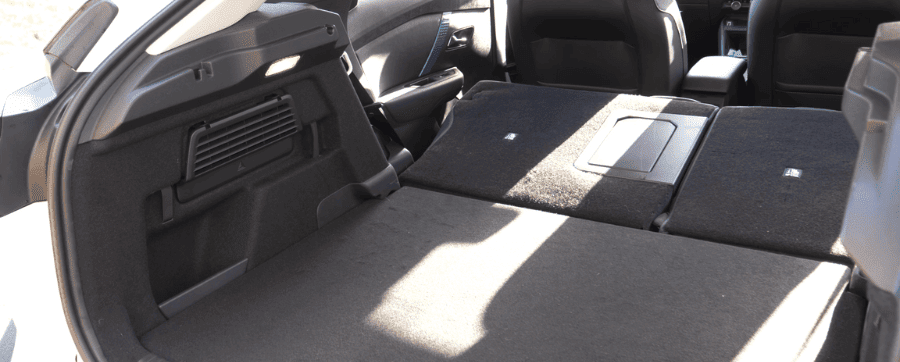 How was our Citroën e-C4 test drive?
The Citroën e-C4 may feel somewhat sluggish compared to other electric cars, especially at speeds of 50 to 70 MPH, which is a downside.
However, it excels in comfortable and quiet city driving at around 30 MPH. While not sporty, it boasts light steering and handles well with good road grip. There's a bit of body lean in the corners.
Compared to the Volkswagen ID.3 or Kia e-Niro, it's less agile. If a more dynamic driving experience is a priority, consider those models. Nevertheless, the e-C4 offers a satisfactory driving experience overall.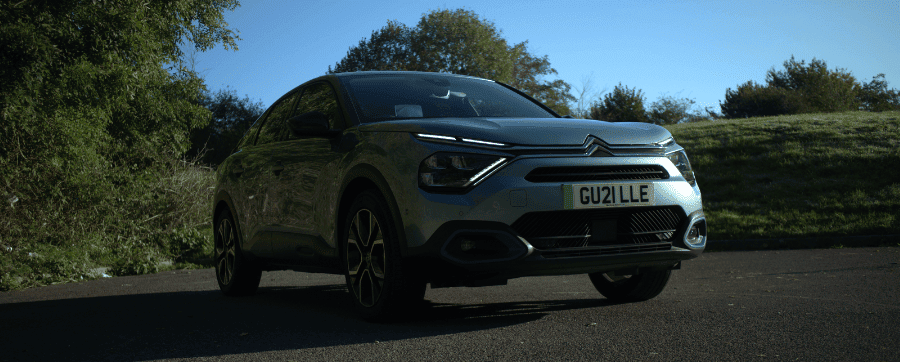 The Citroën e-C4 impresses with exceptional sound insulation, delivering an incredibly quiet ride. This feature is perfect for peaceful trips with tired kids or for maintaining a tranquil atmosphere after a long workday.
As an electric car, it offers regenerative braking, allowing you to recharge the battery while driving. Unlike some electric cars with firm accelerator pedals, the e-C4's pedals are light, making regenerative braking easy and rewarding.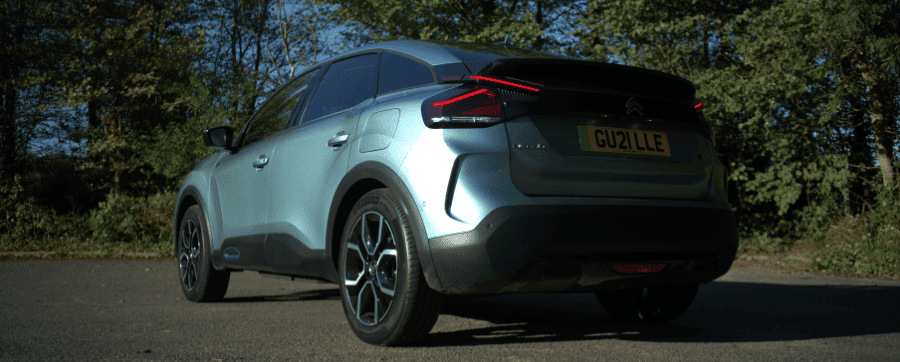 The seating position in the e-C4 is lower than expected, but it gives the car a sporty vibe. However, the angled pillar affects visibility, making it a bit challenging to judge gaps at junctions or roundabouts.
Rear visibility isn't great either, and while rear parking sensors are standard, it's not ideal that safety features compensate for design shortcomings.
What are the Citroën e-C4's specifications?
The Citroën e-C4 offers one electric motor and a 50-kilowatt-hour battery, delivering 136hp and 300Nm of torque. It reaches a top speed of 93MPH with a 0 to 60 time of 10 seconds, which, while decent, might disappoint those seeking instant electric acceleration.
Compared to rivals like the Volkswagen ID.3 (6.6 seconds) and Nissan Leaf (around 8 seconds), it falls behind in acceleration. However, it's important to note that Citroën prioritizes comfort over performance in its design.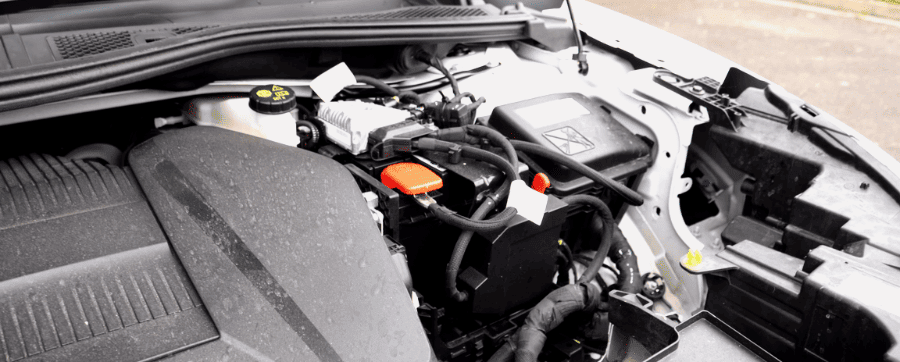 What is the range of a Citroën e-C4?
The e-C4 claims a range of about 217 miles, but real-world conditions like speed, road quality, and weather affect it. In our experience, it showed 200 miles one night but dropped to 144 miles after a cold night.
Generally, expect around 140 miles in real-world driving, sufficient for most daily commutes. Charging at home overnight on cheaper tariffs makes it convenient. Plus, as electric cars emit no CO2, they're an excellent choice for company cars, offering significant savings.
How long does it take to charge a Citroën e-C4?
Charging the e-C4 from 0 to 100% on a domestic socket takes about 24 hours, the slowest option. We recommend installing a 7-kilowatt-hour home wall box for faster charging.
The included 7.4-kilowatt-hour single-phase charger reduces the time to around 7 and 1/2 hours.
For travel, 100-kilowatt DC chargers at supermarkets and motorway stations provide an 80% charge in just 30 minutes, ideal for a quick break. You can also opt for an 11-kilowatt three-phase charger.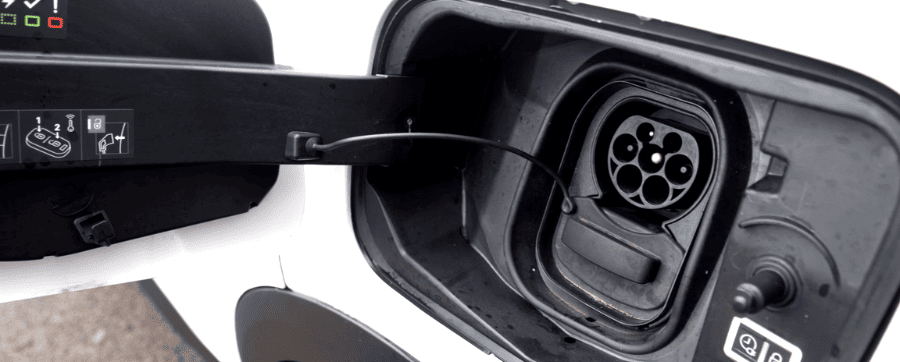 What Citroën e-C4 trims are available?
Sense
The entry-level trim, "Sense" starts at £29,995 and comes well-equipped with features. It includes Glossy Black colour accents, 18-inch Aeroblade alloy wheels, a 10-inch touchscreen with voice commands, Bluetooth, USB, DAB/AM/FM radio, and a wireless mirror screen.
You also get dual-zone automatic air conditioning, heated mirrors, adjustable front seats with lumbar support, and tinted windows with matte black detail.
Safety features like Citroën Smart Pad Support, Connect Box Emergency and Assistance, and the Standard Safety Pack are standard. This pack includes Active Safety Brake, Speed Limit Information, Lane Keeping Assist, Driver Attention Alert, and Forward Collision Warning.
The "Sense" trim offers a great entry-level choice, as higher trims don't significantly raise the price or add many more features. Ideal for those who don't need all the extras.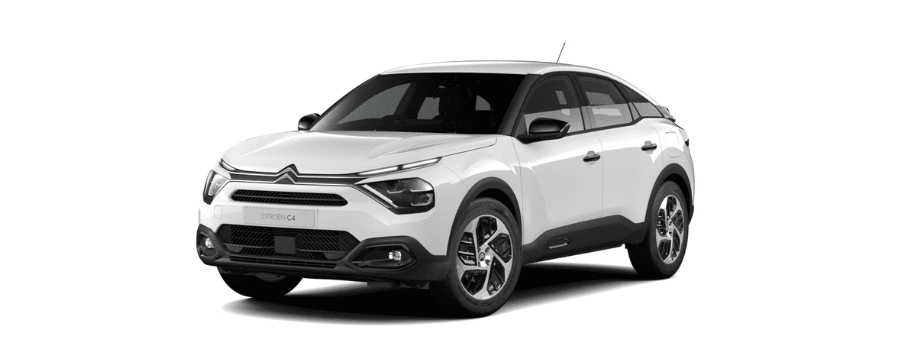 C-Series Edition
Moving up to the "C-Series Edition" at £31,995, you get more for the £2,000 increase. It adds front, rear, and lateral parking sensors with a reversing camera, Blind Spot Detection, Citroen HiFi System, Keyless Entry and Start, heated steering wheel, and Anodised Bronze colour accents.
This trim also includes the Safety Pack Plus as standard, offering Advanced Active Safety Brake, Speed Limit Information, Extended Traffic Sign Recognition, Driver Attention Alert with lane departure detection, and Forward Collision Warning.
It comes with Citroën Connect Nav featuring TomTom Live services, unlike the previous trim where it's an optional extra. Additionally, you get a Driver's Head-Up Display, projecting essential driving info onto the road ahead. If you want these extras, this trim is a great choice.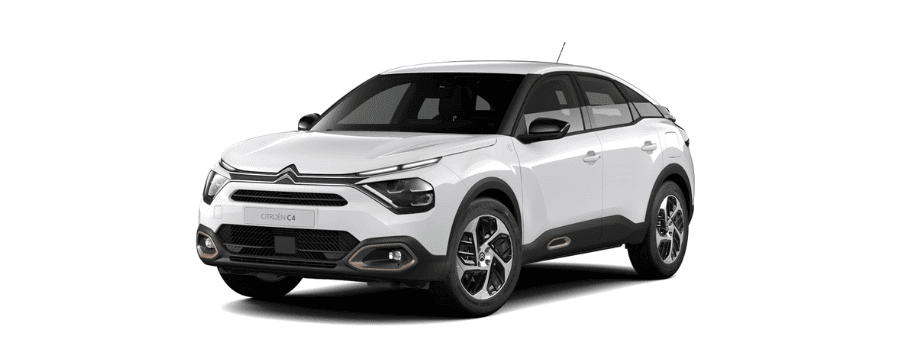 Shine Plus
For the driver seeking top-notch features, "Shine Plus" is the choice, starting at £34,995.
It adds wireless smartphone charging, 18-inch diamond-cut Aeroblade alloy wheels, and an optional driver's seat with electrically adjustable lumbar support, backrest, height controls, and massage functions (extending to the front passenger seat).
The safety pack is enhanced to the Highway Driver Assist and Safety Pack Plus, featuring Advanced Active Safety Brake, Speed Limit and extended Traffic Sign Recognition, Driver Attention Alert with lane departure detection, and Forward Collision Warning.
If you want the ultimate specification, this trim is the one to go for.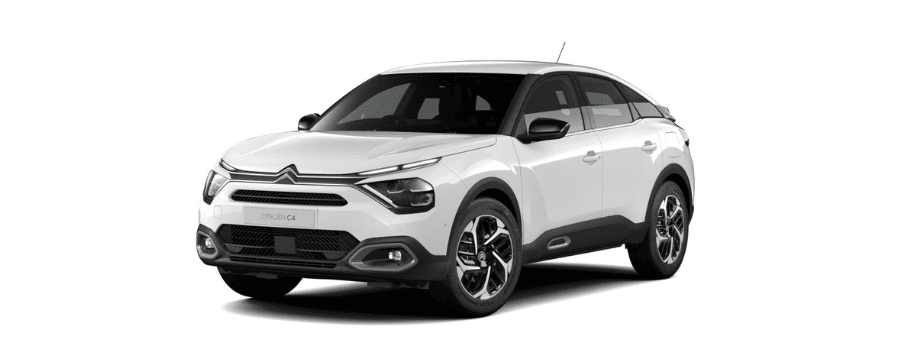 If you have any further questions or want to personalise the Citroën e-C4 to your exact needs, then make sure to get in touch with one of our Vehicle Specialists by calling 01903 538835 or you can click the banner below to book a date or time for a chat at a time that suits you.

Should you buy, lease, or finance a Citroën e-C4?
We absolutely enjoyed our time with this vehicle and found it preferable to the e-Niro. It offers a smooth, leisurely, relaxing, and quiet driving experience. Inside, the cabin is rich with high-quality materials and advanced tech.
Despite its size, the e-C4 accommodates four adults comfortably for long journeys, and it benefits from Citroën's strong reliability record.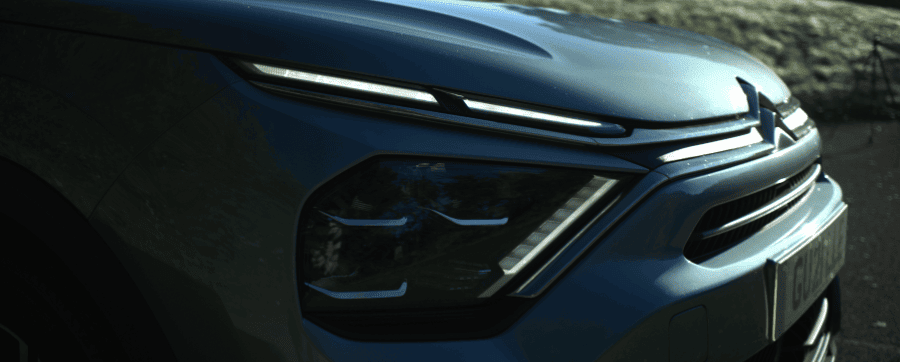 It does have a few downsides though.
The range isn't as good as the Volkswagen ID.3 or the Kia e-Niro and the acceleration is somewhat disappointing, however, if you flick the car into the "Sport" mode, it is a lot more fun to drive than in the "Normal" mode.
Finally, if we're being very nit-picky then it could be a bit more spacious.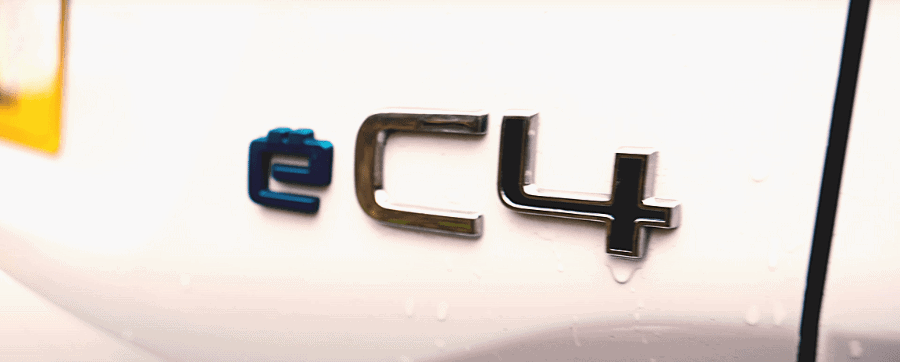 Otherwise, we absolutely loved the Citroën e-C4 and if you're thinking about making the switch to electric soon, this should definitely be on your list.
To explore the e-C4 more closely with one of OSV's Vehicle Specialists and get behind the wheel of your brand-new electric car, then get in touch today on 01903 538835 or you can just click the banner below to book a consultation at a time that works for you.
Also, to get a better look at this vehicle, check out our OSV Car Reviews on the Citroën e-C4 on our YouTube channel. Alternatively, you can also read our written car reviews, here on our website.
Fed up with looking for your next vehicle?
Need advice from an experienced Vehicle Specialist on what vehicle is right for you?
Book your FREE consultation now