Nissan Juke Review: Time for a facelift?
In need of a spacious, practical, and fun-to-drive SUV with a distinctive personality? Meet the Nissan Juke. Read on for everything you need to know in our official Nissan Juke review.
Launched in the UK in 2019, this second-gen model promised enhanced performance, technology, personality, and a fun driving experience.
The original Juke pioneered the crossover SUV segment, boasting high-riding height, SUV aesthetics, and an appealing design. It sold a million units in Europe, laying the groundwork for today's competitive small SUV market.
Direct rivals include the Ford Puma, Škoda KAMIQ, and Volkswagen T-Roc, while comfort-focused alternatives encompass the Citroen C3 Aircross, Honda HR-V, and SEAT Arona.
With no shortage of competition, we'll delve into how the Juke stacks up in this comprehensive review. Discover all you need to know in this Nissan Juke review.
What does the Nissan Juke look like? 
Starting with its exterior design, the second-generation Juke features a striking coupé crossover body style with a sporty floating roofline.
In any Juke version, you'll find five doors, five seats, a roomy cabin, and a decently sized boot, which we'll discuss later.
Our Car Review model was configured in the "Tekna" trim, one level below the top-spec "Tekna+". Notable features include 19-inch alloy wheels, an upgrade from the standard 17-inch wheels that get larger as you move up the range.
We also chose the optional two-tone paint, combining Pearl Black for the body with Fuji Red on the roof and door mirrors, enhancing the car's personality.
Standard paint options offer a choice of 11 colours, and we recommend the two-tone scheme for added flair.
The door mirrors, matched to your chosen body colour, feature integrated turn signals and are heated for fog-free mornings.
They also electronically fold when the car is locked, offering comprehensive functionality. The door handles sit flush with the rear window, a design we appreciate and wish to see more of in the market.
Rear windows are equipped with privacy glass, ideal for shielding young passengers from the sun during naps. A rear spoiler contributes to the sporty appearance, though it doesn't notably enhance performance.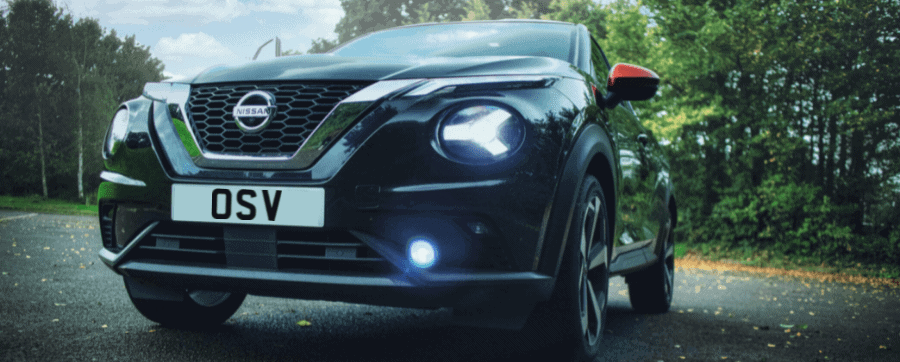 The wheelbase has been extended by 105 millimetres to 2,636 millimetres, creating extra cabin space. The Juke is now 35 millimetres wider (1,800 millimetres) and 75 millimetres longer (4,210 millimetres), giving it a more imposing presence, accentuated by the distinctive honeycomb-designed front grille.
The front features standard full LED headlights in the iconic circular design typical of the Nissan Juke.

How big is the boot? 
The Nissan Juke boasts a bold, angular rear design leading to the boot, offering 422 litres of space, a 20% increase from the original model.
While it offers less space than rivals like the Škoda KAMIQ, Volkswagen T-Cross, and Ford Puma, it falls short of the Renault Captur, which provides up to 536 litres.
The square-shaped boot is practical for various items, with a height-adjustable boot floor provided in all trims, reducing loading lip height. Folding down the rear seats is seamless and creates a flat loading surface, useful for larger items.
There's a hidden deep space beneath the boot floor for additional storage. Folding the rear seats in a 60-40 configuration, with the removal of the parcel shelf, expands the capacity to 1088 litres, quite sufficient for this size of car.
While the rear seats don't slide like in the Volkswagen T-Cross, it's a feature more typical of luxury segments in this category.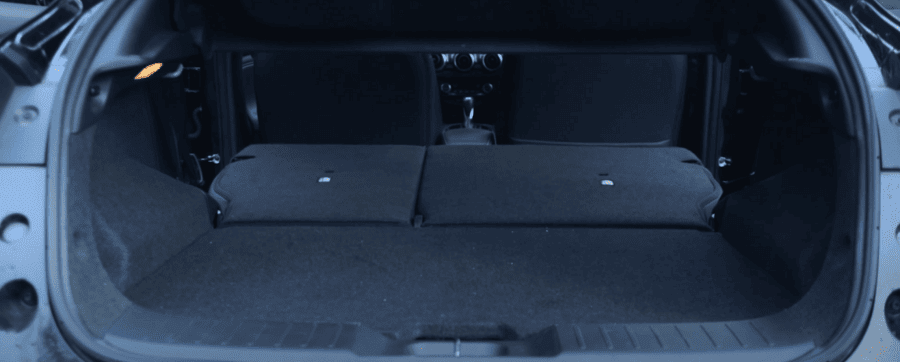 What does the interior offer? 
The Nissan Juke's interior impresses with quality materials, soft-touch surfaces on the dashboard and door trims, and premium Enigma Black leather and Alcantara seats.
Even with mid-range trims like the "Tekna," you'll find a comfortable and well-made cabin. While it's not as luxurious as some premium rivals like the Audi Q2, it offers affordability.
The steering wheel trim choice was less appealing, feeling a bit cheap. However, there's ample adjustability in the steering wheel and seats to find a comfortable driving position.
The manual seat adjustment, although lacking electric or memory functions, is easy to use. Tall drivers will appreciate the generous legroom.
The Juke's elevated seating provides a commanding road view, although the windscreen size could be larger. Nevertheless, small pillars and large door mirrors enhance visibility for parking and navigating tight spots.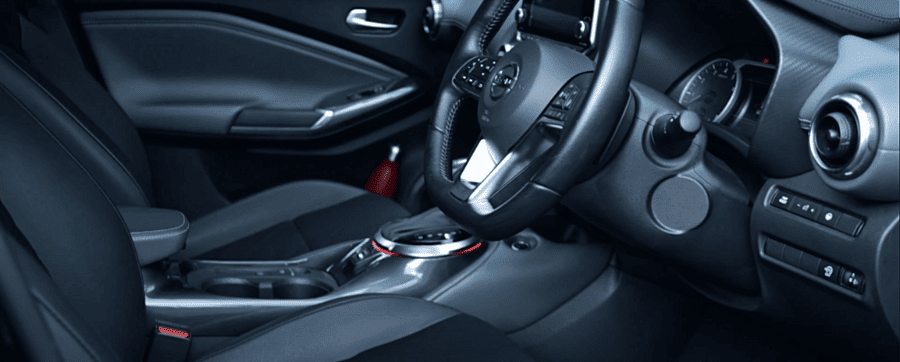 The Nissan Juke provides practical storage solutions. There's a convenient smartphone storage area near the center console, although it lacks wireless charging.
Two cupholders are available between the front seats, and the door bins can easily accommodate 500ml bottles. Additionally, the center console offers extra storage space. Notably, the glove box is impressively spacious, one of the largest we've seen in a while.
In the rear cabin, there's more room compared to the previous Juke, with 5.8 centimeters of extra knee room and one additional centimeter of headroom. This ensures that even passengers over six feet tall will be comfortable.
The rear seats offer good lumbar support, enhancing overall comfort. However, the aggressively tapered rear window line can make the rear feel slightly compact, creating a cozy environment.
Isofix fittings are available on both rear seats and the front passenger seat. There's a single USB port to share, along with a small compartment between the two front seats, suitable for storing small items like sweets or a smartphone.
The middle seat is decent for short journeys but not ideal for longer trips, as it lacks comfort. If you sit in the middle, you'll encroach on the personal space of other rear passengers. Nevertheless, it surprised us with its support.
What tech is on offer? 
With the "Tekna" trim we selected, you'll have an eight-inch central display equipped with the NissanConnect infotainment system. It also supports Apple CarPlay and Android Auto, allowing you to mirror your smartphone apps on the screen if you prefer.
Comparing it to infotainment systems in Mercedes and BMW vehicles, this screen is functional but not particularly exceptional. There's a slight half-second delay when switching between different options, which can be a bit annoying.
Additionally, the icons on the screen can appear small, especially when you're glancing at them while driving. It would have been helpful to have an option to increase the font and icon sizes. A slight angle adjustment towards the driver would also improve visibility while driving.
One positive aspect is the presence of physical buttons below the screen for easy navigation to the menu, map, and camera functions, which is preferable to touch-sensitive buttons found in some other models.
The graphics are reasonably sharp, particularly when using the TomTom maps navigation system with live traffic updates. You can also access in-car Wi-Fi for connecting your devices and utilize Google Assistant to control various car functions, including lighting and route planning.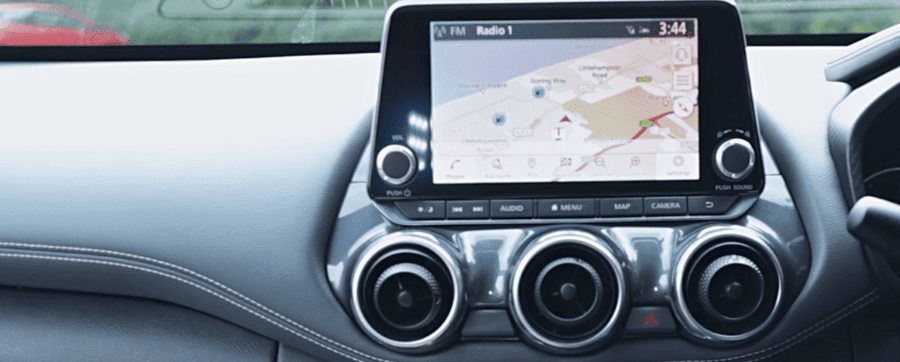 Below the screen, you'll find unique-looking air vents that offer a satisfying click when adjusted. Further down, the climate controls are thoughtfully designed, featuring physical buttons for temperature adjustment, air intensity, and heated seats.
Beneath these controls, there's a 12-volt socket and a USB port. The dashboard is logically organized into tiers, with the screen on top, followed by the air vents, climate controls, airbag, and a convenient phone storage compartment at the bottom. Nissan has done a great job with this layout.
Behind the steering wheel, there's a seven-inch digital driver's display that shows your speed and activated safety assistance features.
Interestingly, there's also a traditional analogue speedometer on the right side, providing redundant speed information, which might seem a bit inefficient.
Notably, the "Tekna" trim and above come with the Bose Personal Plus sound system, featuring eight speakers, including two in the front seats. It delivers fantastic audio quality for an enjoyable listening experience on the go.
The NissanConnect Smartphone Companion app, when paired with the car, allows you to lock/unlock the vehicle with your smartphone and check oil and tire pressure, offering added convenience.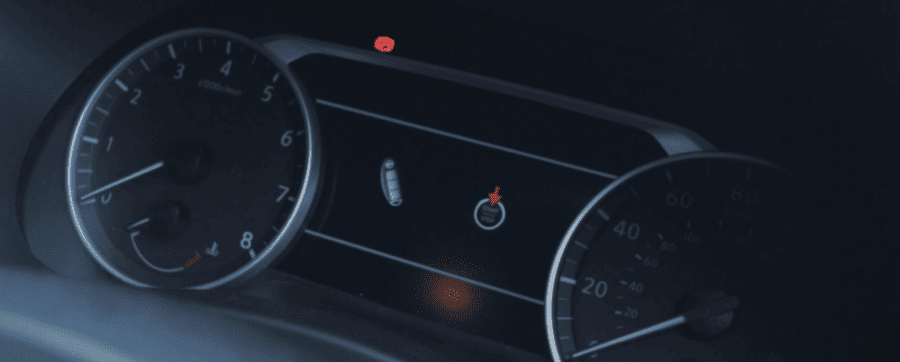 What kind of engine does a Nissan Juke have? 
115HP 1-Litre DIGT 3-Cylinder Petrol Unit 
The bonnet lever is oddly placed on the front passenger side, just below the left-most air vent, but it's easy to use with a single pull. To fully open it, there's a yellow latch under the bonnet that needs to be moved all the way to the left.
However, the bonnet doesn't stay up on its own, so you'll need to use the rod from the bottom of the bonnet to keep it open.
The Nissan Juke offers only one powertrain option, which is a bit disappointing. It's equipped with a 1.0-liter turbocharged DIGT three-cylinder petrol engine, producing 115 horsepower and 200 Newton-meters of torque.
With the manual gearbox, it goes from 0 to 62 MPH in 10.7 seconds, and with the automatic gearbox, it takes 11.1 seconds.
Its top speed is 112 MPH. While it might not feel as punchy as equivalent engines in rivals like the Škoda KAMIQ and Volkswagen T-Roc, it performs well for overtaking on the motorway or dual carriageway once up to speed.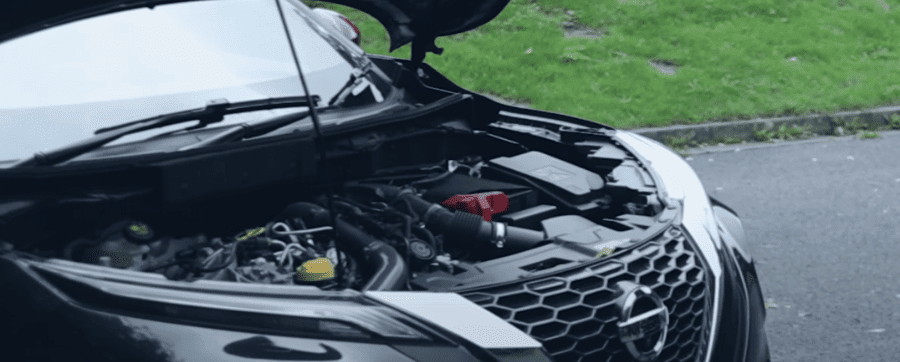 The Nissan Juke offers a choice between a six-speed manual or a seven-speed automatic gearbox. The manual is responsive at slow speeds in urban areas but has a slight delay when accelerating from a complete stop, which requires careful judgment at roundabouts.
The seven-speed automatic, which we tested, can feel a bit jerky at slow speeds and tends to downshift unnecessarily on steep inclines, but overall, it performed well.
The Juke is only available in front-wheel drive, with no all-wheel-drive option, making it unsuitable for off-road driving.
In terms of fuel efficiency, the manual gearbox achieves up to 47.6 miles per gallon on the combined cycle, while the automatic achieves 46.3 miles per gallon.
With the start-stop function enabled, it provides feedback on your efficiency. In terms of CO2 emissions, it produces up to 134 grams per kilometer, placing it in the 30 benefit-in-kind tax bracket for 2021 to 2022.
If you're considering this car as a company vehicle and want more significant savings, you might want to explore Nissan's electrified options like the LEAF or ARIYA. These models have different body styles but offer better economy.

Are Nissan Jukes easy to drive? 
The Nissan Juke offers a leisurely driving experience with its firm suspension, providing a smooth ride over bumps. However, on faster roads, you'll feel some impact from bumps, even with larger 19-inch alloy wheels.
Despite the wheel size, the ride quality doesn't significantly change, but the Juke excels in body control, maintaining stability when navigating sharp turns and corners. It exhibits minimal roll and sway for a car in its class, surpassing competitors like the Ford Puma in this aspect.
The Juke features light steering, which is easy to handle but lacks a certain level of feedback, making it less thrilling to drive. Overall, while it's a comfortable and capable SUV, it may not deliver an exhilarating driving experience.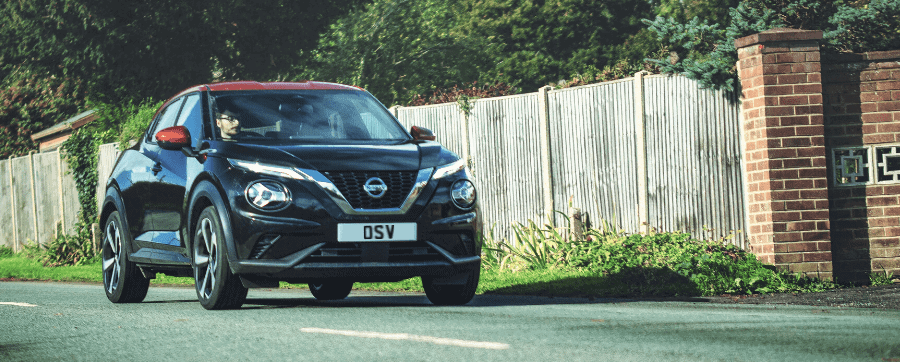 The one-litre petrol engine is generally quiet, but it produces a peculiar whistling sound during hard acceleration, which can be a bit annoying. However, this noise is easily drowned out by the radio or music.
Unfortunately, there is noticeable tire and wind noise in the cabin, possibly due to the 19-inch alloy wheels on our model. Opting for smaller wheels or considering the Volkswagen T-Cross, known for its quietness, may help reduce this noise.
The Nissan Juke offers good visibility thanks to its high-riding height and slim side pillars. However, rear visibility is limited due to the chunky rear pillars and small side windows, a result of the coupe-like body style.
Parking can be a bit challenging, but center trims and above include a rear-view parking camera, upgraded to a 360° camera with "Tekna" and "Tekna+" trims. While not the clearest view, it's functional and provides a bird's eye view for precise parking.
Which Nissan Juke model is best? 
Nissan Juke Visia 
The Juke starts from around £19,200 and climbs up to £27,200 if you opt for one of those higher-spec trims.
The entry-level one is "Visia" and it comes with a great deal of standard equipment: you get electronic windows, air conditioning, a DAB radio, idle stop-start, cruise control, and you'll see all those controls on the steering wheel.
It also includes a wide variety of other features. You do get a 4.2-inch driver display, however, if you're into your tech, you'll want to climb up the range a bit more.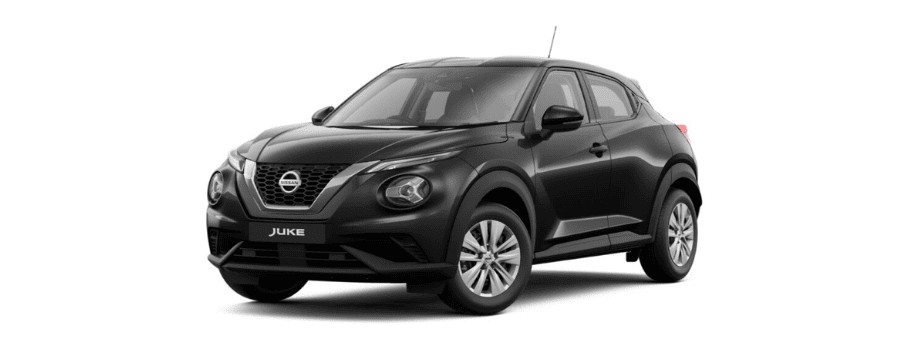 Nissan Juke Acenta 
Next up, is the "Acenta". This is priced from £20,800 and it gets a couple of extra features: you'll receive 17-inch Sakura wheels, a rear-view camera on a much larger 8-inch touchscreen, you also get Apple CarPlay and Android Auto, so if you want to mirror your smartphone apps onto the screen, that's the one to go for.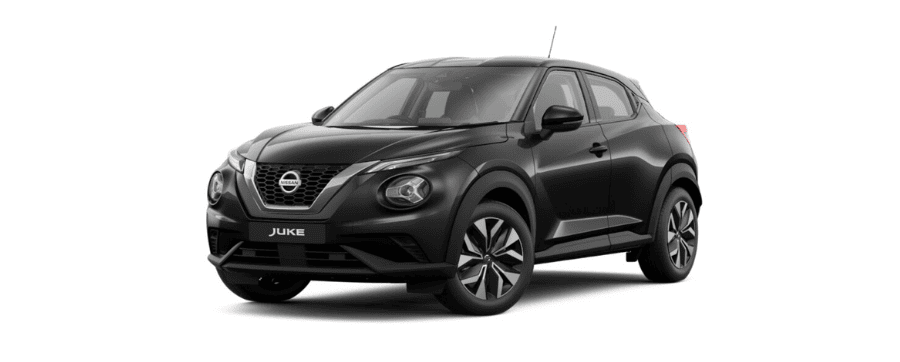 Nissan Juke N-Connecta 
In the middle of the pack is "N-Connecta" and that starts from £22,800, so an extra couple of grand over the Acenta trim.
It's here that you get the seven-inch driver display, you get TomTom navigation and a leather-wrapped steering wheel and keyless start, meaning you can throw your keys anywhere in the car and take off, without worrying about where they are.
The air conditioning has also been upgraded to climate control. You receive some nice extra features with this trim.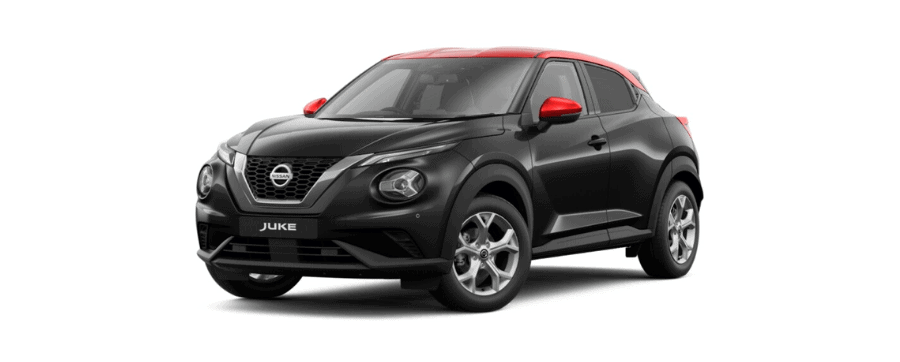 Nissan Juke Tekna 
Next up is the trim that we've configured our Juke with, the "Tekna", it starts from £24,300.
With this trim, you get the much larger 19-inch alloy wheels, which look fantastic, you get the Bose Personal Plus sound system that sounds brilliant and you get the heat pack, so you get a heated front seat and a heated front screen as well, so you don't have to worry about that frosting up.
Meaning, all your winter problems are solved with this trim. In case you're wondering, the exact configuration we had with the Fuji Red roof, comes to around £25,400.
If you'd like a bit more information about this particular configuration, just get in touch with one of our vehicle specialists and they'd be happy to provide you with all the information that you need.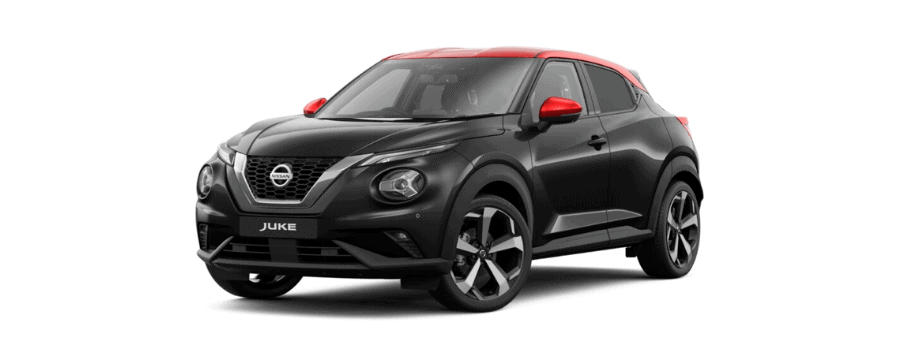 Nissan Juke Tekna+ 
Last up is "Tekna+". That's the top of the range trim and that starts from £25,700. It's essentially just a cosmetic pack, so you still get those 19-inch alloys, though they are now the Akari alloy wheels, which just look a little bit more elaborate than before.
There are a few interior styling packs to choose from, including Fuji Red, Light Gray, and Pearl Black. You get a satin silver front bumper finisher and a few exterior styling packs to choose from.
So, if you want to get the most out of your Juke and make it your own, personalize it as much as possible, this is the trim that you should choose.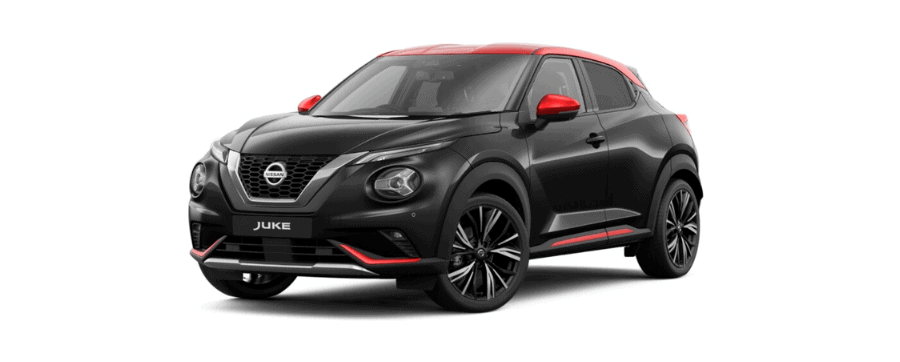 Is the Nissan Juke a reliable car? 
The Nissan Juke impressively earned a five-star safety rating from Euro NCAP, outperforming the Škoda KAMIQ in pedestrian and child occupancy tests.
It boasts a comprehensive set of safety features, including intelligent emergency braking with pedestrian and cyclist detection, intelligent lane intervention, and traffic sign recognition.
Opting for the "Tekna" trim adds more safety tech, such as rear cross-traffic alert and blind-spot monitoring. These features enhance safety, making the Juke a great choice for families. For more on Nissan's reliability, you can refer to our Nissan reliability article.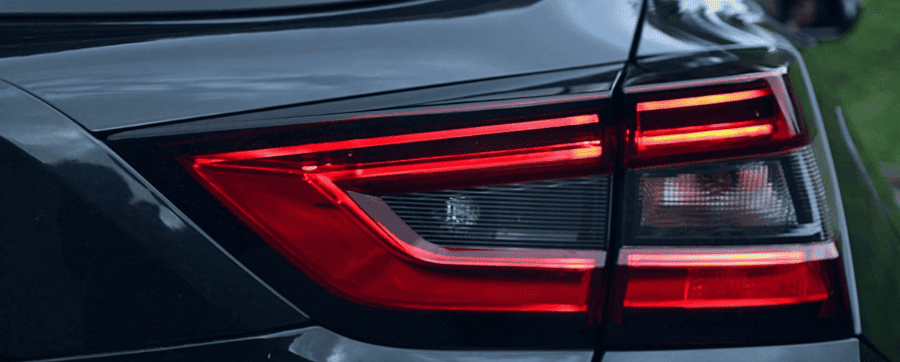 What are the Nissan Juke Pros and Cons? 
If you're considering whether to buy, lease, or finance a Nissan Juke, here's our take:
Initially, we had mixed feelings about this car, but after spending time with it, we've grown to love it. The standout exterior design sets it apart from other small SUVs, making us believe it doesn't need a facelift.
The interior offers remarkable comfort, even when compared to more expensive cars. While the tech isn't as advanced as premium brands like BMW, Mercedes, or Audi, it's well-implemented, and the Juke boasts a five-star safety rating.
The ample boot space, adjustable boot floor, and cozy cabin make the Juke a great choice for growing families. Plus, the entry-level trim comes with plenty of standard features, and as you move up the range, it only gets better. Pricing is also more competitive than key rivals.
However, there's only one engine option, which is a bit limiting. We hope Nissan introduces a more powerful engine or a plug-in hybrid in the future. But if you prioritize comfortable and stylish transportation from A to B, the Juke is an excellent choice.
For comparisons with similar vehicles, check out our OSV Car Reviews, or reach out to our specialists at 01903 538835 or by clicking the banner below to book a free consultation. You can also find our official OSV Nissan Juke Review on our YouTube channel and explore more motoring content.

Fed up with looking for your next vehicle?
Need advice from an experienced Vehicle Specialist on what vehicle is right for you?
Book your FREE consultation now