Is the Citroen C3 Aircross the Most Comfortable SUV?
Looking for a compact, fuel-efficient crossover with a comfortable cabin? The Citroen C3 Aircross might be your perfect choice.
Citroen has a knack for crafting small crossovers, catering to growing families. From the quirky C4 Cactus in 2014 to the more refined C3 Aircross, this model offers a larger, upmarket alternative to the C3 supermini.
Replacing the C3 Picasso MPV, it retains practicality, making it an appealing option for Citroen enthusiasts. Sharing the PF1 platform with fellow PSA Group brands like Peugeot and Vauxhall, it aligns with the likes of Peugeot 2008 and Vauxhall Crossland X.
This 2021 Mid-Life Refresh version maintains the C3 supermini's extensive customization choices: vibrant body colors, contrasting roofs, and evolving interior designs across trim levels. This model brings exterior tweaks, increased cabin storage, and a new infotainment system.
Standing out in a competitive field that includes the Ford Puma, Škoda Kamiq, Hyundai Kona, and Nissan Juke, the C3 Aircross excels in personalization, practicality, and comfort.
While not the most thrilling SUV to drive, its strength lies in personalization, practicality, and comfort. Discover why in our comprehensive review.
Is the Citroen C3 Aircross comfortable?
Let's explore the comfort and tech of this SUV. Stepping in, the seats immediately stand out. Each trim level has its own unique upholstery style. In our top-spec "Shine Plus" model, the "Brasilia" black leather effect with grey-flecked upholstery complements the exterior colour perfectly.
These advanced comfort seats, recognizable to Citroen fans, boast a distinctive shape, plush padding, and notable stitching. Beneath the upholstery lies 15 millimetres of memory foam, providing extra support on winding roads. This sets them apart from rivals, earning high marks for comfort.
For compact SUV enthusiasts, the Citroen C3 Aircross delivers the desired high-riding position for optimal road visibility. Even in lower settings, its elevation provides an impressive view, and adjustable options ensure finding your ideal driving setup is a breeze.
Surprisingly, the build quality surpasses expectations, particularly given the SUV's affordable price.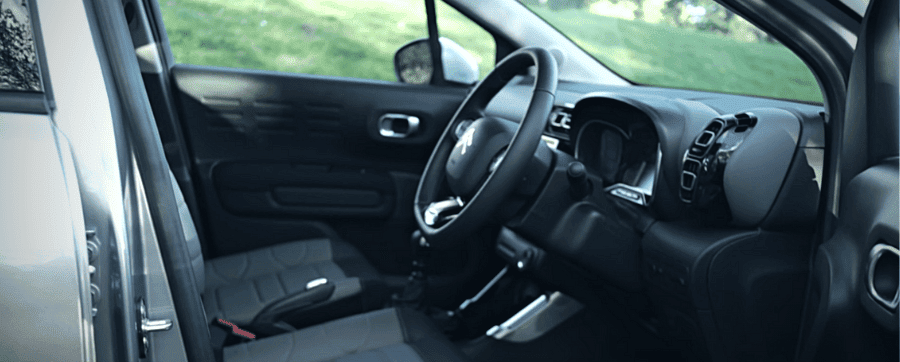 The interior boasts art-deco-style air vents with silver accents, mirroring the silver buttons beneath the central display. This display is elegantly framed in gloss black, lending a premium touch.
The leather-wrapped steering wheel and diverse dashboard materials add to the appeal, showcasing the meticulous design by Citroen.
Cleverly placed cubby holes are scattered throughout the cabin, including cupholders by the handbrake and a deep storage compartment in the centre console.
For smartphones, a dedicated spot sits below the central display, complete with a 12-volt socket and USB port. Ample space in the glove box and door bins easily accommodates essentials like a 500ml bottle. With the C3 Aircross, your storage needs are well covered.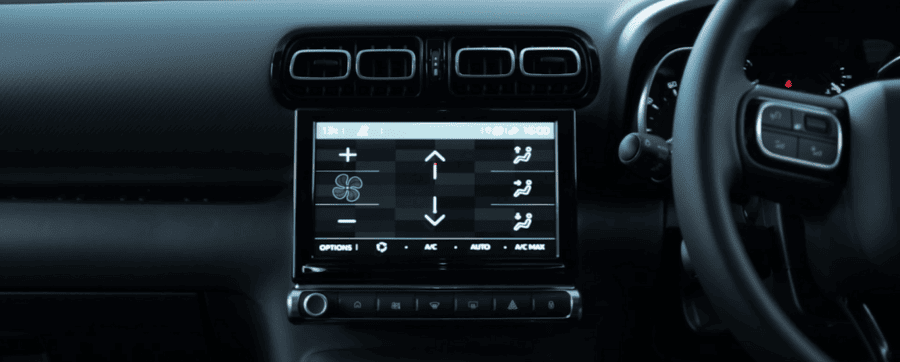 The back of the Citroen C3 Aircross offers generous legroom, comfortably accommodating passengers over six feet tall.
Though knees might touch the soft back of the seat, it's hardly an issue as they're quite cushioned. A padded compartment suits an iPad or magazine, while ample storage and individual window blinds enhance the convenience.
Headroom is generally good, unless you're taller than six feet and have chosen the panoramic sunroof (an optional £1,030 feature).
This slightly reduces headroom, noticeable when you touch the roof. However, the sunroof's appeal is undeniable – it floods the cabin with light and suits those rare sunny UK days.
When you lack a middle passenger, you can fold down the centre compartment for cup holders. While the Aircross is ideal for families of four rather than five, the middle passenger's legroom could be limited.
For short trips, it's workable, but longer journeys might warrant avoiding the middle seat. Passengers can share a central compartment with a 12-volt socket for charging devices, plus there are handy Isofix fittings on both seats.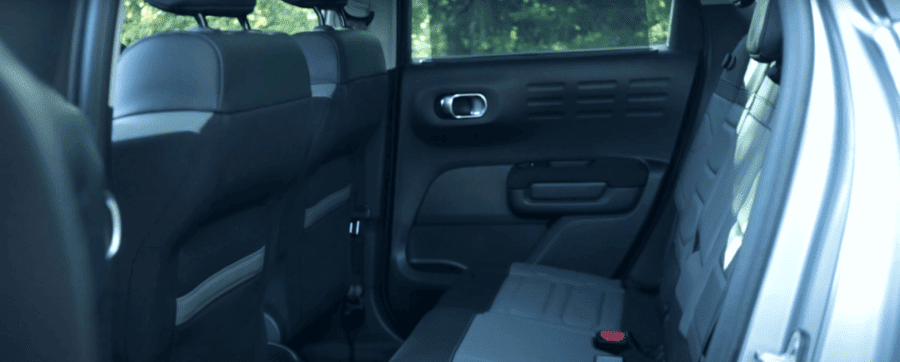 What tech does the Citroen C3 Aircross offer?
What's the infotainment like? The base setup offers a seven-inch touchscreen featuring DAB radio, six speakers, Bluetooth, Apple CarPlay, and Android Auto. Opt for the mid-range "Shine" spec, and you'll enjoy a nine-inch touchscreen plus a one-year Citroen Connect Nav subscription.
This subscription provides 3D navigation with real-time traffic, weather updates, and fuel-stop locations – a boon for frequent commuters.
The screen quality is sharp, displaying options clearly. However, the positives dwindle from there. Lag and unresponsiveness mar the experience, with noticeable input delay. Loading times can frustrate while on the move, impacting your focus on the road.
Navigation through menus can also prove challenging, especially since there's no dedicated settings area. This aspect needs refinement.
One glaring downside is the integration of climate controls into the touchscreen. Adjusting air intensity and temperature requires navigating a separate menu and pressing quite firmly. Physical buttons below the display would be more intuitive and user-friendly.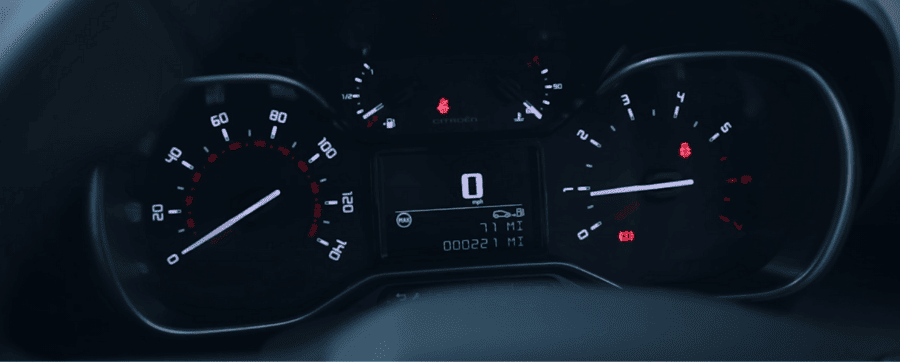 Worth noting are the analogue instrument dials behind the steering wheel, hosting a 3.5-inch colour touchscreen displaying vital data like speed, mileage, and fuel level. For those seeking sophistication, an optional head-up display can be configured.
This projects speed, cruise control settings, and navigation directly in your line of sight. While a nice addition, it's not essential. However, if you want to maximize your C3 Aircross's potential, it's certainly worth considering.
What is the Citroen C3 Aircross' exterior like?
Examining the car's exterior design, the standard features include eco LED headlights with daytime running lights – a consistent inclusion across all trims, a commendable choice.
Inspired by the CXPERIENCE concept car from 2016, the front boasts a redesigned look, a trend seen in many Citroen production vehicles, including the new C3.
This bold, assertive style, reminiscent of the Juke's quirky aesthetics, carries an appealing charm. Below the Citroen badging, an intriguing strip of plastic adds character, harmonizing with the design.
The prominent air intake along the bottom contributes to the striking appearance, setting it apart from other small SUVs in the market.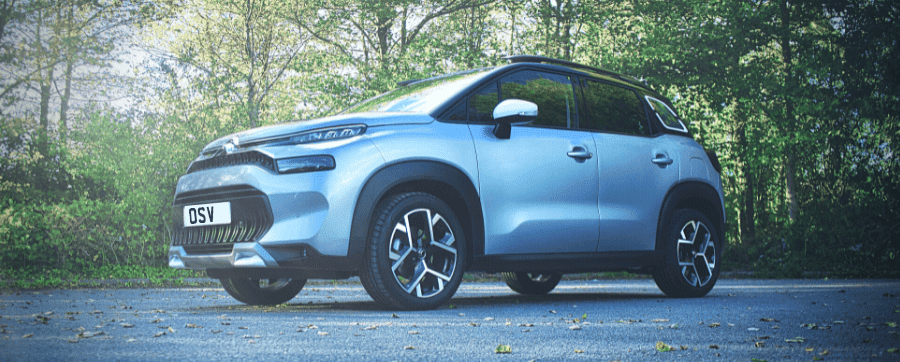 The alloy wheels range from 16 to 17 inches in size. Because we opted for the top-spec "Shine Plus" trim, we have large 17-inch Origami diamond-cut alloy wheels and they look absolutely gorgeous and nicely complement the rest of the car's design.
The wheelbase, which is the difference between the front and rear axles, has grown by 60 millimetres over the regular C3 to 2,644 millimetres. That's freed up more space inside the interior, so now comfortably fits four adults on a long journey.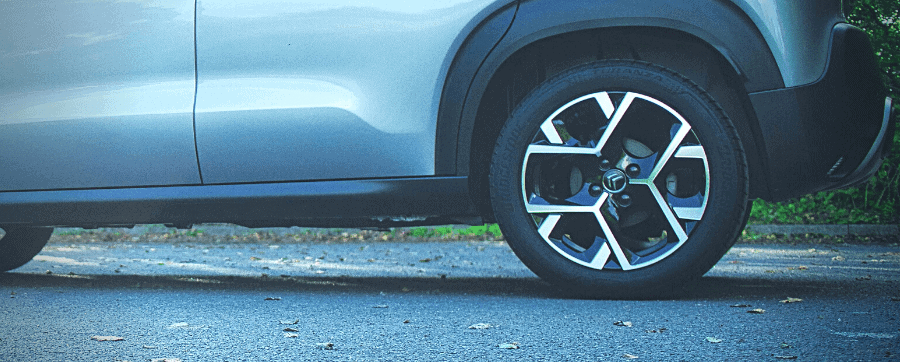 From the side, you'll see the contrasting roof. You can get that in three new colours with the Mid-Life Refresh. These include Perla Nera Black, Polar White, and Monotone, which is whatever body colour you've chosen.
There are also three new exterior body colours: Voltaic Blue, Khaki Grey and Polar White. We went for the Platinum Grey and that added around £545 to our configuration and it really nicely brings out the exterior design flourishes with the C3 Aircross.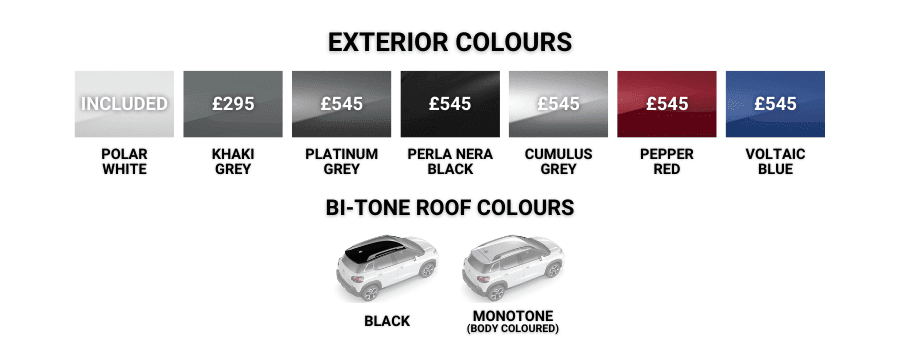 You also get electrically-adjustable door mirrors and these fold inwards when you lock the car. The indicators show up on the side of the mirror, which is handy when overtaking on the motorway.
The side also features body-coloured door handles and tinted rear windows, with the quarter glass being tinted if you opt for the "Shine Plus" trim. With "Shine Plus", you also get the white exterior colour pack that adds a free glass graphic to the rear quarter glass.
On the left-hand side of C3, you'll also find the fuel cap. Finally, at the rear, the darkened LED light clusters complete this really extravagant look.
How big is the boot on a Citroen C3 Aircross?
The Citroen C3 Aircross boasts one of the most generous and practical boot capacities in the small SUV category. With 410 litres of space, it accommodates six carry-on suitcases.
Opt for the "Shine Plus" trim, and sliding the rear seats forward expands the capacity to an impressive 520 litres. Fold the rear seats down for a whopping 1,289 litres. To fold the seats, you'll need to access a lever inside the rear cabin.
This flexibility proves handy for accommodating long items like skis and camping gear. The C3 Aircross's loading area features a low lip, ideal for effortless loading of heavy shopping bags. With all trims except "C-Series," a pull-out boot floor comes standard.
When flattened with the rear seats folded, there's no gap, allowing easy insertion of oddly shaped items. Remove the floor entirely to maximize luggage space, creating a deeper, spacious boot. The level of practicality here is truly impressive.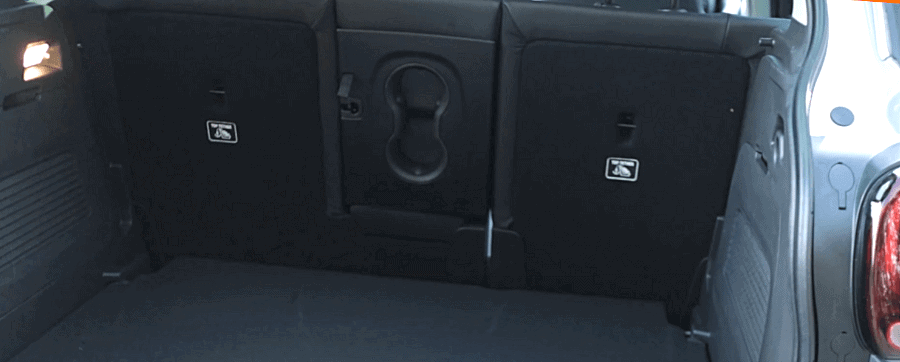 What is the Citroen C3 Aircross like to drive?
The C3 Aircross shares its platform with the regular C3, offering a similar driving experience – both positive and negative. The suspension is notably soft, providing a contrast to the firmer setups found in sportier cars like the Ford Puma.
However, the downside is that road imperfections transmit vibrations throughout the cabin, a concern shared by the regular C3. The elevated ride height in this model helps mitigate the impact, though some reverberation remains noticeable.
Despite its size, the vehicle maintains impressive stability with minimal body roll. Negotiating tight corners and bends doesn't induce excessive leaning. Its stability is comparable to vehicles like the Ford Puma, an achievement given the C3 Aircross's non-sporty nature.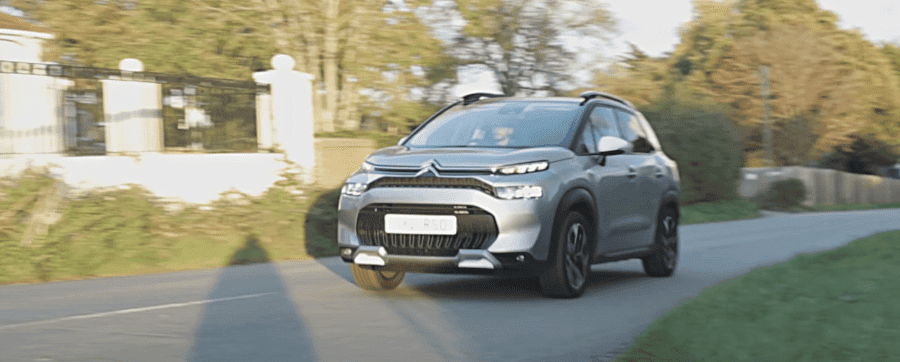 Driving at speeds up to 30 MPH feels remarkably smooth and comfortable, perfect for city driving. Yet, beyond 60 MPH on motorways, wind and road noise become more noticeable, along with a louder engine.
The clutch and accelerator pedals may also generate some buzz, which can be a bit bothersome. In summary, it's an excellent urban car for short trips and errands. However, be aware that on highways or dual carriageways, cabin noise could disrupt your drive.
The C3 Aircross features light steering, which we found favorable. If you're accustomed to firmer steering, an adjustment period might be needed.
Unfortunately, the C3 Aircross lacks all-wheel-drive capability, though it does come with the grip control system that enhances traction on various terrains. While off-roading is possible, we recommend it with reservations.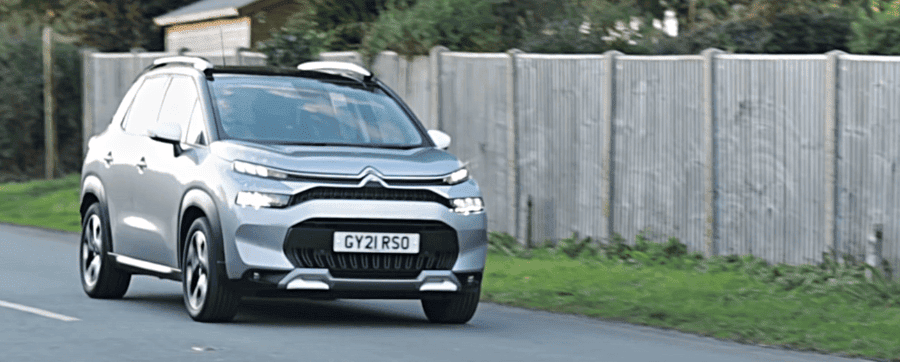 What size engine does the Citroen C3 Aircross have?
PureTech 110 variant
Regarding the engines, the base option is the PureTech 110 six-speed manual. It houses a 1.2-litre three-cylinder engine, likely familiar to Citroen and Peugeot drivers.
Generating 109 brake horsepower and 205 Newton-metres of torque, it accelerates from 0 to 62 MPH in 10.1 seconds – respectable, though worth considering when merging onto highways.
Standard is the six-speed manual, while an automatic Eisen gearbox is also available, operating smoothly akin to the MINI models.
The PureTech 110 stands as one of the market's most fuel-efficient small SUVs, achieving 47 mpg combined and emitting approximately 134 g/km of CO2. This places it within a reasonable benefit-in-kind tax bracket for company car buyers.
PureTech 130 variant
Moving up, we encounter the PureTech 130 variant, solely available with the six-speed auto transmission – no manual option.
Generating 129 brake horsepower and 230 Newton-metres of torque, it improves acceleration to 0 to 62 MPH in 9.2 seconds. While the added performance is appealing, be prepared for slightly higher fuel and company car tax expenses.
It's a touch less fuel-efficient than the previous unit, achieving around 45.6 mpg combined, with CO2 emissions ranging from 140 to 158 g/km based on your specific configuration.
Blue HDI 110 diesel unit
Looking for the most economical engine choice? Then the Blue HDI 110 diesel unit is your pick. It's commendable that Citroen continues to offer this option while other manufacturers are phasing out diesels.
Generating 99 brake horsepower and 250 Newton-metres of torque, it achieves 0 to 62 MPH in 10.8 seconds, notably faster than a diesel Renault Captur at 14.4 seconds. This unit's mileage is impressive, reaching up to 58.8 mpg combined.
If you face a lengthy daily commute and desire fewer fuel stops, this is an enticing choice. It emits up to 125 g/km of CO2, landing in a reasonable benefit-in-kind tax category.
This diesel variant exclusively offers a six-speed manual gearbox – no auto option. It's important to note that the Blue HDI 110 is pricier than the PureTech 110, despite lesser performance capabilities. Your decision hinges on whether the fuel efficiency justifies the added cost.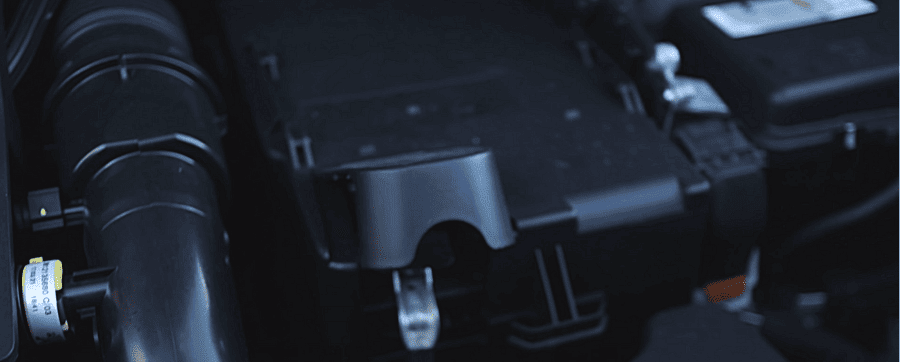 What trim levels does the Citroen C3 Aircross offer?
C-Series
Let's start with the entry-level variant, the "C-Series" trim. Prices for this variant start from £20,635, which we think is quite reasonable for a small SUV.
The equipment on offer here is pretty good for a standard spec: you get eco LED headlights with daytime running lights, 16-inch X cross/ cross-cross diamond-cut alloy wheels, rear parking sensors, cruise control, lane departure warning safety system, and Apple CarPlay and Android Auto.
We think it's a pretty good spec on offer for this entry-level trim.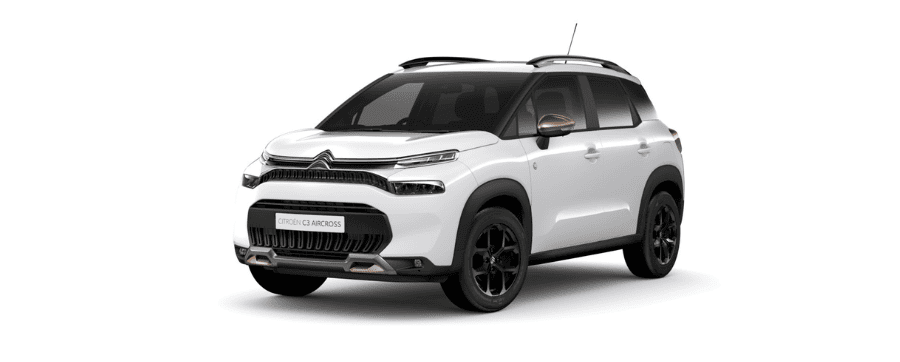 Shine
Next up is "Shine". This trim level starts from £21,565 and you get extra safety features, like the active safety brake with forward collision warning, and the Citroen connector box emergency and assistance system whereby you can use the SOS button, near the rear-view mirror, to alert the emergency services in the event of an accident.
Other highlights of the "Shine" trim include the larger nine-inch touchscreen with the Citroen Connector Nav system, "Mica" grey upholstery and chrome inserts around the dashboard, steering wheel, and centre console, and a flexible pull-out floor to adjust the height of the boot. You can also upgrade to larger 17-inch alloys with this trim too.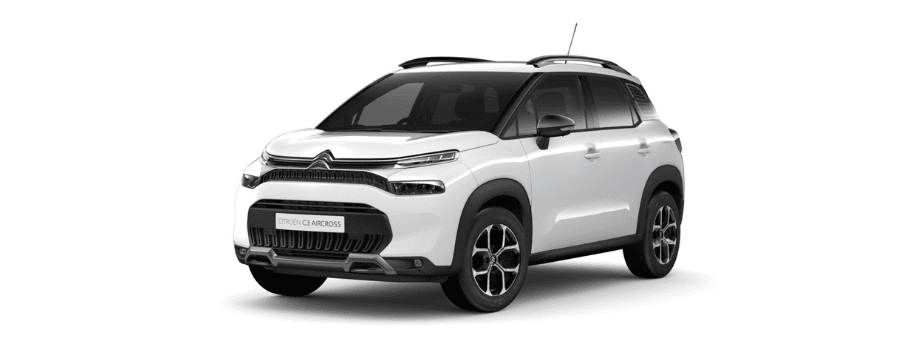 Shine Plus
The top-spec trim level is "Shine Plus". This starts from £23,175. For this price, you get larger 17-inch Origami diamond-cut alloy wheels and you can upgrade them to full black wheels that, we think, look absolutely gorgeous.
You get the "Brasilia" black leather effect and grey flecked upholstery with the advanced comfort seats, an adjustable central armrest on the driver's side, keyless entry and start, and front parking sensors with the reversing camera.
So, if you really want to make the most out of your C3 Aircross, this is the trim that you need to go for. If you have any questions about the trim levels and the engines that need answering, one of our vehicle specialists will be more than happy to help.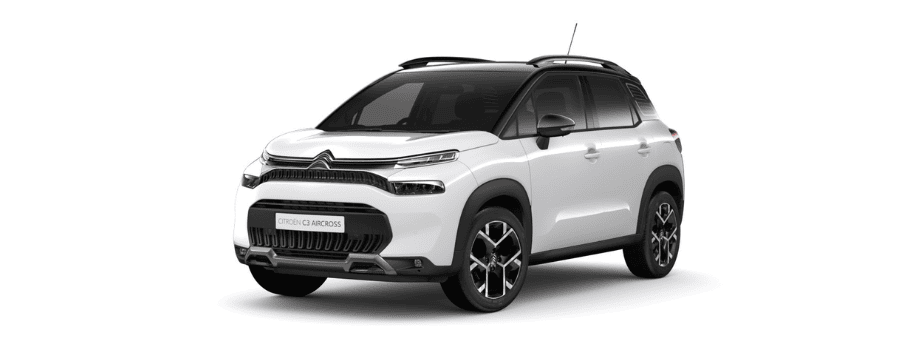 Is the Citroen C3 Aircross a good buy?
Considering whether to buy, lease, or finance a Citroen C3 Aircross? If your focus leans towards comfort rather than performance, this is among the finest small SUVs available today.
Its standout comfort sets it apart – a true pleasure to drive. The attractive design extends both inside and out, offering an appealing aesthetic. With a comfortable cabin for driver and passengers alike, the elevated driving position grants a commanding road view.
Notably practical, the cabin features abundant storage and cubby holes, while the sliding rear seats add an extra layer of versatility – a recommended configuration.
A capacious boot provides ample space for weekly shopping or the occasional camping trip. Its competitive pricing places it more affordably than the Ford Puma and Škoda Kamiq.
Moreover, you'll enjoy the peace of mind from Citroen's reliable reputation, ensuring the vehicle's reliability matches, if not surpasses, its competitors.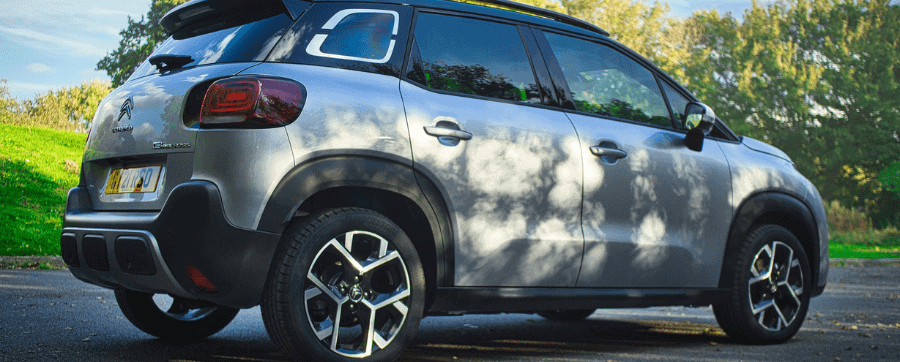 Yet, there are drawbacks to consider. The infotainment system proves laggy and complex, especially while driving. Climate controls integrated into the display hinder ease of use, with physical buttons below being a more practical choice.
If you seek an impactful driving experience, this isn't the car for you. Its deliberate, comfort-oriented design prioritizes leisurely travel from A to B rather than spirited performance. Despite lacking in excitement, the Aircross offers numerous advantages.
Overall, our experience with this SUV was positive. It's a comfortable and stylish ride that handles everyday journeys with ease.
To explore the Citroen C3 Aircross further, our vehicle specialists are here to assist. Reach out at 01903 538835 or click below to book a free consultation at your convenience. Also, don't miss our official OSV Car Reviews and other motoring content on our YouTube channel, along with reviews on our website.
Fed up with looking for your next vehicle?
Need advice from an experienced Vehicle Specialist on what vehicle is right for you?
Book your FREE consultation now