Ford are marketing the Vignale as more of a desirable sub-model than just another trim line, but has the Ford S-Max Vignale got enough to convince you that it's worth the extra premium?
The biggest problem this large family car faces is that Ford are marketing it as a luxurious product. Problem one is that this means it will be competing for your cash with the likes of Mercedes and BMW, while problem two is that it has to be  luxurious. And a luxurious family Ford sounds a bit like an oxymoron.
Scepticism aside, the Vignale gives you access to a posh dealer experience, as well as some sophisticated – and even luxurious  add-ons – as well as classier styling. OSV takes a closer look at what it's all about with our Ford S-Max Vignale review.
Overview Of The Ford S-Max Vignale  
Nobody really expects a seven-seater to be a good drive, but this drives quite well, which was actually a bit of a surprise. The S-Max has been popular with keen MPV drivers for a while now, and this Vignale model justifies such affection. The front end is its strength; there is a good amount of feedback via the wheel that lets you know what's happening with the front wheels, while the  sharp response encourages the car to buzz around at even just the hint of a change in direction.
Ford have a reputation for developing cars that drive well, and this one is no different. A good combination of ride and handling is pleasing, and while there are no adaptive dampers, the suspension is so well set up that you don't miss then OSV tested the 19" alloys, and ride quality was excellent.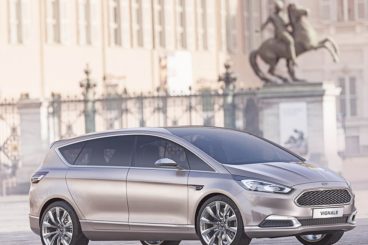 The 2.0-litre engine is efficient, economical, and actually quite smooth. It is, however, slightly sluggish when you put your foot down, but it is a better bet than the costlier petrol. The transmission is Ford's go at a luxury 'box, and they've pretty much nailed it. Although it's sometimes reluctant when you're pressing on to shift down, it suits the nature of the S-Max well.
The diesel unit also comes with an extra punch of  turbo which gives you a bit more torque. And the good thing is that it doesn't result in more noise, which is lately down to the noise-cancelling technology Ford have introduced, as well as the  thicker windows. And it's these sort of touches that back up Ford's premium aspirations with this Vignale model.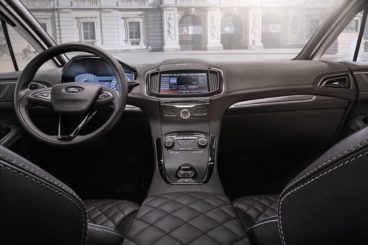 The interior is a super refined place to sit. On first inspection, the seats are gorgeous to look at. However, the more time you spend in here, the more you'll notice that the brand's premium pretension's are as fragile as a house of cards. Hard plastics can be found if you look, and they are a bit disheartening. This is, after all, a £35,000 luxury car – not a lower-priced Ford hatchback.
There are a few premium touches, of course. The quilted Windsor leather is both soft and posh, but disappointingly it's only trimmed on the car's seat facings. Moreover, Ford have introduced a brand new instrument panel which cleans up your view. The introduction of the impressive Sync 3 multimedia system is also a welcome touch. Okay, it isn't as detailed or as sophisticated as the multimedia systems in some of this car's rivals, but it's user friendly and responsive. It's hard to find fault with it.
The seats are supportive and comfortable, while the stitched leather that adorns the dashboard sets this model apart from the cheaper S-Maxes.
But the positives are unfortunately offset by some moments of cost-cutting. Behind the steering wheel, for example, you'll find plastic paddles that feel decidedly low-rent. The glovebox lid is forged from  hard plastic, too. Ford over the years have not been known for their interior quality, and it shows here.
Luggage space is  not hugely impressive, with the boot measuring just 285-litres with the rear seats up. Fold them down, and you can extend this space to  2,020-litres.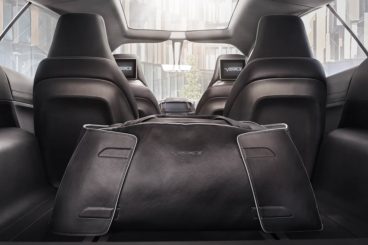 One of the reasons to buy this over the standard S-Max is the  sheer amount of standard goodies on offer. You get dual-zone climate control, automatic air conditioning, cruise control, front and rear electric windows, power steering, nine Sony speakers, Bluetooth connectivity and satellite navigation.
The list of safety equipment is also extensive, and includes electronic traction control, brake assist, energy recuperation, airbags, stability control, front fog lights and hill holder.
Optional extras include a Sony DAB navigation audio system, 19" 10-spoke polished alloys, multi-contour leather front seats, and adaptive cruise control.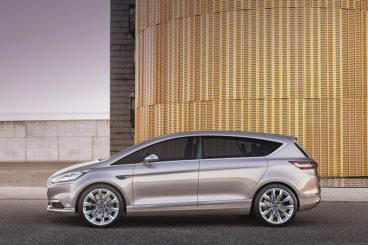 Cost Of The Ford S-Max Vignale
The S-Max Vignale will cost you £35,000. If you want to lease the car over a period of three years, you'd be looking at paying somewhere between £270 + VAT per month and £720 + VAT per month.
The 2.0-litre diesel engine can get you from rest to 62mph in  8.4 seconds, but it does feel a bit slower than those numbers would suggest. It has a top speed of 140mph and a tank range of 550 miles.
Fuel economy is reasonable for a premium car of this size, and you should be able to achieve average returns of around  36mpg while emitting 180g/km of CO2. For comparison's sake, the entry-level standard S-Max can achieve fuel economy returns of 56.5mpg while emitting 129g/km of CO2.
This Vignale model is competitively priced when it comes to insurance, and occupies group 27. A standard three-year/60,000 miles warranty comes as part of the deal.
Pros and Cons Of The Ford S-Max Vignale
Lots Of Goodies 
If the Vignale has one distinct advantage over the standard model, it's the amount of goodies that come as part of its standard kit. As well as the features mentioned above, you also get body coloured power door mirrors, a multifunction steering wheel coated in leather, heated, adjustable sports-type driver's seat, as well as the free option of an ebony leather interior trim.
Seven Seats
Certainly, one of the areas where this car has an edge over its rivals is in terms of its practicality. Able to accommodate seven people, it's got tremendous versatility and lots of interior space.
Stylish
This Vignale model is even better looking than the already handsome standard S-Max. Distinct but assured, it's got a friendly front face and has bags of family appeal.
Efficiency Is A Problem
One of the areas where this range-topping, premium model is letdown is its  fuel economy. With average returns of around 36mpg, it's capable of bleeding you dry at the pumps. Not exactly cool for a family car.
7 Seats – But Third Row Not The Biggest
It's great that the comes with seven seats, and this is definitely a pro. But the third row is reserved for kids only. It's way too small to accommodate more adults.
Ford S-Max Vignale vs SEAT Alhambra MPV vs BMW 2 Series Gran Tourer
The Ford is an interesting choice. But for a bit of balance, let's see how it fares against two of its rivals in the comparison section of our Ford S-Max Vignale MPV review.
Ford S-Max Vignale vs SEAT Alhambra MPV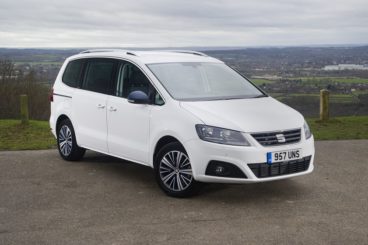 Like the S-Max, the SEAT Alhambra MPV is a seven-seater. It's actually a very good one.
Let's start with how it drives. Like the S-Max, it drives better than you'd expect for a 7-seater. It's both comfortable and entertaining, and offers accurate steering and minimum body lean in bends. There is a heap of  grip, too, which inspires confidence on twisting roads.
The S-Max is actually  more fun, but the SEAT is still a good drive. Adaptive dampers are available for £935, and they will improve the firm ride.
A 2.0-litre diesel engine is available in two separate power guises, beginning with a 148bhp variant that is more sluggish but cheaper to buy. You can pair both up with a DSG twin-clutch automatic 'box or a six-speed manual, and  fuel economy is  impressive. The 148bhp variant is capable of returning 56.5mpg. The more powerful diesel is good for 53.4mpg.
There is a petrol engine available, too. A 1.4-litre unit, its fuel economy returns of  43.5mpg are also better than the numbers managed by the Vignale MPV.
Getting comfortable in the driver's seat is really easy, thanks to an adjustable steering wheel and seat. The dashboard is characterised by a no-nonsense layout where all the buttons are logically arranged and easy to locate. Unlike in the S-Max, the plastics used throughout the cabin are top-notch, with no sign of cost-cutting on SEAT's part.
Interior space is also  very good, and this is easily one of the most practical cars on the market today. It's roomy and functional, and the flexible seating layout is a highlight. Access is easy thanks to wide-opening doors, but like the Ford, the third row of seats are strictly for children.
With that said, there is plenty of headroom and legroom on each row, and ISOFIX mounting points come as standard. The boot measures 267-litres but can extend to 2,297-litres if you fold the last two rows of seats flat.
Price:
Ford – £36,000
SEAT – £25,000 – £36,000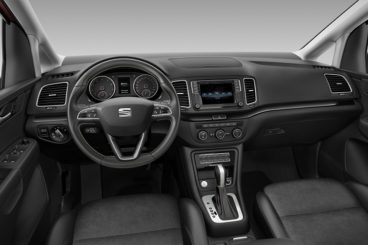 Ford S-Max Vignale vs BMW 2 Series Gran Tourer
The new BMW 2 Series Gran Tourer is an interesting premium alternative if you've got a few doubts that the Ford is upmarket enough for you.
The engines here are taken from the MINI Cooper hatchback, which means you get all of that car's  character and refinement. All the engines are sprightly, and the BMW rarely feels like a people carrier when you're out on the road thanks to its excellent handling abilities.
There are a pair of petrol engines available. The entry level 1.5-litre 136bhp turbocharged unit can get you from rest to 62mph in 9.8 seconds, while a more powerful 2.0-litre 192bhp turbocharged unit covers the same distance in just 7.9 seconds.
There are also a handful of diesel engines to choose from, though the tiny 1.5-litre unit soon runs out of puff and can't really cope with the demands foisted upon it by a hulking seven-seater. We like the 2.0-litre engine that powers the 218d, as it's smooth, refined and cheap to run.
Speaking of running costs, BMW have done a commendable job at making fuel economy  reasonable. After all, this is a huge car. Thanks to the addition of turbochargers, the petrol engines are generally  inexpensive to run, with the entry level 1.5-litre unit returning 53.3mpg while emitting just 123g/km of CO2. The cheapest engine in the whole range, though, is the 1.5-litre diesel, which is good for 68.9mpg and emits 108g/km of CO2.
The cabin is well-appointed, and mixes style with durability to great effect. We like the iDrive system, which is one of the best of its kind in this class, which the dash is attractive and tough. To give the cabin a luxurious feel, BMW have added brushed metals and high-gloss inserts.
But it's really practicality that can make or break this type of car. Happily, it scores well here. Interior space is used well, with the third row a two extra small seats folding out of the boot floor. The rear doors are large, which makes entering and exiting easy, and there are plenty of interior storage spaces dotted around the place.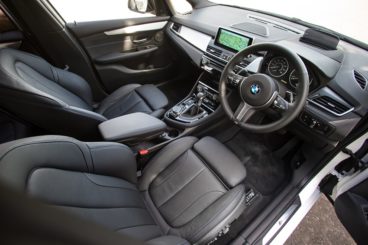 If you've got all 7 seats in place, you only get 145-litres of space. When there are five seats, you get  560-litres.
Price:
BMW – £25,000 – £34,500
Verdict Of Our Ford S-Max Vignale Review
The S-Max is a  great car. So it follows that the Vignale variant will be a great car – if just a more expensive one. The trim is nicer, and you get lots more goodies, too. Sounds fab. Right?
The problem you face is whether to go for this or a BMW, which is actually cheaper. Choices choices. We'll leave that one to you. The Ford S-Max Vignale gets you posh service treatment and Ford say they will cater to your every whim.
Want to learn more? Click below to view the review for the competitors in this article…
Looking for a price?
You could be driving away with your new car in no time. Fill in your details below and one of our vehicle experts will be in touch within one working day.

Latest posts by Will Titterington
(see all)