Infotainment systems in cars
Infotainment systems in cars
Infotainment systems are gaining in popularity and the technology is becoming increasingly more advanced. These clever additions for the modern car driver are turning your vehicle into a moving computer or a mobile, mobile phone!….. See what we did there?
What is an infotainment system
Simply, it's an integrated system that offers a host of information and entertainment at your fingertips from the dashboard of your car. We've all adopted the smartphone into our lives and now we wonder how we ever lived without Google at our fingertips! Infotainment systems are the same. Once you've experienced everything one of these systems brings to your driving experience then you will wonder how you ever managed without it.
What features does an infotainment system have?
Some systems are more advanced than others but all are designed for easy use while behind the wheel. Large buttons, steering wheel or voice controls are all used widely on an infotainment system to improve the ease of use. Large dashboard displays show everything without the need to take your eyes off the road for too long. Safety is at the centre of the design of an infotainment system and ensuring they are easy to operate without distracting from driving is paramount to their design.
Infotainment Entertainment Features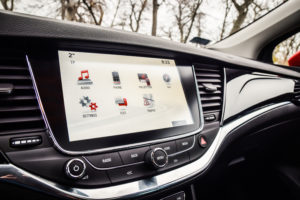 Most will offer on a basic level a range of music options. Gone are the days when a CD player and AM/FM radio was considered to offer a wealth of choice to drivers. Now, with the development of infotainment systems, you not only have these staple listening options. But you also have the opportunity to select from music on your phone. Your phone's music library is paired to the system via Bluetooth or by USB cable. Giving you your whole collection in an instant. If that's not enough then most offer DAB and internet radio as well as Spotify or Deezer for music streaming. With so many music options you can keep singing along through even the longest of road trips.
If you've got a couple of impatient passengers who are already questioning 'are we there yet?' without even leaving the driveway! Then you'll surely see the benefit of an infotainment system which offers rear seat entertainment. Rear seat entertainment includes games, films, tv programmes and even social media! Keeping them occupied through the duration of the journey. You can have full control over the content from the front seat preventing any issues with parental guidance content.
Infotainment Practical Features
It's not all fun and games. The info part of the infotainment system offers some really practical features to make your driving experience more comfortable, safe and enjoyable.
Satellite Navigation
The humble Sat Nav is rendered useless with an infotainment system that offers integrated navigation. Most run with the latest Google maps and update automatically. So you're less likely to be sent off on the wrong turning. They also typically show where there are high traffic spots. Not only that, they offer you an alternative route to avoid the build ups. Perfect for the M25! You can save popular destinations such as home and work meaning you can navigate to them from anywhere at the touch of a button. The infotainment system will also show you popular destinations in the area you are in. Need to get fuel? Then select the nearest petrol station.
SMS voice messaging.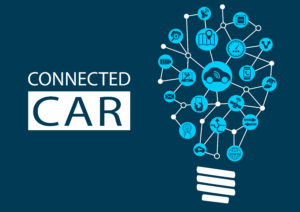 With UK driving laws becoming ever stricter on the use of mobile phones in cars this nifty little feature could literally be a life saver. Pair your smartphone with the car via Bluetooth and the onboard computer will read you any text messages you receive. Worried about passengers hearing your messages read aloud? The onboard assistant will notify you of a new message by voice and you can respond by a button or sometimes even voice control. So if you don't want a message from your partner being read aloud when you have a client in the car, you can decline the message. No fuss, no worry. Similarly, you can even send text messages using the voice activated function on some systems. The technology has been tuned pretty well, so mistakes in the text are less frequent. This is all at the touch of a button or a voice command.
Hands-free calling.
Again, we mentioned that the law is pretty strict on the use of a mobile phone while driving. So being able to call hands free (and wire free) from your car will mean you can still make important calls while on the road. The infotainment system dashboard will feature a host of buttons or touch screen options. Selecting the phone book will allow you to easily scroll through your contacts and select the person you want to call without too much distraction from the road. For the systems with voice recognition software, you can even call someone with a simple voice command. If you receive an incoming call the onboard computer will notify you and you can choose to accept or decline using a single touch or by simply saying decline. Some infotainment systems even have steering wheel controls, so you needn't take your eye off the road.
Other names for an infotainment system
Believe it or not, there are several names for an in-car infotainment system. This can get pretty confusing, especially if the dealership is bamboozling you with the technical abbreviations. Don't worry, you'll remember these. ICE when talking about cars is not a cooling refreshment or even a slang term for some nice diamond jewellery. It stands for In Car Entertainment. Since learning this I have also wondered if the rappers are singing about diamonds or their 'pimp ride'.
Another common term for in-car infotainment systems is IVI. This stands for in-vehicle infotainment.
A brief history of the infotainment system in cars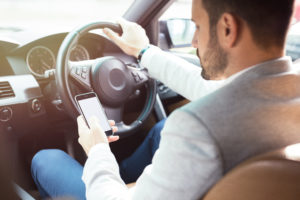 The life of the infotainment system in cars has been driven by the demand for connected living. The mass adoption of smartphones has meant that in a 2015 study by AT&T 7 in 10 Americans confessed to engaging in smartphone activities while driving. This included things like social media, web browsing and video chatting.
This poses a real risk to road users and so infotainment systems are becoming increasingly commonplace in new cars as a safer alternative. Traditional car makers are forging relationships with Apple and Google to create integrated systems that pair easily with smartphones. The idea is that the user can operate a variety of functions on their smartphone through the dashboard system and offer the same user-friendly interfaces people are used too.
Watch this video on the future of infotainment systems in cars.
Fed up with looking for your next vehicle?
Need advice from an experienced Vehicle Specialist on what vehicle is right for you?
Book your FREE consultation now