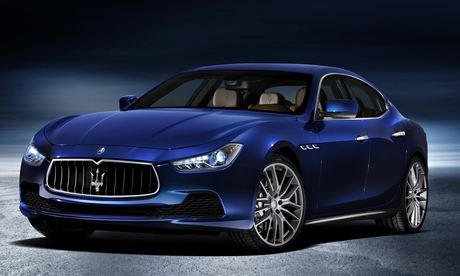 Maserati plans to sell 50,000 of this and their SUV Levante. It looks great but is let down by it's handling, according to Martin Love of the Observer;
The stunning new Maserati Ghibli is a bundle of surprises but not all of them are pleasant, says Martin Love
Maserati. Mazzzeraaaattti. Let's say it again Mazzzeraaaattti. Yeah! The brand is so synonymous with smouldering Italian sexuality, with unhinged speed, with head-swivelling performance and with being a bit, er, suspect that it is impossible to even say the word without a frisson of expectation running through you. When it comes to passion, Lotharios always have a streak of unreliability running through them. And over the decades, Maserati has certainly had that.
The iconic brand celebrates its centenary this year and has launched bold plans for world domination. Two signings have been added to its team sheet: this Ghibli and next year the Levante, a luxury SUV. These are the cars which the Italians hope the Chinese and the Americans will be queuing up to buy. Maserati plans to sell 50,000 cars by 2015, which sounds unlikely when you consider last year's global sales of just 6,200.
See full story on theguardian.com

Andrew enjoys: Movies and travelling to new cities to explore different cultures.

Andrew has been in the motor trade for over 20 years. What he enjoys most about his job is the team spirit and the dedication of his work colleagues. He also appreciates the teams input in the improvement of the company.

Latest posts by Andrew Kirkley (see all)