Looking for an objective review of the 2017 Ford Kuga Estate review? We've got you covered, from engines to the best Ford Kuga lease deals.
The new Ford Kuga Estate has a lot of strengths that buyers in this market are looking for: It's comfortable, practical and easy to drive. Visibility of the road ahead is awesome thanks to a high driving position, while space inside seems to know no bounds. You can all stretch out and travel with ease.
The Kuga emerged on these grey shores in 2012, and like most Ford's has gone on to be a success. The competition in this sector is stiff, though, so if you're unsure we've got a comparison section to help you weigh up your options.
OSV takes a closer look at what it's all about with our Ford Kuga Estate review.
Overview Of The Ford Kuga Estate
The Kuga is good to drive, but it's not as much fun as it once was. Indeed, Ford have watered down their whole mainstream range of vehicles, which means the Kuga – like the Focus and the Mondeo – feels more grown up than entertaining.
This is not a bad thing per say. There is now a real maturity about the way this car drives, and it feels more "adult" and composed than its rivals. The suspension has been modified to boost comfort, and the car continues to resist body lean in bends better than many hatchbacks.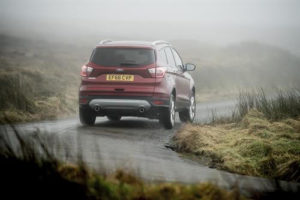 True, the electric steering has been tightened, and the car isn't as agile anymore. Moreover, the Mazda CX-5 negotiates twisting country roads better. But if it's agility you want, you can always go for the more expensive Kuga ST-Line.
The engine range is well-stocked, and begins with a 1.5-litre EcoBoost engine that is two-wheel-drive and can deliver up to 118bhp. It can do 0-62 in 12.5 seconds, but isn't the quickest out on the motorway. If you'll be spending most of your time in and about the town, however, it won't let you down. Otherwise, the more powerful 148bhp 1.5-litre EcoBoost unit is a better bet. Fit it with the manual transmission, and it will do 0-62 in just 9.7 seconds.
The 178bhp variant gets treated to four-wheel-drive for more grip and steel. It also comes wedded to an automatic 'box, which will bump up your running costs while putting a dent in the performance. It's not exactly quick either, and takes 10.1 seconds to cover the 0-62mph dash.
In terms of the diesel engines, a 2.0-litre 148bhp power plant is quiet on the motorway, and does a good job of hauling along this bulky car. 0-62mph can be done in 10.1 seconds, and it makes for a good tower. You can switch from two-wheel to four-wheel-drive if you wish, though doing so will have a slightly negative affect on speed.
A more sluggish 1.5-litre 118bhp diesel is probably best avoiding, while the range-topping diesel can do 0-62mph in just over 9 seconds if you pair it up with the manual transmission. You can pair it with the automatic, but this box isn't as responsive as the manual, and it's also too fiddly for our liking.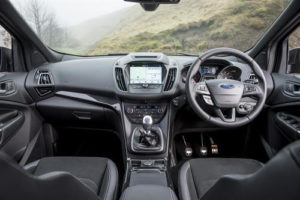 How stylish you think the Kuga's interior is will come down to personal taste, as well as whether or not you've already stepped inside rival cabins. Seen in isolation, there is nothing inherently wrong with the interior here, but compared to rivals it looks dated. It's the same with quality – fine on its own, but you might start questioning how good it really is when you check out other cabins.
The dashboard is a case in point – while competitors are going for the minimal aesthetic, there is just too many buttons here. It's all easy enough to use once you've got a hand of it, but it will seem a bit daunting at first sight. The SYNC3 infotainment system is a highlight, but you can't get it with the base-level model.
Ford noted that the Kuga could be a bit more practical, and have thus stretched it for this time around so that there is more leg and knee room for those upfront and in the rear. Five people can easily sit in comfort, but there isn't the option of a third row of seats. As such, there is no Ford Kuga 7 seater.
Storage spaces are in good number, and include some pretty sizeable door bins, a large central cubby, and an expansive glovebox. The boot measures 456-litres, and you can fold the rear seats totally flat to extend this space to 1,603-litres. Thanks to a wide opening and a low floor, the boot is easy to use and is competitively sized.
Standard kit is mostly good, with the entry-level Zetec model getting 17" alloys, cruise control, air conditioning, a DAB digital radio, the brand's QuickClear heated windscreen, and keyless start. The Titanium model adds the aforementioned SYNC3 infotainment system, while the Vignale line comes with 18" alloys, a unique exterior body, power adjustable drivers-seat, as well as a few luxurious touches.
The ST-Line completes the range in style with sports suspension, 19" alloys, a choice of different exterior and interior finishes, as well as more responsive steering.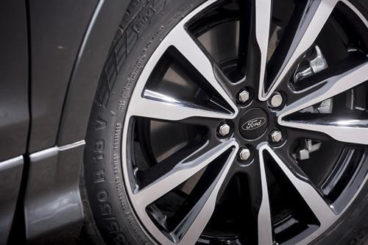 Costs Of The Ford Kuga Estate
Prices for the new car start out from £20,200 and rise to £30,100. If you want to lease a Ford Kuga, you can pick up a deal from as little as £200 + VAT per month. Check our website for our Ford Kuga finance and lease deals.
Running costs are lower than last time, but you can't expect a car as big as this to be massively cheap to run. The 2.0-litre 148bhp is our top pick and it can achieve fuel economy returns of 60.1mpg while costing £110 a year in road tax. A 178bhp variant offers more power, but fuel economy drops down to 54.3mpg, while the yearly road tax bill rises to £130.
The 1.5-litre petrol engine is available in ether 116, 148 or 178bhp guise. The first two both return 45.6mpg and cost £145 per year in road tax, while the latter can return 38.2mpg at best and will land you with an annual road tax bill of £210.
Pros and Cons Of The Ford Kuga Estate
Huge Boot
How does 1,603-litres with all the rear seats folded flat grab you? That's more than you'll get in the Volkswagen Tiguan, which we check out below.
Good Amount Of Standard Kit
Standard kit is very good across the range, with even the basic Kuga model getting 17" alloys, sports seats and cruise control.
Stylish
It's big and brawny, but you know what? It's a good-looking middleweight.
Bit Cheap Inside
It looks good on the outside but still lags behind rivals inside.
Costly To Run
Go for front-wheel-drive diesel model if running costs are top of your list of priorities, but cars like this are always going to struggle on the efficiency front.
Ford Kuga Estate vs Volkswagen Tiguan Estate vs Nissan Qashqai Estate
Let's see how the car measures up against its rivals in the comparison section of our Ford Kuga Estate review.
Ford Kuga Estate vs Volkswagen Tiguan Estate
The Volkswagen Tiguan Estate is a premium alternative to the Kuga. It stocks lots of impressive new tech, a powerful selection of engines, and lots of space.
The Tiguan has never been a car to send shivers down your spine, but its on-the-road abilities are not awful. It is, however, more quiet and comfortable than engaging. Fit it with the Dynamic Chassis Control, which is available as an optional extra, and it's even more comfortable.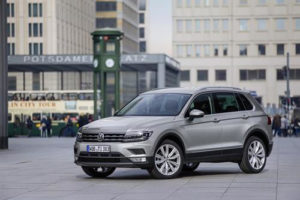 The Tiguan is a model of composure, even at speed. It's also impressively agile for such a large car, though it isn't able to absorb bumps as well as you'd like.
Our pick of the diesel engines is a 2.0-litre unit that can deliver up to 148bhp. It comes paired up with a DSG automatic transmission that's responsive and smooth, but it gets a bit panicky if you suddenly put your for down. A more powerful 237bhp variant is faster and can do 0-62 in 6.5 seconds.
VW have decided to drop the option of two-wheel-drive for the 2.0-litre petrol engine, which means you can only get it with four-wheel-drive. While this has its obvious advantages, such as more grip, it does mean that fuel consumption and CO2 will go up. By how much? Well, it can achieve fuel economy returns of 38.2mpg while costing you £210 a year in road tax.
A smaller 1.4-litre 148bhp petrol is available. It still fast, and can cover the 0-62mph stretch in 9.2 seconds. It's cheaper to run than the 2.0-litre petrol, and can achieve fuel economy returns of 49.6mpg while costing £110 a year in road tax.
Naturally, the diesel engines are the most frugal. The cheapest of them all to run is the 2.0-litre 148bhp variant, which returns 60.1mpg and costs £110 a year to tax.
The Tiguan's interior looks modern and well-built. It looks similar to the Golf and Passat's cabins, which means that, while there isn't much flair, there is plenty of quality. This is clearly a premium product that is on par with the likes of the BMW X1 and the Audi Q3. The infotainment screen is set high for ease of use, and though there are some harder plastics further down, you're mostly treated to soft touch materials.
The new Tiguan Estate offers more interior space than last time. There is more head and legroom for all, the rear seats can be slide forward and backwards for more space, while the boot measures 615-litres. This means it's 145-litres bigger than last time, and is more flexible.  For example, the variable height floor is a useful addition.
Price:
Ford – £20,250 – £34,000
VW – £23,150 – £37,000
Ford Kuga Estate vs Nissan Qashqai Estate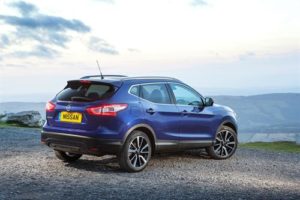 The new Nissan Qashqai is an appealing, friendly-looking and hugely popular large family car that is one of the top sellers in this sector.
The Qashqai is good fun to drive, especially on twisting lanes where its resistance to body lean really proves its worth. The steering is fairly heavy at speed, and this means that the car doesn't twitch at each touch.
We like the 1.5-litre diesel engine. It isn't what you'd call fast, but it's got enough shove to make the car a good motorway cruiser. It can do 0-62 in 11.9 seconds which, although not eye-catching, is surely satisfactory for most families who buy cars like this.
The bigger 1.6-litre diesel has more pace and power, and can cover the same distance in less than 10 seconds. It also benefits from four-wheel-drive, which improves grip and confidence. It also comes with a CVT automatic 'box, which Nissan have done well to quieten down (they usually sound strained).
If you'll be doing most of your driving in urban sprawls, the 1.6-litre DIG-T petrol engine is a good choice. It can get you from rest to 62mph n 9.1 seconds before maxing out at 124mph.
Running costs are excellent for a car of this size. It won't be as cheap to run as a family hatchback, but returns of 74.3mpg from the 1.5-litre diesel engine can't be sniffed at. This unit is also free to tax, and it's the Qashqai's most popular engine. The 1.6-litre diesel returns 64.2mpg, while the petrols' mpg figures are down in the high forties.
Refined, stuffed with advanced tech, and well-built, the cabin is one of this car's other strengths. The dash boasts plenty of soft-touch plastics, the buttons are easy to find and use, while the infotainment system is even better and more intuitive than last time around.
Despite sporting the same dimensions as the Ford Focus Hatchback, the Qashqai is very practical. Being smaller than the Kuga means it's easier to park and get into your garage, but interior space is still good. There is lots of head and legroom available upfront and in the back, but a panoramic glass roof will reduce head space somewhat in the rear. The boot measures 430-litres and comes with a false floor.
For one reason or another, the option of a third row of seats has been dropped for this second generation Qashqai.
Price:
Nissan – £18,500 – £29,400
Verdict Of Our Ford Kuga Estate Review
This has always been a more-than capable mid-size SUV, but it's starting to lag behind rivals. It's not as precise to drive as it used to be, and its interior doesn't meet the high standards set elsewhere in this class.
However, it does what you want cars like this to do. It's absolutely huge inside and can offer one of the biggest boots in this market. The Ford Kuga Estate is practical, well-equipped and self-assured on the road.
Want to learn more? Click below to view the review for the competitors in this article…
Want a great deal on a Ford Kuga?
You could be driving away with your new car in no time. Fill in your details below and one of our vehicle experts will be in touch within 48 hours with prices and finance options.

Latest posts by Will Titterington
(see all)