Overview Of The Mercedes-Benz SLC Roadster
If you want a folding hard-top that has a prestigious image, a posh cabin and is easy to drive, the new Mercedes-Benz SLC Roadster is worth your attention.
Oh, and it's also devastatingly quick. But you probably already expected that, right?
And if economy is a priority of yours as you shop for a roadster in 2016, the SLC ticks that particular box, too. Moreover, depreciation is much improved.
This stylish Roadster has broad appeal and with prices starting out from just £30,000, there is no reason why it can't dominate its sector. OSV takes a closer look at what it's all about with our Mercedes-Benz SLC Roadster review.
Back in 2011, this car's predecessor was able to get from rest to 62mph in 7.5 seconds. In its current incarnation, it's even quicker. However, its performance is not dripping with keenness and it is more adequate than anything else.
Still, working the 6-speed manual transmission to produce the best results is not exactly something that's going to put people off. You can indeed draw plenty of power and performance out of it while also enjoying it on a public road.
The powertrain, though, is not as enjoyable as it really could – and should – be. The engine note is annoyingly gruff whilst the motor lacks energy and enthusiasm. We're not sure why Mercedes thought it was a good idea to pair the car up with a gravelly-voiced diesel engine that sounds like Brian Blessed with a sore throat, but there you are.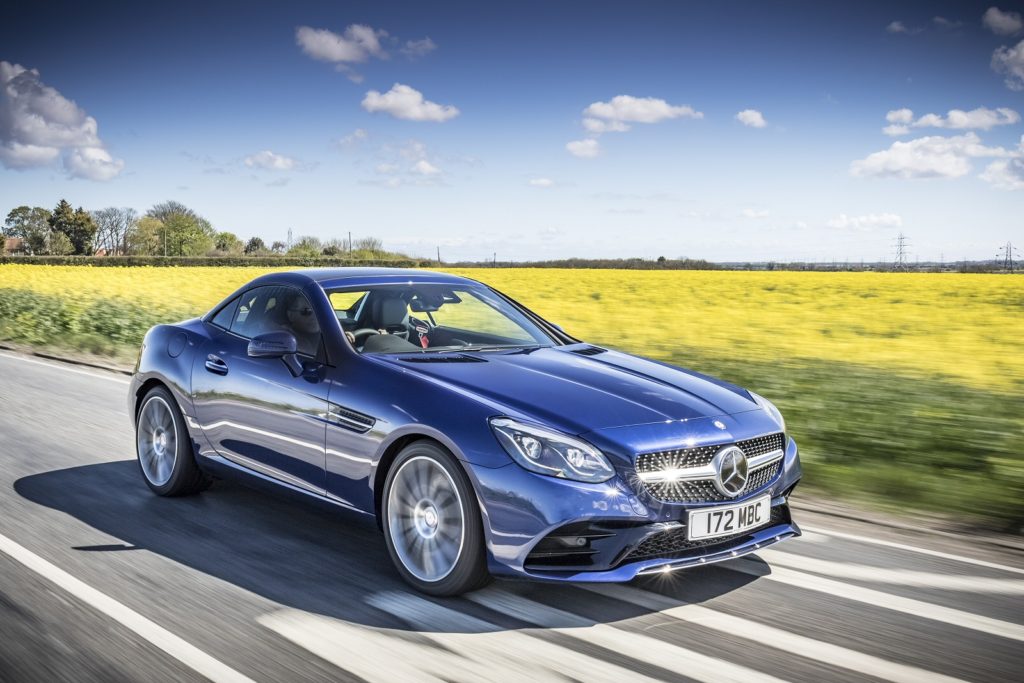 In terms of handling, things feel sadly predictable. You can mildly improve the driving experience by adding the optional adaptive dampers, but improvements really are marginal. Regardless, they're worth the extra cash for the enhancement they add to ride quality.
The steering lacks feedback and accuracy, but there is plenty of grip offered by the chassis, which is also very responsive. On the track, the SLC Roadster performs commendably, but it will shimmy over poorer road surfaces.
Overall, it just doesn't feel like a rewarding sports roadster, which is a bit of a disappointment. However, that's not to say it's got many flaws. It's just a safe, predictable machine. It won't let you down, but it's unlikely to excite your senses either.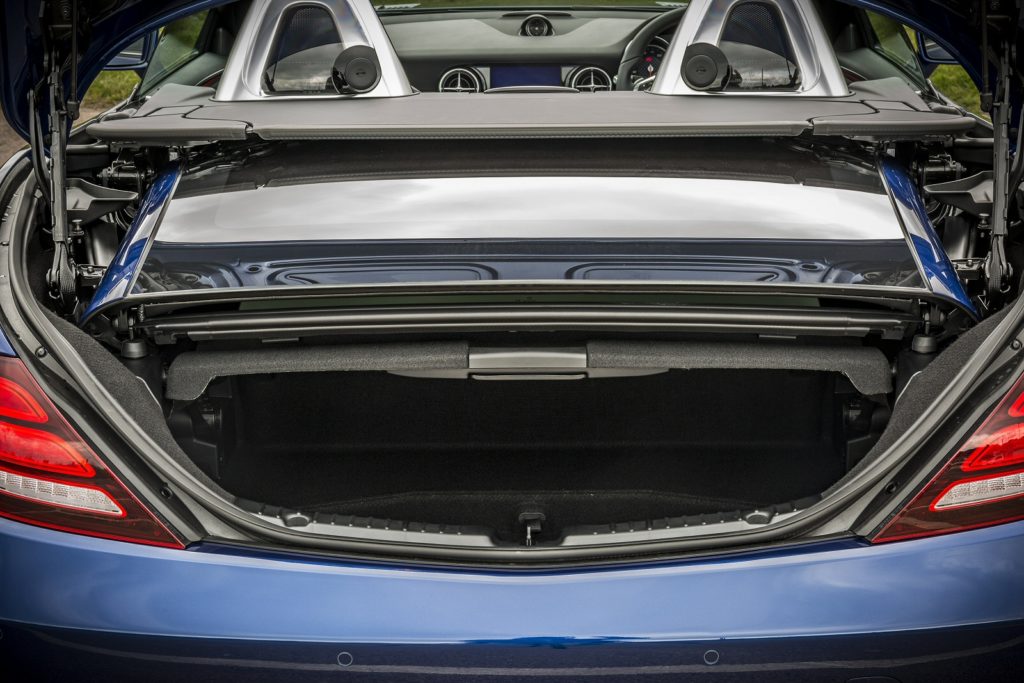 Where this car really excels is its interior. The cockpit is snug and becoming of an upmarket roadster, with brushed aluminium vents and switches reminding you of this car's prestige. Leather coats pretty much every single surface which isn't metallic, while the optional Vario-roof is a neat extra which adds more ambience to the cabin.
Luggage space is often a problem in a sports roaster, but here it gets as much space as occupants (relatively speaking, of course). With the roof up, you get an impressive 335-litre boot. Drop the roof and you still get 225-litres of space, which is very decent.
However, the boot is rather awkwardly shaped, while its depth is limited by a safety partition. Measure it according to class standards though and you can't exactly be disappointed.
Visibility is not a problem. The door mirrors are the only concern, as they will sometimes restrict your forward view when you enter an angled junction, but overall forward and the rearward view is very good.
Refinement is a bit of an issue, which is something of a surprise when you consider how strong and well-engineered the roof is. But external noise, especially wind and tyre noise, is a bit of a problem when you put your foot down. Compared to some of its rivals, the SLC just isn't all that quiet. Not everyone will have a problem with this, of course.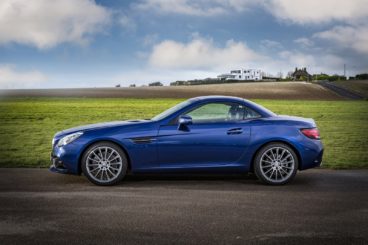 Costs of the Mercedes Benz SLC Roadster
Prices for the new car start out from £30,000.
Economy is reasonable and it won't be impossible to return 30.1mpg, even if you really push it. Mercedes like to claim official returns of 41.5mpg are achievable, but unless you're planning on driving like a saint, those numbers are way off.
Compared to its rivals, £30,000 to start off with seems decent. However, the SLK will hold onto its value better than a lot of its rivals and is a promising ownership proposition.
Pros and Cons of the Mercedes-Benz SLC Roadster
Classy Interior
The only concern we have with the interior is the refinement. Apart from that, everything about the cabin is upmarket and prestigious. It's a quintessential Mercedes roadster.
Practical
For a speedy sports car, it's very usable. The boot is among the biggest in its class and interior space is good for two people.
Looks The Part
The new Mercedes SLC rocks a look that will turn plenty of heads. Aggressive but not overly so, it's got a bit of an edge to it that makes it highly desirable. It's very "now".
Not Exciting To Drive
You expect a sports roadster to be exciting on the road, but the SLC is a bit of a let-down in this department. It's far from woeful, but it's not inspiring. Mercedes tried to improve things by adding a Direct-Steer system, but what nimbleness there is feels contrived.
Uneconomical
There isn't much of a choice at all when it comes to the engines and this lack of choice means you don't get to pick an economical engine over a faster power plant. You'll struggle to achieve better returns than 30.mpg, which makes it one of the most expensive cars to run in its class.
Mercedes-Benz SLC Roadster vs. BMW Z4 Roadster vs. Audi TT Roadster
There is a number of slick and zippy roadsters all vying for your cash right now. Let's see how the Mercedes fares compared to its closest rivals in the comparison section of our Mercedes-Benz SLC Roadster review.
Mercedes-Benz SLC Roadster vs BMW Z4 Roadster
The new BM4 Z4 Roadster is fun to drive and stylish, but it's also beginning to show its age a little.
This rear-wheel drive roadster isn't quite as engaging to drive as a number of its rivals in this sector, but like the Mercedes, it offers a good amount of grip and minimal body lean. In its less expensive form it is comfortable enough, but as you move through the trims, you will have to put up with a stiffer ride.
There are no diesel engines available, which means the choice is limited to a bunch of petrol units. The sDrive18i power plant kicks things off with its 2.0-litre 154bhp engine and is capable of getting you from rest to 62mph in 7.9 seconds before maxing out at 131mph. The sDrive20i ups the power to 181bhp, which is enough to see it cover the 0-62mph sprint in just 6.9 seconds.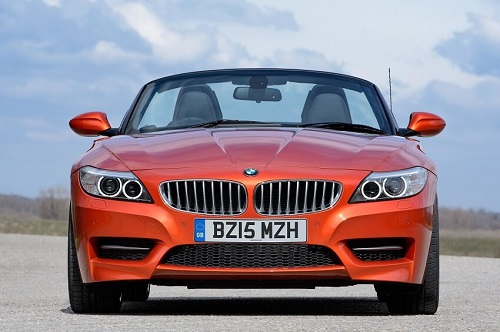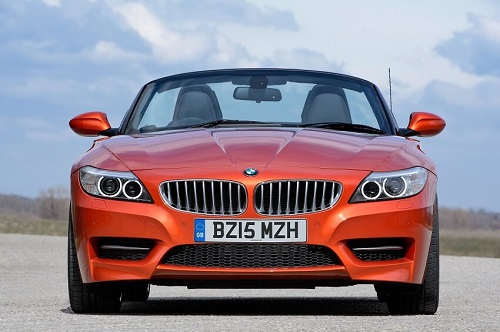 The engines get faster and faster as you move up the range and they culminate in the impressive sDrive35is, which rockets you from rest to 62mph in 4.8 seconds before maxing out at 155mph.
The absence of a diesel to choose from means you also don't get the option of a super frugal engine. Still, the petrol engines are relatively cheap to run and don't offer any nasty surprises. For example, the base-level 2.0-litre engine can achieve fuel economy returns of 41.5mpg, while emitting just 159g/km of CO2.
Even the range-topping Z4 sDrive35is isn't going to rinse you at the pumps. Thanks in part to the inclusion of a 7-speed automatic gearbox, BMW have managed to keep the costs down with this engine, which can achieve returns of around 31.4mpg.
The cabin is a bit special; it's certainly a pleasant place to be. The materials all look good and feel robust, BMW didn't hold back when it came to splashing soft-touch materials around the place. The iDrive wheel is smart and tidy, facilitating the control of the infotainment system and satellite navigation.
This is a two-seater sports car, but it's still quite practical. The folding metal roof ensures good refinement when it's up, though it does take 21 seconds to fold away. That's significantly longer than what the Mercedes can manage with its own roof.
Price:
Mercedes – £30,000 +
BMW – £30,000 – £48,000
Mercedes-Benz SLC Roadster vs. Audi TT Roadster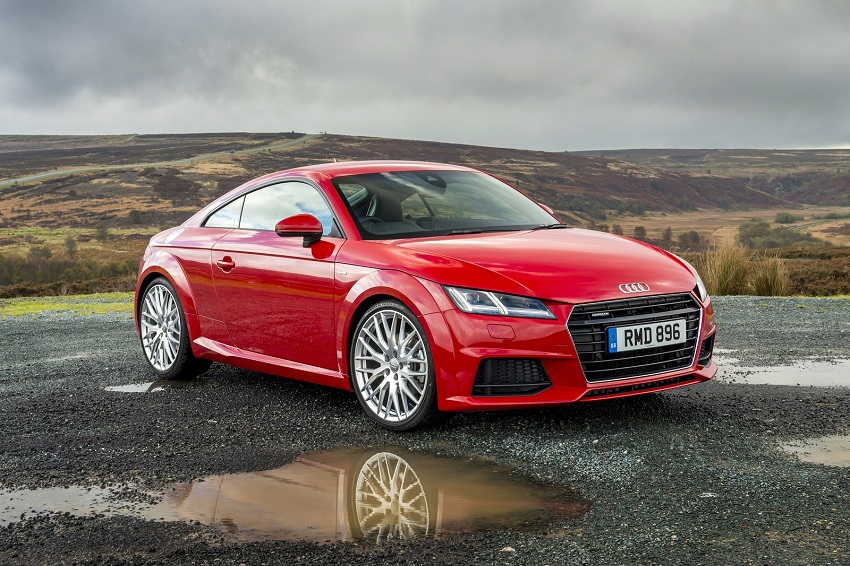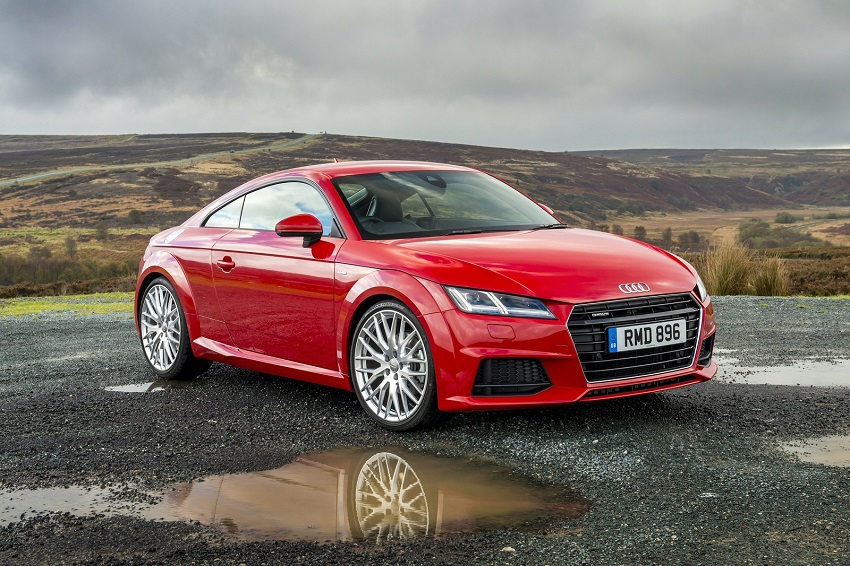 The new Audi TT Roadster still looks great despite being over two decades old. It's also still as sharp to drive as ever and sports a fantastic interior.
Despite adding lots of new equipment and technology, Audi have done a fine job at keeping the weight down. The benefit of this is that handling and performance are largely the same as last time (in other words, they're very good).
In fact, you can't really tell the difference between this roadster convertible and the TT coupe once you're on the road, despite the weight differences. Thanks to minimum body lean, it's nicely settled in corners. However, thanks partly to its four-wheel drive system, it isn't as exciting to drive as either the Mercedes or the BMW.
There are a few petrols to choose from, kicking off with a 2.0-litre 227bhp TFSI unit which is the one suited most to public roads. It can get you from rest to 62mph in just 5.6 seconds if you pair it up with the 6-speed automatic gearbox but will take 6.2 seconds to cover the same distance if mated to a manual transmission.
If it's speed you're after though, the turbocharged 2.5-litre five-pot power plant is rapid. Wedded to a 7-speed dual-clutch automatic gearbox, it propels you from a standstill to 62mph in just 3.9 seconds before maxing out at 174mph. There is also a diesel engine available in the form of a 2.0-litre Ultra unit which covers the 0-62mph dash in 7.3 seconds.
Although slower than the rest of the range, the diesel unit is cheaper to run. It can achieve fuel economy returns of 61.4mpg and costs just £130 a year in road tax. The petrol units aren't exactly expensive to run, however, with the base level variant good for 45.6mpg. The range-topping TTS, meanwhile, can achieve fuel economy returns of up to 39.8mpg, which is very impressive.
All Audis are beautiful inside and this TT Roadster Convertible is no exception. The interior is clean and free from clutter and we especially like the high-definition 12.3" virtual cockpit which brings together your infotainment system and satellite navigation. It looks a bit complex at first, but drivers get the hang of it quickly.
The quality of the interior is second to none on the whole and refinement is decent with the roof up. The boot, meanwhile, measures 280-litres, but due to its unusual length, you might actually be able to fit more luggage in there than you'd expect. The car's roof mechanism is very sophisticated and takes only 10 seconds to fold down.
Price:
Audi – £29,000 – £43,000
Verdict of our Mercedes-Benz SLC Roadster Review
Mercedes have addressed a few customer concerns to make this SLC model better than last time around. It won't depreciate as badly; the economy is better, and there is more equipment.
If such elements are a priority of yours, all is good. However, if you want your roadster to offer a bit of a spark when you fire it up, this particular one falls wide of the mark. It's stylish, houses an upmarket interior and has enormous badge appeal, but there isn't much excitement on the road.
However, if an easy going ride is what you want, the new Mercedes SLK Roadster is well worth a test drive.
Want to learn more? Click below to view the review for the competitors in this article…
Interested?
You could be driving away with your new car in no time. Fill in your details below and one of our vehicle experts will be in touch within 48 hours to talk you through the leasing process.

Latest posts by Will Titterington
(see all)