Review Of The Porsche Cayman Coupe
The new Porsche Cayman Coupe is one of the best cars to drive at this price point. It also looks like a dream and doesn't cost as much to run as you might look like. It's faster than the 911 but 25K cheaper.
Just two seats, but that's all you need to have some balls-out fun in the new Cayman. Cheaper than the 718 Boxster, it's affordable but formidable. If you've always wanted to let your hair down in a rapid Porsche and grin like a Cheshire cat but have never been able to afford it, there has never been a better chance than now. This a pleasure machine that doesn't cost the earth.
OSV takes a look at this absolute steal with our Porsche Cayman review.
This is a special car that's here to thrill. It's not practical, it's not for families, but it's a heap of fun.
Like all sports cars, the new Cayman Coupe's suspension setup is on the stiff side, which lets it glide around bends with minimal body lean. But, thanks to some engineering wizardry, the car manages to be fairly comfortable. It can absorb potholes as well as a premium saloon and does away with potholes without any fuss.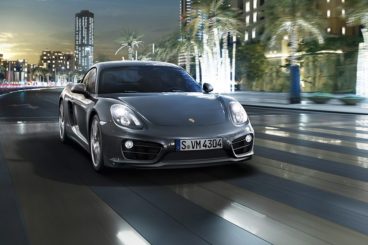 You have the option of pairing up your engine with either a 6-speed manual gearbox or a 7-speed automatic gearbox. Both are very good – slick and quick. We would argue that the manual is a bit more accurate, while the automatic improves economy. So which one you settle on might depend on your priorities.
There are two engines to choose from and both are petrol. The first is a 2.0-litre unit that develops up to 296bhp and which can get you from a standstill to 62mph in 5.1 seconds with the manual and 4.9 seconds with the automatic transmission. The turbocharged 2.5-litre petrol engine delivers up to 345bhp and costs £9,000 more. It can rocket you from rest to 62mph in 4.6 seconds with the manual, while the automatic variant covers the same distance in 4.4 seconds.
If you want to go even faster, add the £1,100 Sport Chrono package, which comes with launch-control system for blistering pace.
Overall, the Cayman Coupe is now quicker than the 911 – and £25,000 cheaper.
However, keener drivers will be disappointed by the switch from the six-cylinder engine to a smaller turbocharged package. As a consequence, the car has lost a bit of its unique character. The trade-off, however, is that economy is better.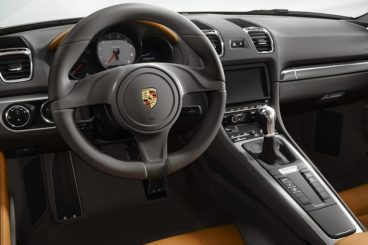 The 2016 Porsche Cayman Coupe's interior is almost identical to its predecessor. This is not necessarily a bad thing when you consider how good that cabin was. The infotainment system is new, while the air vents have been updated. As far as changes go, that's about it.
As said, that's no bad thing. It means you get impressive ride quality, supportive seats and excellent visibility – despite sitting so low down. The controls are ideally placed, while the dials are clean and easy to operate.
The Cayman Coupe is surprisingly practical for a two-seater sports car. You get two boots thanks to an engine placed between the passenger compartment and rear wheels, and a well-designed cabin that's good to look at and fairly spacious.
Access is easy, thanks to the low ride height and the driving position cocoons you for maximum comfort. Head and legroom is good, the glovebox is big, while two cup holders and a central storage area should help you to keep things nice and tidy. In terms of the boots, the front measures 130-litres and the rear 275, giving you 405 in total – which is super impressive.
Porsche probably had to save some money somewhere to justify that low price tag to themselves and they've evidently saved it here – the standard kit is not fantastic. The entry-level model (if you can even call a Cayman entry level) gets 18" alloys, the new infotainment system and partly artificial leather seats.
The Cayman S, meanwhile, gets part-cloth, part-leather seats – but little else. You even need to fork out extra cash for cruise control, which surely should be free.
The optional extras list is, of course, varied and expensive. Real leather seats will set you back up to £3,000, while xenon headlights will cost you another £591. LED lights are a cool £1,300, while a further £350 will get you rear parking sensors.
Costs of the Porsche Cayman Coupe
Prices for the new car start out from just under £40,000 and rise to £48,900. If you prefer to lease, you can pick up a deal from as little as £440+VAT per month. For more information on our leasing deals, you can check out our page here.
In terms of running costs, the Cayman does better than anyone could have reasonably expected. Thanks to the introduction of turbochargers, Porsche might have diminished noise and performance, but they've boosted economy.
When paired up with the automatic transmission, the standard Cayman can achieve average returns of 40.9mpg. When fitted with the manual, it can return 38.2mpg – impressive. Emissions are still relatively high and stand at 168g/km of CO2 with the automatic 'box, which means you'll be paying £185 per year in tax.
Insurance is where you might start to sober up, however. It's a fast and desirable car and as such occupies the dizzying heights of the forties in terms of insurance groups.
Pros and Cons of the Porsche Cayman Coupe
Power, Pace, Performance
This is an exceptional sports car that's as superb to drive as ever. The engines might now be turbocharged, but performance and response is still astounding.
Affordable
We wouldn't go as far as saying that the new Cayman is cheap, but it's affordable to more people than ever before. The price tag is nothing short of a bargain
Economical
Gone are the days when a Cayman struggled to return fuel economy of 27.4mpg. These days, the numbers are much rosier and edge above 40. Incredible when you think about it.
Costly Options
So much of what is on the optional extras list is free with many other sports cars. So while the listing price is low, you could easily splash out a lot more money if you add what are pretty much essentials, such as the rear parking sensors.
No More Naturally Aspirated Engines
The new engines are smaller and turbocharged. This has resulted in a muted noise and may not be agreeable to keener drivers.
Porsche Cayman Coupe vs Audi TT Coupe
Let's see how the car measures up against its closest rivals in the comparison section of our Porsche Cayman Coupe review.
The Audi TT Coupe has been around for over two decades, but continues to be fun, stylish and fairly inexpensive to run.
Lighter and quicker than last time around, the new TT Coupe is still as fun to drive. Over long distances, it's even comfortable. All models benefit from the brand's progressive steering system, which makes the car sharper and more direct.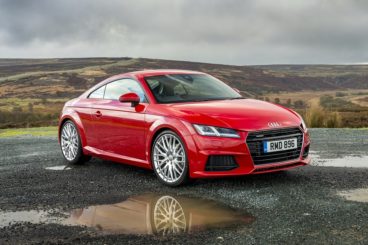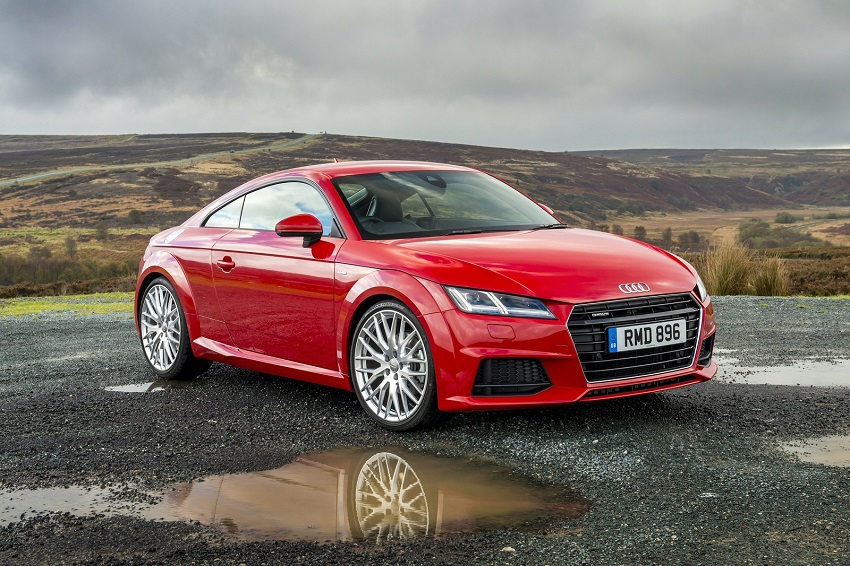 The standout engine in the range is a new TDI Ultra diesel that's cheap to run and which drives just as well as the 4-wheel-drive petrol. You can get it with Quattro four-wheel-drive if you wish, while an automatic gearbox is also available. Without Quattro, it can get you from rest to 62mph in 7.1 seconds, while with Quattro it can do the same distance in 6.6 seconds.
There are a couple of petrol engines available, but it's probably worth overlooking the 1.8-litre engine, simply because the 2.0-litre TSFI is better all-round and doesn't cost all that much more to run. 0-62mph is covered in a matter of 6.0 seconds without Quattro, and 5.3 seconds with it. There is also an S model which does 0-62mph in 4.9 seconds.
Running costs are good across the board. Road tax bills have never been this low, while the cheapest engine to run is the TDI diesel, which can average fuel economy returns of 62.8mpg while costing just £30 a year in road tax.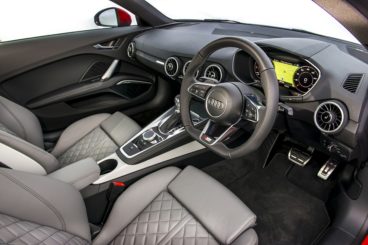 S-line suspension can reduce comfort, but apart from that, this is a very pleasant car to drive around in. The seats are comfortable and well-sculpted, while the steering wheel and driver seat offer lots of adjustment. External noises are at a minimum and the cabin is on the whole well-built and elegant. The brand's new Virtual Cockpit system is standard across the range and it really elevates the TT's interior above its rivals in this sector.
Unlike the Cayman, the 2016 Audi TT Coupe comes with a pair of rear seats. They are, however, strictly for occasional use only, while folding them flat extends boot space from 305 to 712-litres.
Your kids should be okay to enjoy the TT from the back, but adults will struggle with headroom. Accessing the rear is not easy either, but there is at least plenty of storage spaces dotted about here and there.
Price:
Porsche – £40,00 – £48,900
Audi – £27,600 – £41,000
Verdict of our Porsche Cayman Coupe Review
Once upon a time, a car like this was affordable only to the wealthy. But with prices starting out from just over £39,000, this high performance sports car is way more accessible. Moreover, a firm stance on stringent emissions regulations has further made the Cayman more affordable, as it is way cheaper to run than anyone would have imagined a decade ago.
It's lost none of its desirability either. Athletic, muscular, and voracious, the new Porsche Cayman Coupe performs excellently, handles like a dream and has as much power as ever.
Looking For A Price For The Porsche Cayman Coupe?
Fill out the form below with your details, and one of our highly qualified vehicle specialists will be in contact within 24 hours.

Latest posts by Will Titterington
(see all)