Fast Facts: 2015 Audi RS Q3
Engine: 2.5-litre 5-cylinder turbo
Price: £45,820
Power: 340hp
Torque: 465 Nm
0-62mph: 4.8secs
Top speed: 155mph (limited)
Fuel economy: 32.8mpg
CO2 emissions: 203g/km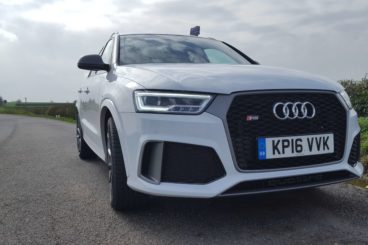 Audi is one of those manufacturers that strives to have a car for every possible customer requirement. The Audi RS Q3 is the perfect example of this pursuit, seeking to be a blend of SUV comfort and practicality with sports car levels of performance.
It's certainly a rather quirky mixture, and with prices starting from £45,820, it has to deliver on a certain level of quality, both in terms of the driving experience and the luxurious feel expected of a high-end Audi product.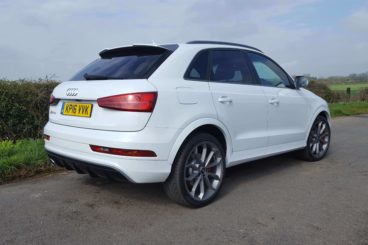 The Audi RS Q3 Test Drive
With 340hp under your right foot, the RS Q3 immediately feels nothing like the standard Q3 – a rather tame cruiser. This is tighter, firmer, and of course – far more eager. The 2.5-litre five-cylinder engine under the bonnet is a high-performance piece of kit, and the results speak for themselves. 0-62 takes just 4.8 seconds, and a limited top speed of 155mph is easily reachable if you happen to be on a German Autobahn.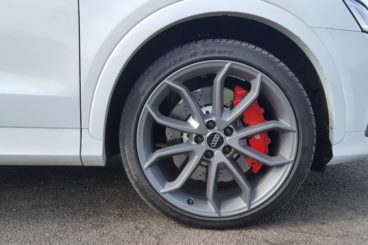 The RS Q3 is a trickster in the way it initially springs surprises on you. Firstly with just how quick it is; don't be fooled by the SUV body, this is a seriously fast car and deserves to be treated as such. You just don't expect to move so fast in a compact SUV, and the surprises continue when you start to corner. Being an SUV, you'd expect it to be a little ungainly in the corners, but it grips and handles surprisingly well. Body roll is present but limited; the steering is precise and, overall, it is very easy to drive – a bit of an Audi RS trademark.
Audi's 'Drive Select' allows the driver to customise the setup to alter the feel of the RS Q3. This is particularly useful here because it allows you to tilt the bias towards comfy and relaxing SUV or over towards all-out RS performance. In 'comfort' mode the car is relatively sedate, quieter and softer in feel and better for the quick drive to the shop or for cruising on the motorway. In 'dynamic' mode, it is far more aggressive. The 'RS' spirit within has its shackles taken off, and the exhaust note changes to reflect this, though at idle it produces too much of a drone.
The excellent reputation Audi enjoys for producing high-class interiors exists for a reason, and it's for designs and finishes like the one found in this RS Q3. The seats, for example, are hugely comfortable and supportive with a part-leather finish. RS touches are prominent yet fairly subtle. The RS-specific dials sat behind the steering wheel are exciting to gaze upon, and there are lovely carbon-fibre looking inserts in the dash and doors. All the contact points ooze quality; it really is a very pleasant – and a very Audi – place to sit and drive.
Because this is still a Q3, there's plenty of space too. There is a good range of adjustment in the driving position and seating in the back is spacious enough, with decent head room for taller passengers. Our car had the optional panoramic sunroof which always eats into the head room a little – if you've got taller passengers in mind it's probably better skipped. The boot is acceptably large at 365-litres, a figure that increases to 1,261-litres with the rear seats folded down, so while it packs a mighty performance punch, it's still practical.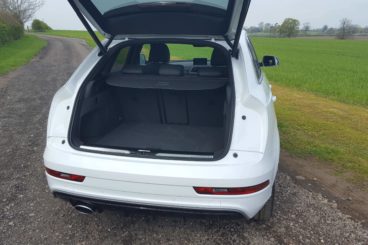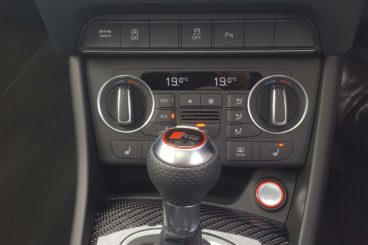 Running costs of the Audi RS Q3
Running a 340hp car is going to be expensive, but the 2.5-litre engine found in the RS Q3 is relatively clean for such a powerful unit. Combined fuel efficiency is listed at a respectable 32.8mpg, while CO2 emissions come out at 203g/km. The emissions mean you'll have to pay £635 of road tax in your first year and £285 for each year you own it thereafter. We'd also be rather impressed if you did happen to hit that 32mpg too. Nonetheless, for the performance you're getting, it's really not that bad.
This is, however, a very expensive car to buy. It's over £10,000 more than the acceptably-quick 2.0 TFSI petrol 'S-Line' Q3 – but then again, that's no RS. The RS moniker comes with a certain prestige and aura of exclusivity, and because of that it can be sold at a far higher price.
Just as in any performance car, make sure to keep aside some money for two very important components – brakes, and tyres. In powerful cars these are faster wearing, but also vital to the abilities and safety of the vehicle.
Audi RS Q3 vs Porsche Macan S vs BMW Alpina XD3 BiTurbo
The Audi RS Q3 is an unusual car, but not entirely unique. As it turns out, the ultra-niche high performance compact SUV market really does exist; it's just a relatively new region. That doesn't mean that these cars shouldn't be taken seriously, though – these are expensive and exceptionally fast machines. With that in mind, we take a look at the RS Q3's main rivals in this remarkably modern segment.
The Audi RS Q3 vs Porsche Macan S
The best handling SUV on sale today happens to be based on the Audi Q5, the bigger sister of the Q3. At around £46,000 it is more or less on a par with out £45,820 RS Q3, but it is slightly larger and possesses a similar power output. Porsche's Macan S is powered by a 3.0-litre six-cylinder engine producing 340hp, which can send it to a top speed of 157mph. From a standing start, the race to 62mph is won by the RS Q3, with the Macan S taking 5.4 over the RS Q3's 4.8 seconds to reach the target figure.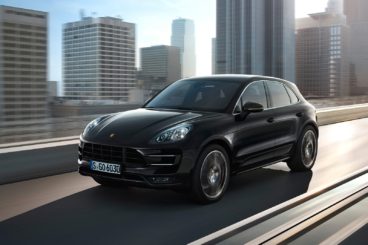 Nothing can quite match the Porsche Macan S in terms of driving enjoyment. It handles like a much smaller car, with bags of grip and communicative, quick steering. With 340hp under the bonnet it goes and sounds tremendously. The smooth, sonorous pull through the revs is most enjoyable, and the extra cylinder in the engine really improves the sound. Being larger, it rides a little easier – slightly softer – and is just as composed going over speed bumps as it is tackling fast corners. It really is a superb all-rounder, and the benchmark for performance SUVs.
Inside, the now traditional Porsche layout featuring a button-heavy central console is present. Metal touches on the steering wheel, dash, and button surrounds all feel beautifully finished around the plastics and leather, and there's also some on the 'PDK' gear lever. PDK is the name for Porsche's automatic gearbox. It's one of the best on the market and certainly superior to Audi's 'S-Tronic' automatic option, being a little quicker and smoother on gear changes.
Being the larger car, there's a larger amount of space in the Macan S. 500 litres of boot space is available and this increases to 1,500 with the back row folded down.
The Audi RS Q3 vs BMW Alpina XD3 BiTurbo
It's easy to forget about Alpina. The BMW-endorsed tuning company applies some beautiful touches to BMW's products and perhaps deserves more attention than it gets. The XD3 BiTurbo is Alpina's answer to the RS Q3, but it is independently minded and goes about things in its own way.
The XD3 BiTurbo is powered by a diesel engine instead of the petrol engines found in the Macan S and RS Q3, but this is a bit of a special unit. The 3.0-litre six-cylinder oil-burner produces a whopping 350hp and 700Nm of torque, that is an awful lot of horsepower and an awful lot of pull, and the end result is remarkable. 0-62mph takes 4.9 seconds, and the XD3 can go all the way up to 155mph. For a diesel engine, this is exceptional performance.
Using diesel over petrol also improves comfort levels as it's a quieter engine than the sports car units found in the Audi and the Porsche – and don't forget the fuel efficiency and tax benefits, either. Alpina says 42mpg is achievable in the XD3, and road tax will set you back £205 a year. Practical benefits don't end here either, as the XD3 also has the largest amount of load space – 550 litres, to be precise – with 1,600-litres available with the rear seats folded down.
The beautiful modified touches, new materials, and customisable options ooze class, and the engine is sensational. However, there is a price. Alpina's XD3 BiTurbo is a rare car – there may only be six currently registered in the UK – and this exclusivity could be down to the price. The XD3 starts from around £56,000, and that's before any eyes have glanced over the optional extras and customisation options.
Comparison Verdict
All of these cars have extensive option lists, but the Alpina's high initial price rules it out of contention here. It's rare and it's special, but it isn't £10,000 better than the Porsche or the Audi.
The Porsche Macan S is still the most fun to drive, but it's also the thirstiest and looks a little reserved when placed alongside the more aggressively styled Audi RS Q3. For some, that's a good thing anyway, and if the thirsty petrol engine puts you off there is a diesel Macan S available to purchase too.
Audi's RS Q3 is an exciting start to an experiment in high-performance compact SUVs, but it can't quite trade blows with the Porsche Macan S just yet. It's smaller and a little firmer in terms of ride comfort, and the engine and exhaust note isn't quite as sweet as the Porsche. For that reason, the Porsche Macan S is still the King of this unusual little sector.
Another car worth considering is the Volkswagen Golf R. It may be a hot-hatch rather than an SUV, but it is refined and reserved – and delivers one hell of a wallop. It is powered by a 2.0-litre turbocharged engine, hooked up to 300 horses. It reaches 62mph in just 5.1 seconds, thanks to its all-wheel drive system, and has a top speed of 155mph.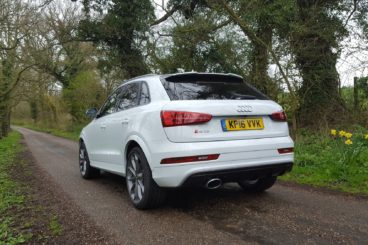 Conclusion on the Audi RS Q3
We came into this test a little bit sceptical. A small and fairly heavy compact SUV with a thirsty 340hp engine shouldn't really work – but it does. The RS Q3 isn't going to blow you away with its engaging driving dynamics, but it is stable and secure at speed and goes around corners remarkably well for what it is. It's best suited for people who fancy dipping their toes into a little bit of serious performance, but who still can't exist without some practicality and all-wheel drive security. Overall, it's a surprisingly well engineered product and another lesson in how looks can be deceptive.
Looking for a price?
You could be driving away with your new car in no time. Fill in your details below and one of our vehicle experts will be in touch within one working day.

Latest posts by Rachel Richardson
(see all)