Originally known as the 'MCV' in development, 2011 saw the unveiling of the BMW i3 concept car, and two years later BMW's first all-electric hatchback was on the market. With little in the way of styling changes, the i3 is a futuristic looking car and was the first mass-production car to use carbon-fibre reinforced plastic in its construction. Now in 2016, BMW i – the eco-conscious sub-brand of BMW – has added extra range to the conceptual little i3 in a bid to attract more buyers and dispel a little more range anxiety from the minds of drivers.
If you've never driven a BMW i3 before, your first drive will come with some lasting memories. The first thing you notice when you drive any electric car is the absence of noise to signal the car is actually turned on. We're just programmed to hear the fire and rattle of combustion engines, but with the BMW i3, you just switch it on like a toaster. Then there's the eerie silence when you pull away, and the pull of regenerative braking, making it feel like you're applying the brakes when just lifting off the throttle. There are even more surprises to be discovered out on the road, though.
We've been taught that electric cars are dull. They are purely designed to get us from point A to point B whilst doing as little damage to the world as possible. To an extent, that much is true, but the BMW i3 is far from boring. With 170PS worth of power from the batteries, the BMW i3 actually feels more like a hot hatchback on the road. It has no manual gears, so driving the i3 is all about pointing and squirting. The instant delivery of the power means it can accelerate incredibly quickly – and to about 30-40mph it is just about as fast as most performance cars on the road. The BMW i3 incredibly good fun to drive.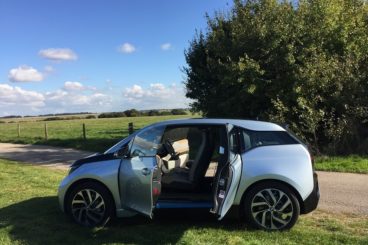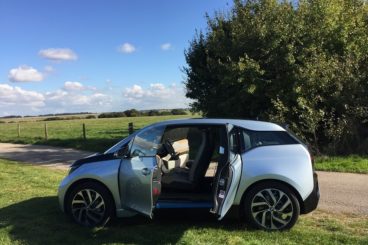 There are some problems with enjoying the BMW i3 just that little bit too much, though. For a start, you'll run out of electricity sooner. BMW claims the new batteries on the latest BMW i3 offer a range of around 195-miles, but that's if you drive like a saint. If you haven't got the range extender version (Jurassic-ally named the BMW i3 REX) then you've probably got around 125 miles of realistic range with the new and improved batteries. Then there's the ride, it's incredibly firm. Yes, like any electric car, the BMW i3 has its ups, and it has its downs.
Interior, Design, and Build
Let's talk about the BMW i3's design first of all – it certainly isn't to everyone's taste. This is the fate of all cars that manage to retain their concept car appearance. Just look at the Citroen Cactus or even the new Mazda MX-5. They divide opinion, but nobody can deny they are striking designs and have a real impact on the eyes. For what it's worth, the futuristic, brave styling of the BMW i3 works. Electric cars are the future, so let's have them look like something from the future.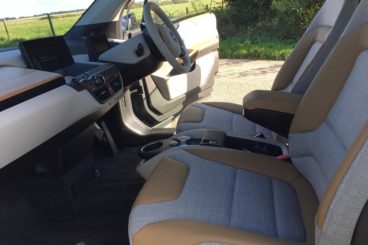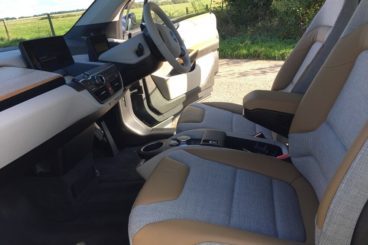 The interior of the BMW i3 is also unlike that of a 'normal' hatchback. There's a BMW badge on the steering wheel and some Bavarian switchgear in there, but the dashboard is like something from the IKEA catalogue. Gone are the darker colours of the German brand's famous saloon cars, and in are light greys, and even some real wood alongside rough, recycled plastic weaves. It is a stunningly bold piece of interior design, but it again has the ability to inspire love and hate in equal measures.
To those worried about the use of new plastic compounds and recycled materials, relax. This still feels every bit a BMW. The build and quality of the finish is exactly what you'd expect of the company. Don't believe us? Go and take a look at a BMW i3 – we think you'll be pleasantly surprised.
There's only so much equipment BMW can put into its i3, as any extra equipment will also drain the battery, so standard equipment is fairly limited. Just like any BMW product though, the BMW i3 comes with the 'iDrive' infotainment system which has satellite navigation, as well as controlling many aspects of the i3's system. It's through this system you access things like the DAB radio, or car status information.
There are boxes to be ticked for extras should you so feel the need. Adaptive LED headlights, heated seats, a stereo upgrade, and even larger alloy wheels can be specified. You can also upgrade the satellite navigation system, but we'd recommend putting money aside to have a rapid home-charging system installed instead. It'll save you time and be more useful than any of the above.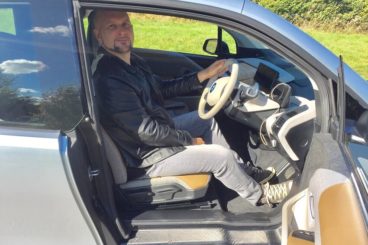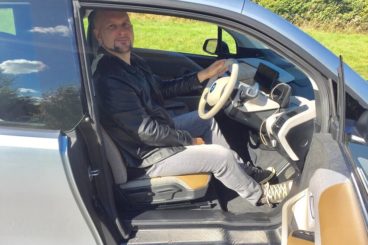 BMW i3: Cost, Pricing, and Leasing Rates
Starting from £32,330, the BMW i3 is not a cheap car. Luckily the Government will give you £4,500 to put towards it as part of their scheme to get more zero-emission cars onto the roads. Due the nature of the car and the amount of new technology in it, it is highly unlikely BMW will be doing great deals on these, so the solution instead may be to lease one.
We've managed to find a BMW i3 REX for £298 a month with six months in advance. This is only doing 8,000 miles a year, so if your mileage is higher do remember this figure will increase.
If you're a business customer, we've managed to find plenty of i3's for under £200 a month with a six-month deposit, and this strikes us as great value if you're an urban business and don't have too much to take around.
Pros and cons of the BMW i3
Design
Surely something that looks this radical and this futuristic can only be a positive thing. The BMW i3 is one of the cars that is bringing the future to the present, and whether or not people like it, it will provoke a lot of conversation.
The driving experience
Should you wish it to, the BMW i3 drives much like a hot hatch with its firm ride and powerful acceleration. It's no Ford Focus ST or Volkswagen Golf GTI, but it proves that electric cars can be fun, and that can only be a good thing for the market and the customer.
Forgetting what a petrol station looks like
If you've opted for the battery-only version of the BMW i3, you probably won't have to visit the petrol station anymore. Get a rapid-charging point setup at your home address, and make use of electric charging points springing up across the country.
Range Anxiety
It will always be there; it will never leave us. Unfortunately, because we're humans, we're going to run that range down as much as we can before re-charging it, too. Regardless of how much range BMW has added, we're still going to be pushing our luck, and that means we're going to worry.
Price
Like all BMW's, the BMW i3 is not cheap. Even with the government's £4,500 grant for eco-cars, you'll still be paying over £30k for a car that still doesn't quite do enough to be the only car in a household.
Charging Points
Sometimes ignorant combustion engine drivers park in them because they're too lazy to find a space. Sometimes the parking bays are all full already when you arrive, and sometimes you live somewhere where there simply aren't any charging points yet. None of this is BMW's fault, but it is a major downside to EV ownership.
BMW i3 vs Nissan Leaf vs Renault Zoe
We like the BMW i3. It's an entertaining hatchback for people who want to go electric. But how does it compare with its two main opponents?
The Nissan Leaf is the best-selling electric car in the UK, and behaves in a way far more becoming of a stereotypical electric car. It isn't, for example, the slightest bit sporty. It isn't particularly exciting in any way for that matter, but it is the best-selling electric car for a reason.
It is less powerful than the BMW i3, but power isn't really important here, because thanks to the instantaneous nature of electric pulling power, most electric cars feel roughly as quick as each other, certainly in an urban environment. Officially speaking, the Leaf takes around three seconds longer to get to 62mph than the BMW i3, but the real story is how the Nissan drives. It feels much heavier and more cumbersome than the BMW i3, and is nowhere near the same amount of fun to drive on a back road, though the ride is at least a little softer.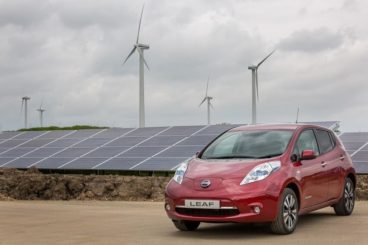 Practicality is the Leaf's biggest selling point over the BMW i3. It can seat four adults in comfort – something we're not entirely convinced the BMW i3 can do, and it has 370-litres of boot space over the BMW's 260. Unlike the BMW i3, it also scored a full five stars in Euro NCAP safety testing and it's cheaper to buy. That being said, it's nowhere near as desirable or as fun to drive as the BMW i3.
Prices: BMW i3: £32,330 to £35,480 (i3 REX). Nissan Leaf: £26,030 to £31,730
The Renault Zoe is the BMW's biggest rival, and these two are neck and neck in the race for sales. Is it one of the cheapest all-electric hatch's on the market, but it is very down on power when compared with the BMW i3. With just 88PS, the Zoe has about half the power of the i3, so takes longer to get to 62mph – 13.2 seconds to be precise.
While it may have almost half the power, it isn't all that far off being half the price of the i3. The Renault Zoe starts at just £18,495, thousands of pounds less than the BMW, and that kind of money really talks. We don't have to say any more if you're in the market for a cheap electric run-around, but if there's more you'd like to know, keep reading.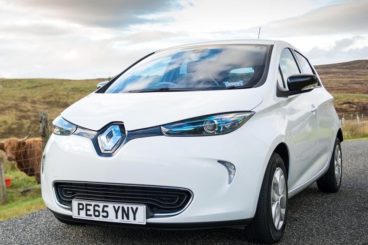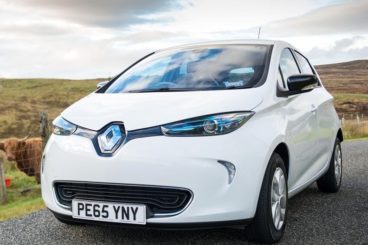 The Zoe's stop speed is just 84mph, which means that any trips onto motorways or dual-carriageways will be taking the car fairly close to its maximum potential, and this means the battery will drain much quicker. Zoe is undoubtedly a city girl, and she's happiest when she's left there. The range isn't particularly great either, we think if you managed to get more than 100 miles from a full-charge you'll be doing very well indeed. There's also the problem of handling. The steering is pretty numb, there's a decent amount of body roll in the corners, and she never feels all that much fun to drive. That being said, as she's far cheaper, you could buy a fun petrol car if you still wanted to get your kicks or if you're worried about range anxiety.
Prices: BMW i3: £32,330 to £35,480 (i3 REX). Renault Zoe: £18,445 to £25,945
While the Nissan Leaf and Renault Zoe are both cheaper and more practical, they aren't as fun to drive or as desirable as the BMW i3. The styling of the BMW i3 might not be to everyone's taste, but once driven you can look past the style as it provides easily the best driving experience of this trio.
As of this moment, the BMW i3 is the best all-electric car you can buy, aside from the £70,000 offerings from Tesla. But if you're really after a budget electric vehicle, then the Renault Zoe would be the one to have. You've even got £14,000 or so to play with on the side. The BMW i3 is certainly the best car here, but that's an awful lot of money to turn your back on.
Want to learn more? Click below to view the review for the competitors in this article…
Looking for a price?
You could be driving away with your new car in no time. Fill in your details below and one of our vehicle experts will be in touch within one working day.

Latest posts by Rachel Richardson
(see all)