When looking at new cars, you're going to look at a few in the same sector to compare a variety of things such as reliability, running costs, safety etc.
It is important that you do this to ensure that you are suitably educated when it comes to choosing the car that you are going to buy or lease. So, we're going to look at three very similar cars, the SEAT Mii, the Skoda CitiGo and the Citroen C1, and compare them on important factors you should be looking at when choosing a new car.
SEAT Mii vs. Skoda CitiGo vs. Citroen C1: Pros
Firstly, let's look at what each model excels in;
Low running costs

Well-built

Stylish interior
Low running costs

Practical for its size

Comfortable
Looks good

Low running costs
As you can see, a common denominator in this competition is that the above cars have low running costs. We'll compare them in more detail in a little bit.
SEAT Mii vs. Skoda CitiGo vs. Citroen C1: Cons
We've given you an overview of the pros of these cars and now let's look at a few of the cons;
Steering can be a bit too light

It's not as engaging or as fun to drive as its competitors
The engine choice isn't too good

The satnav is poor
Standard equipment is poor

The engines are noisy

Cramped inside
Again, we'll go into these in more detail in this article, but hopefully it's given you a brief overview of the pros and cons of each car we're looking at.
SEAT Mii vs. Skoda CitiGo vs. Citroen C1: Running Costs
The SEAT Mii's running costs are pretty low and have competitive servicing plans. It will cost roughly between £729-812 in fuel a year (based on 10,000 miles)
The warranty is the 3 year/60,000 miles a year, which is standard for city cars such as the SEAT Mii, and sits in insurance groups 1-4.
The 1.0 litre petrol emits 95g/km of CO2 which is so low that, with the current tax rates, you'd be paying nothing in road tax (though they do change next year, click here to find out more). This model will also achieve, on average, 68 mpg.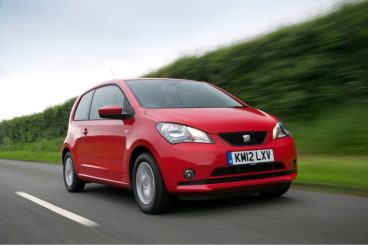 Even the highest CO2 band is only VED band B with the 1.0 (75bhp) petrol, emitting 106g/km and achieving 61 mpg and occupying insurance group 4.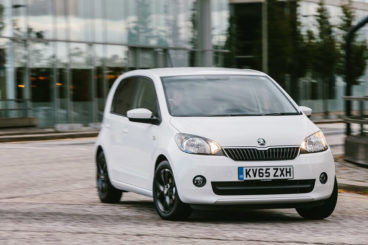 The CitiGo also does very well when it comes to running costs, with two of their models emitting less than  100g/km of CO2. The two Greentech-badged models are exempt from London Congestion Charge and the current road tax rates. This includes the 1.0 petrol which emits the least, at 95g/km. Similar to the Mii, even the highest emissions CitiGo doesn't even emit that much. The 1.0 (75bhp) Petrol emits just 105 g/km.
It will cost you around £729-799 in fuel per year (based on 10,000 miles a year). The warranty on the Skoda might be more appealing at two-year unlimited mileage and a  third year of 60,000 miles. It also comes with at 12-year body protection warranty. The CitiGo sits in insurance groups 1-4 and will cost between £0-20 a year to tax with the current tax rates.
So how does the C1 compare? Its running costs are very low, as expected with small city cars with smaller engines. Even the least economical and most powerful PureTech 82 model can achieve 65mpg.
The VTi 68 stop/start can offer you an impressive 74mpg while emitting 88g/km of CO2. It will cost you between £670-762 (based on 10,000 miles) a year in fuel, which is considerably lower than the CitiGo and the Mii. However, it does occupy some higher insurance groups,  ranging from 6-13. While this still isn't very high, it is higher than its competitors which could be something you may want to take into consideration.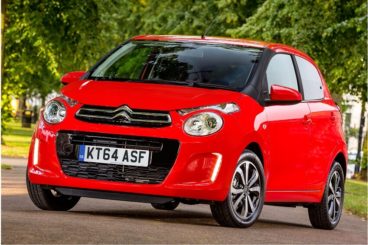 The Citroen C1 comes with at  three-year unlimited mileage warranty, and you have the option to extend it up for another two years (with an additional fee obviously)
SEAT Mii vs. Skoda CitiGo vs. Citroen C1: Reliability
Reliability is a huge factor when choosing a car. You don't want to end up spending a lot of money on a car, only to spend even more money getting it fixed. So, how do our three cars do when it comes to reliability?
SEAT have struggled recently in terms of reliability as a manufacturer, finishing 18th  out of 30 in the 2016 Driver Power survey. They were knocked down three places and are now behind both Peugeot and Toyota.
However, the Mii uses the same mechanical elements as the Volkswagen Up! And the Skoda CitiGo and are all made in the same factory in Bratislava. Volkswagen are stringent when it comes to reliability, so we don't think there will be too many issues with the Mii.
There have been no recalls reported according to Parkers and they too doubt there will many problems with the Mii.
As I mentioned, the Skoda CitiGo and the SEAT Mii are made in the same factory, and have the same components as the VW Up!
The CitiGo appeared in the 2016 Driver Power Survey for Skoda, and led it to an impressive 11th place for driver satisfaction and 8th for reliability.
Therefore, there is no reason why we should question the reliability of the CitiGo, and there have been no reported faults or recalls so far.
The Citroen C1 has been around longer than the Mii and the CitiGo so there is more evidence when it comes to looking at their reliability.
There have been few recalls, which is standard for many cars so not something that you should be worried about. It is also built in the same factory as the Peugeot 108 and the Toyota Aygo. Toyota is known for their reliability, more so than Volkswagen, so there should be no worry of the C1 being unreliable.
SEAT Mii vs. Skoda CitiGo vs. Citroen C1: Safety
Safety is another huge factor when it comes to looking at a car, particularly if you're looking at a car as a first time driver or as a young family.
Luckily, all of our cars have scored pretty well when it comes to safety, and whichever one you get you can be rest assured that you are in a safe little machine.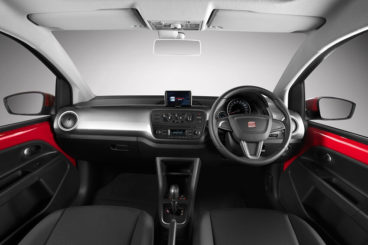 There is a considerably high level of safety equipment in the SEAT Mii and for that reason, it has been awarded five stars out of five by the EuroNCAP. It scored 89% for adult occupant, 80% for child occupant and 46% for pedestrian occupants. Its safety assist scored an impressive 86%.
Safety equipment includes front and side head/thorax airbags and ISOFIX child seat anchor points. You can also get the City Emergency Braking system as an optional extra which detects a risk of an impending collision (as long as you are going less than 18mph) and can apply braking automatically.
Well, the Skoda CitiGo offers exactly the same safety equipment as the SEAT Mii, and therefore it makes sense that it is also awarded 5 out of 5 by EuroNCAP, scoring exactly the same in all areas as the SEAT Mii.
The Citroen didn't fare as well, but that doesn't mean it still isn't a safe car to be in. It was awarded four stars out of five by EuroNCAP, scoring 80% for both adult and child occupant, 62% for pedestrian and 56% for safety assist.
There is less safety equipment that comes with the Citroen C1, apart from the standard airbags and ISOFIX child seat mounting points.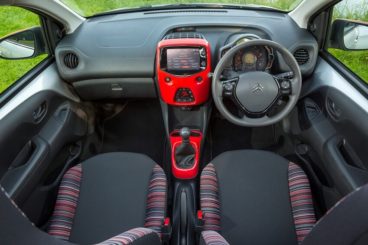 SEAT Mii vs. Skoda CitiGo vs. Citroen C1: Performance
Okay so we've gone through the really important bits such as reliability, running costs and safety. But, while you want a car that is cheap to run, is reliable and will keep you safe, you also want one that will perform well. So, we take a look at how well these competitors perform.
Engine choices for this SEAT are thin on the ground. So thin on the ground in fact, that there is only one engine to choose from – a 1.0 litre petrol. You can choose from the 60 or 75PS, the 75PS is more expensive but it is a better performer. It can get you to 60mph from rest 1.2 seconds quicker than the 60 and it has a maximum speed of 108mph. The 60 only reaches 99mph. Both options come with a torque of 95Nm.
The CitiGo is similar to the Mii in the way that it has some 1.0 litre engines for you to choose from. They aren't massively refined and they can be a bit noisy, but that's pretty common in city cars.
They also come in the form of 60 or 75PS with the entry level reaching 99mph from rest in 14.4 seconds. Also, we would avoid the automatic gearbox as we found it too jerky.
The Citroen C1 offers a bit more than its rivals mentioned above. There are a couple of engines to choose from, a 1 litre engine that does 0-60 in 14.3 seconds, and a 1.2 litre engine that does it in 11. Both of them have a top speed of 100mph. The 1 litre will struggle on the motorway, taking almost 30 seconds to reach 70 from 50. So, overtaking will be an issue. The 1.2 can do this in 15.9 seconds.
However, if you are driving a small city car then the chances are you aren't going to be doing much motorway driving, and therefore won't be too bothered by the fact that these cars above will struggle when on the motorway.
SEAT Mii vs. Skoda CitiGo vs. Citroen C1: Style
City cars are often stylish, quirky and can sometimes divide opinion. So let's see how well they've done on the style front.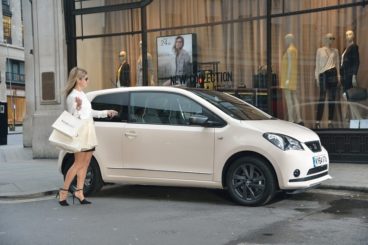 The SEAT Mii 'borrows' it's design from the VW Up! And looks quite a bit like the Skoda CitiGo.
It's  3.5 metres in length, with its wheel base taking up almost of that length. It is pretty spacious inside given its size, and has a larger interior than some of its competitors. You can comfortably fit four adults in the car, though access with the three door might be a bit more difficult. You can, however, opt for a five door to ensure easy access.
The boot is 251-litres which is pretty impressive.
The Skoda CitiGo looks pretty similar to the SEAT Mii, extraordinarily similar, in fact. It's exactly the same length with the same wheel base, even the boot size is exactly the same as the Mii. The only difference is the badge.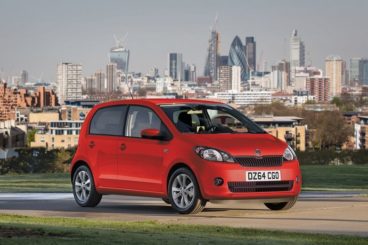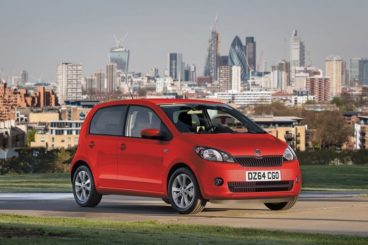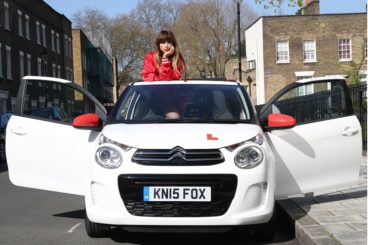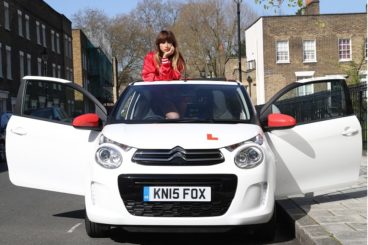 The newest Citroen is much curvier than the last one, and looks a lot funkier than its competitors. It's comfortable and you can customise some of the interior to the colour of your choice. You can also opt for a full fabric roof if you want a more convertible feel to your car.
It's similar in size inside to the Mii and the CitiGo, but its curvier body means it's had to sacrifice boot space. The boot is considerably smaller than the other two at 196 litres. But, it is pretty practical, with lots of small compartments and cubby holes to store your odd bits.
So, there we go. We've compared our three cars on running costs, safety, reliability, performance and style. While we haven't gone into a massive amount of detail, hopefully this will give you an overview of the three competitors.

Latest posts by Rachel Richardson
(see all)