Tokyo Motor Show: Audi A1 Sportback debut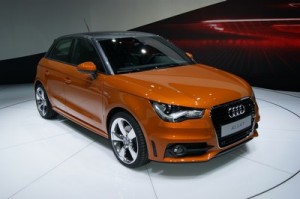 Audi is revealing its new sports hatchback at the Tokyo Motor Show. The Audi A1 Sportback builds on the popular A1 subcompact hatchback, offering more powerful sports performance and upgraded design features.
What are the main differences between the A1 Sportback and the A1?
Probably the most immediately obvious change is that the Audi A1 Sportback is a five-door model. An extra person can be easily carried, as there is room for four passengers, each of whom gets their own headrest and three-point seatbelt.
Despite retaining the same compact exterior as the A1, the Sportback is actually 6 mm higher and wider. This improvement gives a little extra head and shoulder room inside.
The bold Samoa Orange (pictured) is a brand new colour option, and only available on the Sportback, bringing the colour range up to twelve. Drivers can also choose between three contrasting roof colours.
What's under the bonnet?
The Audi A1 Sportback series offers a choice of four different engines, three TFSI petrol engines and one TDI diesel.
The high-power TFSI engines are available as 1.2 litres 86PS, 1.4 122PS and the flagship 1.4 twin-charged 185PS. This high-performance engine comes with a seven speed S tronic twin-clutch gearbox, and goes from rest to 62mph in seven seconds. Drivers opting for the 1.4 TFSI 133 PS will also be able to upgrade to this transmission.
The diesel option is a 1.6 litre TDI 105Ps, which is the range's most efficient engine. Fuel consumption can get down to 74.3 mpg, and a CO2 output of 99 grams per kilometre means that in the UK it escapes the congestion charge and VED.
A fifth engine will be added to the range in the summer of 2012. The 2.0 litre TDI combines 143PS with the ability to accelerate to 62mph in 8.5 seconds and a fuel efficiency of up to 68.9mpg on its combined cycle.
Audi has designed the engines to be surprisingly light and compact, giving the A1 Sportback even weight distribution.
Where else can I see the Vorsprung durch Technik?
Audi's ongoing 11.6 million Euro investment in developing new technology isn't just evident in the A1 Sportback's hardware.
It comes with the Concert audio system as standard, including a 6.5-inch monitor and SD card reader. The next step up offers Bluetooth streaming and the Audi music interface (AMI).
Top-level options for serious sound lovers are the powerful 14-speaker, 465-watt Bose surround system and a digital audio tuner.
The Bluetooth online car phone has 'Audi connect' online functions: news, weather and travel updates, navigation that includes Google Earth images and web radio.
What stays the same?
The A1 Sportback has the same boot space as the A1, with room for 270 litres, or 920 with the rear seats folded.
To keep up to date with news, photos and previews from the Tokyo Motor Show like us on facebook or follow us on twitter.
If you're interested in buying or leasing a new Audi contact our sales team. Alternatively, visit our website where you will find new and used Audi's available for sale or on finance.
Thanks for visiting us today.
Fed up with looking for your next vehicle?
Need advice from an experienced Vehicle Specialist on what vehicle is right for you?
Book your FREE consultation now