The new three-door Audi A1 Hatchback is one of the best small cars on the market right now. It's crammed with all the latest technology, looks fantastic, and boasts the classiest interior in this sector.
It also has fantastic resale values and is a second-hand car of choice for many young people in the UK. This means that after three years you can move it on while recouping around 50% of what you paid for it.
Although it asks for a £4,000 premium over the Ford Fiesta, it isn't a price that leaves a sour taste in one's mouth. Rather, the A1 fills all the same roles as the Ford – but it does everything better. The driving experience is pleasant, and it's cheap to run. But more than anything, it's desirable.
OSV takes a closer look at what it's all about with our Audi A1 Hatchback review.
Review Of The Audi A1 Hatchback
The best way to describe the A1 is as a small big car that, though it has all the sporty pretensions of the MINI hatchback, has managed to quell its youthful enthusiasm in favour for some grown-up sensibility. As such, it's not as thrilling to drive as its rival, but it feels a lot more composed. In other words, it offers you a lot of confidence.
The steering is responsive, and there is no reason why this car can't be enjoyable to drive on twisting roads. The suspension setup gets increasingly firm as you move up the trims, but it's just a matter of trying before you buy so that you don't end up with an uncomfortable ride that jostles you about more than a mechanical bull.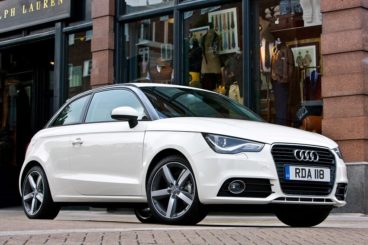 The fairly small 1.0 and 1.4-litre TFSI petrol units are the smart choice if you want your A1 to be able to absorb our worst surfaces without troubling you too much. They're sprightly, too, with the former covering the 0-62mph dash in 10.9 seconds, and the latter doing it in just 7.8 seconds if you choose the most powerful version.
The 1.0-litre petrol does make a bit of noise, but it's never too intrusive. Moreover, it's responsive and nippy, and is a solid and cheap option. The 1.4 is smoother and quieter, and is OSV's pick of the range. It comes with cylinder-on-demand tech, which will save you fuel.
A 1.6-litre diesel engine is also an option, but it lacks the smoothness of the 1.4-litre petrol. However, it's the ideal companion if you're to be hauling the Audi A1 2016 up and down the motorway often. Like the 1.0-litre TFSI petrol it comes with a five-speed manual 'box, while the other engines can be specified with either a 7-speed S tronic automatic or a 6-speed manual.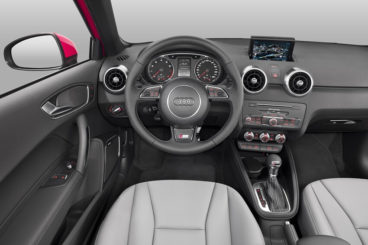 The A1 Hatchback can't be rivalled when it comes to interior quality. The materials are of all premium standard, the fit and finish is excellent, and the upholstery is as attractive as they come. And you get all of this for a much lower price than you would have just a few years back.
The steering wheel and driver's seat are both height adjustable, which makes it really easy to get comfortable. The interior can be customised however you want, which means you can make it as bright or as slickly dark as you like.
It can be really easy to get carried away, though, and some customers have later had second thoughts after adorning their A1 in a rather lurid colour scheme. As such, we recommend that you exercise a bit of caution and tact! Remember, the more lurid the colour is, the harder it will be to sell this car on.
The SE model offers more comfort than the Sport model, which comes with large alloys and a stiffer suspensions setup.
For more practicality, you should take a look at a five-door model, such as the A1 Sportback. For a three-door, the A1 doesn't do terribly on the practicality front, but it doesn't excel either. Accessing the rear seats is a tad awkward, and with not much head or legroom on offer they should only be used occasionally.
The compact nature of the car at least makes it easy to park, though, while the boot measures a very impressive 270-litres. You can fold the rear seats to extend the space to 920-litres, although they can't fold totally flat. If you opt for the S1, you lose 60-litres of space because of the four-wheel drive quattro system.
Standard kit is decent across the range, with the SE trim benefiting from a DAB digital radio, alloys, a stop-start system, sports suspension, and Bluetooth connectivity. The S line adds 17" alloys and LED interior lights, while the S line Style Edition gets painted air vents, better speakers and bright xenon headlamps.
Out of the options list, we recommend the comfort package, which adds the likes of cruise control and parking sensors to your A1. The £1,495 tech package, meanwhile, chucks in satellite navigation and a 40GB hard drive.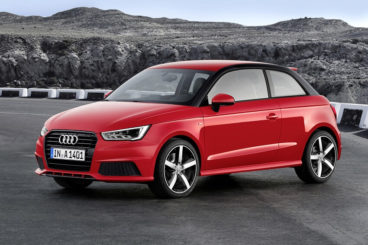 Costs Of The Audi A1 Hatchback
Prices for the new car start out from £14,500 and rise to £25,600. If you're thinking of leasing it, you can pick up a deal from as little as £155 + VAT per month. For more information on our leasing deals, click here.
In terms of running costs, the A1 is cheap but not class-leading. The engines are generally small and efficient, and there is plenty of value for money to be had here. The most frugal engine in the range is the 1.6-litre diesel unit that averages fuel economy returns of 76.3mpg.
The petrol engines are better suited to this car though and even they offer good economy. The small 1.0-litre 94bhp turbo is good for 67.3mpg, while a 1.4-litre 123bhp petrol averages a not-too-bad 56mpg.
The cheapest Audi A1 2016 to insure is the basic 1.0-litre petrol unit, and it occupies insurance group 15. The most expensive to insure is the 1.4-litre turbo petrol, which sits in group 25, while the rest are in the regions of groups 19 – 21.
Pros and Cons Of The Audi A1 Hatchback
Stylish
There is nothing overdone about the exterior styling. It's just smartly conceived and executed, and emits the utmost swagger.
Strong Resale Values
If there is one big advantage that the A1 Hatchback has over its rivals is that this is made by a premium manufacturer, which guarantees good residual values. The second-hand car market in the UK is booming, and the A1 is a popular buy. You can expect it to hold onto 50% of its value after three years.
Powerful Range of Engines
A couple of sizzling petrol engines and motorway-focused diesel's make up a very exciting range.
Bit Expensive
It's more expensive than its rivals, and if you get a bit giddy with the list of optional extras you might feel as though you've paid over the odds.
Firm Ride
Audi have a habit for giving us firm suspension setups, and the trend continues here. If you want pricer, more performative models, you will have to sacrifice some comfort.
Audi A1 Hatchback vs MINI Hatchback vs Volkswagen Polo Hatchback
Let's see how the car fares against its rivals in the comparison section of our Audi A1 Hatchback review.
Audi A1 Hatchback vs MINI Hatchback
The new MINI Hatchback stands out thanks to its dynamic looks that combine sporty pretensions with a pinch of aggression.
Its looks hint at how it drives, and it's easily one of the most entertaining cars in its sector. A tad more grown-up than last time around, there is less noise on the motorway, and the suspension has been tweaked to make it softer.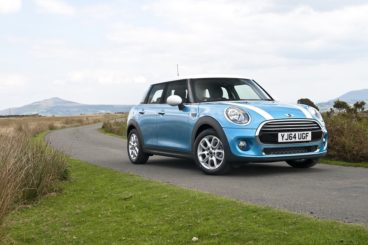 All models are capable of putting a big fat grin on your face. They're all nimble, easy to drive, and offer plenty of power. They're all characteristically MINI, with even the entry level 1.2-litre 100bhp petrol engine packing a punch that makes it fun out and about in town. The Cooper S is arguably the most exciting, though, and uses its 189bhp to get you from rest to 62mph in just 6.8 seconds.
There are also three diesel engines to choose from, including a pair of 1.5-litre units that come in either 94 or 115bhp guise, and a more powerful 2.0-litre diesel that is the quickest in the range.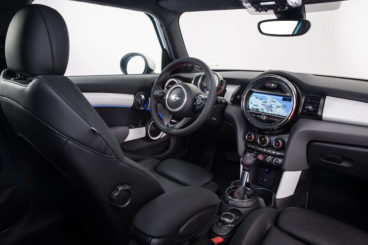 In terms of running costs, the MINI does very well. The turbocharged 1.2-litre petrol engine can achieve fuel economy returns of 61.4mpg, but it's the MINI One D diesel that grabs all the headlines, as it can average returns of 83.1mpg.
In the driver's seat, you sit down low, which enhances the sporty flavour of this car. Everything is within easy reach, and there is plenty of adjustment, both in the driver's seat and the steering wheel. The cabin boxes you in less this time around, while the stylish dashboard is of a higher quality than ever before.
The MINI doesn't do fantastically well when it comes to practicality, although it's not as cramped as its predecessor. Getting into the rear is easy, thanks to folding front seats, but once you're in the rear there won't be a lot to smile about. You'll probably just want to clamber out again. Tall adults will struggle on longer journeys, though kids will be just dandy. There are plenty of storage spaces, while the 211-litre boot is on the small side.
Price:
Audi – £15,000 – 26,000
MINI – £14,000 – £21,400
Audi A1 Hatchback vs Volkswagen Polo Hatchback
The new Volkswagen Polo Hatchback is roomy and has one of the best cabins in this class. It's now more upmarket than ever.
The Polo excels on straight roads, but gets found out as soon as you take it for a jaunt on more winding lanes. The steering is just too light, and this means that you never know how much grip you've got. Consequently, it doesn't exactly inspire much confidence.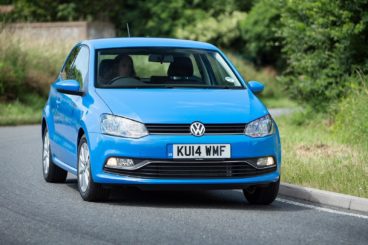 With that said, the VW Polo Hatchback really comes into its own on the motorway and offers a smooth, relaxed, and quiet driving experience.
The entry-level 1.0-litre petrol engine is a budget power plant that will get you from A to B without any hassle, but it's very underwhelming and takes 16.5 seconds to cover the 0-62mph dash. A 75bhp variant of the 1.0-litre petrol is significantly quicker, but it's from the turbocharged TSI 1.0-litre petrol engine that things really get interesting. This punchy number delivers 108bhp and can get you from rest to 62mph in 9.3 seconds, whole a turbocharged BlueGT 1.4-litre petrol unit does the same distance in 7.8 seconds.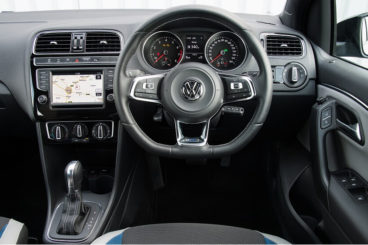 The diesel engines are more expensive but they're also pretty quick. They're cheap to run, too, with the 1.4-litre 89bhp diesel unit capable of returning 83.1mpg off a sensible drive.
The interior is one of this car's strengths, and although it can't match the premium standard cabin of the Audi A1, it comes pretty close. Comfortable and refined, it can also boast fantastic fit and finish and top quality materials.
The restrained, minimalist design of the dash is easy on the eye, and we especially like the slender steering wheel that is simple to live with. All the buttons are clearly laid out, and there is no clutter at all. The plastics, meanwhile, all feel of a very high quality.
The interior offers a reasonable amount of room, despite its compact dimensions. There are three and five door versions available, with the latter being easier to get in and out of. VW have been generous with their storage spaces so that you have no excuse for not keeping your car tidy, while the boot measures a respectable 280-litres. It's a usable boot, thanks to a low load lip and a big opening.
Price:
Volkswagen – £11,500 – £20,000
Verdict Of Our Audi A1 Hatchback Review
Some critics have argued that the A1 is nothing more than a premium Polo. Firstly, that sounds pretty good to us. Secondly, it's actually a bit more than that.
Offering the best that all its rivals can offer in this class but then adding badge appeal and a sprinkling more power and style, the A1 is the standout choice in this sector. Less retro than the MINI and more premium than the Polo, the new Audi A1 Hatchback is a cut above if you can afford it.
Want to learn more? Click below to view the review for the competitors in this article…
Looking for a price?
You could be driving away with your new car in no time. Fill in your details below and one of our vehicle experts will be in touch within one working day.

Latest posts by Will Titterington
(see all)