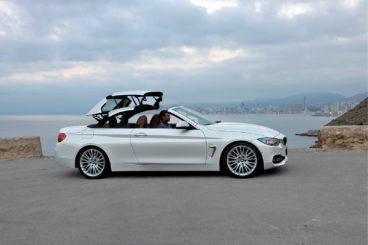 The new BMW 4 Series convertible is based on the coupe, and it provides almost as much practicality. What sets it apart, though, is the utter thrills and spills it offers once you fold the roof down and take it for a cruise in the sunshine.
It's got a new name and number, but this car has risen out of the ashes of the old BMW 3 Series convertible. If you liked that car but thought it needed a bit of tweaking, the Munich company have adhered to your wishes. OSV takes a closer look at what it's all about.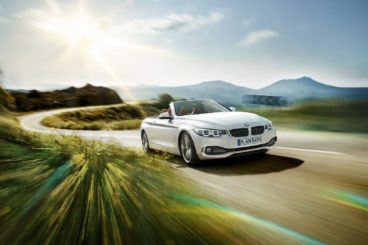 BMW 4 Series Convertible Test Drive
BMW haven't necessarily put this car together with consumers in mind who just want to throw it around a bit. Unless you opt for the M4 model, you'll find a car that offers more comfort than out-and-out speed and excitement. With that said, this convertible is still more dynamically inclined than some of its rivals, including the Audi A5, and it's still hungry enough to approach bends with a wolfish appetite and a relish.
It is, though, heavier than than coupe from which it is based, thanks to the roof. This has had an effect on the way the car performs and handles, turning it into more of a cruiser than an out and out sports car.
In terms of the engines, there is a trio of engines on offer. The 420d 190bhp kicks things off, before a pair of six pot units follow things up; a 430d 258bhp unit and a 435d 313bhp which is the range-topper. The biggest changes, though, have taken place in the petrol line-up. The base-level four pot 2.0-litre 184bhp is essentially the same, if more efficient, but the new 430i has more power than last time, as well as more torque, and can now get you from rest to 62mph in just 6.4 seconds.
There is also a six pot unit on offer, a 440i 326bhp engine, while the range-topper is a twin turbo 6 cylinder M4 431bhp performance model. It's sweet.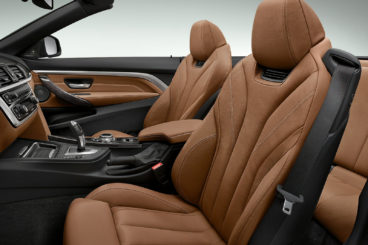 The Interior, Design And Build Of The BMW 4 Series Convertible
This is now the only car in this sector that comes with the metal-folding roof. This is its unique selling point, as buyers who want precisely this roof would have to ignore the Mercedes E-Class and the Audi A5.
It can't be all that easy, though, to create an attractive shape that swallows whole all the roof-work's metal panels, but BMW can be proud of their expert design and engineering team. You can fold down the window in just 20 seconds and at speeds that go up to 8mph max.
The biggest advantage is that there is no need for a distended rear end to make up for the bigger sections of the roof.
The biggest downside is that when you stack 3 instead of 2 pieces in the boot, there isn't a lot of luggage space left. With the roof up, there is 370-litres of space on offer by default, but if you fold the roof down you get just 220-litres.
Getting into the back of this car is not easy, but once you're all belted up you'll appreciate the extended wheelbase. Where the outgoing 3 Series convertible was squeezed for space, this one offers passengers more leg and headroom.
Up front at the wheel, drivers get to enjoy a low-set driving position and a top-quality 3-spoke steering wheel.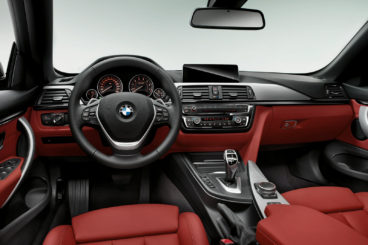 BMW 4 Series Convertible Pricing And Running Costs
Prices for the new car start out from around £35,000 and rise to about £50,000.
Standard equipment across the range is good, with even the base-level variants coming with heated seats, parking sensors and climate control. Opt for the Sport model and you get larger alloys and some plush sports seats, whole the range-topping model treats you to M-badging on the exterior of the vehicle.
In terms of running costs, it's easy to assume that this car is going to cost a fait bit to run. After all, it's got a heavy roof mechanism that is wholly inefficient, and contributes to the car's total weight of 1,755 kg. To put that into some perspective, the BMW 320d saloon tips the scales at 1,495 kg.
With that said, BMW have worked hard to bring running costs down. Thanks to the inclusion of numerous EfficientDynamics modifications, you can return some decent numbers. The 420d manual is good for 55.4mpg and emits 127g/km of CO2. The 430d, meanwhile, returns 55.4mpg and emits 134. The 420i petrol can return 45.6mpg and emits 145g/km of CO2.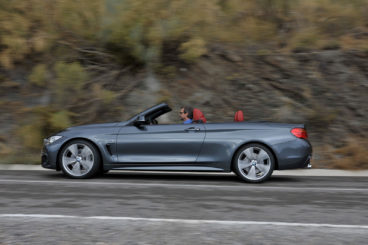 Our Favourite: BMW 4 Series Convertible M Sport
This convertible is certainly not as sharp as the 4 Series coupe, and it does suffer from that weighty roof. For some of you, though, the fact that this is the only car available in this class with such a metal-folding roof will be a selling point.
Moreover, indications are strong that buyers will be happy with this cruiser's calm, comfortable, relaxed demeanour. Furthermore, it comes with a line-up of stellar engines. There are probably more sensible ways of splashing your cash, but right now, as we look at the BMW 4 Series convertible, we can't really think of any.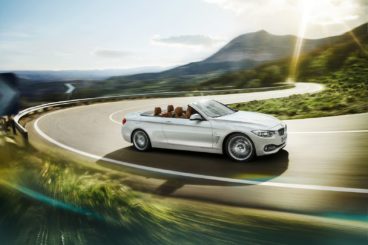 Latest posts by Will Titterington
(see all)