Review Of The Citroen C4 Picasso MPV
Looking for an objective review of the Citroen C4 Picasso MPV? OSV have got you covered, from engines to lease deals.
The new Citroen C4 Picasso MPV isn't attempting to grab any headlines – it just wants to impress you with its cheap price tag, its swathes of interior space, and its family-friendly good-looks. In many ways, it's the quintessential, wholesome family car for those of you who are operating on a budget.
This is the kind of inoffensive-looking family car that's been populating suburbia for the past few decades now. It's smiley, comfortable, and won't let you down. And compared to rivals such as the Ford Galaxy, its £19,500 starting price looks like a steal.
OSV takes a closer look at what it's all about with our 2017 Citroen C4 Picasso MPV review.
Comfort rather than fun is the C4 Picasso's byword, which is why you'd have to look elsewhere if you're pining for some on-the-road entertainment. But we're going to guess that most families aren't putting "sports car handling" at the top of their list of priorities anyway.
If, however, you do want a bit more fun on the road, we recommend the Ford C-MAX.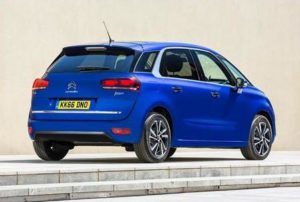 In the event, a soft suspension setup ensures that ride quality here is good. The trade-off is that body lean is noticeable when you tackle bends. The steering, meanwhile, is fairly responsive, but it doesn't offer much feedback. And if you pair your engine up with the manual gearbox, you might find that it doesn't have smooth nor swift action as you flick through the gears.
In terms of the engines, the e-HDi 90bhp is the most eye-catching in terms of how cheap it is to run, but you should hold your excitement in check a little as it's slow and takes almost 14.0 seconds to do the 0-62mph "dash". Moreover, it feels breathless a lot of the time, and OSV recommends that you overlook it.
The 115 e-HDi is a much better option. It delivers up to 112bhp, and can get you from rest to 62mph in 11.8 seconds, which should be more than enough for most buyers.
The petrols are where the performance is at, however. The PureTech 130 might be theentry-levell petrol engine, but it delivers 128bhp, and can get you from a rest to 62mph in 10.1 seconds. It feels urgent and quick, but is only available with the VTR trims.
The 1.6-litre 161bhp petrol engine is the fastest in the range that's capable of doing the 0-62 sprint in a barnstorming 8.4 seconds. It will cost a lot more to keep on the road than the diesels, so won't make much sense to families who are looking at the C4 Picasso because of its affordable price tag.
The C4 Picasso is a bit of a beauty on the outside, but if it's the inside that counts you won't be disappointed – this is a clean, well-appointed, smartly designed interior. The 7" touchscreen ensures that the dashboard is largely clutter-free, and if you go for one of the higher-spec models you also get a huge 12" screen to go with it. Together, these screens display and control some of the cars' major functions.
However, the infotainment system does have its faults. It looks fab, but it's not as easy to use as others in this class.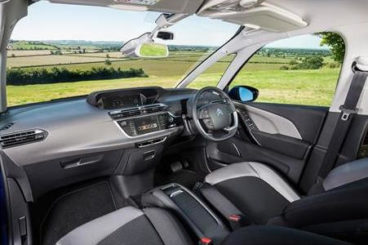 Build quality is good overall, and cheap, scratchy plastics aren't missed. The seats allow you to get comfy, while the standard panoramic windscreen brightens up the cabin. As mentioned earlier, the soft suspension ensures good ride quality, which is what you want on longer journeys.
And what really sells the car is how easy it is to live with and use. The raised driving position ensures good visibility, legroom throughout is excellent, there are lots of storage spaces dotted around the cabin, an electric parking brake, three individual rear seats, a flat floor, and ISOFIX child-seat mounts.
The boot, meanwhile, measures 537-litres, which can be extended to 1,851 by folding down the rear seats.
Standard equipment across the four trims is good, with the entry level model benefiting from LED daytime running lights, rear and front electric windows, 16" alloys, a 7" touchscreen, cruise control, air conditioning, and three individual rear seats.
The VTR+ trim throws in automatic air conditioning, automatic windscreen wipers, lights and rear parking sensors, while the Exclusive models add a 12" display, keyless start and entry and a leather steering wheel.
The Exclusive + model sits at the top of the range, and comes with 18" alloys, a panoramic sunroof, tinted windows, and leather upholstery.
In terms of standard safety kit, all models except the Exclusive + miss out on a blind-spot monitoring system. They get electronic stability control and plenty of airbags, while the car scored 5/5 when crash-tested by Euro NCAP.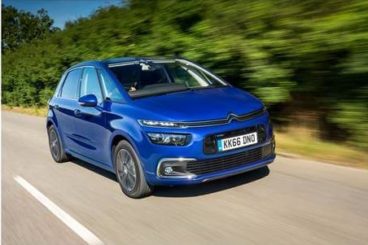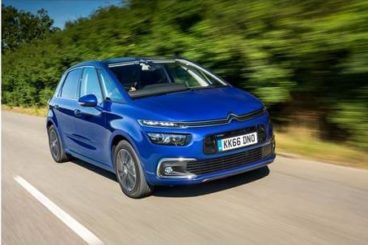 Prices for the new car start out from around £19,600 and rise to £27,600. For more information on our leasing deals, check out our leasing page here.
In terms of its running costs, the diesel engines do very well. However, it's the unexciting e-HDi 90bhp that's the cheapest to run, with its average fuel economy returns of 74.3mpg. It's also exempt from road tax.
The e-HDi 115 diesel is more useful and offers more power, and with fuel economy returns of 70.6mpg, it's also still very affordable. Moreover, it costs just £20 a year to tax.
If you're tempted by the pace of the petrols, the quickest engine in the range (the 1.6-litre 161bhp) is good for 48.7mpg.
Practical
It's not short of MPV practicality.
Cheap To Run
The diesels can return fuel economy higher than 70mpg, while the PureTech petrol averages returns of 56mpg.
Stylish
This is the five-seat Picasso, and being more compact than the seven-seater Grand variant has allowed Citroen to inject it with some style.
Entry-Level Diesel Is Slow
The e-HDi 90bhp is a slouch, and takes 14.0 seconds to cover the 0-62 "sprint."
Short Warranty
Its three-year warrant is competitive with the Ford C-MAX diesel, but not very attractive all the same.
Citroen C4 Picasso MPV vs Renault Scenic MPV vs Ford C-Max Diesel
Let's see how the car fares against its rivals in the comparison section of our Citroen C4 Picasso review.
Citroen C4 Picasso vs Renault Scenic MPV
The new Renault Scenic is Renault's gold-standard when it comes to MPV's. It's so far proven to be a big hit with buyers, thanks to its practicality, drivability and refreshing sense of style.
Remember when MPV's were dowdy? Fortunately, that's no longer the case, as both the Citroen and Renault prove. Maybe it's a French thing, but both these brands are doing everything right to make versatile family cars more aesthetically pleasing.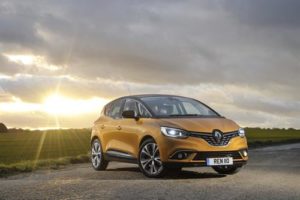 But let's start with how the Scenic MPV performs on the road. Compared to the outgoing model, the new car handles much better. It's well-mannered on British roads, it's agile and compose, and its steering is accurate and responsive.
There are plenty of engines to choose from, starting with a 1.5-litre dCi 110 turbo diesel unit. There's also a 1.6-litre dCi 160 diesel if you want more power, but while the former can be paired up with either a manual or an automatic transmission, the latter can only be mated to an automatic.
There are two petrol engines available, both of which are a 1.2-litre unit. The smaller of the two delivers up to 115bhp, while the bigger delivers 130. Power is impressive, and both engines are quiet as you pick up speed.
But grabbing the healing is the hybrid engine, which is seen powering a Renault Scene MPV for the first time. It's not a full-on hybrid in the conventional sense because the diesel provides most of the power, with the electric motor only doing its bit when you're travelling at low speeds. And each time you break, the battery recharges.
According to Renault themselves, the hybrid model is up to ten times more efficient than the diesels. These claims seem a bit on the wild side, but claimed fuel economy of 80.7mpg is impressive in anyones book. The dCi 110 diesel doesn't fare too badly, though, and its claimed fuel economy of 72.4mpg will appeal to families.
Both those engines are free from road tax, but the petrols aren't. Both cost £110 a year to tax, and both return fuel economy of 48.7mpg.
The Scenic's exterior is stylish, and suggests that the interior will follow suit. Unfortunately, it doesn't, although it's still a pleasant place to spend your time on the road. The car comes with huge 20" wheels which will have you worried about ride quality, but this is a remarkably smooth car that's as comfy as modern-day MPV's come.
The dashboard and cabin is more homely than daringly designed, but we suspect that will please a lot of buyers. Everything is where it should be, and there's a nice feeling of familiarity in here. We're not so sure about the dark plastics, though, as they invoke a bit of an oppressive atmosphere.
The car gets 5/5 for practicality from OSV. Now in its fourth generation, this is an MPV that knows exactly what families want. There is more room inside than last time, including more leg and headroom, and the fact that the rear seats slide backwards and forth adds to the versatility.
The boot is bigger than the one in the Citroen, and measures 572-litres. Slide the rear seats forward or fold them in a one-touch operation and you can increase the space to 720-litres.
Price:
Citroen – £19,600 – £27,600
Renault – £21,000 – £23,500
Citroen C4 Picasso vs Ford C-Max Diesel
The new Ford C-MAX diesel MPV has five seats, drivability, practicality and state of the art engines.
We don't know how they do it, but once again Ford have taken what is essentially a people carrier and got it to handle like their Ford Focus Hatchback. The steering is responsive and firm, with our only complaint being the overly firm suspension. But even that has its advantages, as it reduces body lean as you tackle bends.
However, this is a workhorse MPV – not a Ford Focus. As such, if you're looking at it primarily to see how it can handle full loads and longer journeys, it's the diesels that earn their stripes and prove their mettle. The 1.5-litre 118bhp is our top pick. It's just as quick as the fastest petrol engine, but is much more economical, returning 69mpg on average.
Contrast that with the petrols: The cheapest is a 98bhp 1.0-litre unit, that's good for 55.4mpg. Meanwhile, a non-turbocharged 1.6-litre unit returns fuel economy of 44.1mpg and costs £145 a year in road tax.
The Ford C-MAX's pleasant and useful interior is helped by good levels of standard kit that includes a DAB digital radio, a display screen, Bluetooth phone connectivity, and air conditioning. The dash is smart but a bit needlessly fussy, and some of the controls are a tad fiddly.
The seats aren't the most comfortable out of all three cars we're looking at, but they are at least supportive. Meanwhile, the driver sits high up, which ensures good visibility. The seat also comes with plenty of adjustability, as does the steering wheel.
The rear seats are versatile, the roofline is high, and the boot measures 432-litres. Yep, all in all, the Ford C-MAX is a practical family car. You can also easily remove the rear seats to extend the boot space to 1,684-litres, while its square shape makes it super usable.
Price:
Ford – £18,500 – £27,000
Verdict Of Our 2017 Citroen C4 Picasso MPV Review
This is a fab family car that's got plenty of space, comfort and versatility. As a bonus, it's also stylish and is cheap to run. It's got everything families need but with a touch of something different in the shape of a futuristic-looking cabin. The new Citroen C4 Picasso MPV is a winner.
Need help deciding?
With help from one of our experts you could be driving away with your new car in no time. Fill in your details below and one of our vehicle specialists will be in touch within one working day to talk cars.

Latest posts by Will Titterington
(see all)