Ford Transit Courier Kombi Diesel Estate vs Peugeot Partner Tepee MPV vs Nissan NV200 Combi Review & Comparisons
Need a new van? OSV bring you the Ford Transit Courier Kombi Diesel Estate full reviews with comparisons of other similar vans
Review Of The Ford Transit Courier Kombi Diesel Estate
The new Ford Transit Courier Kombi Diesel Estate is Ford's premium van-derived car. It's cheaper than the Mercedes Citan Compact, the new Ford Transit Courier Kombi Diesel, but arguably offers just as much value. It's the most people-friendly of all Ford's popular Transits, and comes with van-based practicality.
There was a time when a Ford Transit was just a van. It was about the same time when phones were just for telephoning people and having a chat. In 2017, though, phones can be used to transfer cash, and Ford Transits can carry seven people. What's the world coming to?!
OSV investigates with our Ford Transit Courier Kombi Diesel Estate review.
There are two diesel engines available, a 1.5-litre TDCi, and a 1.6-litre TDCi. Both are capable of pulling along the van on a full-load, although we prefer the latter. Simply because it's bigger. And on a full-load, bigger is always better.
That's not to say that the 1.5-litre diesel engine should be entirely discounted. It develops a decent 74bhp, and can produce up to 190Nm of torque up to 2,000rpm.
Both engines are fairly refined. Indeed, the only times you'll really notice any engine noise is when you push the power plants to the peak of their rev range.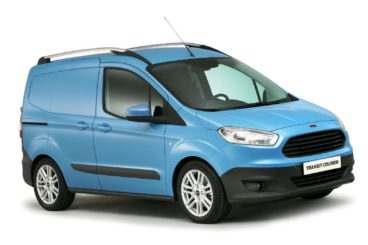 And despite essentially being a car based on a van, it feels surefooted in towns. It's never going to be as agile as a hatchback, but its nimbleness will surprise you. It certainly doesn't feel as heavy as you'd expect.
This is down to Fords's ability to produce cars that drive well. Although this has van origins, it's in Ford's DNA to add a certain suppleness to its vehicles' driving dynamics. As such, this has more in common with a car than a van on the road. It's composed in corners, rides smoothly, and its steering is precise.
However, there is no automatic gearbox available.
There is a 1.0-litre EcoBoost petrol engine available. For the purpose of this review, though, we're focusing on just the diesel. Moreover, the petrol engine will demand too much cash to keep on the road, and will make little sense to high mileage drivers.
Ford Transit Courier Kombi Diesel Estate Interior, Design & Build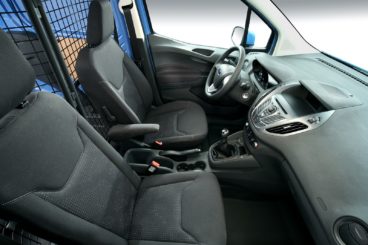 It's worth remembering that this car is derived from a van, and isn't an actual van. As such, its interior has more quality than you might have expected.
For example, Ford has borrowed switch gear from their passenger cars. This automatically brings the quality levels up a notch. The bottoms and dials look modern and are easy to use, although we would argue that there are too many of them. Button clutter is a bit of an issue, while one or two controls are a tad small.
Still, you don't have to look too far to remind yourself of the quality of the cabin. The glazed bulkhead, for example, is a plush touch. We also like the instrument cluster – it looks slick, and its quality is above average.
The steering wheel is adjustable, as is the driver's seat. Coupled with the large windscreen, all this ensures good visibility. You can also pay extra for a windowed steel bulkhead for enhanced rear visibility.
There is lots of interior space, and head and legroom are good. Storage spaces are plentiful, so it shouldn't be too hard to keep things tidy. But because this is the smallest out of the four Transits, it doesn't have the biggest boot around. Its load bay has a max capacity of 1,620mm.
Equipment & Safety Of The Ford Transit Courier Kombi Diesel Estate
Standard equipment throughout the range is good, and includes a DAB radio and Bluetooth connectivity. You also get remote central locking as standard, an immobiliser, and a moulded bulkhead. Sat-nav is also part of the standard kit, as is a mobile device dock.
Move up to the Trend models, and you'll benefit from a neat overhead storage shelf. You'll also get extra storage space beneath the passenger seat.
The Courier Kombi's standard safety kit includes ABS with brake force distribution and brake assist. It also comes with stability control, Hill Launch Assist, Rollover Mitigation, and a driver's airbag. Surprisingly, there is no passenger airbag.
The Trend model adds automatic wipers and headlamps.
Security, meanwhile, is bolstered by a remote central locking system that comes as standard. This useful feature lets you choose which doors you want to open. Among the optional safety features are a few alarm systems.
Costs Of The Ford Transit Courier Kombi Diesel Estate
Prices for the new car start out from just £15,000. If you prefer to lease, you can pick up a deal from as little as £175 + VAT. For more information on our leasing deals, you can check out our page here.
In terms of its running costs, the Courier Kombi is a star. As a commercial vehicle, you'd expect it to be economical, and average returns of 76.3mpg from its most frugal diesel engine are pleasing. And because it emits less than 100g/k of CO2, it's totally exempt from yearly road tax. Choose a slightly more expensive diesel, and you can average returns of 68.9mpg. Which is still very good.
Pros And Cons Of The Ford Transit Courier Kombi Diesel Estate
Affordable
With prices starting out from just £16,000, the Ford Transit Courier Kombi is ideal for cash-conscious buyers. Its running costs are low too, and it can return as much as 76.3mpg economy.
Good Blend Of MPV And Van
It's as useful as an MPV, and as spacious and affordable as a van. It's an appealing mix.
Solid Build Quality
The materials are durable, and it feels built to last.
Too Much Button Clutter
The dashboard isn't the smartest, and clutter is an issue.
Won't Be Big Enough For Some
It's the smallest in the Ford Transit range, and its size won't be enough for some of you.
Ford Transit Courier Kombi Diesel Estate vs Peugeot Partner Tepee MPV vs Nissan NV200 Combi
Let's see how the car fares against its rivals in the comparison section of our Ford Transit Courier Kombi Diesel Estate review.
Ford Transit Courier Kombi Diesel Estate vs Peugeot Partner Tepee MPV
The new Peugeot Partner Tepee MPV looks as much like a van as the Ford. It's versatile, easy to drive, and should appeal to cash-conscious buyers.
Out on the road, Peugeot hasn't even attempted to make it drive like a car. It's driving dynamics are very van-like, with its tall stature causing excess body lean in bends. Worse still, its gearbox is clunky and its steering is heavy.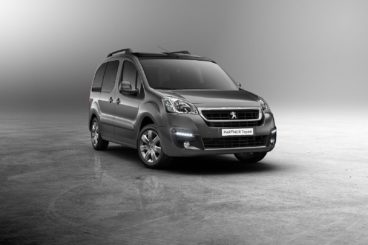 However, we said that it's easy to drive – and it is. Just don't expect thrills and spills, and it will get you from A to B without a problem. Both in the town and out on the motorway, it's highly capable.
It comes with two same-sized petrol and diesel engines – 1.6-litres. None are explosive performers, but they're not terribly slow either. The diesel does 0-62 in 13.0 seconds, while 1.6-litre petrol does it in 12.2 seconds.
For more oomph, a 1.2-litre petrol engine is the one to go for. No engines, though, can get you from rest to 62mph quicker than 11.0 seconds.
The 1.6-litre diesel engine is available in two power guises. While the 100 and 120bhp variants offer similar performance, they offer different economy returns. The 100 can return 67.3mpg, and the 120 averages just over 64mpg.
The 1.2-litre petrol engine shouldn't be overlooked, though, and offers just under 50mpg economy – on paper, at least.
Insurance and servicing will both be affordable, while residual values are good.
Inside, the cabin is smartly designed and promises more comfort than the Ford. Thanks to a good amount of standard kit that includes a reversing camera and climate control, the Tepee is almost desirable! That reversing cameras and parking sensors make it easy to park, too. Always a bonus with a car like this.
The rear seats are roomy and easy to remove, while storage bins are everywhere. It's not hard to keep the place neat and tidy.
The boxy shape of the Partner Tepee MPV isn't pleasant to look like, but it means access is good. Versatility is also excellent, and you can fit two extra seats if you wish. Remove all rear seats and the boot measures 3,000-litres. Stick to the five-seater version and keep all seats up, and you get 675-litres of boot space.
Price:
Ford – £16,000 +
Peugeot – £16,250 – £20,500
Ford Transit Courier Kombi Diesel Estate vs Nissan NV200 Combi MPV
The new Nissan NV200 Combi is available with either seven or five seats, and is derived from the NV200 van. Like the Ford, it has commercial vehicle origins, but drives more like a car.
In America, it's become so popular that it's replacing New York's iconic yellow cabs. But what's it got for you in the UK?
The Nissan NV200 Combi MPV is powered by a 1.5-litre dCi 88bhp diesel engine. It takes a while to get going, but once it's wide awake, it's sprightly enough. It delivers most of its power in one go once you're above 1,500rpm. As such, it requires you to work it pretty damn hard!
At any speed, the diesel engine is noisy, and its coarse roar can begin to irritate.
Nissan has done a good job at developing suspension that can cope with the car on a full load. We applaud them for that. The problem is that it's too firm, and the car will judder over poorer surfaces.
The turning circle is refreshingly tight, and the light steering sounds like a plus-point on paper. But, somehow, the Nissan NV200 Combi still finds it difficult to negotiate tight streets. To make it around bends on open roads, you will find yourself turning the wheel a fair amount.
In terms of its running costs, the Nissan fares worse than the Ford and the Peugeot. Its 1.5-litre dCi diesel engine returns 51.3mpg and emits 144g/km of CO2.
Inside, you're greeted by a surprisingly clutter-free dashboard. All the buttons and controls are logically laid-out, which is good news for the driver. Even better, visibility is excellent.
However, that's as good as it gets for the driver. Frustratingly, the steering wheel doesn't adjust for rake, and is positioned at an odd angle. The driver's seat barely adjusts at all, so it's hard for you to get comfy. All in all, the Nissan NV200 Combi MPV is not a comfy car. To make matters worse, there are bare metals and hard plastics on display.
However, it is practical. What we really like about its practicality is that, unlike the Ford and the Peugeot, its rear seats don't need to be removed. For more boot space, you can simply fold them to the cars sides. It's so much easier, and it means there's no risk of you putting your back out. Having said that, it also means the resulting load space is narrower.
Moreover, although this flexible seating system seems easier, it's also more basic than rivals. Seats held in place by hooks and straps? It's not exactly modern.
Once you've folded all the rear seats, the boot measures 2,900-litres. That sounds like a lot, but it's par for the course in this sector. Moreover, there are bigger load bays – including the Tepee's.
Price:
Nissan – £19,800 – £20,200
Verdict Of Our 2017 Ford Transit Courier Kombi Diesel Estate Review
In 2017, there's a Ford Transit for all tastes. This one is for young families who want the best that a van and an MPV can offer. It's all the smallest of the Transits – but it's no runt.
It's actually a compelling proposition. It's affordable to buy and run, and its build quality is exceptional. It drives more like a car than a van, sharing as it does its platform with the Fiesta van. It's not the fairest in the land, but the Ford Transit Courier Kombi Diesel Estate should have enough to win a very competitive battle with its rivals as it seeks to be your personal courier.
Request a call back from one of our Vehicle Experts

Will Titterington is a freelance writer, video editor and all-round content creator based in Manchester, UK.

He believes that words can take on a transformative aspect and wants to help people make better decisions today.

His influences as a writer include Hunter S Thompson and Jack Kerouac, while among his interests outside writing are music, art, foreign films and football.

He'd one day like to own a Tesla, and still holds a candle for the Ford Capri.

Latest posts by Will Titterington (see all)