Review Of The Hyundai i800 Diesel Estate
The new Hyundai i800 Diesel Estate satisfies needs. The only reason you buy van-derived cars like this is because you need it, not necessarily because you want it. It's certainly not the vehicle you dreamt of owning when you were a kid!
"When I grow up, I wanna drive a Hyundai i800!"
With eight seats and the space to transport large items across town, it serves a purpose. It's ideal for large families and anyone who needs better business transport. If you're in either demographic, it represents really good value for money. With more seats and more capacity than your average people carrier, it's certainly a compelling proposition.
OSV takes a closer look at what it's all about with our Hyundai i800 Diesel Estate review.
These large people carriers don't have the much dynamic ability in general. But it's safe to say that the i800 is one the most cumbersome of them all. Behind the wheel, it's as uninspiring as things get. There's very little feel from the steering, and zero entertainment.
Still, it does what you need it to do, and it makes good progress.
There is only one engine available, a 2.5-litre turbocharged diesel unit that develops 135bhp. This is if you pair it up with the manual transmission. Pair it up with the automatic, and you get a bit more power.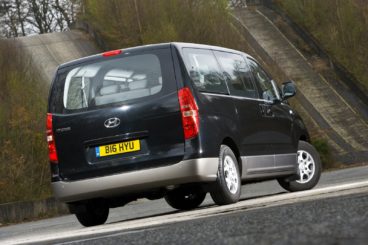 It's a strong engine that's surprisingly quiet, and it'll make for a good companion on longer journeys.
It's not the quickest out of the traps, but once it gets up to speed it comes into it own. It's got just enough power to cope with the i800 on a full load, and is confident when it comes to overtaking.
Moreover, it can make solid progress up a steep hill without any hassle.
If you want the automatic transmission, you'll need to fork out an extra £2,160. OSV recommends it, as the more power this vehicle has, the better it is. It can do 0-62 in 14.4 seconds, compared to the 17.6 seconds time of the manual. This manual transmission requires a fair amount of effort from you to go through the gears, too.
Hyundai i800 Diesel Estate Interior, Design & Build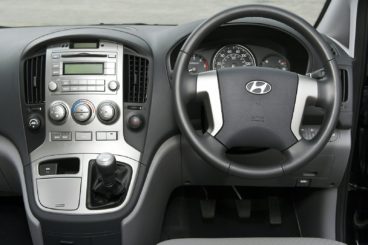 In terms of its exterior styling, there isn't really much to say about it. It's far from the stuff of dreams, and it doesn't grace a showroom. It's essentially nothing more than a big box with wheels. The headlights are like giant eyes on an oversized animal, while the wheels look as though they've been lifted from another car.
It's not pretty.
Hyundai's reputation has gone up in recent years. But we can't help but feel they took a look at how bland their rivals' van-derived cars were, and decided not to put any effort into their own. It doesn't just look ugly, it looks misshapen.
Moreover, rivals have put some effort into the way their people carrier looks. Hyundai, on the other hand, has come up with a 100% functional vehicle.
As such, it should appeal to buyers who just need something useful, and who don't care about looks. Even so, there is a major fly in the ointment: You can't remove the i800's middle seats. This will surely be a source of frustration at times, especially if you've already tried the smart folding systems in competitors.
Still, there are lots of positives. With all three rows of seats up, the boot measures 850-litres. That's seriously impressive. It's big tailgate makes access easy, too. And whereas rivals are offering only 7 seats, the i800 is offering eight.
Head and legroom are both excellent, and there are storage spaces all around the cabin. Although we would argue that it could probably do with a few more.
Equipment & Safety Of The Hyundai i800 Diesel Estate
Standard kit is good across the range, with the entry-level model getting air conditioning and alloys. You also get an alarm, remote locking, electric mirrors, and front fog lights.
In terms of safety and reliability, there's not much to fault. Our only concern – and it's a minor one – is that it hasn't been crash tested by Euro NCAP yet. It's a durable vehicle, though, which feels as robust as a commercial van. It doesn't come loaded with much-advanced tech, which at least means said tech won't be going wrong.
It comes with a five-year warranty, too, which is generous. The raised driving position and its bulky shell enhance a sense of safety and security, but it's lacking in safety kit. Electronic stability control is standard, but you only get a pair of airbags in the front.
Costs Of The Hyundai i800 Diesel Estate
Prices for the new car start out from £26,000 and rise to £28,000. For more information on our leasing deals, check out our page here.
In terms of its running costs, the 2.5-litre diesel engine is just too big to be cheap to run. It's not good news we're afraid, and the i800 returns 33.2mpg economy at best. If you're planning on putting the miles in, you will need to add fuel to your yearly budget.
Compared to rivals, it's costly.
Pros And Cons Of The Hyundai i800 Diesel Estate
Spacious
There's enough space for eight seats without anyone feeling too cramped.
Good Value For Money
Cheaper than a lot of rivals, it can't be knocked in terms of how much value it offers.
Outstanding Warranty
Hyundai's five-year warranty has become quite famous. For some buyers, it might even be enough to make up for the hefty running costs …
Expensive To Run
It can't return economy over 33.2mpg, which is woeful, even for such a big car. It's emphatically bluff shape doesn't help.
Ugly
We're not going to beat around the bush. It's not a looker.
Hyundai i800 Diesel Estate vs Volkswagen Caravelle vs Mercedes V Class
Let's see how the car fares against its rivals in the comparison section of our Hyundai i800 Diesel Estate review.
Hyundai i800 Diesel Estate vs Volkswagen Caravelle
The new Volkswagen Caravelle's boxy looks tell you all you need to know about it: It's big, it's unsightly, and it's practical. However, it's got a lot of quality.
It also has a bit of an edge over the Hyundai. Whereas the Korean company have only been producing quality cars for the last few years let alone vans, VW has been working on vans since the fifties.
As such, the Caravelle can offer impressive performance. It feels safe and composed at any speed, and is surprisingly agile. The steering is a bit inaccurate and vague, but that's really our only complaint.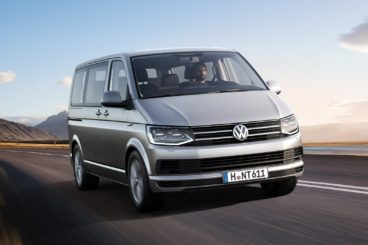 There is a petrol engine available, but it makes no sense when two very good diesel units are on offer. Both are sized 2.0, with the least powerful developing 148bhp. It can get you from rest to 62mph in 13.0 seconds, and feels smooth enough.
The more powerful of the two delivers up to 201bhp, which is enough to do 0-62 in 10.0 seconds. For a van of this size, that's spectacular. This engine is also relatively quiet, and copes well with the Caravelle MPV on a full load.
If running costs are a priority of yours, that needn't convince you that the 148bhp is a better option. Truth is, both average fuel economy returns of around 40mpg. In town, the 148bhp is a bit more efficient, but the differences are marginal.
However, you will be financially penalised if you opt for the four-wheel model and the manual transmission.
Inside, the interior quality can make you forget that you're inside a van. It's got the typical Volkswagen hallmark of quality, a brand who pay great attention to details. As such, the dials and switches are a cut above the ones in the Hyundai.
We like the fact that rear and front parking sensors are standard. The high seating position also makes it easy to park. However, choosing the longer wheelbase version will make it trickier to park.
As such, the Caravelle is a very practical car. Unusually, it's easier to access the rear seats than the front ones, but once you're inside you'll find there's lots of room. The seats are really supportive, too.
Sliding doors are handy whenever you're parked in a tight spot, and the boot has 5.8sqm of load volume. That's about as close to the truth as we can get, as VW have no official figures. You can remove all rear seats for more space. Alternatively, you can slide and fold them to get what you need out of the Caravelle.
Price:
Hyundai – £26,000 – £28,000
Volkswagen – £39,000 – £51,500
Hyundai i800 Diesel Estate vs Mercedes V Class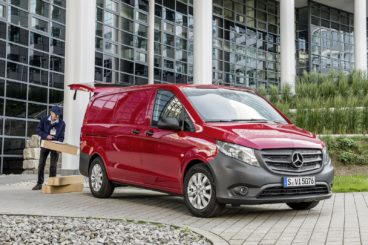 The new Mercedes V-Class is more expensive than the Hyundai and the Volkswagen. It's a premium offering that offers luxury, lots of space, and lots of standard kits.
Never has an eight-seater MPV been so luxurious. However, despite the opulence indoors, the V-Class wears its van-based origins on its sleeves.
On the road, it crashes over lumps and bumps a bit recklessly. Its steering system is also a tad too unresponsive for our liking, though this is to be expected. It isn't a C-Class, after all. Mercedes offer their Agility Select System as standard, and this allows you to make the car a bit more comfortable.
Alternatively, you can ramp things up and make it sportier.
The question is, though, why would you need to do that, especially on a full load?!
With no petrol engines on offer, attention turns to the two types of diesel. Both are 2.1-litres, with the V220 producing up to 161bhp. That's enough to get it from a standstill to 62mph in 12.0 seconds.
The other engine is a V250. It delivers up to 188bhp, and can do 0-62 in less than 10.0 seconds. This means it doesn't lag behind traffic, and can even be a bit thrilling at times. It also feels powerful, although both engines are rather gruff. They certainly don't complement the V-Class' luxurious interior.
It's expensive to buy and insure, with the cheapest model sitting in insurance group 33. However, running costs are reasonable. Mercedes' official line is that the V220d model can return 45.6mpg, while the V250d is good for 44.8mpg. Both are emission-heavy, with the V250d emitting as much as 166g/km of CO2.
Inside, the cabin is a plush place to be. Despite its van roots, the V-Class is a bit special indoors. The dashboard wouldn't be out of place in a Mercedes saloon, and is just as elegantly styled as you'd expect.
The trim rattles now and then in the clearest hint yet that this is based on a van. But there is genuine quality in here. All the functions are clearly labelled and easy to use. A touchpad and rotary dial make life easier for the driver, and standard kit justifies the price tag somewhat. You get heated front seats, dimming door mirrors, alloys and electric sliding doors. Classy.
Those electric sliding doors contribute to 5/5 practicality. So does the swathes of interior space and the eight sets. Indeed, if you want more room and more seats, just get a bus.
A self-parking system and rearview camera come as standard and make the V-Class easy to park. And if that's not enough, you can add a 360-degree camera for £355.
The boot, meanwhile, measures 610-litres with all seats up. It's tall, wide and comes without a lip. Perfect.
Price:
Mercedes – £47,200 – £54,000
Verdict Of Our 2017 Hyundai i800 Diesel Estate
If for whatever reason you need eight seats, this giant Hyundai could be the best thing you'll ever buy. It's arguably the ugliest Hyundai to leave their factory, and it drives like a van. But for £26,000, it offers tremendous value for money. It comes with a 5-year warranty, has masses of space, and has that extra eighth seat.
It's as undesirable as they come, but you won't find a better value than the Hyundai i800 Diesel Estate if you need a van to cart stuff around or a large people carrier for your family.
Request a call back from one of our Vehicle Experts

Latest posts by Will Titterington
(see all)