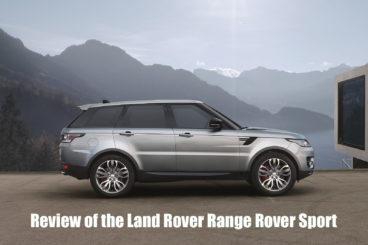 Overview of The Land Rover Range Rover Sport
The new Land Rover Range Rover Sport is a luxurious large family car that is surprisingly fun to drive. Upmarket and sporty, it's something of a rarity in a sector where vehicles are either one or the other.
Its listing price is high, but the car comes stuffed with upmarket features such as Oxford leather, powerful engines, off-road ruggedness and plenty of agility, owing to its lighter construction. It's designed in such a way to give you more confidence than ever on the road and thanks to its gorgeous cabin, it's a pleasure to drive.
OSV takes a closer look at what it's all about with our Range Rover Sport review.
How does the Land Rover Range Rover Sport SUV perform?
Each model in the range comes with an eight-speed automatic transmission as standard. This smooth gearbox combines with the new lighter aluminium body and chassis for a more agile ride than last time around. The car is faster in a straight line and more responsive in bends.
An anti-roll system has also been introduced, which keeps the Range Rover Sport level as you tackle corners. This is well worth noting, as many large SUVs struggle with too much body lean in bends. Make no mistake, though – this is still a large car and if you gun into corners with too much enthusiasm, you will lose grip quicker than you'd prefer.
You can take this car off the road and it'll have your back much in the same way that the bigger Range Rover does. This is largely thanks to a suspension setup that adjusts to poorer conditions. The air suspension system also comes in handy off-road.
There is just one petrol engine to choose from – a 5.0-litre V8 unit which comes in two separate power guises. The smaller 503bhp variant can cover the 0-62mph sprint in 5.0 seconds, while the hulking 542bhp variant can do it in 4.7 seconds. These are quite remarkable numbers when you bear in mind just how much this car weighs.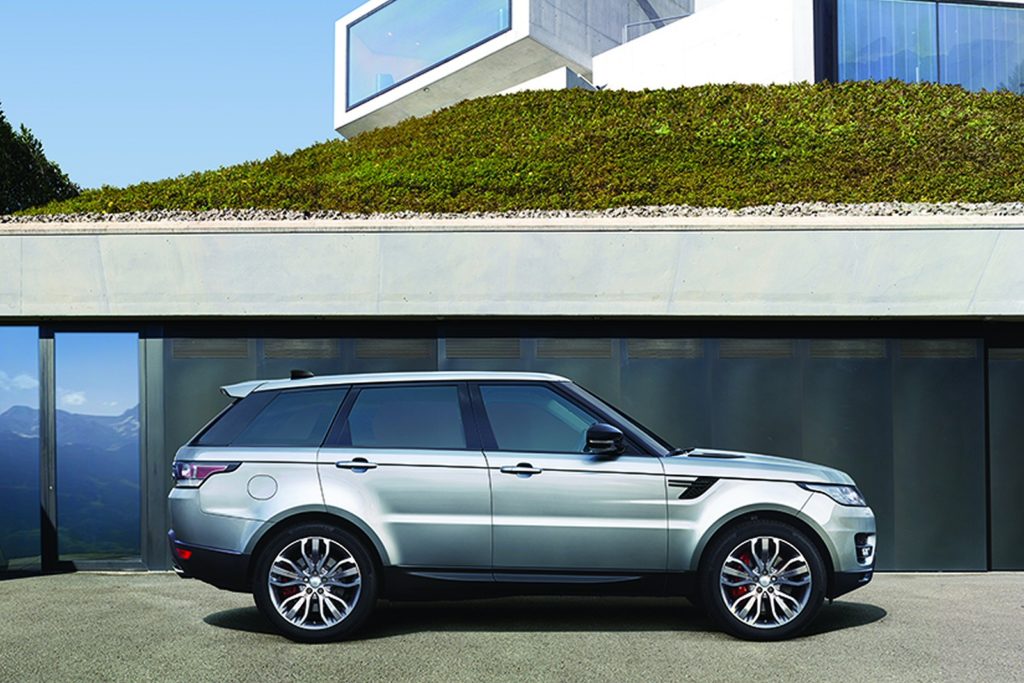 There is also a pair of diesel engines on offer, starting off with a 3.0-litre 298bhp V6 engine which can get you from a standstill to 62mph in 6.8 seconds. This is the cheapest engine in the range, but it can't compete with the 4.4-litre 329bhp SDV8 diesel engine when it comes to performance. This unit takes 6.5 seconds to cover the 0-62mph dash, and it feels a lot smoother than the V6.
A diesel-hybrid model is also available. It combines an electric motor with a 3.0-litre SDV6 engine for 330bhp and does 0-62mph in 6.4 seconds. Although its running costs are low, it's a lot more expensive to buy outright than the other diesel. If you're prepared to take the initial hit, it's a competent enough engine.
Land Rover Range Rover Sport SUV interior, design & build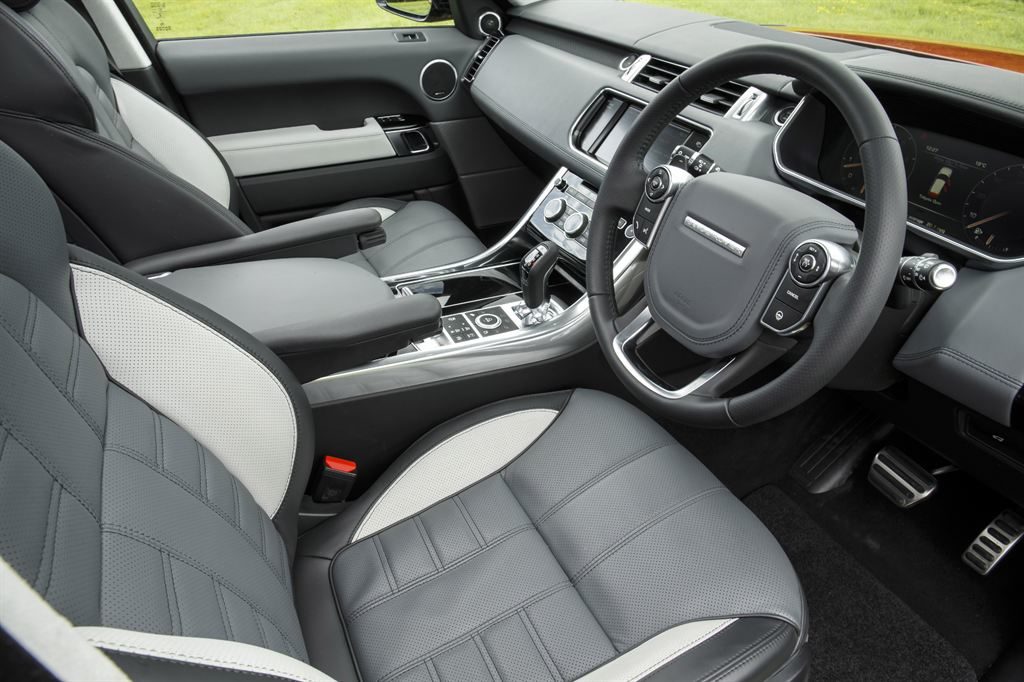 The interior is one of this car's star attractions. It's robust, well assembled and has a really upmarket feel. Thanks to having such big dimensions, it can also offer you plenty of space.
The dash has been lovingly put together and Land Rover have done a top job of removing around half of the buttons that caused way too much confusion last time around. As a result of this spring clean, the dash is now cleaner and more modern.
Cabin highlights include jewel-esque switchgear, lots of posh leather, as well as a contemporary and easy to operate central widescreen monitor. What sets it apart from the standard Range Rover, though, is its sportier layout. It's posh, but it also feels very driver-oriented and should attract those of you who want something a bit edgier. Even the steering wheel looks racy.
The Range Rover Sport is big, but it isn't as big as the standard Range Rover. Visibility is good, the driving position is commanding and the steering is light. Tall adults should be comfortable enough in the rear, with the only minor issue being tight knee room. The car is described as a 5+2, but there is the option of a seven seater if you wish. This will set you back an extra £1,500.
In the five-seat version that we're reviewing here, the boot measures 784-litres and this can be extended to 1,761 if you fold the rear seats flat. It should be spacious enough for most of you.
All models except the hybrid can tow weight of up to 3,500kg. The hybrid can tow weight up to 3,000kg.
The Land Rove Range Rover Sport SUV specification
Standard equipment is good across the range, with the base-level HSE variant getting 20" alloys, bright xenon headlamps, cruise control, automatic lights and wipers, heated front and rear seats, as well as Bluetooth connectivity and satellite navigation.
The HSE Dynamic trim adds 21" alloys, while the Autobiography line comes with three-zone climate control, heated front seats with lots more adjustment, and a Meridian stereo system. The range-topping SVR model, meanwhile, throws in sports seats and a button that can raise the amount of engine noise that seeps into the cabin – perfect if you want to make a riotous din!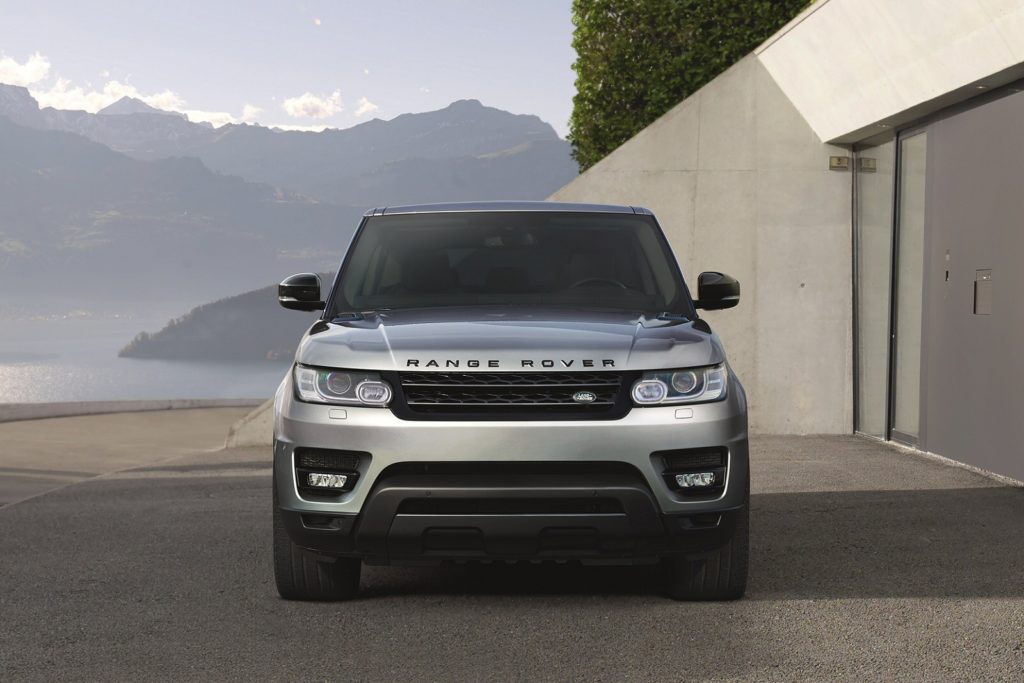 Land Rover Range Rover Sport SUV: Cost, Pricing, and Leasing Rates
Prices for the new car start out from around £62,500 and rise to £96,000. If you're thinking of leasing, you can pick up a deal from as little as £510+VAT per month. For more information on our leasing deals, you can check out our page here.
In terms of running costs, the Range Rover Sport doesn't fare too well. Make no mistake, this is a big machine backed by powerful and thirsty engines, so you should be braced for some rather large bills. If you're concerned about fuel economy, we suggest taking a closer look at the hybrid model, as it returns the best numbers. Capable of achieving 44.14mpg, it costs £205 a year to tax.
However, the caveat is that the hybrid model is more expensive to buy outright than the diesel units. The base level 3.0-litre diesel engine can achieve fuel economy of 40.4mpg while costing £225 a year to tax and the SDV8 diesel model manages 32.5mpg while incurring an annual road tax bill of £490. The V8 petrol engine, meanwhile, averages returns of 22.1mpg and will land you with a yearly road tax bill of £505.
The entry-level diesel model is lumped in insurance group 43, and things just get more expensive from there. A standard three-year/unlimited warranty is offered.
Pros and Cons of the Land Rover Range Rover Sport
Great To Drive
Thanks to lighter construction, firmer suspension and four-wheel drive, the new car is a pleasure to drive. It's got plenty of natural talent and although the steering is a tad on the light side it is very precise and crisp.
Gorgeous Interior
Land Rover pride themselves on putting together exquisite interiors and this one was never going to sully their reputation. The posh Oxford leather is a highlight and despite its sporty pretensions, the cabin is overall dripping in luxury.
Fantastic All Rounder
It's fun on the road, composed off of it. It's practical but sporty, luxurious and robust. It has so many abilities that it begins to become hard to find a better all-rounder on the market right now.
Not Very Economical
If there is one area where this car falls short it's running costs. The first generation models were thirsty and although this one is less so, it will still cost a small fortune to run – whichever model you opt for.
However, the brand has done a commendable job at reducing emissions.
Question Marks Over Reliability
The real black mark on the car's copybook at the moment is its reliability score. Land Rover has not fared well with buyers, who rate it as one of the worst manufacturers when it comes to reliability and customer service.
Land Rover Range Rover Sport vs Porsche Cayenne
Let's say how the car measures up against its rivals in the comparison section of our Land Rover Range Rover Sport review.
Land Rover Range Rover Sport vs Porsche Cayenne
The new Porsche Cayenne is both practical and sporty and seeks to bridge the gap for customers between everyday usefulness and genuine thrills and spills.
To offer those thrills and spills, the Porsche Cayenne Estate needs to be drivable – and it is. Even the base-level engine has enough under the bonnet to get you from rest to 62mph in 7.3 seconds. A 386bhp diesel, meanwhile, covers the same distance in 5.4 seconds, with both having enough power to move along the huge Cayenne with ease. It doesn't so much as haul its weight along as it glides effortlessly.
There is also a V6 petrol engine on offer. Delivering up to 420bhp, it can get you from rest to 62mph in 5.5 seconds. A V8 4.8-litre petrol engine powers the Turbo model, and it's absolutely rapid – the 0-62mph sprint is dusted off in just 4.5 seconds.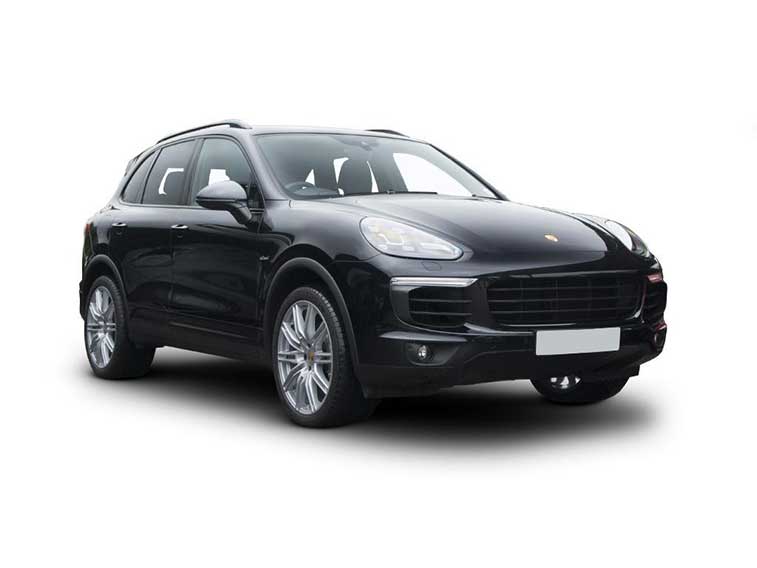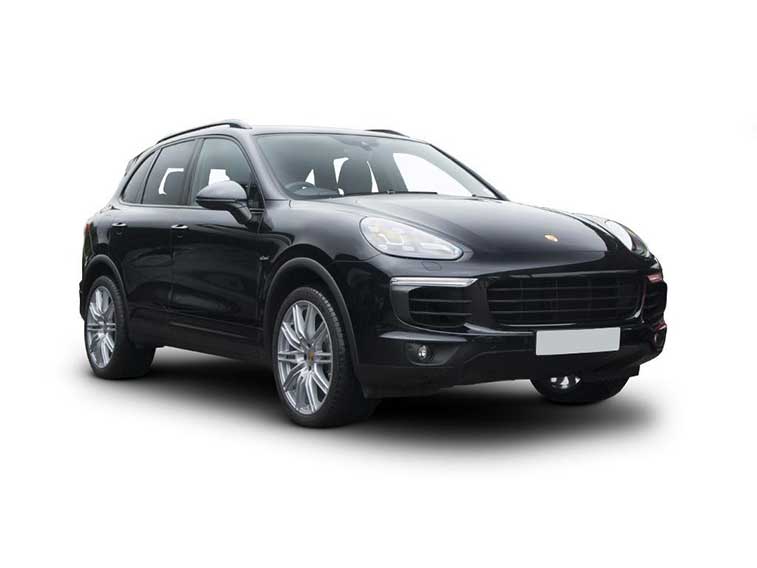 A cheaper to run hybrid model completes the range. It's quick, smooth and high performing, it's also your best bet if running costs are a big concern. It can achieve returns of 83.1mpg and is totally free to tax. Compared to the hybrid option in the Range Rover Sport's range, there really is no comparison.
It's likely that you'll want a diesel engine, though, the cheapest one is good for 42.8mpg.
The Cayenne's interior is well assembled and luxurious. The wraparound dash is very driver oriented, while the seats offer plenty of support and comfort. The switches have been lovingly made and everything in here feels as though it was built to last. Unlike the Sport Estate, though, the Cayenne suffers from too much button clutter.
The interior is family friendly and we like the fact that the rear seats slide back and forth. There is no option of a third row of seats, but head and legroom is good. There are plenty of cubby holes dotted around the place so that it's easy to keep the interior nice and tidy, while the 670-litre boot is impressive, thanks to a smooth loading lip.
Price:
Range Rover Sport – £62,500 – £96,000
Porsche – £52,000 – £120,000
Land Rover Range Rover Sport vs BMW X5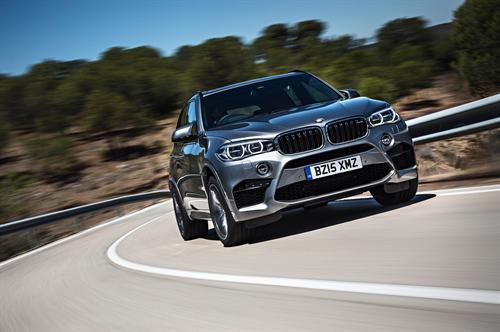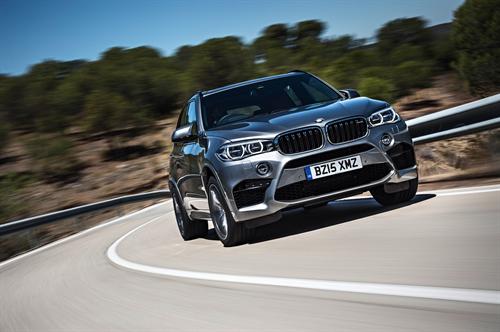 The new BMW X5 is big, comfortable and competes posh leather for posh leather with the Range Rover when it comes to luxury.
Although BMW has dropped its "ultimate driving machine" tag, their cars are still generally the ones to beat in terms of drivability. The X5 is notable for its crisp handling, agility and good body control when you tackle bends.
However, it cannot compete with the Range Rover when you take it off-road. Moreover, it lets in too much road and wind noise for our liking.
The twin-turbo 4.4-litre V8 petrol engine is the headline-grabber. Although it's neither clean nor frugal, it's an explosive performer that can rocket you from rest to 62mph in just 4.9 seconds.
There is the option of a plug-in hybrid model which combines a 2.0-litre petrol engine with an electric motor, as well as a couple of diesel engines that lack the power and finesse of the petrol unit.
The BMW will be overall cheaper to run than the Range Rover Sport. The hybrid is naturally the most frugal of all the engines, while at the other end of the spectrum the top performing V8 petrol engine can only manage fuel economy returns of 29.4mpg. Still, it only costs £290 a year to tax, which is considerably cheaper than the Range Rover's most powerful models.
If you buy a BMW X5, you won't be wanting for much when it comes to equipment, as so much is offered as standard. The interior is classy and clearly built to last, while the striking dashboard is a highlight. BMW's popular iDrive control system is included and space is plentiful.
You have the option of adding a third row of seats. Visibility is good and we're sure that even your kids will appreciate the commanding view of the road. Storage spaces are everywhere, which should help you keep the cabin tidy, while the boot measures 650-litres.
Price:
BMW – £44,500 – £90,000
Verdict of our Land Rover Range Rover Sport Review
OSV have been championing this car for a while and for good reason. It's effortlessly entertaining to drive, somehow defying all that colossal weight. We can only believe that this is the handiwork of an alchemist.
Not only does it offer surprising agility and strong performance, but it's every inch as luxurious as you would imagine a tough off-road warrior to be. Spacious, too, the Land Rover Range Rover Sport is accomplished and hugely impressive.
Interested?
You could be driving away with your new car in no time. Fill in your details below and one of our vehicle experts will be in touch within 48 hours to talk you through the leasing process.

Latest posts by Will Titterington
(see all)