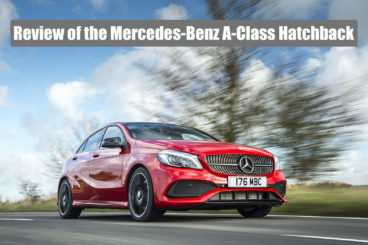 Overview Of The Mercedes-Benz A-Class Hatchback
The new Mercedes A Class Hatchback can boast low running costs, despite being a premium hatch. However, the style will polarise, while the strangely subdued interior is cause for concern.
There aren't many premium family hatchbacks on the market at the moment, and this Mercedes is vying for your cash alongside its usual two German rivals, as well as the Infiniti Q30.
It represents good value for money, though. Besides having a tremendous amount of badge appeal, practicality is significantly better than in a cheaper Ford Focus, while the easy, hassle-free driving experience also goes some way to justifying the price tag.
OSV takes a closer look at what it's all about with our A Class Mercedes review.
How does the Mercedes-Benz A-Class Hatchback perform?
As long as you don't compare this car to any others, the A Class Hatch delivers a very impressive driving experience. Among its merits are direct steering. We also like its suspension setup that is able to absorb some of our roads' worst lumps and bumps. Most models in the range are only front-wheel-drive though, which means a lack of grip in bends is a bit of an issue.
The front-wheel drive system also means that the car struggles with torque steer, which is noticeable when you put your foot down hard. However, this premium car doesn't suffer from as much torque steer as lesser-priced rivals, such as the VW Golf and the Audi A3.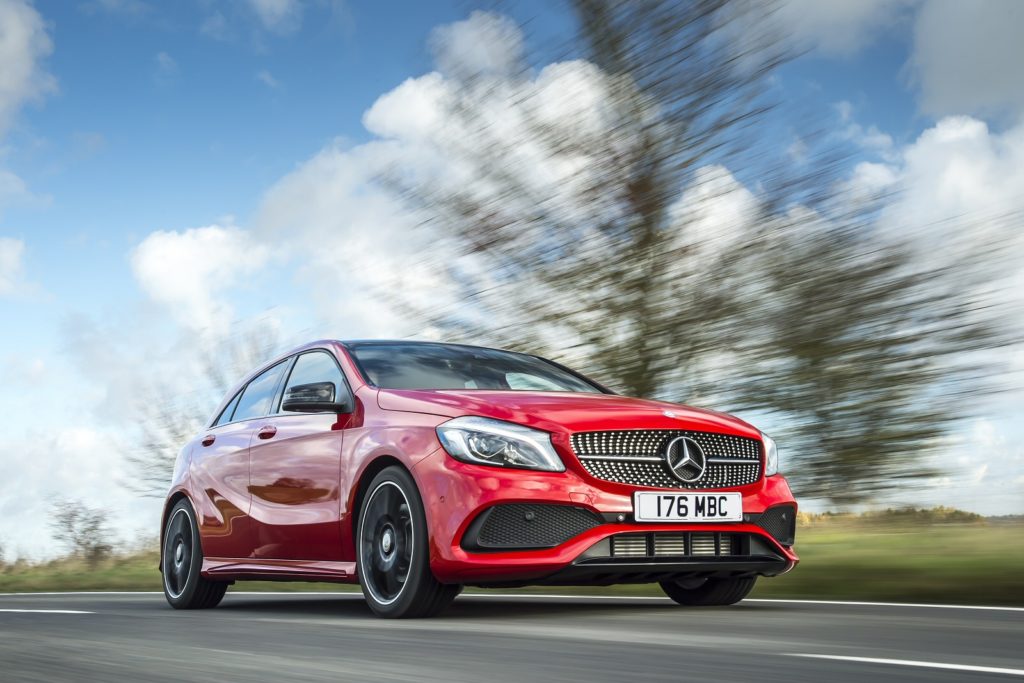 The A180d diesel engine is among the cheapest-to-run engines in the range, but it isn't especially fast and takes up to 11.3 seconds to cover the 0-62mph sprint. This puts it behind a number of its rivals. Performance is also sorely lacking.
However, a 2.2-litre diesel engine put the smile back on our faces when we tested it and it's got enough welly, to get you from a standstill to 62mph in just 7.5 seconds.
The petrol engines are a much safer option if you want a livelier driving experience. They just suit the A Class Hatchback's character a lot better. Even the entry-level A180 petrol engine has much more oomph than the diesel and can do 0-62mph in 8.6 seconds when paired up with a 7-speed automatic transmission. The A250 petrol unit, meanwhile, can get you from a rest to 62mph in 6.3 seconds. The blistering A45 AMG model does it in a mere 4.2 seconds.
Mercedes-Benz A-Class Hatchback interior, design & build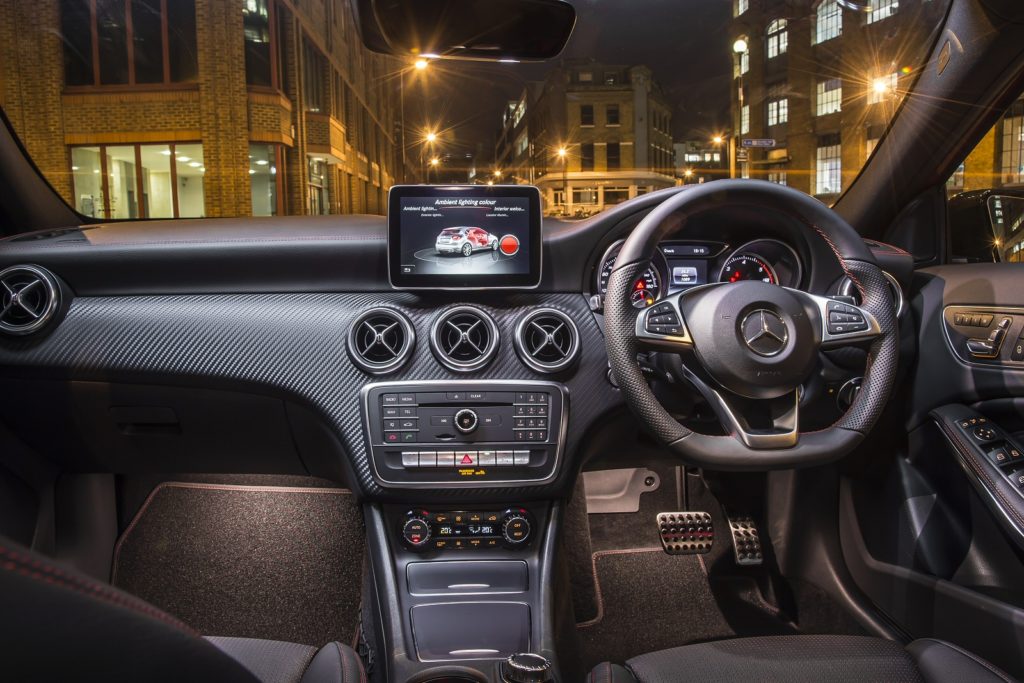 This Mercedes hatchback has a somewhat polarising interior. It's definitely well-built, but its aesthetics let it down.
Overall, the cabin befits a premium car. The materials are of a sound quality, and the layout is easy on the eye. Everything is logically arranged and simple enough to use. However, the design is lacking in flair, with Mercedes taking a sternly serious approach. It all feels a bit too grey for a family car.
The dash is plain, which isn't necessarily a bad thing for a hassle-free family car. But since this is a premium Mercedes hatchback, you expect a bit more special. The infotainment is a particular eyesore and teeters awkwardly in a way that suggests it just doesn't want to be here. It is at least easy enough to use.
Comfort, however, is assured, thanks to an adjustable steering wheel and driver's seat. But because you're seated so low, visibility isn't fantastic.
Owing to its compact shape, the Mercedes isn't able to offer a premium amount of space. It's more flexible than a Mercedes saloon, but the low roofline not only impinges on rear headroom, it will also manage to make your passengers feel slightly claustrophobic. This is not helped by the black trim!
Access isn't easy, thanks to doors that don't open all that wide. Storage space, though, is excellent, thanks to lots of cupholders and cubbyholes. The boot measures 340-litres, which is par for the course. You can extend this capacity to 1,157-litres by folding down the rear seats. However, a high boot lip makes loading bigger items a pain.
The Mercedes-Benz A-Class Hatchback specification
Equipment in Mercedes' new hatchback is good. Even the entry-level models get 16" alloys, a 5.8" infotainment display, a reversing camera and air conditioning as standard.
The Sports model adds chrome exhaust pipes, and a silver-trimmed grille and 17" alloys. The AMG Line chucks in bi-xenon headlights, adaptive suspension and a sportier interior.
The optional extras list is long and eye-catching, including adaptive cruise control and adaptive dampers.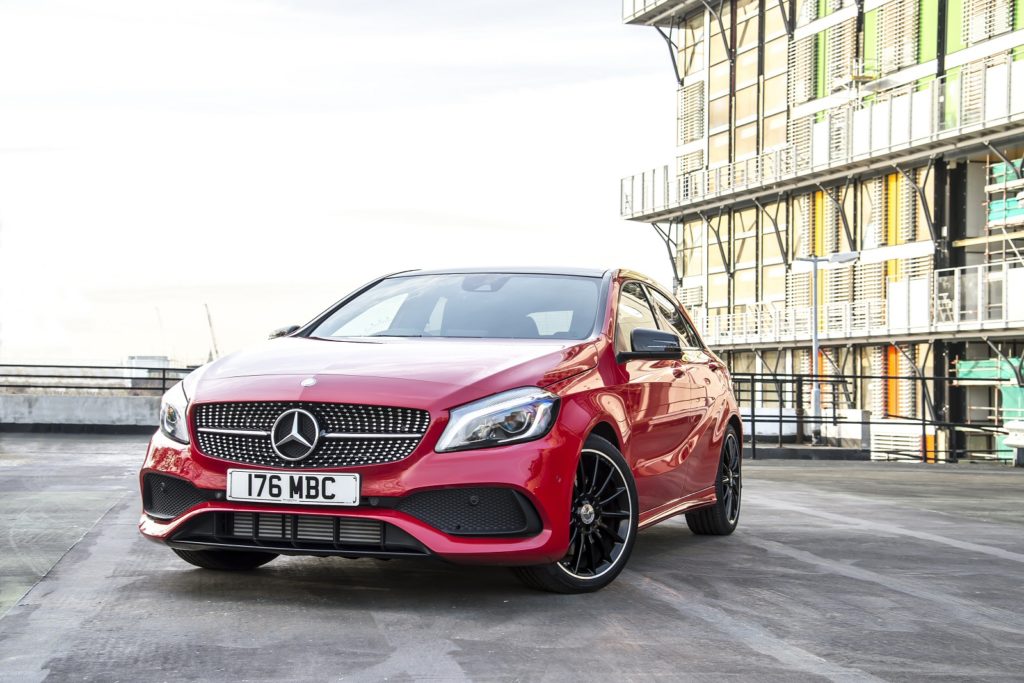 Mercedes-Benz A-Class Hatchback: Cost, Pricing, and Leasing Rates
Prices for the new car start out from almost £20,000 and rise to £35,500. If you prefer to lease or get A Class finance, you can pick up a leasing deal from as little as £190+VAT per month. For more information on our Mercedes-Benz A Class finance deals and leasing, you can check out our page here.
Most engines in the range are cheap to run, but they're not really any cheaper than what the car's rivals are offering. The most frugal engine in the range is an A180 diesel, which can achieve fuel economy returns of 80.7mpg while costing nothing in road tax.
The A200 diesel power plant is a better performer but is still good for 74.3mpg when paired with an automatic transmission. It will also only cost you £20 a year in road tax. Meanwhile, the rapid A220d diesel engine is capable of returning 67.3mpg, which is hugely impressive.
The cheapest petrol to run is the A160 automatic that's good for 54.3mpg. Road tax stands at £110 a year. As you move up the range, things get progressively more expensive but still relatively reasonable. For example, the high-performance A45 AMG can do 40.9mpg, and will only incur an annual road tax bill of £180.
Pros and Cons Of The Mercedes-Benz A-Class Hatchback
Slick Looks
Its predecessor was notoriously frumpy and few people wanted to give it a second look. The new car's sportier looks are much more in keeping with an ideal premium aesthetic and it looks as desirable as a Mercedes really should.
Good Choice of Engines
The diesel is powerful and efficient, while the petrol models add a bit of excitement and pace.
Efficient
It's not that the A-Class grabs any headlines in this department, but its low running costs are par for the course in this sector, which means that if you choose this car you won't be losing out at the pumps.
Bit Impractical
Its compact dimensions result in cramped rear space and Mercedes have prioritised style over substance at times. The boot is some 40-litres smaller than the one in the VW Golf.
Pricey Options
The optional extras list is extensive and expensive and includes a lot of stuff you'll want, such as adaptive cruise control and LED headlights.
Mercedes-Benz A Class Hatchback vs BMW 1 Series Hatchback vs Volvo V40 Hatchback
Let's see how the car measures up against its rivals in the comparison section of our Mercedes-Benz A-Class Hatchback review.
Mercedes-Benz A Class Hatchback vs BMW 1 Series Hatchback
The new BMW 1 Series Hatchback is highly priced, but it justifies its tag with a smart interior and the best driving experience in this class.
Driving enthusiasts will certainly appreciate the way the BMW 1 Series handles. The rear-wheel-drive layout ensures agility and the powerful engines compliment perfectly the cars handling abilities.
Ride comfort is mostly good, but if you opt for the bigger alloys and firmer suspension, you will find that things get a bit stiff.
You don't have to splash out on the most expensive engines to get the most out of the 1 Series and. In fact, the 1.6-litre 118i petrol engine is more than capable. It can get you from a standstill in just 8.5 seconds and offers light, precise steering, as well as a responsive chassis. An M140 is more powerful; it's turbocharged, has six cylinders and has a top speed of 155mph.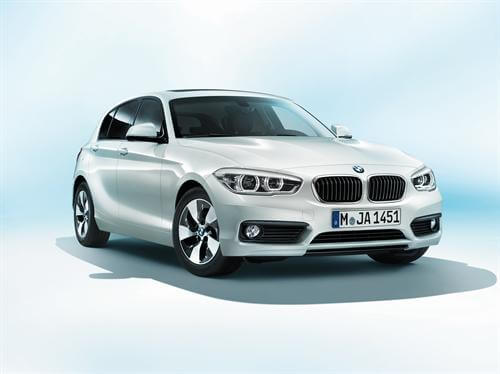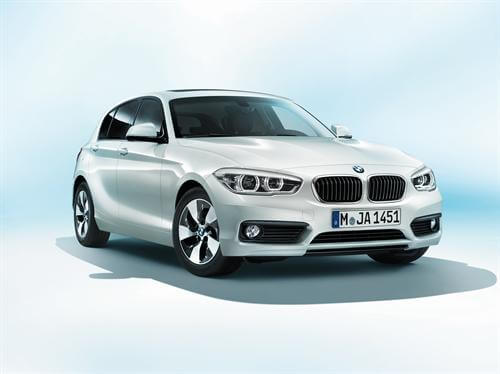 The diesel isn't necessarily the best performers of the bunch, but they are cheaper to run. An 116d Efficient Dynamics engine should be overlooked if you want a good amount of power, but the 120 xDrive diesel is muscular enough and can get you from rest to 62mph in just 6.4 seconds.
The diesel is super-efficient, with the 116d Efficient Dynamics unit able to achieve fuel economy returns of 83.1mpg. Enticingly, it's free to tax. All engines in the range benefit from stop-start engine tech, which means even the petrol models don't drop beyond 50mpg.
The cabin is very driver-focused and the scratchy, mixed plastics of its predecessor have been replaced as BMW bid to boost interior quality. Behind the wheel, things feel a bit special, the seats are super comfortable, but the car misses out on some of the neat new touchscreen technology that even the likes of the VW Golf have.
The BMW 1 Series Hatchback is not as practical as we'd like and the three-door version, in particular, suffers from poor rear space. Moreover, accessing the back seats is tricky. A tall transmission tunnel will make life even more difficult for anyone sat in the middle. In the five-door version, meanwhile, wheel arches diminish rear seat space, though a maximum boot capacity of 1,200-litres is impressive.
Price:
Mercedes –
BMW – £21,000 – £32,500
Mercedes-Benz A Class Hatchback vs Volvo V40 Hatchback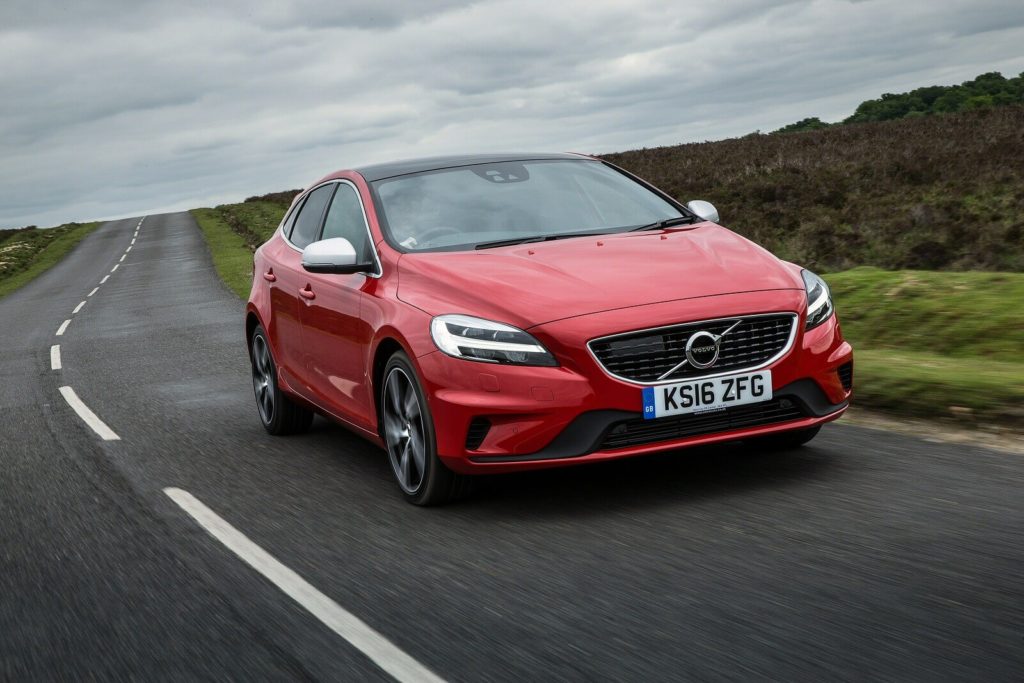 The new Volvo V40 Hatchback offers a relaxing driving experience to go along with its efficient engines.
A comfortable ride and nimble engines are the order of the day here, and this is backed up by front-wheel-drive which. Like the Mercedes, this also ensures predictable and safe handling. Trust us, this is no bad thing, though it is a marked contrast to what the BMW can offer.
There is a quartet of petrol engines to choose from, so you won't exactly be stuck for choice. A 120bhp T2 engine kicks things off. But it's the fairly rapid 242bhp T5 petrol engine that excites us. It gets you from a rest to 62mph in a mere 6.4 seconds. That's certainly enough to have the Mercedes worried.
We like the 148bhp T3 petrol, which is both high performing and refined, which does 0-62mph in 8.3 seconds before maxing out at 130mph.
The diesel, however, will be most popular with buyers. Despite being the least powerful in the range, a D2 unit is our top pick. It can deliver up to 118bhp and does 0-62mph in 10.5 seconds.
The Volvo V40 Hatchback won't be able to hold onto its value as well as the Mercedes, despite sharing a premium price. Its running costs are more impressive, though. The cheapest engine in the range is the D2 diesel, which when combined with a manual gearbox is good for returns of 78.5mpg. It's also free to tax. If you want more performance, it makes sense to step up to the 2.0-litre D3 diesel, which averages fuel economy returns of 74.3mpg while incurring an annual road tax bill of £20.
The Volvo is stylish on the outside and the inside, contrasting the Mercedes' dull interior with one that is light and airy. The dash is showing signs of ageing, but the fit and finish are impeccable. The seats, moreover, are arguably the most comfortable in this sector and when combined with that cheap-to-run diesel, ensure a hassle-free experience on longer journeys.
Four adults can easily relax in the 2016 Volvo V40. SAtorage spaces include door bins and a big glovebox. But while interior space is every bit as good as you expect from an adult in terms of head, leg and knee room, the boot lets the side down. Measuring just 340-litres, it's below average in this sector. Capacity can be increased to 1,032-litres by folding the rear seats, but they don't fold totally flat.
Price:
Volvo – £20,200 – £32,000
Verdict of our reviews on Mercedes-Benz A Class
There isn't a lot that separates the new A-Class hatch, from the BMW 1 Series and the Volvo V40 and it might be its prestigious badge that sways you. That shouldn't be the only thing, however, because the Mercedes-Benz A-Class Hatchback has a lot going for it; it's well designed, boasts a solid range of engines and is cheap to run.
Interested?
You could be driving away with your new car in no time. Fill in your details below and one of our vehicle experts will be in touch within 48 hours to talk you through the leasing process.

Latest posts by Will Titterington
(see all)