Lexus RX 450h Review: Is this Hybrid Perfection? 
Want to go hybrid with your next car? How about a comfortable spacious tech-laden and quiet luxury hybrid SUV, perfect for businesses or families? This is the Lexus RX and, in this review, we're going to give you all the information that you need, so you can decide if this is your perfect next car.
If you're in the market for a premium SUV, you are truly spoiled for choice. Popular offerings in this segment include the BMW X5, the Audi Q7, and the Volvo XC90, just to name a few.
This Lexus RX aims to stand out from its competitors with a keen focus on distinctive styling both inside and out. With a nicely upholstered interior with gorgeous build quality and, perhaps most importantly for most drivers, a comfortable and refined driving experience.
Unlike the majority of its rivals, it's thankfully pretty easy to get your head around the RX line-up; there are just two models to choose from. We had the regular five-seat RX to review, however, the larger 7-seat RX L is also available in case you need extra space.
Both models are equipped with the same engine, as there is just one engine option, and they come with a choice of three different trim levels: the standard RX, the sporty "F Sport" and the refined "Takumi".
What do you need to know about the exterior of the Lexus RX 450h?
Let's explore what makes this RX so special by starting with the striking front end. The design is very familiar if you've seen a Lexus on the road before, but it's still quite distinctive and unique when compared to its rivals, and it does stand out on UK roads.
We were quite a big fan of Lexus' spindle grilles and loved how it flows down the front of the car. We also loved how the badging is housed in the middle and displayed prominently, letting you know that this is a luxury car.
We loved how the design flows inwards towards the side vents, giving the car quite a lot of personality. We were also a fan of the steel material that just wraps around that grey grill, with sleek lines flowing back, over the bonnet, towards the sides of the vehicle.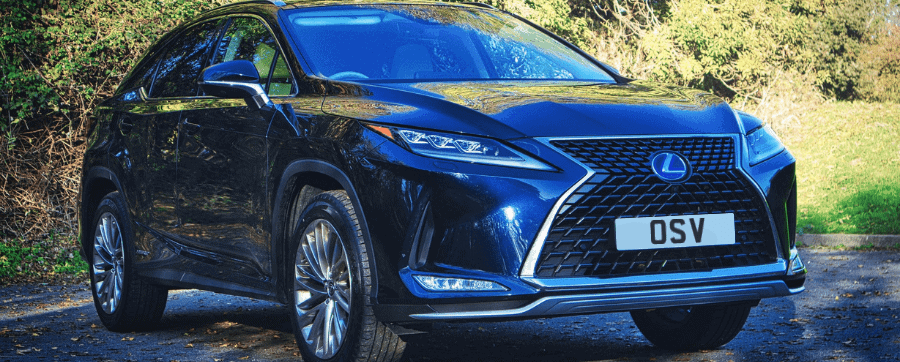 LED headlights come as standard, regardless of which model you go for, which is great to see. If you just opt for the standard RX and RX L, you get the auto-high-beam systems which are particularly handy for night-time driving.
If you upgrade to the "F Sport" or "Takumi" trims, you also receive the BladeScan adaptive high-beam system, which is essentially an auto-dimming system, able to identify pedestrians and road signs from a greater distance, giving you greater night-time visibility.
So, if you're somebody who gets anxious about driving at night in those cold winter months, then we do recommend upgrading to those higher spectrums to just ease your worries. Other highlights of the front include LED daytime running lights and fog lights that come as standard.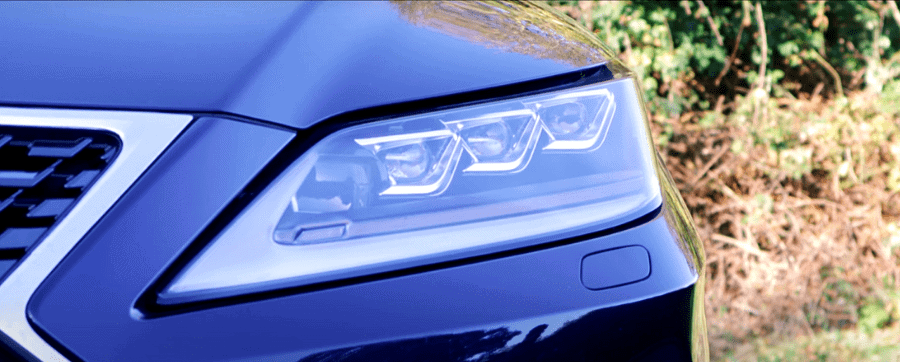 The side profile is also really sleek, we loved the sharp lines flowing down the length of the car as it makes for a very clean and uncluttered appearance.
As for the door mirrors, they've been designed to reduce wind noise as much as possible and they're heated so very convenient for those cold winter months. They tilt downwards when you reverse, making it easy to see the curb and manoeuvre out of tight parking spaces.
If you opt for one of the higher-spec trim levels, they will be auto-dimming, reducing the chances of you getting dazed by other road users. As you can tell, a lot of thought and care has been put into the mirrors.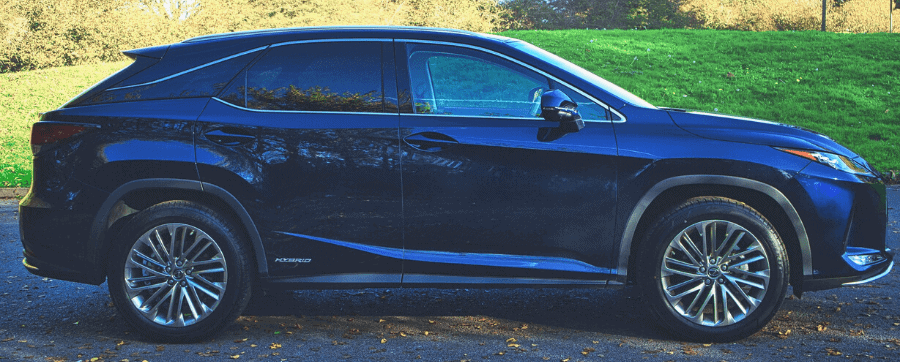 As for the alloy wheels, we had gorgeous 20-inch 10 twin-spoke alloys, in a chrome finish. These are included with the "Takumi" trim level, however, as standard, the wheels will still be 20 inches (though these will be five twin-spoke wheels in a dark grey finish).
You can also configure the car with optional 18-inch silver wheels which are designed to provide optimal driving balance. It is worth noting, however, that we had no issues with the 20-inch wheels, which ended up reducing the impact of aggressive humps and bumps, so that is something to consider.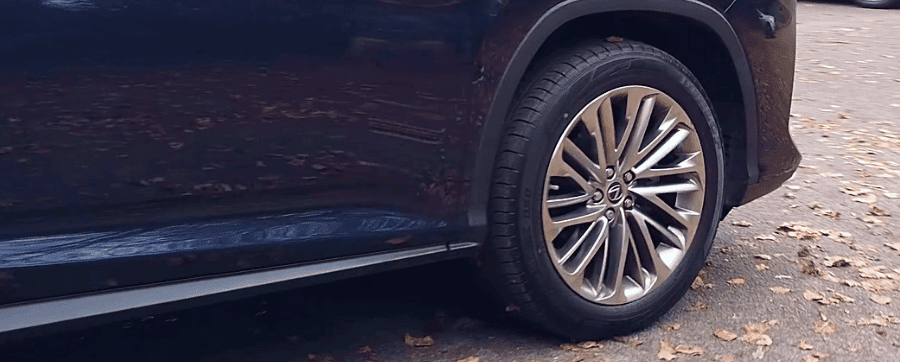 There is hybrid badging on the rear passenger door to remind you that this is a self-charging hybrid vehicle, which we'll go more in-depth about further in the article. The door handles will be in the same body colour you've chosen.
We opted for "Deep Blue", which is a metallic option. That will set you back around £670 and you see the rest of the colour options below, including the special metallic colours that will set you back around £920, so you'll have to weigh up whether it's worth spending nearly a grand on just the colour of this vehicle.
If you're not interested in paying extra, "Velvet Black" is the standard colour.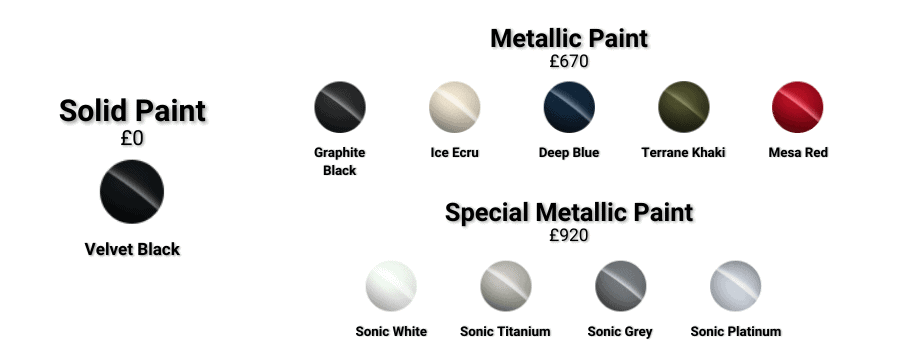 Towards the rear, you'll spot the rear privacy glass and roof rails that come as standard. We also had a panoramic sunroof, which you receive the top-spec "Takumi" trim level.
The fuel cap is quite rigid, it's not going to fall off, which is great to see. On the rear of the Lexus RX 450h, you receive a rear spoiler to give the impression that the car is sporty, which it most certainly is not. However, we did love the design of the rear LED light clusters.
We loved how angular they are and how they flow into the steel material. This is a very clean looking rear-end, while also being angular and not over-complicated, which we liked.
What boot space does the Lexus RX 450h offer?
To get the boot open, you don't have to do much as it's a power-operated tailgate. It takes a little bit of time to open up but it will get there eventually. There are 453 litres of space to work with, which is okay but not great. Lexus has prioritized interior passenger space over boot space here.
Meanwhile, you've got rivals like the BMW X5 that offer a whopping 650 litres of space, so by comparison, it's a little bit disappointing. This is enough room to fit six small carry-ons and there's hardly any kind of lip so it's easy to load awkwardly sized items into the back.
Alternatively, you can fit two large suitcases instead. While this is not as cavernous as other luxury SUV offerings, there should be more than enough space for the weekly grocery shop or small family holiday up the country.
If you do need to maximize luggage capacity as much as possible, you can do so by folding down the rear seats in a 60-40 arrangement, without needing to awkwardly lean over to pull a lever or head over to the passenger side.
On the right-hand side of the boot, there are buttons that you hold down, causing the seats to fold down electronically. We loved this feature and its convenience. It comes as standard across the RX range, giving you around 1,924 litres in total, which is enough room for one adult bike without needing to remove the wheels.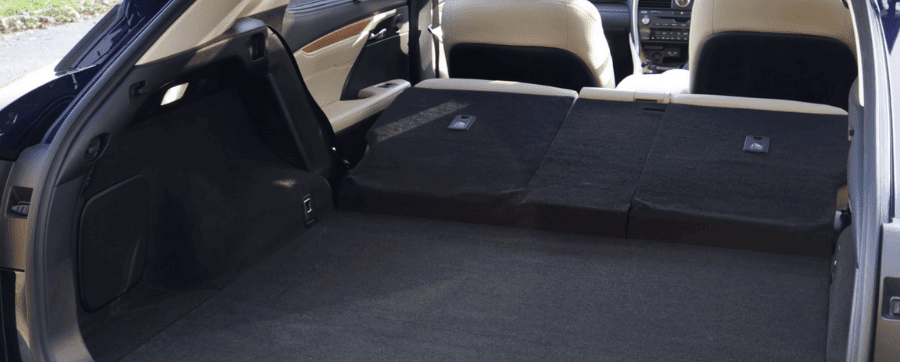 The tonneau cover can extend outwards and attach to indents on the side of the boot. You could put some objects on the tonneau cover; however, it is slightly flimsy and they may roll around while you're on the move.
Alternatively, you might want to attach those to one of the hooks dotted around the boot space. There's one on the right side of the boot and some more towards the back. The under-floor storage is okay.
We had a spare wheel taking up a lot of the space, however, if you didn't have one, there would be a fair bit more space to work with.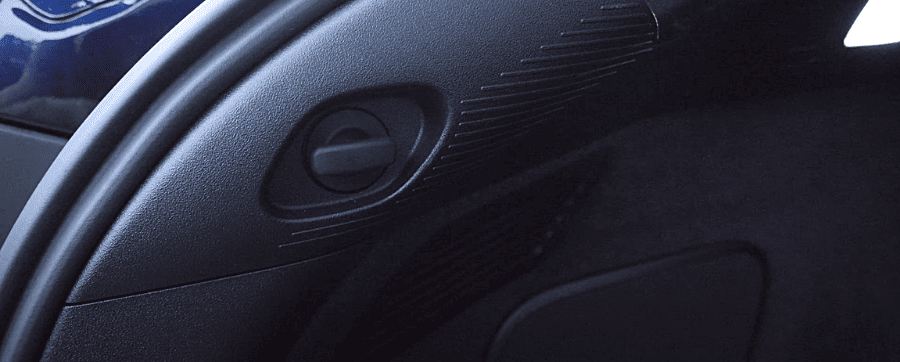 The rear bench, when it's folded down, lays at a slight angle and there is a lip in the floor, making it awkward to load objects such as long bits of wood or skis.
We would have preferred this section to be completely flat but that is just a minor criticism. A fantastic feature of the bench is that you can slide it forwards and backwards.
So, if you've got a rear passenger who's willing to sacrifice some leg room, you can increase the size of your boot. We found it fantastic that the RX offers such an excellent level of practicality in this regard.
What is the Lexus RX 450h like to drive?
When we got behind the wheel of the RX 450h, our first impressions were very positive; it was incredibly comfortable, smooth, and relaxing to drive, the seats hold you in place when turning, and the steering is nice and light for a vehicle of this size, it makes it very convenient and easy to get from A to B.
The accelerator pedal is quite soft and responsive, which is great as it doesn't take too long to get used to. The brake pedal was quite firm, which you'll notice when you come to a junction or a roundabout when you need to make a complete stop.
We didn't have any problems with this whatsoever. It was also responsive, meaning you won't need to start braking too early.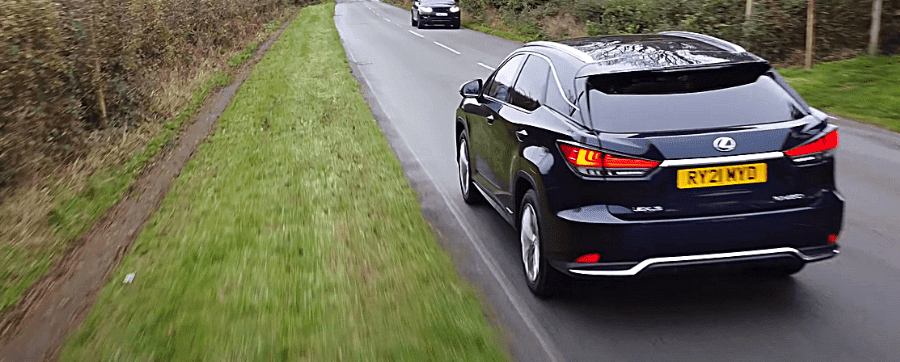 What's the tech like while you're on the move?
We configured this car with the head-up display, which we found to be handy. It projects your speed, and the speed limit of the area, directly in front of you so you don't need to glance down at the driver display.
We loved this and would configure it in the majority of vehicles if given the option. Just below that is the driver display with quite a lot of information.
There's a smaller display in between the speedometers that shows information such as how efficient you're being on your journey, the temperature outside, and the time.
We found it very nice that you can cycle between lots of key information, while also being quite easy to glance down and read it.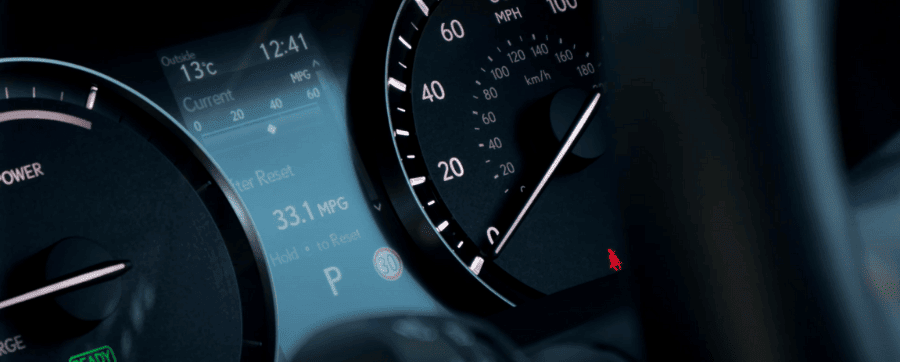 Next up is the infotainment setup, we liked how high up it was on the dashboard, making it very easy to glance over and see what you need to see and then glance back at the road.
We would have liked it to be angled slightly more towards the driver, however, otherwise, we liked where Lexus has positioned it in this vehicle.
What is the ride height like?
Well, you sit quite high up in this car, which gives you fantastic visibility of the road ahead and the area around you. The windscreen is nice and wide and the pillars don't affect the visibility with their size, allowing you to have great visibility.
We found the door mirrors to be, quite frankly, humongous. You're able to see a large distance behind you, which is great, and the view outside the rear window isn't too bad either, it's a lot better than what you would find in a coupé SUV.
Because they have physical buttons, the climate controls are also very easy to use while on the move. You do also have the option to change them through the infotainment screen.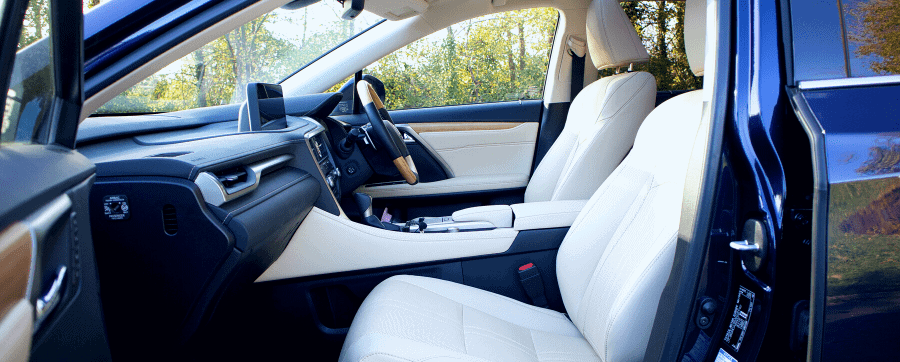 Are you impressed by the RX 450h so far? Let us know what you make of it and if you'd like to find out more at this stage or you'd like to explore your options to find your perfect specification.
Get in touch with OSV's Vehicle Specialists on 01903 538835 or you can just click the banner below to book a date and time that best works for you to have a chat.
Is the Lexus RX 450h's interior as good as it looks? What tech does it feature?
Let's dive into the Lexus RX's gorgeous interior. We opted for the rich cream semi-aniline leather, complemented by wood inlays dotted around the cabin which are only available with the "Takumi" pack.
We loved how the wood inlays are used very effectively and sparingly providing the cabin with a quite minimalistic feel, meaning when it's used, it stands out nicely. It's used on the inside of the doors and down the centre console, as well as the steering wheel, sliding into the leather.
There are a variety of interior options, so if you'd like to find the one that suits you perfectly, then make sure to get in touch with one of our Vehicle Specialists.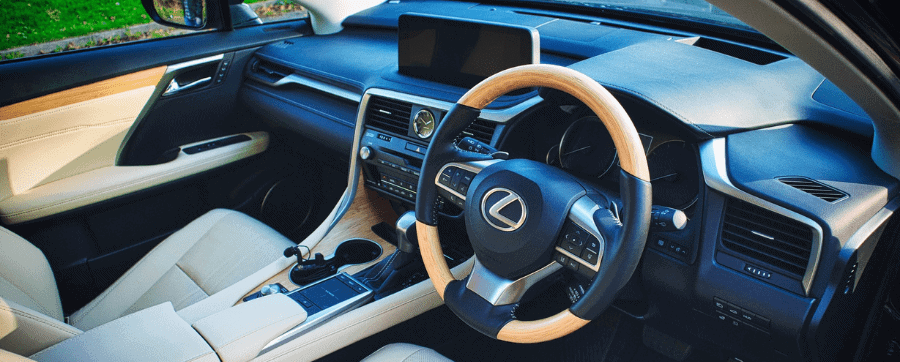 Speaking of the steering wheel, there are media controls on the left-hand side and cruise controls on the right. You've got paddle shifters behind the wheel, allowing you to do manual shifts should you so choose.
Further behind the steering wheel is the driver display. Once the car is booted up, it shows you all the key information that you will need when going from A to B.
On the right-hand side is the speedometer and, on the left, it shows you how much charge is left in the self-charging hybrid battery. In between these dials is a compact 4.2-inch media screen. You can toggle between the different options by pressing a button on the right-hand side of the wheel.
It will cycle between different pieces of information, including how fuel-efficient you are on your current journey, a compass and which radio station, album, or podcast you're listening to. We found it very nice to have all that information right where you need it.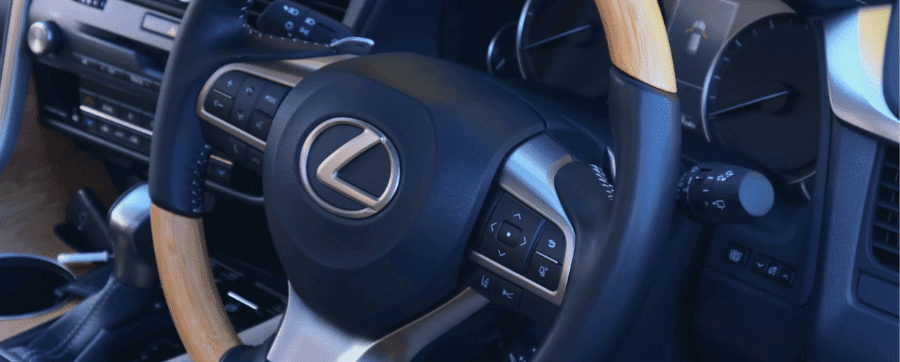 As for the infotainment display, the 12.3-inch media touchscreen comes with Lexus Navigation, Apple CarPlay and Android Auto as standard, so if you get fed up with Lexus' software implementation, then you can always mirror your smartphone apps onto the display.
Overall, we were a fan of the Lexus setup, while it is a little fiddly to type into an address using the touchpad, especially on the move, it is good that you can also just use it as a touchscreen if you want to.
As mentioned earlier, we would have liked the screen to be angled slightly more towards the driver. It does sit quite high, which makes it convenient to just glance over and get a good look at the screen, and then go back and focus your attention on the road ahead.
Above the screen, there's an auto-dimming rear-view mirror preventing you from being dazed by cars behind you.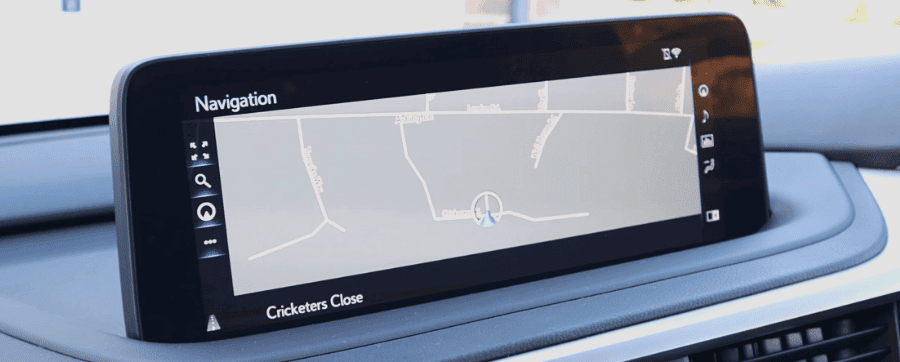 As for the centre console, we loved the implementation of the Lexus analogue clock in the middle, in-between the air vents. This gives the cabin more of a premium feel. The climate control is dual-zone with the wider air vents working well. Just below is the "Takumi" pack-exclusive 15-speaker Mark Levinson premium sound system.
As you would expect, it sounds fantastic. In the centre compartment area, there is a 12-volt socket for charging a laptop or tablet and a couple of USB ports. Right next to these sockets is a little storage area, perfect to put your phone in while it's charging.
There is also a wireless smartphone charging pad, which comes as standard, which you rarely see as a standard feature. Behind that are the controls for the heated and ventilated seats. We did have a bit of an issue with these as they are a little hidden away behind the gear selector, making it inconvenient while on the move.
Further down the centre console, between the two seats and next to the gear selector, there are a couple of adjustable cup holders, meaning you can fit bottles, cans, or cups comfortably inside. There is also the touchpad for the infotainment display and there are shortcuts to the map and menu, with a nice bit of haptic feedback while you're scrolling your finger across, which we liked the implementation of.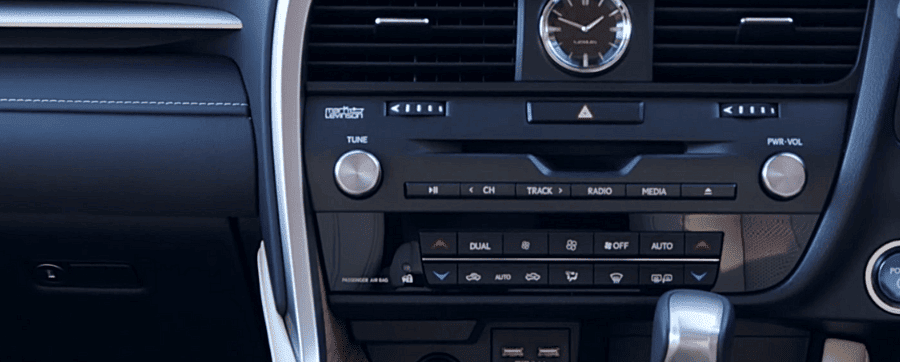 You also have the toggle for the driving mode selector. However, like the Lexus UX 300e and the LC 500 convertible, we wished it was up on the dashboard, making it easier to toggle while you're on the go. That being said, we didn't have any issues with it while driving.
As standard you get four different driving modes these are Eco, EV, Normal and Sport. "F Sport" and "Takumi" trimmed models and Sport S, the sportier driving modes, get adaptive variable suspension which either sharpens or softens the ride, depending on your driving style.
It also improves engine responsiveness, makes the engine a whole lot louder and adds a bit of weight to the steering. We recommend keeping the car in Eco for a lot of your time, though the performance won't be particularly exciting, you'll be maximizing fuel efficiency as much as possible.
Then, when you get to a junction and you want to get off the block quickly, stick it into Sport and you'll have no problems doing that. You can also do short journeys around town using that 288-volt battery pack when you stick it into EV mode, however, it won't last long as it does deplete quickly, but it's nice to have the option of doing an all-electric journey.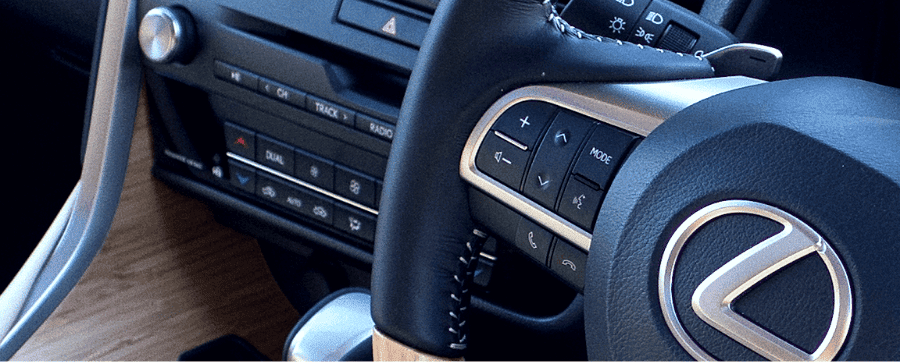 The last couple of storage areas include a nice deep and spacious centre compartment between the two front seats. There are a couple of USB ports, an Aux Port, and another 12-volt socket, so all of your charging needs are very well covered by the Lexus RX.
As for the glove box, it's pretty spacious, but our highlight of the storage is the fold-out door bins. While it is simple, we found it to be such a great idea, allowing you to fit a 500ml bottle or a flask inside.
With the "Takumi" trimmed models, you do get the panoramic sunroof that stretches about three-quarters of the way across the roof lining. However, the roof itself only retracts about the length of the front passenger side, which is a little bit disappointing.
But it's really easy to do while you're on the move as the buttons are just above the rear-view mirror. By holding it down for a second, it will retract and let lots of light into the cabin, which greatly benefits from being brightened.
The seats inside this Lexus RX 450h are exceptionally comfortable for long journeys and there's a great amount of adjustability to be had. You're able to adjust the height and you can almost fully recline. Finally, the sun visors are wrapped in a luxurious and soft material, matching the rest of the interior.
How is the rear of the Lexus RX 450h's cabin?
As for the back of the Lexus RX, it is very comfy and passengers over six feet tall are not going to have any issues with headroom. The legroom is equally as generous as we were able to stretch our legs out all the way which is always great to see.
There are also some nice soft-touch materials just below the driver's seat, which cossets your feet in place. The pockets behind the front seats are very spacious, with plenty of space for your tablet or magazine.
There's also another showcase of the wood inlays and leather effect on the door which complements the steel door handle.
You also receive a retractable privacy shutter which you can put up, covering the window, if you want to stop people peering in or if you've got kids in the back and you want to get some shut-eye after a long day at a theme park or something.
In between the front seats, you have a couple of air vents, though you will be at the mercy of the front passengers as there are no controls in the back, however, "Takumi" trimmed models get heated rear seats, which is fantastic to see.
There are also a couple of USB ports below the vents, perfect for charging your phone. Isofix fittings are also fitted on either side of the rear passenger seats.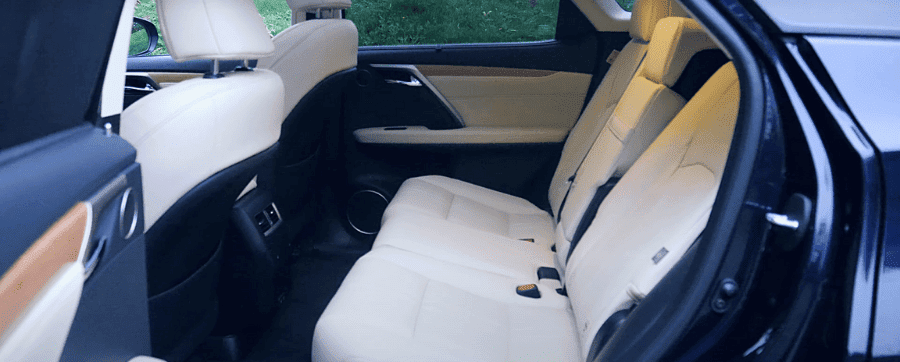 If there isn't a middle passenger, you can fold part of the seat down and open it up to find a nice storage area that you can use to put some snacks in for example and there's a button to fold out the cup holders.
While these aren't adjustable, they will still hold your drinks in place and stop them from spilling while on the move. The middle seat isn't too bad to sit in, however, due to the cupholders inside the seat, it does stick a little into your back.
Also, there is no elevated floor for the middle seat passenger, making it a much more comfortable seat than what you'd see in a lot of other vehicles. We were wowed with this Lexus RX's interior.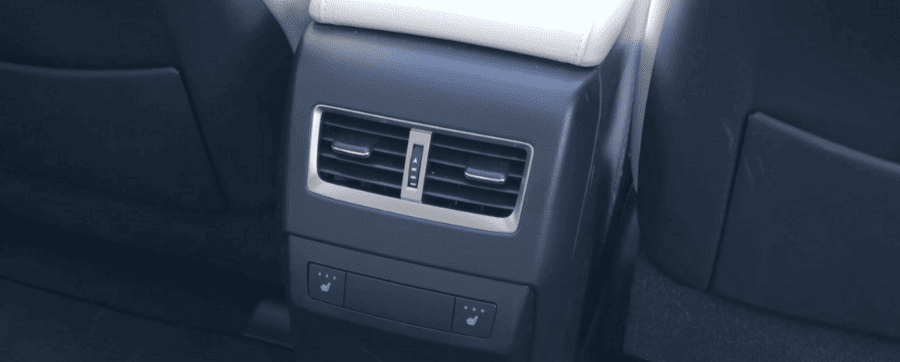 What Lexus RX 450h engines and trims are available?
3.5L Hybrid Engine
There's only one powertrain available, which keeps things simple, it's a 3.5-litre hybrid engine, paired with an eCVT automatic gearbox that sends power to all four wheels via two electric motors.
This powertrain setup produces around 308 brake horsepower and achieves a 0 to 62 MPH time of around 7.7 seconds. While that sounds pretty quick, this car is quite sluggish off the block, especially in Eco mode.
That is due to poor throttle performance and also the eCVT transmission, which, unlike a conventional gearbox with the mechanical setup, it doesn't change through the gear seamlessly, it just switches between a different gear ratio.
This does add to the smooth and relaxing driving experience, but it doesn't mean that it's particularly exhilarating. We were a little bit disappointed by the fuel efficiency and CO2 emissions, considering the hybrid nature of this vehicle.
It quotes around 35 to 36 MPG on the combined cycle, which isn't great as you'll be making regular fuel stops as a result. Additionally, CO2 can be as high as up to 180 grams per kilometre, which puts it in one of the top benefit-in-kind tax brackets, meaning this isn't the best option for a company car.
However, you do have other Lexus models like the UX 300e, which is all-electric and in that 1% BIK tax bracket, so you can take advantage of all those amazing savings with that vehicle instead.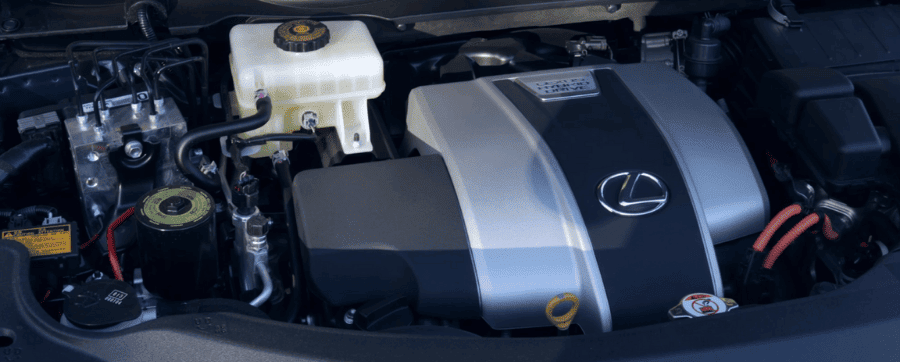 Standard Trim
As for trim levels, let's start with the "RX Standard". This starts from £53,865 and for this price tag, you receive a lot of standard equipment. This includes 20-inch alloy wheels and a host of our safety features courtesy of the Lexus safety system pack.
This includes road sign assist, adaptive high beam, cruise control, and lane keep assist, all the features you would expect in a modern vehicle. Inside the cabin, you will receive the 12.3-inch Lexus navigation display, which we loved, and Apple CarPlay and Android Auto.
You also get intelligent front and rear parking sensors, so if you're not used to a vehicle of this size, it will be especially handy when trying to manoeuvre in and out of tight parking spaces.
You also receive electrically-adjustable eight-way adjustability for the front driver's and passenger's seats. Meaning, that both the driver and passenger can play around with their configuration to find the most comfortable position for them.
Finally, you also get an electric tailgate which is especially handy for when you go shopping and need to throw your shopping in the boot.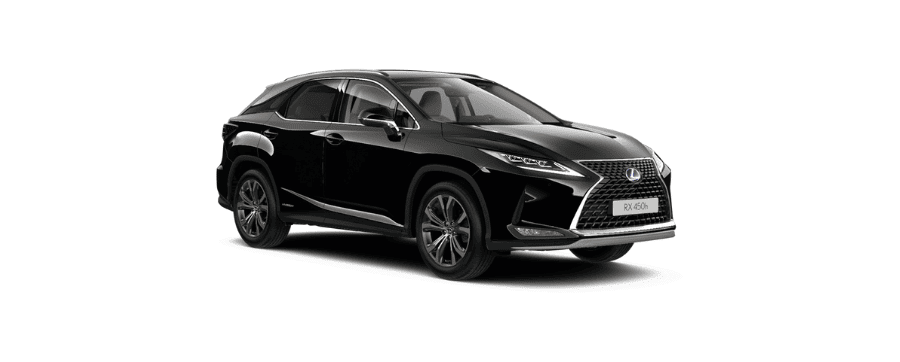 Premium Trim
Next up the ladder is the "RX Premium". This starts from £55,515 and if you want to maximize as much as you possibly can out of the basic RX specification then you do need to go for this trim.
This adds two-way lumbar support for the driver's seat, so another additional comfort feature, as well as smart-keyless-entry, so, you just have to walk near the car and if the key is in your pocket, it's going to open for you, which is another practical feature.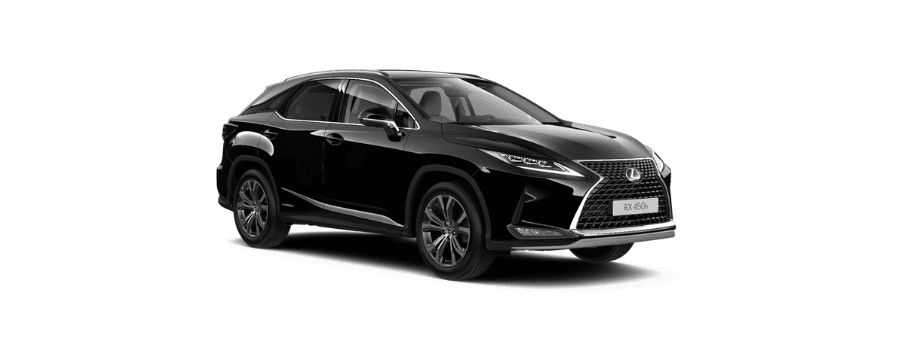 Premium Sport Trim
The mid-level trim is the "Premium Sport" edition, and this starts from £57,165. The wheels are still 20-inches but they have a black sputtering effect to suit that black exterior styling which affects the front grille and the mirrors.
The overall package looks extremely nice and if you like what Audi does with its "Black Edition" models then you'll love what Lexus has done with the RX. In addition, you get heated outer rear seats, so your rear passengers should not be moaning while on the move.
You also get smooth leather upholstery inside the cabin, as well as a head-up display, which we loved as it displays all the information that you need right onto the road ahead, which is very handy.
You also get a panoramic sunroof which lets lots of light into the cabin. We were quite pleased with the really impressive equipment on offer with this mid-range trim.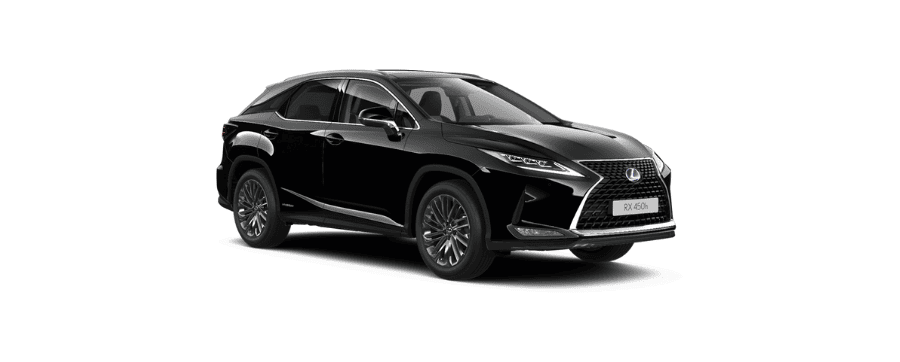 F Sport Trim
If you're all about that sporty lifestyle, you have to go for the "F Sport" trim level. That starts from £58,015 and the 20-inch alloy wheels are outfitted with "F Sport" styling as has the overall exterior.
F Sport badging is dotted around the vehicle, and the black spindle grille and metallic front bumpers create a stylish overall look. You also receive the additional "Sport+" mode, meaning you get five driving modes to play with.
The vehicle is fitted with adaptive variable suspension to adapt to whatever kind of terrain you're driving on. This maximizes your driving experience. Finally, you also get ventilated front seats inside the cabin.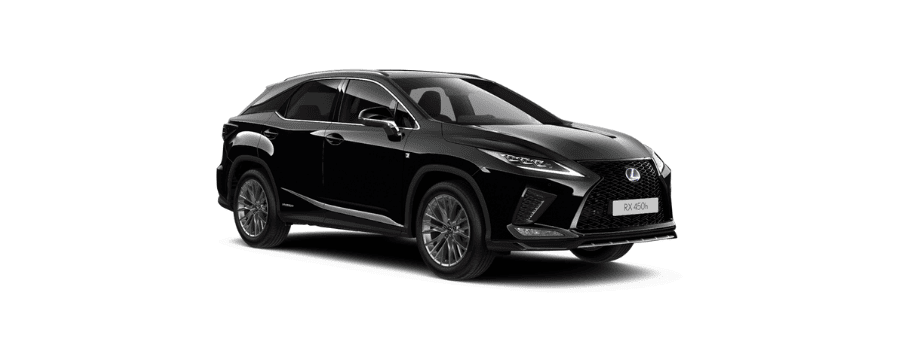 Takumi Trim
Last up is the top-level trim, the "Takumi", which is the configuration we chose for our review. It starts from £64,515 and it maximizes the overall package.
With this trim, the cabin is fitted with a 15-speaker Mark Levinson surround sound system, which audiophiles will adore. The alloy wheels are still 20-inches, but they're in a gorgeous "Takumi" design. You receive extra safety features, such as blind-spot monitoring and rear cross-traffic alert.
So, if you're particularly anxious about driving a vehicle of this size, these features should alleviate some of your anxiety. You also get a 360° panoramic view monitor which we had a lot of fun playing around with.
As for comfort, you receive four-way power-adjustability for the lumbar support. You get the most out of the RX with the "Takumi" pack, however, you do need to decide whether these additional features are worth the extra £10,000 premium, compared to the basic model.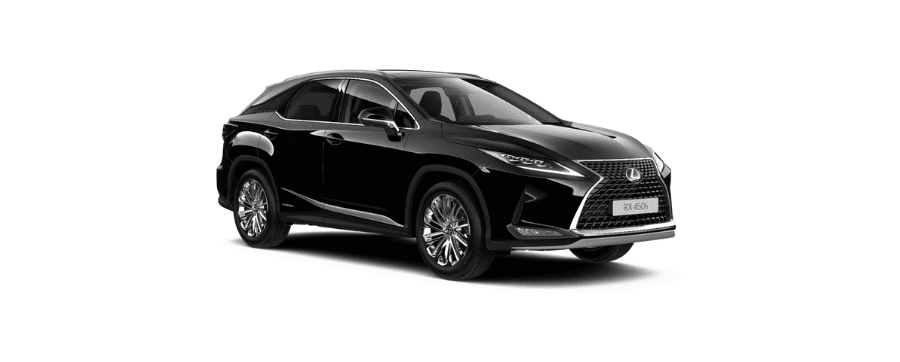 Should you buy, lease, or finance a Lexus RX 450h? Is the Lexus RX 450h reliable?
Is the Lexus RX 450h a good car?
Well, if you are looking for a luxury hybrid SUV, then we think you definitely should, due to many different reasons.
Firstly, the cabin is fantastic, it's very well-designed and full of high-quality materials, has advanced technology, and it's comfortable for five adult passengers, even for long journeys.
You can also take advantage of Lexus' incredible reliability record as even if this car does break down, you'll be safe in the knowledge that you'll be on the road again very quickly as Lexus is one of the most reliable brands out there.
The car is also very smooth and relaxing to drive, and if you're somebody who favours driving experience over performance then this is the model for you. We additionally loved the design of this Lexus RX 450h, it's very clean and sleek, and not too over complicated as it's very well thought out.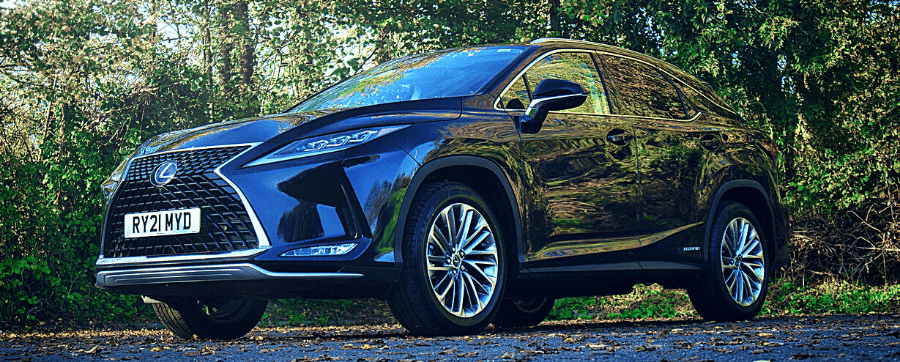 What are some Lexus RX 450h problems?
In terms of downsides, firstly, the performance has the potential to be more exciting. As a result, BMW and Audi rivals are more fun to drive.
There's also no diesel option available as well unfortunately which means drivers who like to take advantage of the most fuel-efficient engine option can't do so because there's only one engine option.
Some drivers may also be disappointed by the boot space that pales in comparison with some of this vehicle's rivals. However, in our opinion, the sliding rear bench makes up for it and it's going to be suitable for most people's daily needs.
Unfortunately, our biggest downside is the poor levels of CO2, especially considering that this is a hybrid vehicle. We hope Lexus improves upon this in the next-generation model.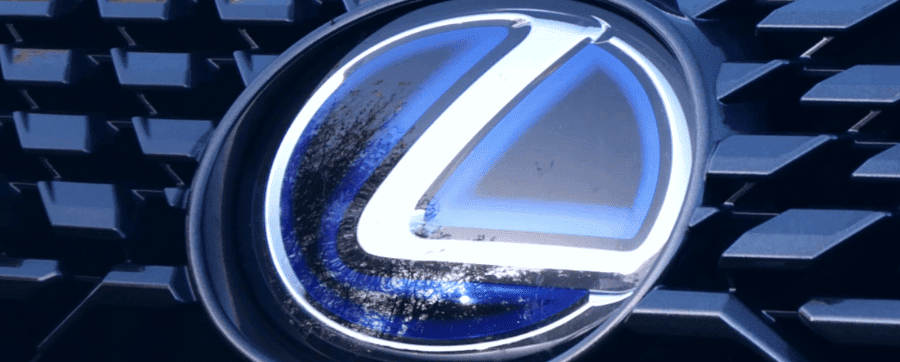 But all-in-all, we loved our time with the Lexus RX 450h. If this is a car that you can see yourself driving, and you'd like to get the ball rolling on delivery, then make sure to get in touch with OSV's Vehicle Specialists on 01903 538835, or you can click the banner below to book a FREE consultation to get in touch with our team of experts. Make sure to head over to our YouTube channel to watch our full Lexus RX 450h review or watch any of our other car reviews.
Fed up with looking for your next vehicle?
Need advice from an experienced Vehicle Specialist on what vehicle is right for you?
Book your FREE consultation now