Lexus UX 300e Review UK: The BEST Luxury EV? 
Want to electrify your lifestyle with your next vehicle? Looking for something that offers superb build quality and attractive looks from a brand that delivers class-leading reliability? The Lexus UX 300e could be your perfect next car.
Lexus has been leading the way with its class-leading hybrid offerings for nearly two decades, but this Lexus UX 300e marks the luxury Japanese brand's first foray into full electrification.
It's essentially a fully electrified version of the UX, the brand's smallest SUV and a very popular offering in its line-up. This review has been a long time coming as we first covered the UX 300e in a Behind The Wheel episode, in October of 2020.
We loved and had a great time with this car and we'll tell you why in this article.
What does the exterior of the Lexus UX 300e feature?
Let's start with the exterior design. If you're familiar with the standard UX, you'll be quite familiar with this front end. There have been a few, slight, exterior changes.
Firstly, there's a larger radiator grille, acting as an air intake to cool down the battery. Of course, it doesn't need a conventional grille as it's fully electric. There are purple accents surrounding the Lexus logo, which we loved as it brings out the vibrancy of the design.
The headlights are LED headlights with automatic high-beam. They come as standard, however, if you upgrade to the "Takumi" pack, which is essentially the top-spec trim level, which we chose for our review, you get triple LED headlights with adaptive high beam.
This will be able to tell how light or dark it is outside and adjust the lights accordingly. Meaning, that it's something you don't have to worry about, making the driving experience more convenient for you.
You also get LED daytime running lights and front fog lamps as standard. We also really liked the Lexus UX's functional side vents with gloss black material surrounding them, nicely complementing the design of the grille.
We were pretty impressed with it, but what do you make of the front end? Let us know.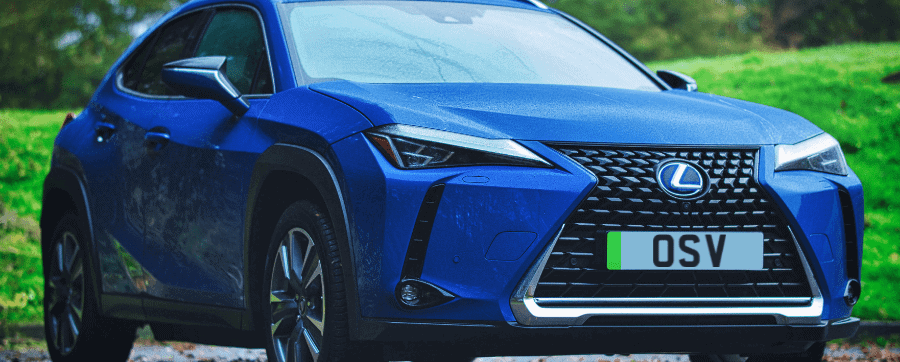 On the side profile, you'll get 17-inch alloy wheels as standard, though, because we've opted for the "Takumi" pack, we have 18-inch alloys. You can also configure these as an optional extra with the mid-range "Premium Plus" pack.
We think that they look fantastic and really suit the vehicle. Of course, they also give you that little bit of extra ride height, which in our opinion, makes a fantastic difference to the driving experience.
It handles imperfections extremely well and it's a very smooth driving experience, which we'll talk about a little more in detail further down the review.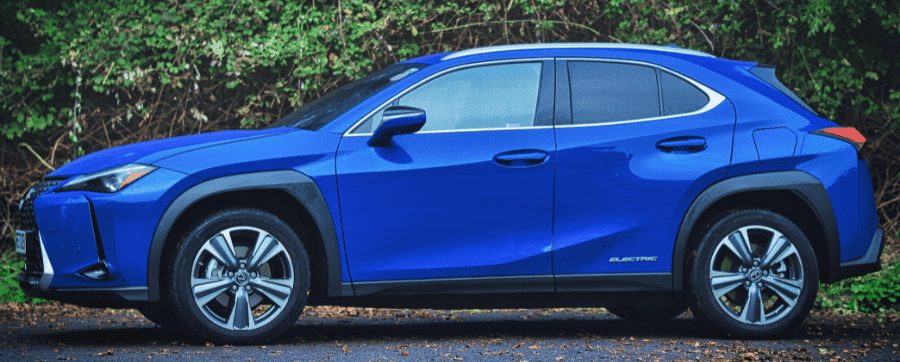 As for the colour, we chose Celestial Blue. It's a metallic option that you can add to your configuration for around £570.
We absolutely love this exterior colour, as it nicely brings out the design of the vehicle and Lexus is pushing it in their advertisements and on press images and we completely see why as it's a fantastic exterior colour.
There are four other metallic colours to choose from: Mercury Grey, Satin Silver, Graphite Black, and Terrane Khaki, they will also set you back £570.
There are also three premium metallic options: Sonic White, Titanium, and Blazing Carnelian.
These will set you back £820 so you'll have to weigh up whether it's worth paying the extra £800 for an exterior colour option. There are two standard colours to choose from: Velvet Black or Fuji Red.
These door mirrors have a gloss black surrounding them, with the body colour along the sides, which we loved the design of. If you follow the sleek lines from the front passenger door, all the way to the door handles, you'll notice that they're also in the body colour that you've chosen.
Rear privacy glass is installed for the rear cabin and it's also nice to see that you get privacy glass on the quarter window as well. On the bottom of the rear passenger seat, there is electric badging and on the left-hand side of the Lexus UX 300e, there is the rapid charging port that can charge up to 50 kilowatts from a DC charger.
There's another charging port on the other side of the vehicle, to plug into a wall box or domestic socket. We'll go more in-depth about charging later on in this article.
Hiding just behind these aluminium roof rails (that come as standard) is the sunroof, which you can configure with the "Premium Plus" pack, and it comes with the top-spec "Takumi" pack as well.
We've got some sportier elements, such as the rear spoiler in gloss black that brings out that design just a little bit more.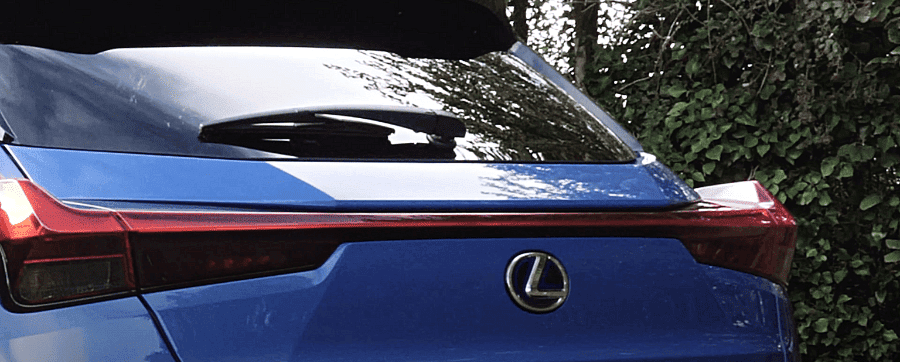 In the rear, bulging out of the sides, there are some darkened LED rear light clusters which we love. It gives the rear end an angular and muscular look, quite similar to the ë-C4.
Matching the rear windows, you get a tinted rear windscreen as well. A gorgeous full-width light bar stretches across the width of the rear end, which looks absolutely fantastic, especially when lit up at night.
Let us know what you make of the exterior and if you love it as much as we do. If you do and you'd like to explore your options a bit further with one of OSV's vehicle specialists, then make sure to get in touch on 01903 538835 or you can just click the banner below to book a date or time that works best for you.
What boot space is offered with the Lexus UX 300e?
Upon opening the back of the Lexus UX 300e, you're rewarded with 367 litres of boot space. This is 47 litres more than you get in the standard UX. This is because there's no hybrid stuff going on underneath the boot floor.
That's enough room to fit five carry-on suitcases, but if you need to maximize luggage space as much as possible, you can fold down the rear seats in that 60-40 configuration.
Lexus doesn't give you an official figure for how much storage capacity this gives you, but if you stack everything up to the roof lining, Lexus says that gives you around 486 litres. While this is a lot, it's not as much as you'll find in other small SUVs.
One thing we were a little bit disappointed about, is when you fold these rear seats down completely, there's a slight slant in the floor. This makes it really difficult to load in awkwardly-sized and hefty items like golf bags, camping equipment and things like that. Ideally, you'd like it to sit nice and flush with the boot floor.
That is something you can do when you get a height-adjustable boot floor as you do in the Citroën ë-C4, but in the Lexus UX 300e, it's just a little bit awkward, unfortunately. Lexus has also gone a bit hook mad in the back, with lots of places to attach objects that like to roll around while you're on the move.
There's also a decent amount of space underneath the boot floor, perfect for your charging cables, maintenance bits and bobs and any items that you want to keep out of the prying eyes of Peeping Toms.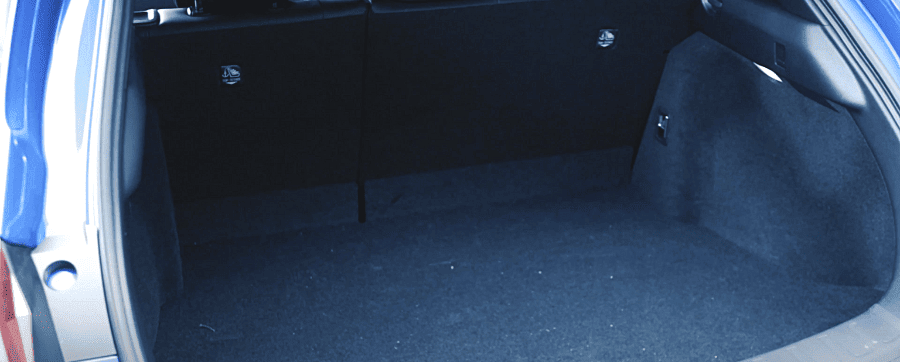 What is the Lexus UX 300e like to drive?
When behind the wheel of the Lexus UX 300e, we recommend having the vehicle in Eco Mode for everyday driving if you want to maximize the driving range as much as possible. It is worth noting that it is a little bit sluggish off the block as it takes a little bit of time to get going. I
f you want to remedy that, we do recommend sticking the car into Sport Mode, then you'll get an instant hit of torque and acceleration and that'll allow you to just shoot off across the road. This mode is perfect for overtaking and pulling out of junctions.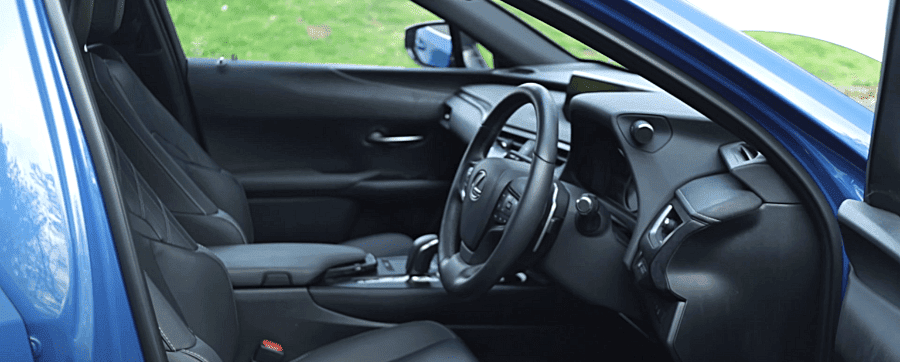 In terms of visibility, you've got a great view of the road ahead and that's thanks to the fairly high-up riding position that this compact SUV gives you. Unfortunately, the view out the side isn't fantastic, due to the rather wide side pillars.
You'll find when you come to a junction or roundabout, it's a little bit tricky to judge a gap and you've got quite a big blind spot behind you.
Thankfully, the mirrors are pretty wide, giving you a great deal of visibility of what's directly behind you. You do also get "warning" sort of indications on the mirror if a car is passing quite close to you.
The view out of the back is okay, it's not as bad on some of those coupé SUV crossovers, but we were a little bit disappointed with how Lexus has followed the trend of a lot of manufacturers: to touch up any flaws with the design of the car with advanced driver assistance features such as front and rear parking sensors as standard and a rear-view camera to help you manoeuvre into those tight spaces.
While it's great to have those features and they would be sorely missed if they weren't there, we feel like the car's design should make up for those shortcomings in the first place.
A note on the tech when driving, the head-up display shows your speed and speed limit in the area. This is very handy, especially when you're driving through a town, that then merges onto a dual carriageway and you're not quite sure what the speed limit is.
We also had the map view up on the infotainment screen when driving the Lexus UX, this was incredibly handy as well. The driver display also showed the driving mode that we were in, the speed that we were going at, and how much charge we had left in the battery.
While all of that sounds distracting, it all works in harmony to add to that very sleek driving experience.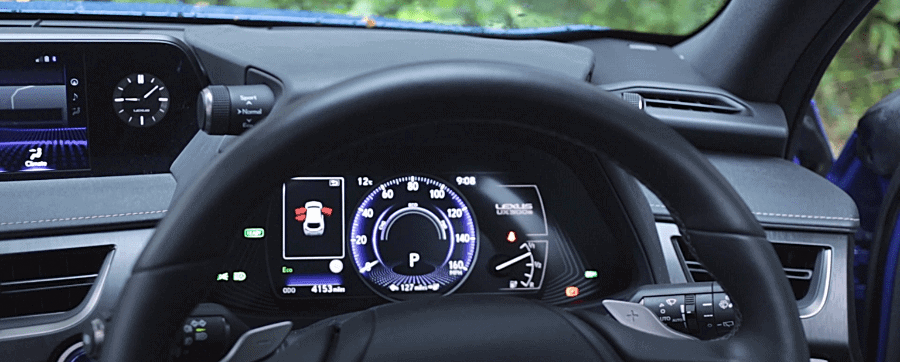 As for the steering, it's not as light as you'll find in the Citroën ë-C4 but it's not as firm as in vehicles such as the Audi e-tron which was far too firm for our taste.
For us, we found it to be somewhere in between which we loved since while the ë-C4 offered a mainly relaxing and smooth driving experience, it didn't prioritize driving dynamics.
Instead, this car finds a nice balance. You'll enjoy driving it, especially when you put it in Sport Mode, it's quite exhilarating but also very comfortable and very smooth to drive.
In Sport Mode, when going for an overtake, you hear the battery just kind of boot up a little bit more. This mode is fantastic for overtakes and just getting out of precarious junctions. There's hardly any noise from the road or the wind seeping into the cabin.
This car handles any kind of outside noise incredibly well, providing you with an incredibly quiet cabin, making for a very relaxing driving experience. This might come as no surprise, as Lexus has always done this exceptionally well, but the Lexus UX 300e handles imperfections in the road incredibly nicely, seemingly gliding over them with no issues at all.
Even with the harshest of potholes, this car will handle incredibly well. The impact of that will resonate throughout the cabin but it is softened quite considerably compared to other electric cars on the market which is great to see and that's a massive benefit of this vehicle.
If you are looking for a very smooth driving experience and that is your priority out of your next car, then we can't recommend another EV as much as this one.
What's the interior of the Lexus UX 300e like? What tech is included?
We were extremely impressed with the interior as there are lots of high-quality materials on display. We were also quite astounded by how many different materials Lexus has used inside the cabin.
There are some nice, high-quality plastics near the dashboard, a leather effect trim running underneath the infotainment system embellished with some gorgeous grey stitching, there are more nice materials surrounding the air vents, gloss black near the seat functions, and then a gloss black down here in the centre console.
While there's just so much going on, it all harmonizes really nicely together, so great job Lexus.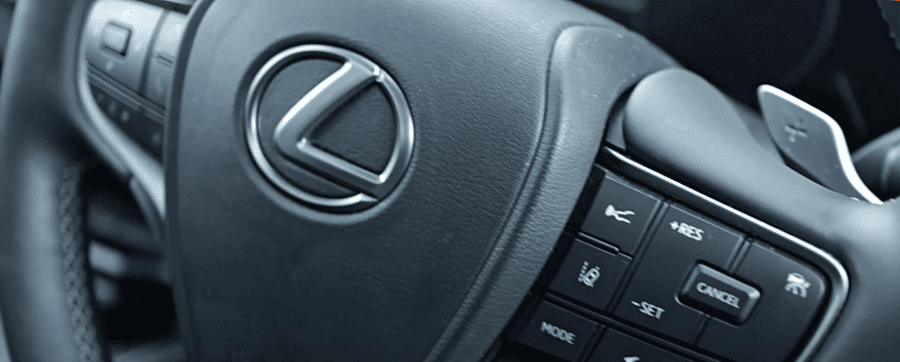 As for the finer details, you get a heated steering wheel with the "Takumi" and "Premium Plus" packs. We loved the feel of this with the leather trim surrounding it. It's very comfortable and quite squishy, meaning it's very nice to use while on the move.
Behind the steering wheel, is a Japanese Washi-inspired digital instrument panel that displays your speed, how many miles you've got left on the battery, and what driving mode you've selected.
To switch between the different driving modes, there's a toggle above the steering wheel. You can choose between Sport, Eco, and Normal.
As mentioned earlier, Eco is what we recommend you have the car in for the majority of the time as it will maximize driving efficiency and range as much as possible.
Normal is for everyday driving and Sport is when you want to get an instant hit of acceleration and torque, perhaps you want to manoeuvre out of a junction or a roundabout quite rapidly, that's the mode that you want to put the car in.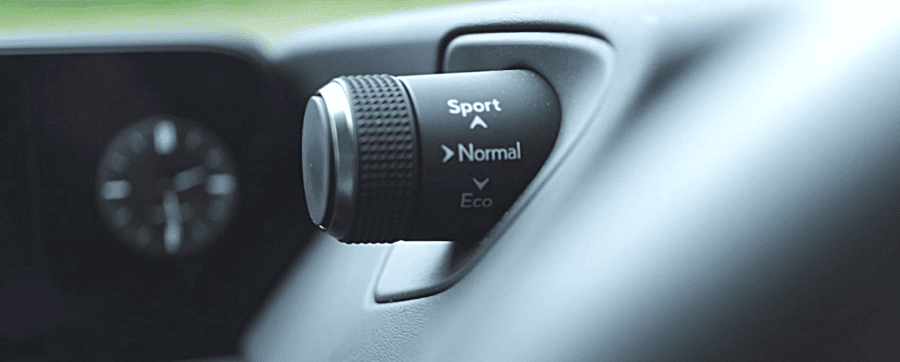 In terms of tech, the Lexus UX 300e offers a 7-inch media touchscreen, that can be upgraded to 10.3-inches if you upgrade with the "Takumi" pack.
We love the graphics as they're very sharp, it's responsive to use while on the move, there's very little lag at all, and we love how it's angled towards the driver slightly, so it's not too distracting to use while travelling from A to B.
We'll also note that the "Takumi" pack configures a head-up display that projects your speed and the speed limit of the area directly onto the road ahead, which is a very handy feature so you don't need to keep glancing down at the driver display behind the steering wheel.
There is a gorgeous analogue clock on the side of the media screen, nicely juxtaposing the digital media screen. Further down the centre console, you get a couple of air vents.
The climate control is fantastic and it's all controlled using physical buttons which we love to see. These buttons are very nice and responsive and quite "clicky" as well, making for a quite satisfying experience when pressing them.
Just below is an indication that you get the Mark Levinson 13-speaker premium sound system with the "Takumi" pack. It sounds fantastic and you're going to love playing your albums and podcasts while on the move.
Further down are buttons to control the heated and ventilated seats and the heated steering wheel. This is particularly handy on a cold winter's morning. You get those with the "Premium Plus" and "Takumi" packs.
Just below that is the wireless smartphone charging pad with the option to turn it on or off to preserve battery life a little bit longer. If you don't want to use the wireless charging pad, there's a 12-volt socket for plugging in a laptop or a tablet.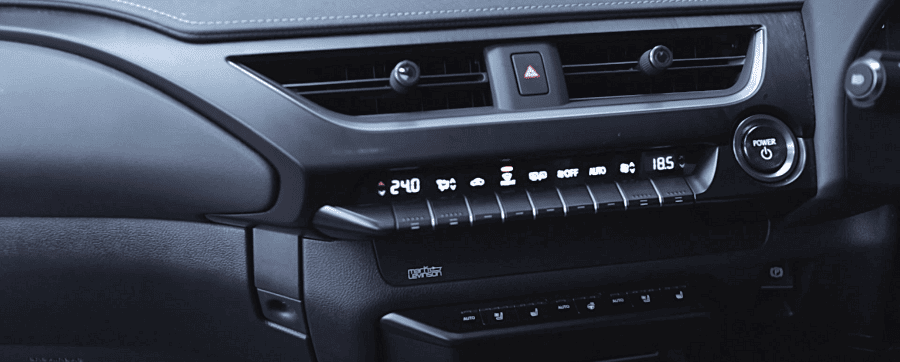 In the nicely-designed centre compartment, you get a couple of cupholders that easily fit your flask full of your morning coffee or tea.
You get a touchpad that's used for controlling the infotainment display, it's very responsive to use, it has a nice bit of haptic feedback, and you get shortcuts for the map and menu where you can quickly navigate to both.
We weren't sure if we liked this as much as the rotary dial that you get in BMW and MINI models, but it's pretty good. There's also the gear selector. As it's fully automatic, you've got Drive, Neutral, Reverse, and the parking brake.
There is a weird section of the centre compartment that struts out awkwardly which we weren't sure what to make of it, but it's used for navigating between the radio and media and adjusting the volume.
You can open the centre compartment from that side, and it's quite spacious. There are a couple of USB ports and an area to plug in your phone, if you want to connect it up via AUX, for example.
There are some more other storage areas, there's the fairly spacious glovebox with enough room to fit your manuals and other bits and bobs and there are door bins on either side of the front passenger and driver's seat.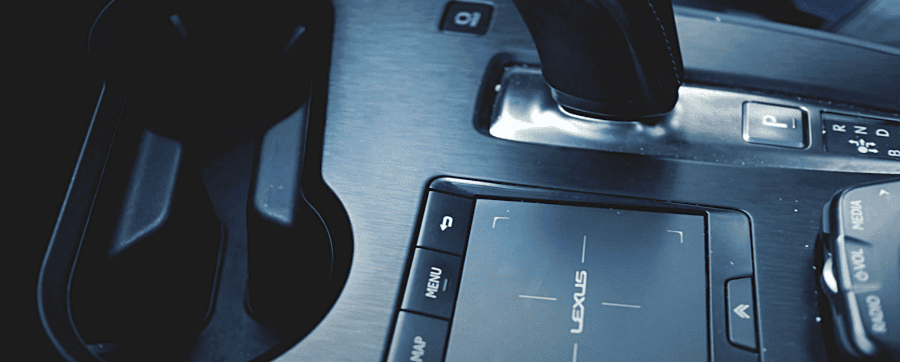 We configured the Lexus UX 300e with a sunroof with the "Takumi" pack. This is great as it lets plenty of light inside the cabin. Because this is quite a compact car, it can seem quite dim inside so it's nice to have that option to light it up a little inside.
The seats are incredibly comfortable, even more so than in the Citroën ë-C4. We were very happy with them. They've got a nice amount of lumbar support, and they nicely hold you in place when going around corners.
You get electric adjustment as standard, which is great to see, and there's loads of adjustability to be had to find the perfect driving position. Because you sit quite high up in this vehicle, it's really easy to find a great position where you've got a nice view of the road ahead.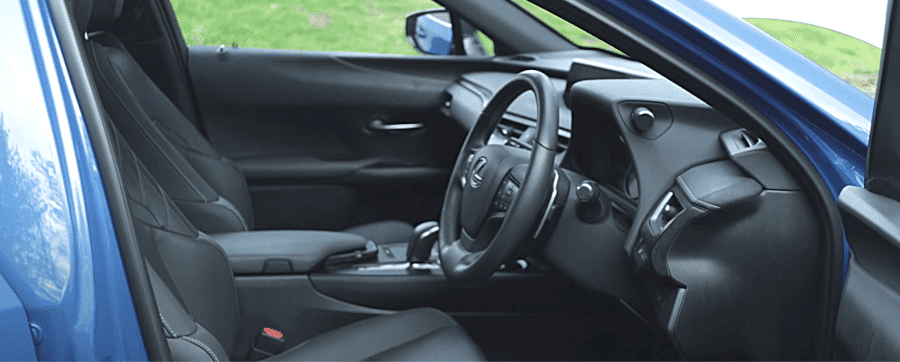 Is the back of the Lexus UX 300e comfortable?
How much space is imported for rear passengers? Well, the back of the Lexus UX 300e is okay, however, it is a little bit cramped. Because the battery is underneath the floor of the vehicle, it means that the rear seats are slightly raised than what you would expect in a petrol or diesel car.
That can result in quite an awkward seating position. This could get uncomfortable on a long journey as your knees are quite high. Legroom isn't fantastic either, we can't stretch my legs out all of the way, however, this depends on the front seat's adjustability.
The headroom is okay and you should be okay if you're over six feet tall. However, we would imagine three passengers in the back, who are all over six feet, are going to be very uncomfortable, as you're going to be touching elbows. It definitely won't be a very pleasant experience.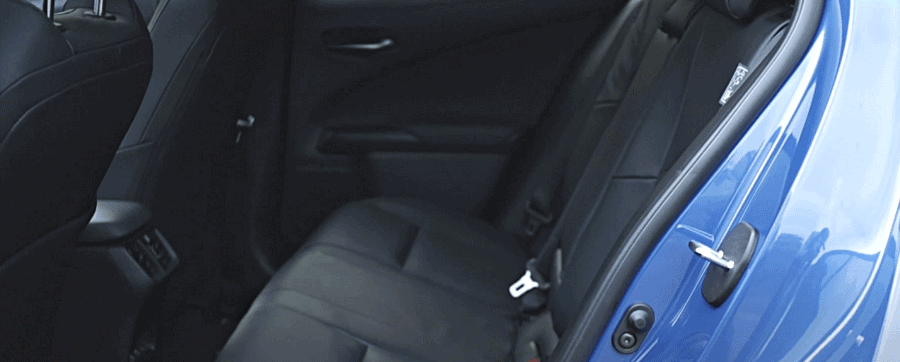 The back of the front passenger seat has a little pouch for your tablet or something, but there isn't one on the back of the driver's seat, which is a bit confusing.
Passengers do get a couple of air vents which is nice to see, though you will be at the mercy of whoever's controlling the climate control in the front.
You also get a couple of USB ports and heated back seats that come with the "Premium Plus" and "Takumi" pack so at least the rear passengers are going to be comfortable to an extent on a winter's morning.
If you don't have a middle rear passenger, you can fold down the centre compartment inside the middle seat to get a couple of cupholders, but they do make it a bit awkward when you want to rest your arm on it as your hand is just going to be hovering over them and it's quite uncomfortable due to that plastic surrounding the cupholders.
The middle seat isn't fantastic in terms of comfort, the plastic from the compartment sort of digs into your back.
Short journeys (5 to 10 minutes) would be fine but we wouldn't recommend it for longer journeys as you will be encroaching on the personal space of the other rear passengers as well. There are also a couple of Isofix supports on either seat which is nice to see.
Let us know what you make of the interior and if you'd like to explore your options a bit more closely with one of our vehicle specialists as we can personalize this interior a bit more to your liking, make sure to get in touch today on 01903 538835 or click the banner below to book a date or time for a chat.
What are the Lexus UX 300e's specs? What are the UX 300e's range and charging times?
Let's now talk about the powertrain on offer. There's only one powertrain option available with the Lexus UX 300e.
Inside the bonnet is a 54-kilowatt-hour battery pack, delivering 201 brake horsepower when combined with the single electric motor, and 300-Newton-metres of torque, for a 0 to 62 miles per hour time of 7.5 seconds, which is pretty quick for a compact SUV, especially when you put the car in Sport Mode and you get that instant thrust of acceleration and torque, it's exhilarating and it gets you quick off the block.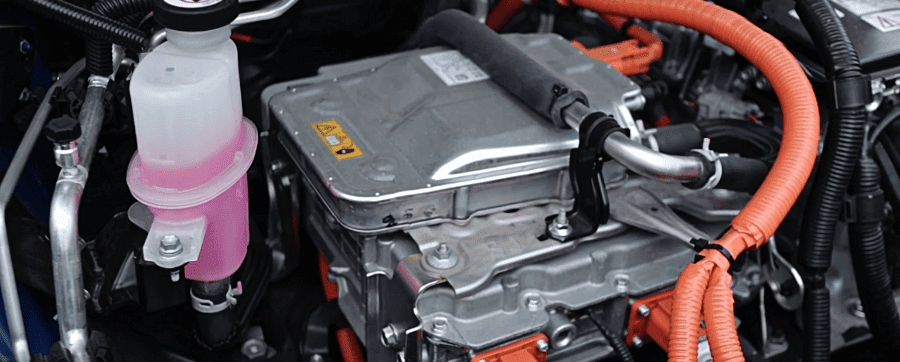 How far can you travel on a single charge? This depends on what wheel size you've opted for. With the standard 17-inch alloy wheels, Lexis quotes an all-electric range of 196 miles.
This does of course depend on a variety of conditions, including the road, weather, how fast you're travelling… etc. If you have the 18-inch alloys that you get with the "Takumi" pack, then Lexus quotes 190 miles.
This isn't too bad, though both of these ranges are a lot less than you'll get with the Kia e-Niro and the Citroën ë-C4, so that's a little bit disappointing.
We would have liked this car to reach the 200-mile range mark as we would have been much more comfortable with that, though, if you do need to take this car for a long journey, you shouldn't have any range anxiety as you can park it up at a motorway service station and take advantage of rapid charging, which this car does support, and you'll be off on your way in no time.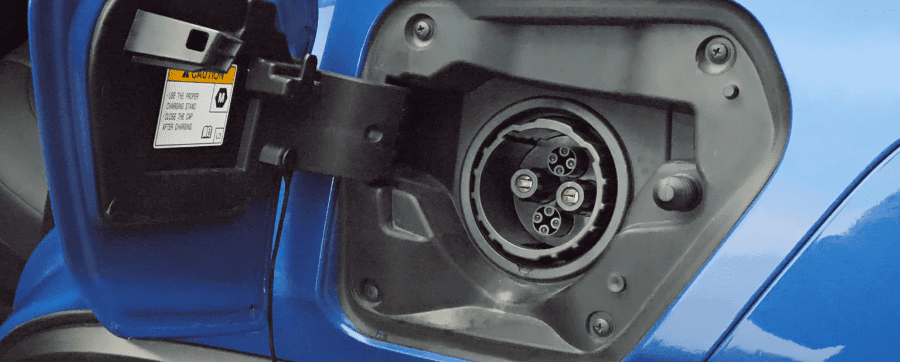 How long does the Lexus UX 300e take to charge? When you plug the UX 300e into a conventional three-pin plug, it will take around 15 hours and 20 minutes to charge from 0 to 80%. That may sound like a lot but compared to other electric vehicles, it's not too bad.
If you have a lazy Saturday or Sunday, you can plug it in and it will be topped up for you ready for the new week. If you do need it to charge slightly faster, we do recommend installing a home wall box.
From a 6.6-kilowatt AC unit, it will take around six and a half hours to do 0 to 80%, which is much faster. You can take advantage of cheap overnight tariffs as well to make some significant fuel savings, just remember to plug it in when you get home from work, and it'll be ready for you the next day.
When you travel up the country, take advantage of the 50-kilowatt rapid DC charging, it will do a 0 to 80% charge in just 52 minutes, so you can just grab a coffee and some lunch and then be on your way.
Which Lexus UX trim should you buy?
Standard Trim
As for trim levels, or packs as Lexus calls them, the entry-level trim is just the UX 300e standard car, and prices for this start from £41,745 and you get a wealth of standard equipment which is all that most drivers will ever need to be fair.
Our highlights include the 17-inch alloy machine finish wheels which look fantastic, the bi-LED headlights with auto high beams, the 7-inch media system with Apple CarPlay and Android Auto, front and rear parking sensors, and the reversing camera with rear guidelines.
That's just a taste of what's on offer, definitely a lot of equipment to enjoy with this standard spec, so don't worry too much if you just really want to get the Lexus UX 300e and you're a little bit paranoid about whether you should go for those higher specs because you're missing out some extra bits and bobs.
Those high specs just have really "nice-to-have"s which just maximize the overall potential of the package but this standard spec is really good as it is.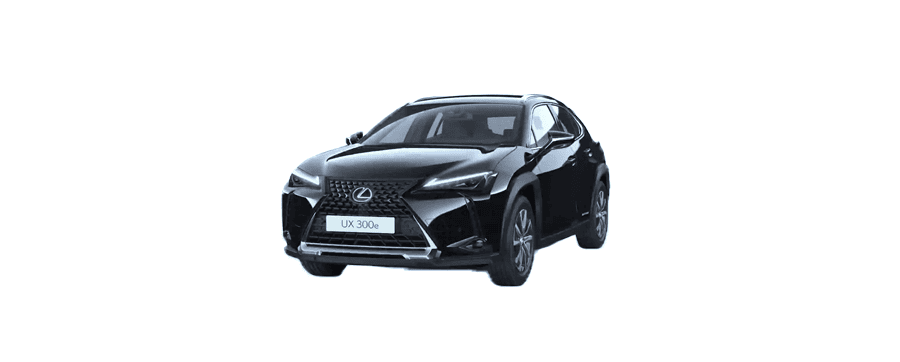 Premium Plus
Next, we have the Lexus UX 300e configured with the "Premium Plus" pack. This will set you back around £45,245 but can climb up to £45,995 if you configure the car with 18-inch wheels.
There's some really nice equipment to be had with this pack: heated and ventilated front seats, heated rear seats, a heated steering wheel, a wireless smartphone charger in the centre console, and smart entry so you don't have to unlock the car, it will just know that the keys are in your pocket and unlock for you, plus a load of other equipment as well.
This is really good if you just want to take advantage of some extra features and you don't mind paying around £3,500 on top of the standard spec.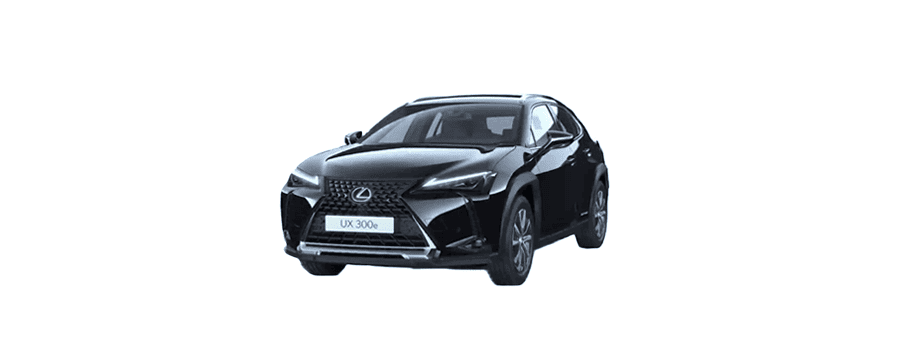 Takumi
The top-spec offering is the "Takumi" pack. This starts from £51,345 so quite a significant premium over that standard specification.
You get loads of really nice equipment with this pack, such as 3i LED headlights with adaptive high beams, a 10.4-inch Lexus navigation system, and the 13-speaker Mark Levinson sound system which sounds extremely nice.
You also get a sunroof, a 360° panoramic view monitor to see everything around the car, which is particularly handy for parking, and lots more as well.
So, if you want to maximize your specification and take advantage of all the equipment that it has to offer, then you need to go with the "Takumi" pack.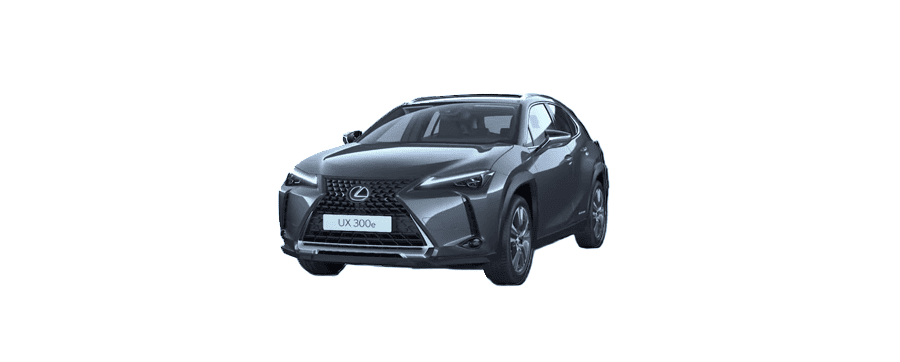 If you have any further questions about the trim levels, make sure to get in touch with OSV's Vehicle Specialists by picking up your phone and dialling 01903 538835 or you can click the banner below to book a date or time for a free quick chat with one of our team.
Should you buy, lease, or finance a Lexus UX 300e? How reliable is it?
If you're looking to go electric soon and you want to do so with a premium and up-market model in this really lovely compact-form factor, so it's not as bulky as something like the Audi e-tron and the Mercedes EQA, this is a fantastic option.
What are some things we absolutely love about the Lexus UX 300e? For starters, it comes well-equipped, even with that standard spec.
You don't really need to get the "Takumi" pack unless you need to take advantage of everything the car has to offer.
We were very impressed with the overall driving experience, it's extremely comfortable inside the cabin, we would even say it's more comfortable than the Citroën ë-C4, which we didn't expect because we absolutely loved that car, but we think the Lexus just beats out the ë-C4.
It's very smooth to drive as well, you'll hardly notice any imperfections in the road, and wind and road noise hardly ever seeps into the cabin.
It's just so relaxing and comfortable, plus you get a nice bit of performance with that 7.5sec 0 to 62 miles per hour time, so it's pretty quick off the block and exhilarating to drive at the same time.
You also have to take into account Lexus' incredible reliability record, they're constantly topping lists as the most reliable manufacturer out there and it's not hard to see why.
Our director has owned Lexus models for over 20 years now and she owned one particular model for 11 years. In that time, it broke down a grand total of once and the service she got when it broke down was impeccable, so you have to take into account that Lexus is generally more reliable than other premium manufacturers out there.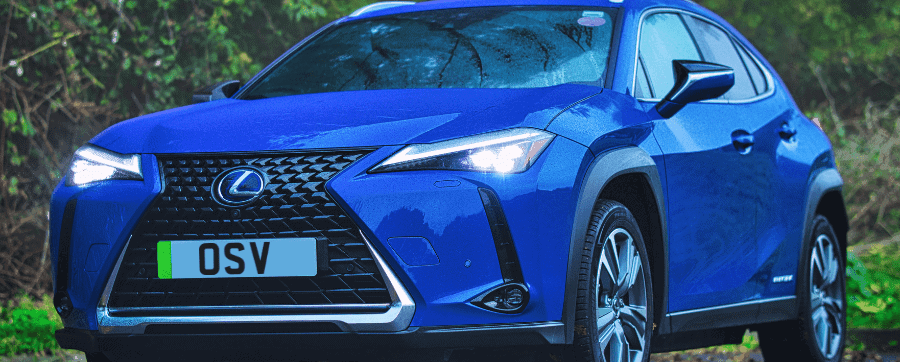 What are some things we don't like about the Lexus UX 300e?
Well, the visibility could definitely be improved. The side pillars are quite wide inside the car and that makes it difficult to judge gaps at junctions and roundabouts.
It's also pretty cramped in the back, you couldn't really fit three adults comfortably for a long journey. Short journeys would be okay but they will definitely be touching shoulders.
The range, while we were generally happy with the 190-196 miles that this car delivers, it isn't as good as its rivals like the Volkswagen ID4, the Peugeot e2008, the Kia e-Niro, and the Citroën ë-C4.
Those other vehicles all deliver better range than this model so that is something to definitely take into account if that is important to you and you do suffer from range anxiety, but realistically, you'll extremely rarely do 190 miles on a single charge in a single journey.
As long as you remember to plug it in when you get home from work, this won't be an issue at all.
If you'd like to explore the Lexus UX 300e a little bit more closely with one of OSV's Vehicle Specialists, we'll be more than happy to answer any questions and explore your options to find that specification that meets your needs perfectly.
So, make sure to get in touch today on 01903 538835 or you can just click the banner below to book a date or time that works for you.
If you're interested, watch our official Lexus UX 300e Car Review, head over to our YouTube channel for OSV Car Reviews and the latest motoring content. Alternatively, you can read our other written Car Reviews.
Fed up with looking for your next vehicle?
Need advice from an experienced Vehicle Specialist on what vehicle is right for you?
Book your FREE consultation now