Review Of The Ford Fiesta ST-Line
You'd think Ford would be satisfied by having the best-selling car in Britain on its books. The Fiesta can simply do no wrong it seems, but Ford isn't resting on its laurels and has introduced the Ford Fiesta 'ST-Line'. ST-Line offers the sporty, desirable image of the heralded 'ST' hot-hatch, but with better running costs and a little bit more comfort.
How does the Ford Fiesta ST-Line perform?
Of all the categories and aspects, we're going to look at, it is this one in which the Ford Fiesta ST-Line shines the brightest. There aren't many cars on the market that drive as well as a Ford Fiesta, but what makes it so special to drive?
The simplest explanation would point towards two significant features in which the Fiesta ST-Line truly excels – its agility and its feel. Agility in the speed of its steering and how it can adjust quickly in corners and through acceleration and braking. Our test car has the incredibly capable 1.0-litre 140PS 'Ecoboost' engine. A very impressive and powerful engine for its size that adds a certain elasticity to the driving experience. The feel aspect comes from the information you receive as the driver; the car does a remarkable job of communicating through the pedals, gearbox, steering wheel, and seat to provide you with an enormous amount of confidence. When you drive the Ford Fiesta, you really do feel a part of the car.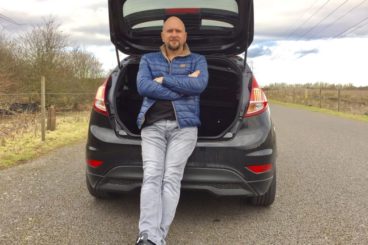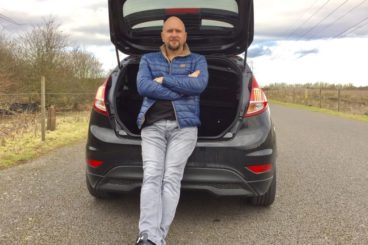 What about the more sensible side of things? Well, Ford says the 1.0-litre 140PS Ecoboost engine should be capable of 62mpg, so expect something between 45 and 55mpg. Emissions are stated at 104g/km of CO2, which is very low for a petrol-powered car, which will mean you have a lower first-year tax bill.
Ford Fiesta ST-Line interior, design & build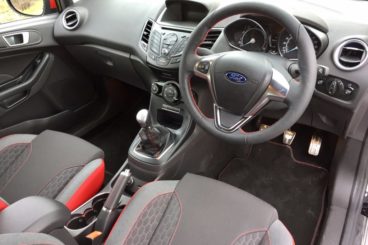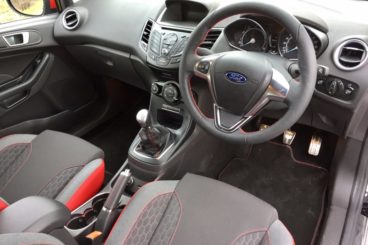 Let's focus on the design first, because the Ford Fiesta has managed to remain rather good-looking, despite having been around since 2008. It's stylish and really suits a sportier body kit too, so the ST-Line trim level with its lower suspension and dark alloy wheels suits it. The little ST-Line badges on the front wings are a classy touch, too. The current face of the Ford Fiesta with that Aston Martin-esque front grill has been around since 2013, but the rest of the motor is still mostly 2008, and inside it shows its age.
The current Ford Fiesta suffers from an ageing infotainment system and an abundance of buttons on the dashboard that make it feel very last decade. There's nothing to write home about there, but in the new 'ST-Line' trim, you do get some cool interior additions.
Sporty seats with red trim hold you firmly in place when cornering and are rather comfy, too. There's stainless steel pedals for that sporty feeling underfoot, plus the leather-trimmed steering wheel and gearstick from the Fiesta ST. The parts that you're going to be in and touching all the time are fine, but the quality of materials elsewhere in the cabin leave a lot to be desired. Luckily, the driving experience makes up for the overall lack of class inside.
The Ford Fiesta ST-Line specification
Small cars like the Ford Fiesta ST-Line aren't jam-packed with equipment but you do get the basics. Power steering, electric windows, and air-conditioning are present, as is the infotainment system. Heated seats, cruise control, and climate control are all optional extras, but none of them is that pricey, and we think you could probably get some thrown in as part of a deal.
There are also a couple of 'packs' that can be specified. The 'Convenience Pack' adds keyless entry and a start/stop button, puddle lights, and folding and heated door mirrors, while the 'City Pack' adds rear parking sensors in place of the keyless entry. Technology isn't the Fiesta's strong point, but it does at least have a decent load space available in the boot. There are 290-litres of space available with the rear seats up, and 974-litres with the rear seats folded down.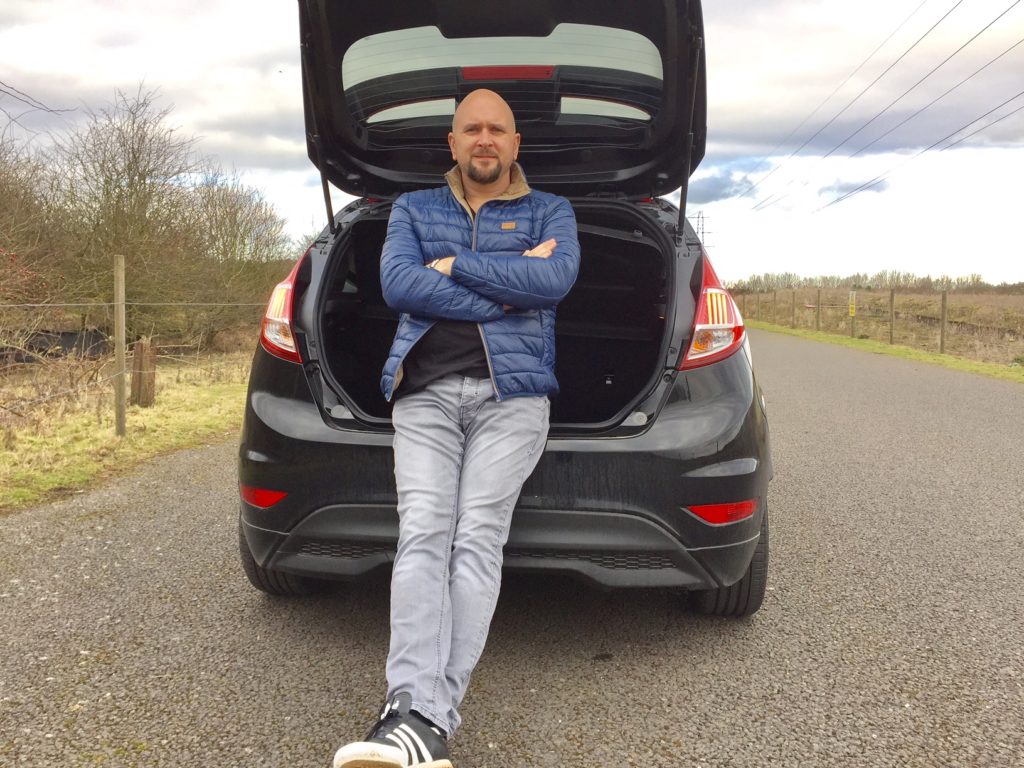 Ford Fiesta ST-Line: Cost, Pricing, and Leasing Rates
The Ford Fiesta ST-Line is a little more expensive than other Fiesta models in the range. It starts from £16,045 for the 1.0-litre Ecoboost engine tuned to give 100PS, with our 'Red Edition' 140PS version coming in £900 dearer. The extra 40PS is welcome, so it's worth considering paying more for.
Perhaps surprisingly, the Ford Fiesta ST-Line makes for a good company car. We managed to find some very good business lease deals out there for our Red Edition ST-Line, on average coming out at around £140 a month with six to nine months of deposit in advance.
There are deals out there to be had if you're a customer looking to get a personal lease, too. The very best deal we found came in at £135, undercutting the business user rate, a very rare event. However, most personal lease rates came in at around £170, though this still seems good value to us.
Pros and Cons Of The Ford Fiesta ST-Line
The Feel
Not many cars on sale today can provide this much driver feedback. The Ford Fiesta ST-Line talks to the driver in a way that is like most sports cars; you always feel confident in what is going on in the mechanical parts around you. It is a car you can drive to the limit and still feel assured.
The 1.0-litre Ecoboost Engine
It's very easy to see why this engine has won so many awards and tuned to 140PS, it's one of the best small petrol engines on the market. Fun fact: At 140PS the 1.0-litre Ecoboost engine produces more PS per litre than the Bugatti Veyron hypercar.
Sporty Styling
So, it's not as full-blooded as the ST hot-hatch, but the ST-Line at least looks sporty with its ST-inspired body kit, lower, stiffer suspension and dark exterior touches. Let's not forget those sporty touches inside the cockpit either. Overall, it looks cool.
Ageing Infotainment System
Technology moves so fast, it's no surprise that the Fiesta ST-Line's infotainment system looks and feels completely outdated. For some people, this isn't too much of a problem as, for them, it is all about driving, but for others, it could be a deal-breaker.
Interior quality
It's an ageing model, not just an elderly infotainment system, and the overall build quality and materials used don't exactly feel very 2017. It's all very dark and scratchy inside, but luckily the ST-Line touches save it from being a disappointment.  
Not much rear passenger space
The three-door layout of the Ford Fiesta ST doesn't overly lend itself to carrying adults in the back seats for long periods. They are alright to get in and out from, but head and knee room are only 'okay'. The rear seats are best used for short journeys only.
Ford Fiesta ST-Line vs Peugeot 208 GT-Line vs Audi A1 S-Line
This has all the makings of a classic supermini face-off. Ford has followed in the footsteps of Peugeot and Audi by offering a sporty trim with a selection of more efficient engines. As our Fiesta ST-Line is best served with the 140PS 1.0-litre petrol engine, that's what we'll be focusing on in our comparison test.
Ford Fiesta ST-Line vs Peugeot 208 GT-Line
Put the Peugeot 208 GT-Line alongside its more potent 'GTi' hot-hatch sibling, and you'd find it enormously difficult to tell the difference between the two of them. As looks go, the 208 is tame, it has the big alloy wheels but it's a more rounded, less aggressive styling job, though it's far from ugly.
It drives as you'd expect a car of this size to drive, it's nimble and fun but its 1.2-litre engine doesn't quite have the same sparkle as the Fiesta ST-Line's Ecoboost. The Peugeot only has 110PS, unless you pay a considerable amount more for the 1.6-litre with 165PS. If that's the case, though, maybe you should just buy the GTi. We can't say it has the same feel and fun factor that the Fiesta does either, even though it is still a fun car to drive. It's just that the Ford is up on another level when it comes to driving dynamics.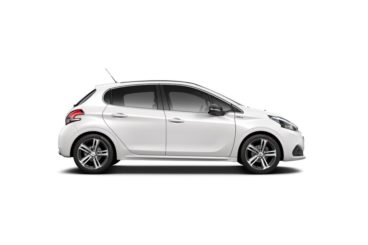 While you might have more fun with the Fiesta ST-Line, the little Peugeot is the car you'll want to live with on a daily basis. It's more comfortable; ever so slightly comfier and has a much fresher interior space. It's also available as a five-door version, making it easy for carrying friends and family, and with its rear seats folded down it has more space than the Ford, with1,076-litres available there. Still not spectacular, but at least you know on the rare occasions you need to carry something substantial, you've got that extra bit of room.
The Peugeot 208 GT-Line is a more modern and polished product than the Fiesta ST-Line, and if you're a driver who takes things a little easier and slower, it may well be more your cup of tea.
Prices:
Ford Focus ST-Line – £16,045 to £17,445
Peugeot 208 GT-Line – £17,600 to £19,050
Ford Fiesta ST-Line vs Audi A1 S-Line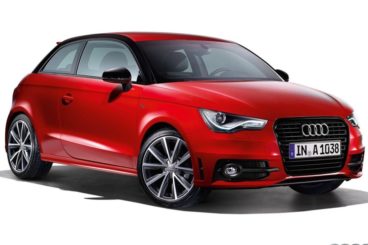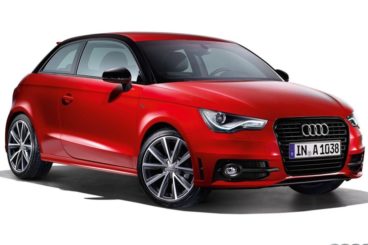 The Audi A1 S-Line is the type of supermini you choose if you prefer a fine wine to a cold beer – and don't mind paying the premium for it. While a cold beer is no less enjoyable than a fine wine, there is a difference in character – and that's pretty much what's going on here.
Audi has produced a supermini that has plenty of sophistication; it's a classy, refined product with the best interior in the segment. It's a polished overall package which might explain why it starts at over £3,000 more than the Ford – and that's before the options list has been thrust under your nose. It looks and feels more special than its rivals here, but it's questionable as to whether it's worth many thousands of pounds more.
The equivalent Audi A1 S-Line has a 1.4-litre petrol engine that produces 150PS, so it's got more power than the Fiesta ST-Line, and it does feel slightly more sprightly. But it misses the character that the little Ecoboost has. It is just as nimble as its rivals here and can change direction quickly and easily, so it's fun to drive in as well as out of town. There's also the option of the slick-shifting seven-speed automatic gearbox, though seven speeds feel like a couple too many in a small car.
So, the Audi A1 S-Line is fun, classy, stylish, and the most desirable car here. However, it's expensive and it isn't any better to drive than the Fiesta ST-line or the 208 GT-Line.
Prices:
Ford Fiesta ST-Line – £16,045 to £17,445
Audi A1 S-Line – £19,240 to £21,575
Verdict of the Ford Fiesta ST-Line
It is difficult to get past the fact that the Ford Fiesta feels very much like an old car inside now – and that's why Ford is bringing a new one out very shortly. However, it is immensely good fun to drive, more so than its competition here. Therefore, if you're the type of driver who likes to grab a car by the scruff of its neck and go out for a weekend blast, it's the only motor for you.
Peugeot's 208 GT-Line is a happy middle ground between the Ford and the Audi that doesn't really do anything better than either of them in terms of driving. But at least is an upgrade on the Ford's lacking interior space. Five doors are a bonus, too. In its most expensive forms, it gets dangerously close to Audi A1 money.
So, that leaves the Audi A1 S-Line, which is simply a car you should only consider if you're happy to spend a lot more money on a supermini. Let's not forget that it comes with an expensive options list.
The verdict is this – if you want to drive, buy the Ford. If you want to show off to your neighbours, buy the Audi. If you want to be comfortable, buy the Peugeot.
Interested?
You could be driving away with your new car in no time. Fill in your details below and one of our vehicle experts will be in touch within 48 hours to talk you through the leasing process.

Latest posts by Rachel Richardson
(see all)