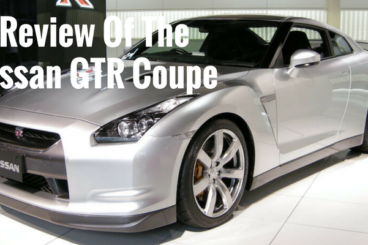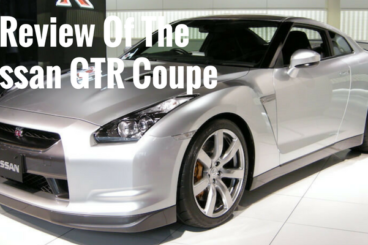 Looking for an objective review of the Nissan GTR Coupe? OSV has got you covered, from engines to lease deals.
The barnstorming new Nissan GTR Coupe is a car that will make you feel supersonic. Ferocious, confident and visually striking, it's a car capable of humbling even the sportiest Porsche.
For hardcore enthusiasts who want to chuck caution (and everything else) to the wind, this tornado with an engine is worth a look.
One of the quickest cars on earth, the new GTR feels as though it's been injected with rocket fuel. It might not be super car aristocracy, but if the thought of getting behind the wheel of a monstrous upstart that is here to challenge the status quo of super cars appeals to you, join OSV as we take a closer look at what the new car is all about with our 2017 Nissan GTR Coupe review.
Overview Of The Nissan GTR Coupe
What sells a car like this is not really salesman spiel – it's the amount of performance on offer, and how quickly it can scorch the tarmac. When the car landed on UK shores, its capabilities and potential quickly become mythologised, with rumours circulating on Internet forums about what this car really is capable of.
The numbers discussed suggest that it would be nothing short of phenomenal – a hell cat here to blaze a trail on the motorway, allowing enthusiasts to live out their teenage video game fantasies.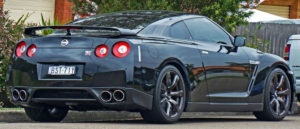 For once, the tasty rumours turned out not to be steeped in Gran Turismo legend – they were true. In fact, there are even parallels with video games, as the new GTR Coupe combines computer tech with its pure power to destroy any notion that everything we knew about physics was right.
The car is powered by a savage but compliant V6 3.8-litre twin turbo engine that sends its power to the wheels which happen to have the most grip at the time. It also adjusts its suspension on the fly, and is capable of braking each wheel individual when such a time and need arises. However, we suggest that you don't get too cocky, though, and always keep both your hands on the wheel, as unexpected bumps can easily throw this car off course.
The latest version of the GTR Coupe has an incredible 562bhp available. It can storm its way from a standstill to 62mph in 2.8 seconds, making it one of the fastest cars on the planet right now. Oxygen masks at the ready, as it's not unlikely that you'll lose your breath if you make the most of that power. The experience is electrifying, and you can keep going until 196mph.
That, however, will be reached in no time at all.
For even more power, you could opt for the Nismo version, which delivers up to 592bhp. It's enough to have you grinning like a very silly thing.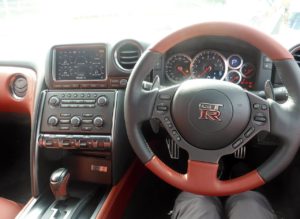 Nissan haven't given as much care to their super car's interior as the likes of BMW or Porsche have given to theirs. As such, the cabin is more functional than anything else. The dash now benefits from the inclusion of soft leather, while a new centre console comes with an infotainment system that handily limits the amount of buttons needed (there were too many last time around).
Overall, the interior lacks the kind of design flair that help its rivals in this market to stand out. Worse still, the GTR is uncomfortable. The suspension has been improved, and it is softer than last time around. But it's still firm, and you will judder whenever the car hits potholes. Still, the cabin is at least driver-focused – it's just that it isn't at all elegant or luxurious.
Surprisingly, the new GTR is quite a practical car. The boot measures 315-litres, which is more than anyone could realistically have expected. As such, the car makes for the perfect weekend getaway companion. Imagine pulling in at a prestigious golf course in this? Now you can, as there is more than enough room for your clubs.
It's not a spacious car by any means, but that isn't to say that you'll be uncomfortable. The cabin is designed in such a way that you'll feel snugly tucked away in your seats, with the small windows contributing to an enclosed atmosphere. The car comes with two rear seats, but they're suitable only for your kids or more luggage. A small glovebox and some slender door pockets make up the reasonable storage space.
Standard kit is good and includes a DAB digital radio, cruise control, and satellite navigation. The Nismo GTR model costs £150,000 but doesn't feel as luxurious as you might expect. It gets 20" black lightweight alloys, Alcantara on the dash and steering wheel, as well as carbon-fibre-backed seats as part of its standard kit.
It also gets an 8" touchscreen display which lets you check the condition of your car in an instant. The screen also displays a stopwatch and temperate readout, as well as g-force graphs that were designed by the guys behind Gran Turismo.
The list of optional extras is actually quite small, especially compared to rivals. Notable optional extras include 20" 6-spoke lightweight alloys, a more sophisticated suspension setup, and a carbon-fibre rear spoiler.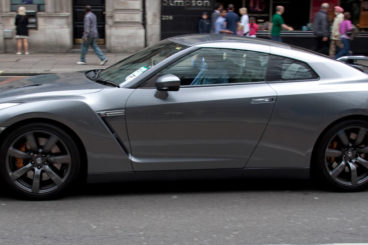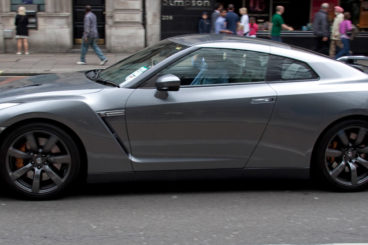 Costs Of The Nissan GTR Coupe
Prices for the new car start out from £80,000 and rise to as much as £92,000. If you prefer to lease, you can pick up a deal from as little as £1,200 + VAT per month. For more information about our Nissan GTR Coupe lease deals, click here.
As you probably expected, this is not going to be a cheap car to run, and we'd be surprised if anyone but an absolute saint achieves better fuel economy returns than 24mpg. It's likely that your average returns will be in the mid-to-high teens,. Your annual tax bill won't be too bad at all if you can get it registered before April, though – £140 isn't to be sniffed at.
Insurance will scorch a hole in your pocket, with the GTR sitting in group 50 – the highest instance group possible. This means it'll cost you as much to insure as the Ferrari 488 GTB.
Pros and Cons Of The Nissan GTR Coupe
Monumental Performance On Tap
It might not be as engaging or as fluid as some of its rivals, but this hellcat offers an incredible amount of pace and power.
Lots of Grip
You're going to need a lot of grip from a maniac like this if you want to be able to tackle comers with gusto and confidence. Despite its sheer size, it's got a remarkable amount, which makes you feel nice and secure.
Four Seats
It's unusual for a sports car like this to have four seats. Bonus.
Interior Feels Cheap
It's not exactly an interior becoming of such a pricy car.
Not Good At Low Speeds
The GTR Coupe is at its best when it's rampaging down a race track. When sauntering through urban sprawls, it's a lot less impressive.
Nissan GTR Coupe vs Porsche 911 4 Coupe vs Jaguar F Type 5.0 Coupe Supercharged V8 R
Let's see how the car gets on against its rivals in the comparison section of our 2017 Nissan GTR Coupe review.
Nissan GTR Coupe vs Porsche 911 4 Coupe
Porsche disappointed enthusiasts when their sports cars made the switch to turbochargers. But has it really had a dampening effect on the way these babies drive?
In a word – No. The 911 4 Coupe is just as exciting a prospect as it's ever been, if not more so. The 911 itself is a real icon, and anyone who thought that Porsche would kill their darling was surely having a laugh. It was never going to happen.
The car is powered by a 3.0-litre twin-turbocharged petrol engine that's available in either 365 of 414bhp guise. It can gun you from a standstill to 62mph in 4.6 seconds if you stick to the standard version, and 4.3 if you opt for the 4 variety.
Porsche's Active Stability Management system is standard, and this is a good thing. The system firms up or softens your suspension, according to your mood and the conditions. Its softest settings are ideal for those lazy sundays when you just want to crawl along the motorway, while it's firmer settings are perfect for when you're in the mood for rampaging up and down a race track.
One of the biggest benefits of turbochargers is that they bring down emissions. This is good news for the environment, but it's also great news for buyers. The 911 4 Coupe is therefore cheaper to run than the Nissan, and can average fuel economy returns that hover around the 33mpg mark.
Inside, refinement is good. Take the car for a cruise, and it'll feel as smooth and quiet as a premium saloon. Ride quality is good, something which is helped by the standard adaptive dampers. The cabin features the five-dial layout that 911 fans will already be familiar with, build quality is stellar, and the materials used are all of a high quality. Like in the Nissan, you sit down low, and all the controls are within easy reach.
Unlike the Nissan, the Porsche comes with two rear seats. However, they're really only big enough for kids. If you have children, they'll certainly jump at the chance to go for a spin. The cabin is on the whole spacious and accommodating, and the cars small dimensions mean that parking is easy. The windows are big, which creates an airy cabin, but a rear wiper does not come as standard.
Storage space is good and includes a reasonably sized glove box and a pair of cup holders that are hidden from sight. The door bins could be bigger, while the 145-litre boot is way smaller than the Nissan's.
Price:
Nissan – £80,000 – £92,000
Porsche – £76,500 – £145,800
Nissan GTR Coupe vs Jaguar F Type 5.0 Coupe Supercharged V8 R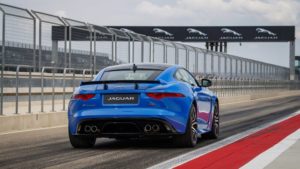 The new Jaguar F Type 5.0 Coupe Supercharged V8 R is an ostentatious super car that's stylish, performative and ideal for enthusiasts.
The coupe version of the legendary F Type has the edge over the convertible version because it comes with a fixed roof. This stiffens up the suspension, and makes it easier for you to take on bends with speed. The steering is precise, and the 8-speed automatic transmission is smooth.
The V8 R is one of four models in the F Type's range. There is plenty of grip on offer, but the car doesn't come with the four wheel drive system as standard that the top of the range model gets. 4WD is a neat feature that here sends up to 30% of the power to your front wheels. That percentage is increased if the car senses that the rear tyres are losing more grip. It's available as an extra if you want it.
This supercharged V8 R model precedes the range-topping SVR model, and sits third in the range. Its engine delivers a lung-busting 535bhp, and can get you from a standstill to 62mph in just over 4 seconds, before maxing out at 186mph. As expected, fuel consumption is nothing to write home about, and the V8 engine can achieve returns of up to 26mpg – but only if you drive it sensibly.
Road tax for the first year will set you back £885, and £500 annual from then on.
The interior is of a high quality, and it's made better by the fact that it's so comfortable. The ride is firm but surprisingly soothe, too. The V8 R gets adaptive dampers as standard, which helps to iron out lumps and bumps in Britain's worst roads.
Surprisingly, though, despite the high quality of the materials used, the cabin is a rather bland affair – especially in comparison with the exciting exterior. Leather seats bring up the quality, but the design is on the whole remarkably conservative.
This is a sports car that's about as practical as you expect. It's smaller than its predecessor, but Jaguar have made sure to waste as little space as possible. The drivers seat and steering wheel offer lots of adjustability, the boot measures an impressive 407-litres, while storage spaces are hit and miss. The glove box is big but the door bins are pointless.
Price:
Jaguar – £87,000
Verdict Of Our 2017 Nissan GTR Coupe Review
Nissan is a bit of an oddity in the automotive world, a company known just as much for their family friendly hatchbacks as they are for their jacked-up super cars.
The new GTR Coupe needs to play to its strengths if it's to outdo its rivals, and its biggest strengths are its whirlwind performance, grip and powerful chassis. It's also a rarity in the sense that you won't find many four-wheel-drive, front-engined coupes that have four seats.
Interior quality is not up to scratch, but if you fancy a super car that's a bit different but still blazes one heck of a trail, the savage new Nissan GTR Coupe might just be for you.
Want to learn more? Click below to view the review for the competitors in this article…
Looking for a price?
You could be driving away with your new car in no time. Fill in your details below and one of our vehicle experts will be in touch within one working day.

Latest posts by Will Titterington
(see all)