Massive Review Of The Toyota Verso
The new Toyota Verso is an MPV that offsets its relatively high purchase price with family-friendly running costs. It's practical, reliable and well-built. In many ways, it's the essential car for modern families in 2017.
The ability to fit seven people is one of this cars strengths. It's not the best looking MPV on the market, but it's usable and thoroughly accomplished and won't give you any hassle as you carry out your chores on a full or light load.
OSV takes a closer look at what it's all about with our Toyota Verso review.
Review Of The Toyota Verso
On The Road
You'll be able to get out and about in the Verso without any hassle at all, but you'll also have to settle for an underwhelming driving experience. No one, however, expects such a roomy MPV as this to deliver an outstanding drive. Instead, it's predictable and safe, but also assured.
The suspension setup is fairly stiff, which means the body won't sway too much as you put together a string of bends. It's still comfortable though, with Toyota doing a good job at finding the sweet spot between dynamic ability and comfort.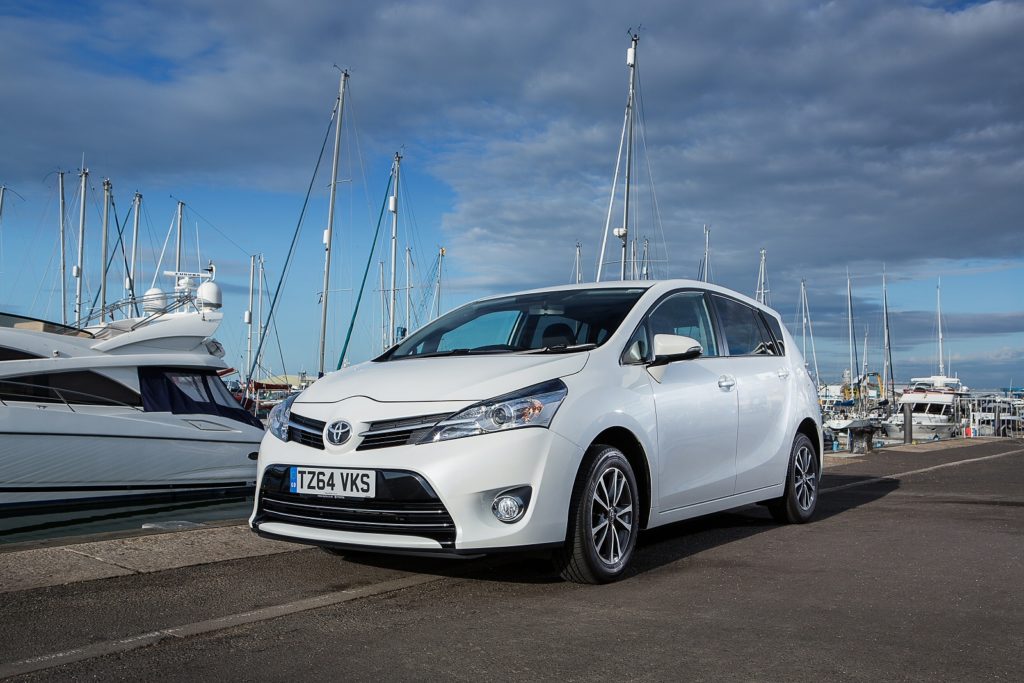 The steering lacks feel and at higher speeds its lightness doesn't do much for your nerves. Compared to the Ford C-MAX, the Verso's steering is very disengaging. It is, however, easy to drive in the city, where the good visibility will prove invaluable.
For the Toyota Verso diesel, there is only one unit available and it feels a bit old-school – though we wouldn't argue that that's necessarily a bad thing. It comes with a turbo that takes a little while to get the sleep out of its eyes and at lower revs the engine is guilty of running out of steam too quickly. It comes paired with a six-speed gearbox which is accurate enough and is our pick of the engines.
You've got a further choice between two petrol engines, starting with a 1.8-litre unit that is mated to a performance-sapping automatic transmission which slows it down. The other petrol engine is a 1.6-litre power plant that is a solid performer that responds well to harder revs. The caveat is that, the harder you rev it, the higher the running costs will be.
Interior, Design & Build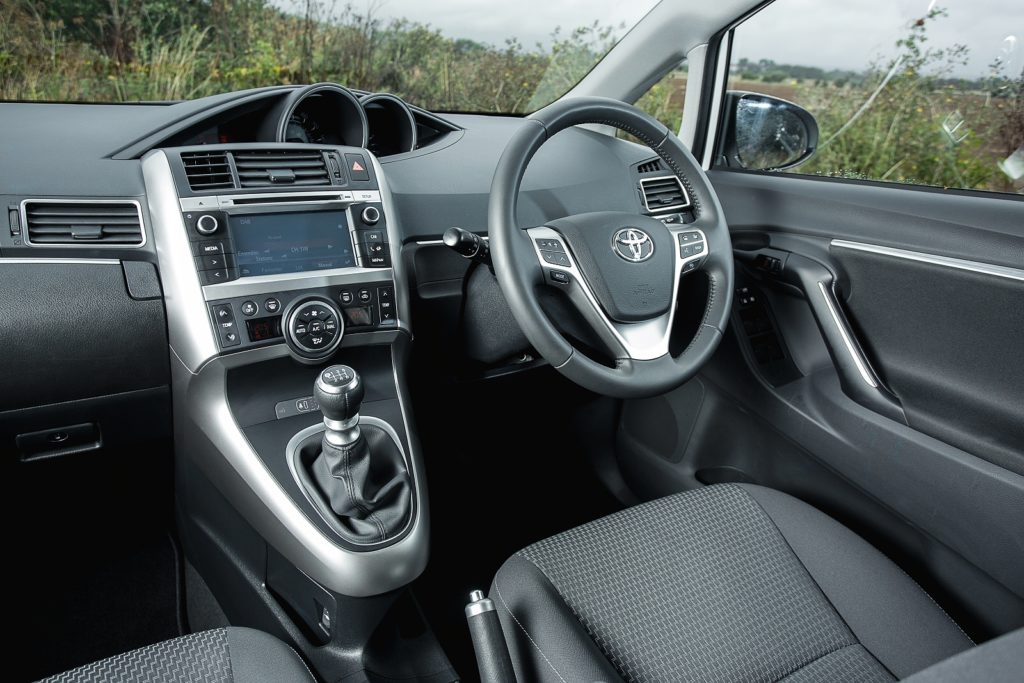 Toyota wanted to make the Verso as easy to live with as possible. To this end, the steering wheel and seats have lots of adjustment, while the dash sports a minimal design, with the buttons easy to find and use.
We like the position of the gearstick – it is high up on the dash, which makes for ease of use.
The interior, on the whole, is well put together, but the trims are not as upmarket as some rivals, including the C-MAX. It is, however, well built and should be able to cope with everything that seven people can chuck at it.On that note, although there are seven seats, only five are for adults – the third row is strictly for kids. As such, Toyota have not designed a luxurious cabin but instead, have made something durable enough to deal with kids. It's also worth mentioning that the entry level model doesn't come with the extra two seats as standard. If you have no use for them, you can flatten them to increase boot capacity when they're not in use. You might find that you want to do this regularly, as with all seven seats up the boot can only provide a minuscule 155-litres of space.
There are lots of storage spaces in here, including a couple of door pockets, some useful cup holders and a pair of glove boxes (which are actually quite small).
Equipment & Safety
There are three trim levels to choose from:
Standard equipment is good across the range. The Active model gets air conditioning, a 4-speaker radio and CD player, as well as daytime running lights. The Icon adds rear door sunshades, a rear parking camera, dual-zone climate control, automatic wipers and a DAB digital radio. Opt for the Design trim and you get treated to semi-leather upholstery, Toyota Touch 2 and a panoramic glass roof that makes the cabin feel airier – great for when you're on a full load!
The list of optional extras is slender. We recommend the £550 panoramic glass roof, but the £650 satellite navigation seems superfluous.[vc_single_image image="50880″ img_size="article-image"]
Costs Of The Toyota Verso
Prices for the new car start out from around £18,500 and rise to £25,750. If you want to lease the Verso you can find more information on our leasing deals here.
In terms of running costs, the Toyota Verso diesel fares particularly well. The cheapest engine in the range is the 1.6-litre diesel unit that can achieve average fuel economy returns of 62.8mpg while emitting just 119g/km of CO2 – quite impressive for such a large car, but still not class-leading.
The 1.6-litre petrol engine can't do better than 42.8mpg and emits 150g/km of CO2. While the 1.8-litre petrol unit is the most expensive of all to run and can only average fuel economy returns of 43.5mpg.
The car has strong resale values and is expected to hold onto more of its value over three years than many of its rivals. It's fairly cheap to insure too, with the range-topping model occupying lowly insurance group 15. There is a five-year warranty included, which is attractive.
Pros and Cons Of The Toyota Verso
Pros:
Cons:
Great Seating System
The Verso's seating system is excellent and there are thirty-two possible configurations in total. This is great for getting comfortable and increasing or decreasing boot capacity.
Efficient Toyota Verso Diesel
The diesels are super cheap to run and will save families a lot of money in the long term.
Durable
Seven-seaters need to be durable if they're to cope with everything a family can throw at it and the Verso definitely is. It's reliable and won't let you down in this area. Limited Passenger Space
This is not a large seven-seater and there are rivals that can offer more interior space. Its compact dimensions do mean that it's easy to drive.
Feels A Bit Dated
It's not a plush car by any means. The exterior was given a facelift as recently as 2013 but still, manages to look aged. Interior changes are few and far between and Toyota hasn't made an effort to give it an upmarket feel.
Toyota Verso vs Volkswagen Touran vs Ford S-Max
Let's see how the car measures up against its rivals in the comparison section of our Toyota Verso review.
Toyota Verso vs Volkswagen Touran
The new Volkswagen Touran lacks excitement, but it more than makes up for it in practicality.
It's easy to drive, which scores it a lot of points right off the bat. On the motorway, it gets a bit noisy, but it's the perfect companion when you're just pottering around the town. It's also lighter than last time around, which helps with manoeuvring.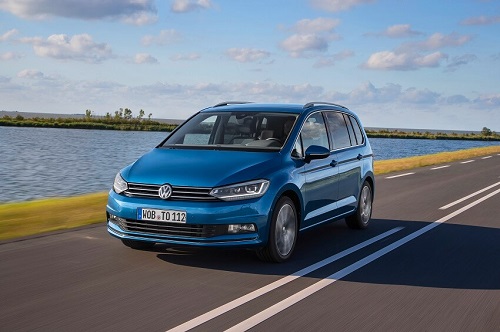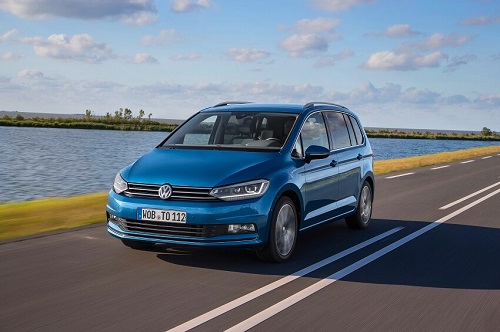 There is a wide range of petrol and diesel engines to take your pick from. Thanks to the addition of turbochargers, the petrols are now just as much of a viable choice as the diesels.
The petrol range kick-off with a 1.2-litre TSI unit that delivers up to 108bhp, but we prefer the 1.4-litre TSI 148bhp unit. It can be paired up with either an automatic or manual transmission and is both economical and well performing.
There are three diesel engines to choose from, starting with an 113bhp 1.6-litre unit that should be good enough for most people. The 2.0-litre engine comes in two power guises, with the 187bhp having enough power to comfortably get a Touran on a full load from A to B – and beyond.
The Touran is around 19% more efficient than last time, but being a seven-seater means it's not so efficient that it's exempt from road tax. The cheapest model in the range is the 1.6-litre TDI DSG, which averages fuel economy returns of 65.7mpg and costs £30 a year in road tax.
The Touran's interior is a classy affair and can now match the exterior in terms of maturity. Each model comes with an easy to use infotainment system, while full smartphone connectivity is an option. The seats are comfortable, the dash is lightly coloured and well-built and the overall fit and finish of the cabin are excellent.
There is a generous amount of space inside the VW and we like the high roofline that, although might not be the most stylish, guarantees good headroom throughout. Like in the Verso, the 2016 Volkswagen Touran's third row of seats is really just for kids.
According to VW, there are a whopping 37 storage spaces in here, but you might still be looking for them all in 3 years' time as we only found 22. With all three seats, the Touran's boot measures 743-litres, which totally dwarves the Verso's.
Price:
Toyota – £18,500 – £27,750
VW – £22,200 – £31,500
Toyota Verso vs Ford S-MAX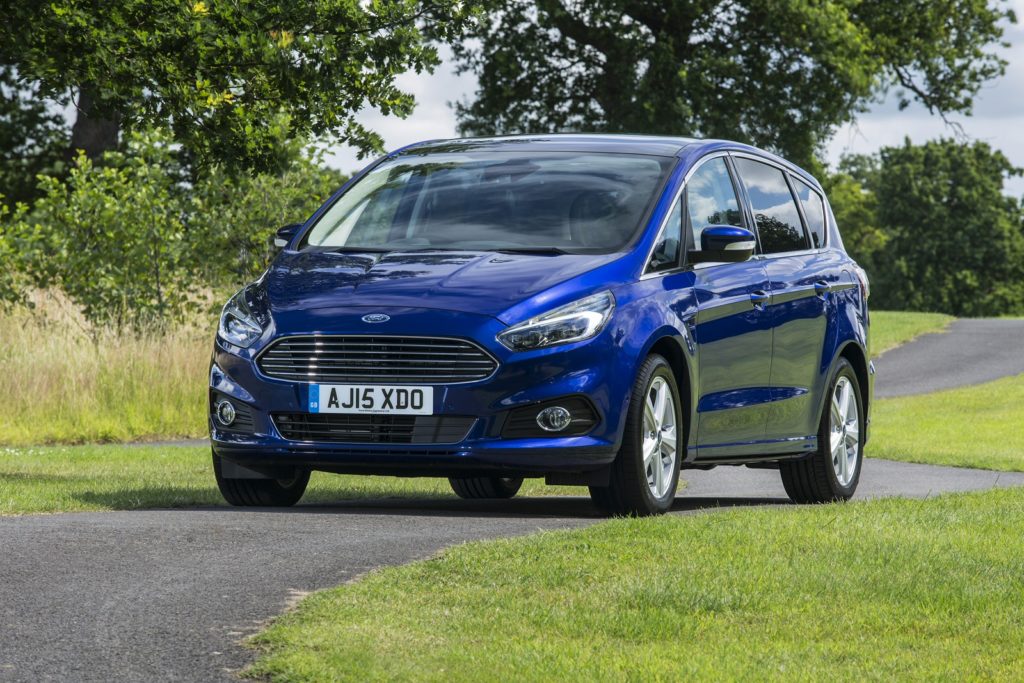 Like most Ford's, the S-MAX has a reputation for being excellent to drive. It's also comfortable and practical.
Once you get out on the road, you wouldn't think this was a large, seven-seat family car. It feels a lot smaller and handles almost as well as a top quality hatchback from Ford. It's at home in the city but feels just as good on the motorway, while it's also up for some fun in the country, too.The petrol range kicks off with a 1.5-litre EcoBoost unit that delivers up to 158bhp. You'll need to work it fairly hard if you want to make much progress but it's worth it. The 237bhp 2.0-litre petrol engine, meanwhile, fairly coughs and splutters if you work it too hard. It doesn't make a lot of sense if running costs are a priority, though it is quiet and smooth.
The 2.0-litre 148bhp diesel is the top pick, though. It's got plenty of shove for when you need it and makes overtaking on the motorway look a cinch. There is also a 178bhp variant, as well as an even more powerful 207bhp variant.
The Ford S-MAX is not the most economical car in this sector. Its cheapest engine to run is the 2.0-litre diesel (in all power guises) which is good for 56.5mpg. Road tax stands at £110, whether you opt for the 148, 178 or 207 bhp, version. As such, the 148bhp makes the most sense as it costs less to buy initially than any other engine.
The 2016 Ford S-MAX looks sporty from the outside and continues this trend indoors. Visibility is good thanks to an elevated driving position, while comfort is assured by some rather luxurious seats. The top of the range model is well appointed and comes with laminated side glass and leather lining. All models, however, are let-down by a cheap-looking glovebox and tacky door bins.
Still, Ford's interior is on the whole light, airy and refreshingly sporty. It's also practical and makes sense for young families. It comes with a third row of seats that are perfect for children and there is plenty of room for everyone's things. Five adults will be comfortable enough in the first two rows of seats, while the third row folds easily for more boot space, which, with all seats up, offers 285-litres of space. Fold the third row down and you get over 2,000-litres.
Price:
Ford – £25,000 – £36,300
Verdict of our Toyota Verso Review
In conclusion to our Toyota Verso review, this car makes a lot of sense for growing families. While the Ford S-MAX is the standout choice in this sector, the Verso is a solid alternative. It's reliable, durable and doesn't cost much to run.
Arguably what makes it stand out from the crowd is its super flexible seating arrangement. Add in an easy going driving experience and good standard kit and the Toyota Verso is a handy little number.[vc_separator color="custom" accent_color="#00625a"][vc_row css=".vc_custom_1473843164020{margin-bottom: 20px !important;}"]
Want to learn more? Click below to view the review for the competitors in this article…
[vc_column_inner width="1/3″ css=".vc_custom_1488817937612{margin-right: 10px !important;border-top-width: -10px !important;border-right-width: -10px !important;border-bottom-width: -10px !important;border-left-width: -10px !important;}"][vc_column_inner width="1/3″][vc_single_image image="50891″ img_size="medium" alignment="center" onclick="custom_link" img_link_target="_blank" link="https://www.osv.ltd.uk/volkswagen-touran-review/"]
[vc_single_image image="50881″ img_size="medium" alignment="center" onclick="custom_link" img_link_target="_blank" link="https://www.osv.ltd.uk/ford-s-max-vignale-review/"]
[vc_column_inner width="1/3″][vc_separator color="custom" accent_color="#00625a"]
Request a call back from one of our Vehicle Experts
JTNDY2VudGVyJTNFJTNDJTIxLS0lNUJpZiUyMGx0ZSUyMElFJTIwOCU1RCUzRSUwQSUzQ3NjcmlwdCUyMGNoYXJzZXQlM0QlMjJ1dGYtOCUyMiUyMHR5cGUlM0QlMjJ0ZXh0JTJGamF2YXNjcmlwdCUyMiUyMHNyYyUzRCUyMiUyRiUyRmpzLmhzZm9ybXMubmV0JTJGZm9ybXMlMkZ2Mi1sZWdhY3kuanMlMjIlM0UlM0MlMkZzY3JpcHQlM0UlMEElM0MlMjElNUJlbmRpZiU1RC0tJTNFJTBBJTNDc2NyaXB0JTIwY2hhcnNldCUzRCUyMnV0Zi04JTIyJTIwdHlwZSUzRCUyMnRleHQlMkZqYXZhc2NyaXB0JTIyJTIwc3JjJTNEJTIyJTJGJTJGanMuaHNmb3Jtcy5uZXQlMkZmb3JtcyUyRnYyLmpzJTIyJTNFJTNDJTJGc2NyaXB0JTNFJTBBJTNDc2NyaXB0JTNFJTBBJTIwJTIwaGJzcHQuZm9ybXMuY3JlYXRlJTI4JTdCJTIwJTBBJTIwJTIwJTIwJTIwcG9ydGFsSWQlM0ElMjAlMjcyMzgxNDkyJTI3JTJDJTBBJTIwJTIwJTIwJTIwZm9ybUlkJTNBJTIwJTI3MzFiMGMzNGItOTk5NC00ZDAyLTg3MTUtYTVhYzgzN2QwZmI3JTI3JTBBJTIwJTIwJTdEJTI5JTNCJTBBJTNDJTJGc2NyaXB0JTNFJTBBJTNDJTJGY2VudGVyJTNF[vc_separator color="custom" accent_color="#00625a"][vc_row full_width="stretch_row"][vc_column width="1/3″]