Looking for an objective review of the new Audi A4 Avant Estate? OSV have got you covered, from engines to lease deals.
The new Audi A4 Avant Estate is one of the most upmarket and stylish estate cars on the road right now. In fact, it's arguably one of the most upmarket estate cars there has yet been. It's got the typical Audi touch of luxury, and it can also boast a very usable interior.
The estate class is one that is rising in popularity, its rise coinciding with the slow demise of the saloon car. This A4 Avant is one of the most expensive ones available, and goes head to head with its big German rivals. If you want something a bit more affordable, check out our review on the new Ford Mondeo Estate.
OSV takes a closer look at what this premium offering is all about with our 2017 Audi A4 Estate review.
Overview Of The Audi A4 Avant Estate
The A4 is more comfortable than sporty, but that doesn't mean it isn't a pleasure to drive – it is. It's just that Audi have focused on comfort and refinement more than anything else. Precision steering and well-controlled body lean are the hallmarks of a good estate car, and this is what you have here.
Adaptive dampers are available as an optional extra, and they're worth adding because they will shore up the suspension so that comfort is assured even on Britain's worst roads.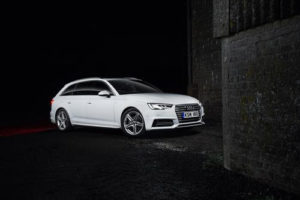 There are no complaints with the engines. All are armed with a reasonable amount of power, they're all relatively cheap to run, and they're all quiet and refined. Audi reckon the diesel engines will outsell the petrols, but we're confident this is only if most buyers will be putting in the miles. If you're a low mileage drive, the petrol engines are well worth a closer look.
They include a 1.4-litre and 2.0-litre unit that are both far more technologically advanced than petrols in this class were a few years back. The 2.0-litre engine comes in two power guises, with a 187bhp able to get you from rest to 62mph in 7.5 seconds, and a more powerful 249bhp variant able to do it in 6.0 seconds. This latter model comes with four-wheel-drive only.
A turbocharged 3.0-litre V6 engine tops off the petrol range. It delivers up to 349bhp, and can blast its way from 0-62 in 4.9 seconds before maxing out at 155mph. It's paired up with an 8-speed automatic stick, and sends its power to all 4 wheels.
The diesel range kicks off with a pair of 2.0-litre engines which are available in either 148 or 187bhp form. Both are solid engines that are capable of hauling along this weighty machine without a problem, but you can make them better or worse depending on which gearbox you go for. We prefer the seven-speed twin-clutch automatic 'box, as it's faster than the manual and also more responsive.
The 187bhp variant is stronger and there's no need to change gear as much. It's also smooth and refined, and is right at home on the motorway. A 3.0-litre V6 engine rounds off the diesel range, and is available in either 215 or 268bhp guise. The quickest it can get you from rest to 62mph is 5.4 seconds.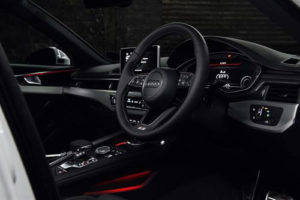 As this is an Audi, you expect the interior to be of a very high quality – and as expected, it doesn't let you down. The cabin looks very similar to the saloon's, and everything is gorgeously put together, with top quality materials making you feel very welcome. The controls are logically arranged and easy to use.
We like the design, too; it's unfussy and clean, and the brand's attention to detail is what makes this cabin and car stand out in the premium estate class. You use a 7" colour screen to control most of the functions, and this system is easy to get the hang of.
The A4 Hatchback is bigger than its premium German rivals, which gives it an edge when it comes to practicality. Room is excellent upfront, but there is really only room for two adults (or three kids) in the rear at best. The steering wheel and driver's seat offer plenty of adjustability, the back seats come with a pair of ISOFIX child-seat mounts, and the doors open wide enough to make access easy.
The boot measures 505-litres, which means it's far from class-leading. However, it's easy to flip the rear seats and increase that space to 1,510. The shape of the boot makes it super usable, and the low loading lip is just what you need.
There are three trim levels to choose from: SE, Sport and S Line. The car is reasonably well equipped, but we feel that there could be more standard kit. The base level model gets triple-zone climate control, a DAB digital radio, Bluetooth phone connectivity and cruise control as part of its standard kit, while the Sport model adds sat-nav, sports seats and a better ten-speaker stereo.
The S-Line completes the range nicely with part leather seats, 18" wheels and LED lighting.
There are plenty of items on the optional extras list, but not many that we recommend. The Virtual Cockpit represents money well spent, while adaptable dampers are a must.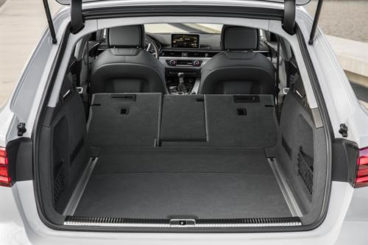 Costs Of The Audi A4 Avant Estate
Prices for the new car start out from £28,000 and rise to £40,880. For more information on our leasing deals, you can check out our page here.
The car scores excellently when it comes to low running costs. The 2.0-litre 148bhp diesel engine is the most frugal, and can achieve fuel economy returns of 70.6mpg while costing just £20 in road tax if you can get it registered before April gets here.
A 187bhp version of the same engine is good for returns of 68.8mpg, while the powerful 3.0-litre V6 diesel engine averages 53.3mpg. The most basic 1.4-litre petrol engine, meanwhile, is good for 51.4mpg and costs £130 a year in tax.
Pros and Cons Of The Audi A4 Avant Estate
Classy Interior
The cabin is gorgeously crafted, and doesn't look all that dissimilar to the one in the TT.
Restrained Image
There are similarities to previous models, but this time around it's a bit more sculpted. Its aesthetics are measured and make for a very smart-looking estate car.
Affordable To Run
Running costs are impressive, with the cheapest diesel engine capable of achieving fuel economy returns over 70mpg.
Not Massively Fun
Restrained looks go hand in hand with a restrained driving experience. It's well-mannered but far from class-best in terms of engagement.
Expensive Options
The list of optional extras are enticing and some are useful. But they're all pricey.
Audi A4 Avant vs BMW 3 Series Touring vs Skoda Octavia Estate
Let's see how the car measures up against its rivals in the comparison section of our 2017 Audi A4 Avant Estate review.
Audi A4 Avant vs BMW 3 Series Touring
The new BMW 3 Series Touring has bags of pedigree, coming as it does from the stylish and sporty 3 Series family. It's much more practical than its siblings, and – remarkably – even better looking.
The BMW 3 Series Touring is larger than the saloon from which it's derived. But despite a longer boot sticking out of its rear end, it still manages to be just as sharp as the saloon. Arguably, it's the best exec estate to drive, and that includes the A4 Avant. The steering isn't overly heavy or fussy, and you always get fair idea of how much grip you've got.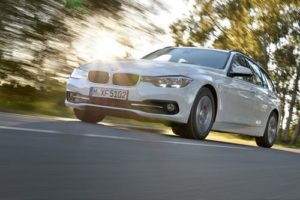 For extra grip, you can add xDrive four-wheel-drive.
The diesel engine range is strong, with each unit offering stellar performance. The 316dTouring kicks things off, but the 320d Touring is our top pick because it offers the best mix of power, pace, performance and economy. Indeed, it can average fuel economy returns of 65.7mpg, which is something to boast about. The 316d, meanwhile, returns fuel economy of 64.3mpg at best.
A 335d Touring xDrive tops the range. It's rapid and can get you from a standstill to 62mph in under 5 seconds, and can return fuel economy of 50mpg. Not bad at all.
The petrol engines are something else. Most of them are lightning quick, but also smooth and deliciously noisy. However, they do need you to rev them a lot. The entry level petrols lack a bit of punch and are worth overlooking, but step up to the mid-range power plants and there is a fairly appetising choice. Fuel consumption is reasonable too, with the 318i Touring able to average returns of 49.6mpg.
Despite its sharpness, the 3 Series Touring is also comfortable. The car comes with a choice of driving modes that let you tweak the suspension setup so that you're as comfy as possible over some poorer surfaces.
Inside, the dash is pleasing to look at and neatly arranged. As always with these sophisticated modern-day BMW's, the 3 Series Estate gets the brand's much-lauded iDrive infotainment control system, a system that is better than anything the Avant – or any other car in this sector – can offer.
This is also a practical car, despite its 495-litre boot being smaller than the A4 Avant's and a number of other cars in this market. You can fold down the rear seats to increase the space to 1,500-litres, which makes it big enough for pretty much everyone.
Interior space is more miss than hit, though. Like the Avant, only two adults can fit in the back – and even then at a pinch. There are, however, lots of storage spaces, while the two up front will be happy enough with the room on offer.
Price:
Audi – £28,000 – £41,000
BMW – £26,500 – £42,355
Audi A4 Avant vs Skoda Octavia Estate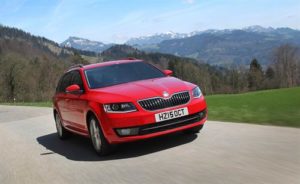 The new Skoda Octavia Estate is easily one of the best family cars around if it's practicality you want the most and represents a more affordable but equally classy choice to the Avant.
The Octavia might not be the most fun estate car to drive, and it doesn't mix driving pleasure with comfort as well as the BMW 3 Series Touring does. On the other hand, it offers plenty of grip, and a relaxing driving experience.
The petrol range opens with a small 1.0-litre TSI engine that, despite its size, is reasonably perforative. It does the 0-62 dash in 10.0 seconds and averages fuel economy returns of 62.8mpg. We prefer the 1.4-litre TSI petrol engine, which cuts the 0-62mph time down to 8.2 seconds, and is still good for average fuel economy returns of 55.4mpg.
The diesel engines are where you'll be casting your eyes if it's outstanding economy you want. The GreenLine III model is powered by a 1.6-litre diesel that can return 80.7mpg at best. Despite those headline figures, there is still a good amount of performance to be extracted from this engine. However, the 2.0-litre 148bhp diesel is a better all-rounder. It's not as cheap to run but will hardly break the bank, and can do the 0-62mph sprint in an impressive 8.5 seconds.
Skoda have crafted the Octavia's interior with a lot of love and care, and as a result the dash is super clear and easy to use. The interiors feel nice to touch, and although the overall quality can't match the Audi's, Skoda are getting there. Certainly at its price level, it's a cut above the likes of the Honda Civic and the Ford Focus.
The reason the Skoda Octavia Estate is so firm is so that it can cope with heavier loads. As such, its boot measures 610-litres, making it one of the biggest in this class. You can increase the space to 1,740-litres by folding down the rear seats, while a false floor will prove useful.
If you want to be able to fit five adults in your car instead of five, the Octavia lets you do that. Better still, no one will be complaining that they don't have enough space as you're all literally swathed in it. The only complain is the middle seated passenger will have limited feet space.
Price:
Skoda – £17,900 – £29,400
Verdict Of Our 2017 Audi A4 Avant Estate Review
This car has always been held in high regard. Well-mannered, safe and composed, it's in many ways the perfect estate car. It also looks classy without screaming "look at me," and has arguably the most beautiful interior in this sector.
Since the saloon car is a something of a dying breed, this is Audi's most sought-after Avant. Refined, good-looking and affordable to run, the new Audi A4 Avant Estate is one of the most evolved and desirable cars of its ilk.
Want to learn more? Click below to view the review for the competitors in this article…
Request a call back from one of our Vehicle Experts

Latest posts by Will Titterington
(see all)