Review Of The Mercedes-Benz SL AMG Convertible
Put on your Sunday best and gear up for a carefree ride under blue skies. The new Mercedes-Benz SL AMG Convertible is the powerhouse version of the sleek SL cabriolet. You don't get a massive amount of extra pace – what you're paying for is the improved way it feels, handles and sounds.
Looking like the classic original from the fifties, this sixth-generation variant has been designed by Mercedes for those lazy Sunday afternoons when you want to soak up the vibes with the roof down. Its engines have been toughened up this time around, which means the car is more relaxing than ever.
And when you're in the mood to put your foot down and have a bit more fun, it will comply.
OSV takes a closer look at what it's all about with our 2017 Mercedes-Benz SL AMG Convertible review.
As mentioned above, the SL AMG Convertible doesn't offer a massive amount of pace over the standard SL models. The smaller standard SL400 variant can do 0-62 in around 4.3 seconds, while the SL63 AMG Convertible does it in 4.1 seconds. Both engines max out at 155mph.
Meanwhile, the SL65 AMG model does the same dash in 4.0 seconds exactly.
That's still quick, and there is a high dosage of power available from its V12 engine. But some buyers might be a bit miffed that it does 0-62 in only three-tenths of a second faster than a much less expensive model.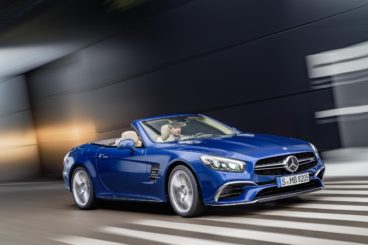 On paper, there isn't a lot to pick between all SL models – except, of course, lots of £££s.
The justification for that price (£175,000) is the sheer amount of torque and power available. With 577bhp in its armory, as well as 900Nm, the SL63 AMG is a powerhouse.
The SL65 AMG adds even more might, and develops a staggering 621bhp and 1,000Nm.
For a slick, "relaxing" convertible, those numbers border on the insane. We shudder to think what would happen if you took it to an earthquake hotspot.
However, it's not just sheer, headline-grabbing, "my dad's bigger than your dad"'s power you're paying the extra cash for. You're also paying for the flexibility that the power gives the car. It makes it so much easier to cruise on the motorway, and engages you in the experience a whole lot more than the standard SL.
With the roof down, it's an achingly pleasant experience. You can sail down the motorway or weave through winding country lanes under azure skies without a care in the world. It's that kind of car – a car made for Sunday drives.
Mercedes-Benz SL AMG Convertible Interior, Design & Build
What distinguishes the AMG models from the standard SL Convertibles more than anything else is how much more comfortable they are. You get to choose between sports suspension or Active Body Control. Given a choice? We'd go for the latter, as the sports suspension is going to be too firm for most buyers who want to chill.
There are just the two seats inside, with Mercedes putting the focus very much on making this a real driver's car. Both seats are supremely comfortable and supportive, and insulation is fantastic. Even with the roof down, you'll barely hear a peep out of the engine. Wind noise is also well suppressed, thanks to good buffeting.
The cabin is alive with a sense of occasion. There are examples of fine leather here and metal trim there, as well as plenty of in-car technology. Apple CarPlay is standard, as is the brand's COMAND online infotainment system. However, it's a shame that Mercedes decided not to let you control this with their brand new mouse-like controller. Instead, you have to settle for their dated swivel wheel.
It's a minor complaint, however. On the outside, the car looks smoother than last time but, despite now entering its sixth generation, retains traces of the original. As such, it still looks like a classic roadster, thanks to the small cabin and long bonnet.
It's not super practical, of course. There are just the two seats inside the cabin, but both the driver and passenger get plenty of leg room. The boot measures 350-litres with the roof down, while the roof itself takes just twenty seconds to come down.
Equipment & Safety Of The Mercedes-Benz SL AMG Convertible
The AMG models are super expensive, but you get a lot of luxury included in the price. Active Body Control and Magic Body Sky are goodies the standard model misses out on, as is Apple CarPlay. You also benefit from an AMG body kit, a sports exhaust, and AMG suspension.
Euro NCAP hasn't crash tested it, and most likely won't. But collision prevention warning and lane-keeping assist are among its standard safety kit.
Costs Of The Mercedes-Benz SL AMG Convertible
Prices for the new car go as high as £175,900. If you want to lease the car, you can pick up a deal from around £899 + VAT per month for the GLE AMG 43 model. For more information on our leasing deals, you can check out our page here.
In terms of its running costs, the sheer power on offer from this car should have given you a strong clue that it won't be remotely cheap to run. The less powerful SL63 AMG has a claimed economy of 28mpg, while Mercedes claim their flagship SL65 AMG model can return 23.7mpg. These are optimistic figures, however, and we'd take them with a pinch of salt.
What's not up for debate is how much road tax you'll be paying – £500 a year for the SL63 AMG and £515 a year for the SL 65 AMG.
Pros and Cons Of The Mercedes-Benz SL AMG Convertible
A Status Symbol
The new car symbolises prestige, power and wealth.
Fast But Chilled
It's both an angel and a devil, the SL AMG Convertible presenting the best of both worlds. It can do 0-62 in 4.1 seconds, but can also cruise on a lazy Sunday afternoon.
Well Equipped
From sports exhausts to Active Body Control and a wealth of safety kit, the new convertible is well stocked up with goodies.
Expensive
Prices reach the sky at £175,000, while running costs are also high.
Looks Won't Be To Everyone's Taste
It still retains style cues from the original model and will look too unremarkable for some buyers.
Mercedes-Benz SL AMG Convertible vs BMW M6 Convertible vs Jaguar F-Type Convertible
Let's take a look at how the car measures up against its rivals in the comparison section of our Mercedes-Benz SL AMG Convertible review.
Mercedes-Benz SL AMG Convertible vs BMW M6 Convertible
The new BMW M6 Convertible is another member of the £100,000 club. Strikingly designed and hugely powerful, it's a monster of a car that's a strong rival to the Mercedes.
Sharing its engine with the BMW M5 Saloon means a gigantic twin-turbo 4.4-litre V8 petrol engine sits under the bonnet, ready and waiting for you to give it the go-ahead to roar into action. It develops a titanic 560bhp, does 0-62 in 4.0 seconds and feels even faster.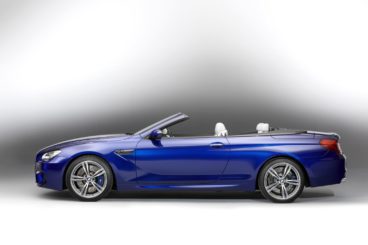 Unlike the rest of the 6 Series, it's paired up with a 7-speed transmission that's not quite as smooth as the standard eight-speed auto. But while the M6 Convertible diverts its power to the back wheels, there is always a reassuring amount of grip.
The suspension has been stiffened to prevent roll, and you can tweak the traction control, throttle response, steering, suspension and gearbox until you get the feel you want. However you tweak the settings, though, this will never be an out-and-out sports car. It's just too heavy.
In terms of running costs, BMW has added some tech to keep economy decent. Turbochargers, variable valve timing, direct fuel injection and stop-start all help the BMW M6 Convertible return a reasonable 27.4mpg. However, this is the official number only. If you decide to scorch the tarmac, that number will dwindle.
Road tax, meanwhile, is £490 a year.
Despite not being a true sports car, the M6 comes with exclusive sports seats that are designed to hold you all in place. Their upholstery is Merino leather, which is super soft and comfortable.
With the roof up, we have no problems with insulation. Indeed, the cabin is almost as hushed as the 6 Series Coupe.
It's a fairly practical car. There is enough room in the rear for two adults, and the boot measures a respectable 3500-litres with the roof up. Take the roof down, and within nineteen seconds you'll have a breeze on your face and a 300-litre boot. If the rear seats are unoccupied, you can use them as extra luggage space.
Our only issue on the practicality front is that the sheer size and long bonnet will make parking tricky.
Price:
Mercedes – £175,900
BMW – £100,500
Mercedes-Benz SL AMG Convertible vs Jaguar F-Type Convertible
The new Jaguar F-Type Convertible is an uncompromising, four-wheel drive, two-seater cabriolet that's a heap of fun to drive and even more fun to look at.
Though prices start out from just £55,400, for the purpose of this review we're focusing on the range-topping 5.0-litre V8 petrol engine. It's a game-changer of an engine that transforms the already exciting F-Type into a different animal altogether. Add a smidgen more power and it'd be a full-fat super car.
As it is, the 5.0-litre V8 power plant develops as much as 535bhp, and can dust off 0-62mph in 4.0 seconds flat. You can get it with either four or real-wheel drive and it comes with a sports exhaust, sports suspension and adaptive dampers as standard.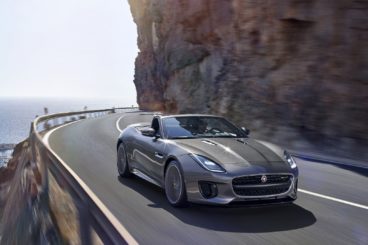 It's a pleasure to drive. It's heavier than the standard models, but it's still sharp as a tack. Its steering is precise and well-weighted, and there is an impressive amount of grip on offer. You can gun your way down a winding country lane with every confidence that the car has got your back.
We recommend the four-wheel-drive version, as it comes with a cleverer drive train. This drive train diverts as much as 30% of your power to the front wheels, increasing it only if the rear tyres lose grip.
Running costs? Look away now.
Okay, assuming you're looking through the gaps in your fingers, the Jaguar F-Type Convertible V8 returns 25mpg according to the brand. If you drive it the way it wants you to drive it, don't expect to return anywhere near that.
Road tax, meanwhile, is pegged at £140 for all models plus a £310 surcharge for the more expensive ones – such as this beast. As such, you'll be paying £450 a year.
The adaptive dampers improve comfort on the road, something the gorgeous interior as a whole compliments. Despite being such a sporty looking thing on the outside, inside it's bespoke and exquisitely put together.
The swooping design of the dashboard is easy on the eye, the materials used are all of a high quality, and we reckon buyers will love the supportive leather seats.
As mentioned, this is a two-seater, so it can only claim to be as practical as you expect a two-seater convertible to be. So how practical is that, then? Not very.
That said, there are positives. Both seats are widely adjustable, as is the steering wheel. The low seat height reduces visibility but creates a racy atmosphere, and a reversing camera is standard.
A wind deflector is also a bonus for when the roof is down, while the roof is fully electric and can be operated at up to 30mph. The boot, however, is super small and measures just 200-litres.
Price:
Jaguar – £110,000
Verdict Of Our 2017 Mercedes-Benz SL AMG Convertible
The SL has been around for over half a century – an amazing feat in an otherwise fickle sector. It's stood the test of time well, and is now primed to continue matching its rivals with this, its sixth generation variant.
It's at the top of its game, barely rivalled in some areas and totally dominant in others. Fast, powerful and luxurious, it's a muscular cabriolet that blends sports car performance with executive relaxation. The new Mercedes-Benz SL AMG Convertible is pricey, but ever worth it.

Latest posts by Will Titterington
(see all)