Review Of The Mitsubishi Mirage Hatchback
The new Mitsubishi Mirage Hatchback is a compact city car that's affordable to run, stuffed with standard kit, and boasts comfy seats and a good amount of interior space.
Value for money is the phrase of the day here, just as it is in the supermini sector in general. The Mirage doesn't cost anything to tax, and emits under 100g/km of CO2 – ideal for the green-minded among you.
However, it faces stiff competition in a market brimming with fun-loving, trendy small city cars. OSV takes a closer look at what it's all about with our 2017 Mitsubishi Mirage Hatchback review.
The Mirage doesn't weigh much and it isn't very big. As such, you'd expect it to deliver keen performance and nifty handling.
Unfortunately, it disappoints on both counts and is far from being the most fun-to-drive car in this class. The steering is unresponsive and lifeless, with the car lurching from bend to bend like a panting dog.
And while you expect a small car like this to struggle for breath on long motorway jaunts, you expect more from it in the city. However, all the engines feel underwhelming. In the country, there is too much lean, and on the motorway the car feels underpowered.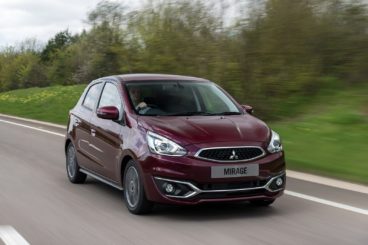 There are no diesels available, which means your choice is limited to a pair of petrol engines. The 1.0-litre unit powers the entry-level variant. It delivers a modest 70bhp, and can do 0-62 in 13.6 seconds before maxing out at 107mph.
The 1.2-litre petrol engine is arguably more appealing, and will be the best-seller. You can get it with 79bhp, and that extra powers helps it to complete the 0-62 dash in 11.7 seconds before maxing out at 112mph.
So while the Mitsubishi Mirage Hatchback can't rival its competitors when it comes to out and out fun, its range-topping petrol engine is a match in terms of performance.
Both engines are fitted with a 5-speed manual 'box as standard, but the 1.2-litre engine can be paired up with a CVT automatic gearbox if you prefer.
Both engines also need to be worked hard to get the best out of them, especially on the motorway. However, they're willing enough. They do get noisy, though, but wouldn't say it's an altogether unpleasant growl.
Mitsubishi Mirage Hatchback Interior, Design & Build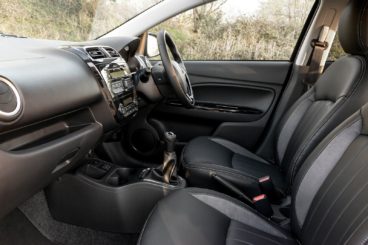 Mitsubishi didn't make this car specifically for the British market. As a result, its suspension hasn't been modified to deal with our broken and battered roads. Its super soft suspension cushions you nicely on smoother surfaces, but it does come undone somewhat on bumpier roads. The front seats enhance comfort, although it's a shame that the rear seats lack as much support.
The interior itself is not especially exciting, and the grey dashboard is a rather sombre affair on the whole. However, a piano-black centre console lifts the atmosphere a tad and it feels dated.
Everything is logically arranged, too, while the steering wheel and driver's seat offer plenty of adjustability. Moreover, we like how light the clutch pedal is. It certainly proves a godsend in traffic.
The plastics are a bit drab, but it would be unfair to expect much more from a budget car. Overall, the trim is more functional than inspiring, while the thin carpet might soon show signs of wear and tear. Again, it's largely to be expected from a car at this price point. That said, rivals are using more quality materials.
In terms of how practical it is, interior space is decent. Legroom in the rear is bearable, but headroom will be an issue for taller passengers. That's typical of all supermini's, however.
There are a good amount of storage spaces dotted around here and there, including decent-sized door bins, pockets and cubbies. A cup-holder, meanwhile, is positively massive.
The boot measures 235-litres, which is competitive. You can fold the rear seats to increase its size to 910-litres, which is again competitive. A high boot lip is a negative, though.
Equipment & Safety Of The Mitsubishi Mirage Hatchback
Standard kit is good across the range. The entry-level model gets keyless entry, air conditioning, rear parking sensors, all-round electric windows, alloys, heated front seats, cruise control, Bluetooth, a leather steering wheel, and a DAB radio.
That's a generous amount, and is more than rivals are offering. In terms of safety, the car scored 4/5 when crash tested by Euro NCAP. That's not too bad, but most of its rivals are scoring a clean sweep. It scored 90% for adult occupant protection, but the car misses out on a seatbelt reminder and a speed limiter.
Costs Of The Mitsubishi Mirage Hatchback
Prices for the new car start out from £12,175 and rise to £14,755. For more information on our leasing deals, check out our page here.
Running costs are one of its strongest points. The automatic 1.2-litre petrol engine averages 65.7mpg economy, and costs nothing to tax. The reason for this is undoubtedly its slight build combined with stop-start tech and low-friction tyres. The manual version of the same engine, meanwhile, can return 68.9mpg and also costs nothing to tax.
The 1.0-litre engine is even more economical, but it's so basic that it's harder to recommend. However, it will retain more of its value after three years of ownership, and costs less to buy outright.
Pros and Cons Of The Mitsubishi Mirage Hatchback
Affordable
Prices start out from just over £12,000, while both engines return over 65mpg.
Roomy
As far as supermini's go, the Mirage is about as roomy as they come. Taller adults will struggle, but most will be A-okay with the space on offer.
Well-Equipped
There is plenty of kit thrown in as standard, including heated seats, a leather steering wheel and alloys.
Cheap Cabin
The drab plastics don't help to create a pleasant atmosphere.
Unrefined
Refinement is an issue, and the Mirage is noisier than rivals on the motorway.
Mitsubishi Mirage Hatchback vs Smart ForFour vs Hyundai i20
Let's see how the car measures up against its rivals in the comparison section of our 2017 Mitsubishi Mirage Hatchback review.
Mitsubishi Mirage Hatchback vs Smart ForFour
The Mitsubishi Mirage has got a job on its hands if it's to deliver a knock-out blow to the toy-like Smart ForFour, a much-loved city car that's one of the most popular in this class.
In the city, the Smart ForFour is probably the most accomplished car there is. It was made for this habitat just like a fish was made for water. However, just like a fish flops about pathetically on land, the ForFour makes a meal of motorways. The steering is too light, and there isn't much grip.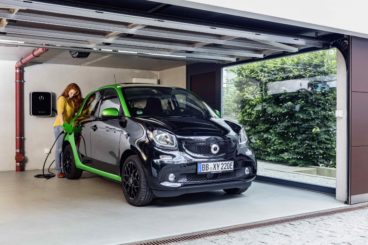 Still, most buyers will be using it to get to and from work, and this is where it proves super useful. It has a turning circle of 8.65m, which is insanely tight. Indeed, only a London black cab can really rival it. The new model also benefits from Direct Steer, which improves stability at higher speeds.
The ride is much comfier than previously, and the Smart ForFour now absorbs bumps and lumps like a pro.
In terms of the engines, there are no diesels so your choice is restricted to a pair of petrols. Not much separates them in terms of pricing, with the range-topping 0.9-litre model costing just £600 less than the 1.0-litre unit.
It seems odd that a range-topping model develops just 90bhp, but that's what we have here. It's nimble and sprightly, and can do 0-62 in 11.2 seconds with the manual gearbox.
The 1.0-litre engine, meanwhile, takes 15.9 seconds to cover the same 0-62 sprint when paired up with the manual. Opt for the automatic gearbox, and it takes almost 17.0 seconds. Painful.
Despite there being no diesel option, running costs are low. The range topping engine can return as much as 67.3mpg economy, which is what the 1.0-litre petrol also manages. Insurance, meanwhile, is dirt cheap, with the car sitting in groups 2 and 3 out of 50.
Inside, the Smart ForFour is as cosy, cute and customisable as ever. It's bright and colourful, and has more standard kit than last time. The overall quality is better, too, and with more sound deadening materials it isn't as loud (it's still fairly loud, though).
The dashboard is easy to get used to, and while there are one or two darker plastics, there are far more brighter ones.
No one expects this car to be super duper practical, but six-foot tall adults should have more than enough room upfront. Access is made easier by wide-opening doors, but taller adults will struggle for both leg and headroom in the rear. You can adjust the rear seats, but this adjustability is primarily in place to make the boot bigger. It measures 185-litres, and can be increased to 975.
There is no lip and its opening is large. Apart from that, storage spaces in the car are sparse and decidedly small.
Price:
Mitsubishi – £12,175 – £14,755
Smart – £10,500 – £20,700
Mitsubishi Mirage Hatchback vs Hyundai i20
The new Hyundai i20 is a handsomely styled supermini that's affordable and spacious.
On the road, the car is pleasant enough. Decent body control and good handling are characteristics you look for in a ca like this, and it's got them in abundance. Body lean is minimal in bends, but we'd caution against buying the i20 if you're a keener driver. It's just not much fun.
For the purpose of this review, we're focusing on the 1.0-litre 5dr petrol engine. It's the smoothest and punchiest in the range, develops 99bhp, and can do 0-62 in around 11.0 seconds flat. That's impressive. However, it's only available with the higher spec models, and is consequently more expensive to buy.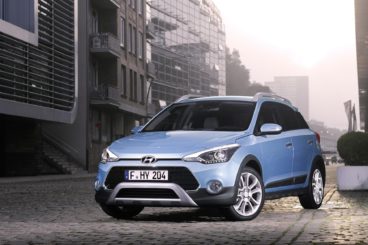 There is also a 118bhp variant of this 1.0-litre engine. It comes paired up with a 6-speed manual 'box, and does 0-62 in 10.2 seconds.
In terms of running costs, the Hyundai i20 fares well. The 99bhp variant returns 65.7mpg economy, and emits less than 100g/km of CO2. However, those numbers are subject to change if you go for the bigger wheels.
Stop-start technology also helps the bigger 118bhp return respectable economy, and it averages 58mpg.
It's a bit more expensive to insure than the Mitsubishi and the Smart ForFour however, and sits as high as insurance group 11.
Inside, the cabin is hit and miss. It literally can't be beaten in this class for legroom, but the interior design is a bit underwhelming. It's smart, but it lacks the elegance and overall quality of rivals.
The dashboard, for example, looks pleasant enough. But touch it and you'll know what we mean. It feels cheap. The higher spec i20 models get a touchscreen system, but the lower-spec models miss out, while you can choose from four different interior colours.
As mentioned, legroom is class-leading. The car is bigger than last time, which means the 326-litre boot is one of the roomiest in this class. It has a wide, deep shape too, while its lip is slight. The 1.0-litre petrol model gets a variable-height boot floor, too.
Price:
Hyundai – £11,600 – £17,600
Verdict Of Our 2017 Mitsubishi Mirage Hatchback
The Mirage doesn't do a lot wrong, but it's up against quirkier rivals who've got more of the fun factor nailed. And that might be the deal breaker. Because while it's affordable to buy, efficient, spacious and green-minded, the new Mitsubishi Mirage doesn't have anything that helps it stand out in a competitive sector.

Latest posts by Will Titterington
(see all)