Salary Sacrifice portal: how do I use it?
What is the salary sacrifice portal process? 
How do I start a quote?
How do I change my details on the salary sacrifice portal? 
Can I see the order updates? 
Has your employer offered you a salary sacrifice scheme? Are you ready to get the ball rolling and order your new EV with OSV? Today we're taking you through a step-by-step process of how to use OSV's salary sacrifice portal. 
What is the salary sacrifice portal process? 
First things first, you will need to register your account on the salary sacrifice portal before you can access anything like vehicles available and price quotes. To do this visit the portal and simply enter basic details including your name, email address, number, salary and so on.  
Before an employee can use the OSV portal, the business they work for must have signed up. If they have not done this, read this guide on convincing the boss to sign up to salary sacrifice. 
You will need the company number of the business you work for. If you are unsure about this, get in touch with your employer to confirm the company ID before registering. 
The process starts by selecting your electric car, amending the contract to your needs and adding any extra features. Once you've done this you will receive a quote and you can order your car!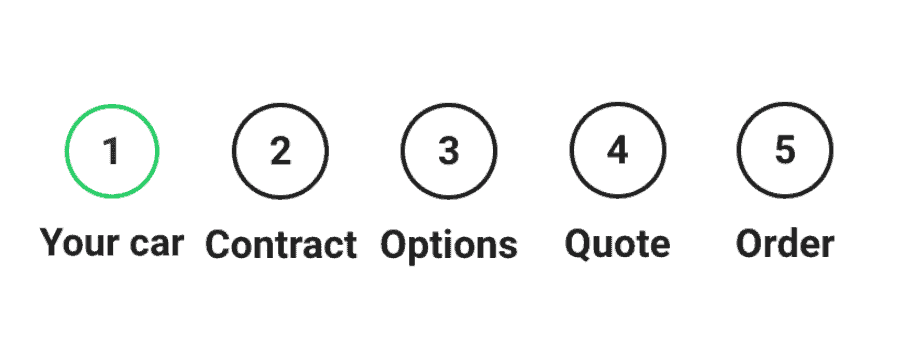 How do I start a quote? 
Once you have signed up to the OSV Ltd salary sacrifice portal, you can begin your vehicle journey.  
Let's use the case study of John Smith, the financial advisor for OSV Ltd.
Once John has signed up he is met with the welcome page, as seen below. We recommend reviewing the 'Account Summary' section on the right, to ensure all details are correct.
Once John has checked this, he can browse the electric vehicles on offer by selecting 'Start a Quote'.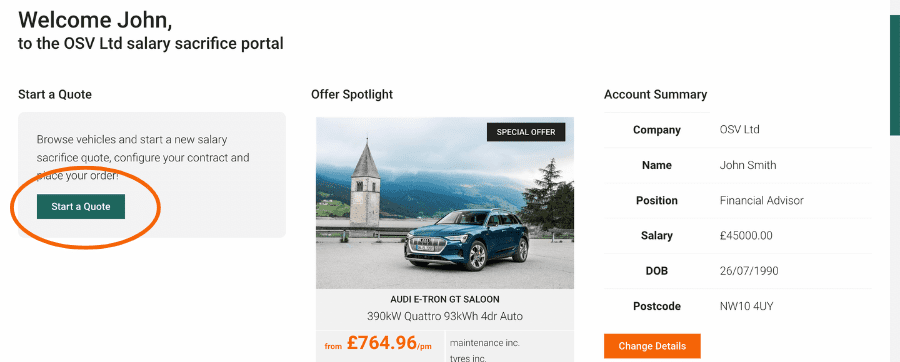 This will take John to the 'Select your vehicle' page. Here he can filter cars by make, model, body type and offers.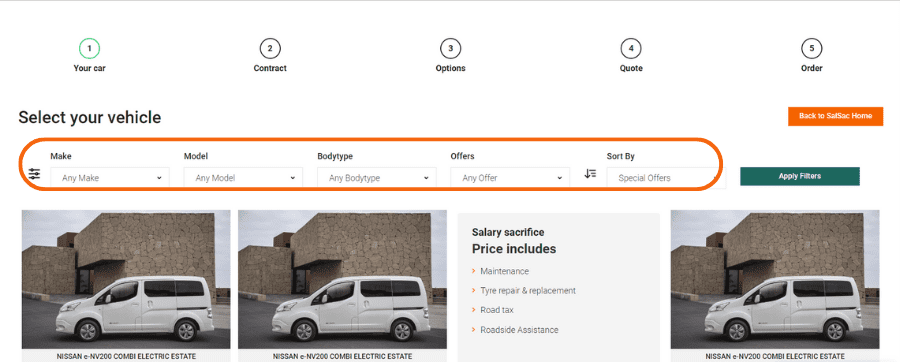 Or he can sort by special offers, in stock, electric range and high or low pricing.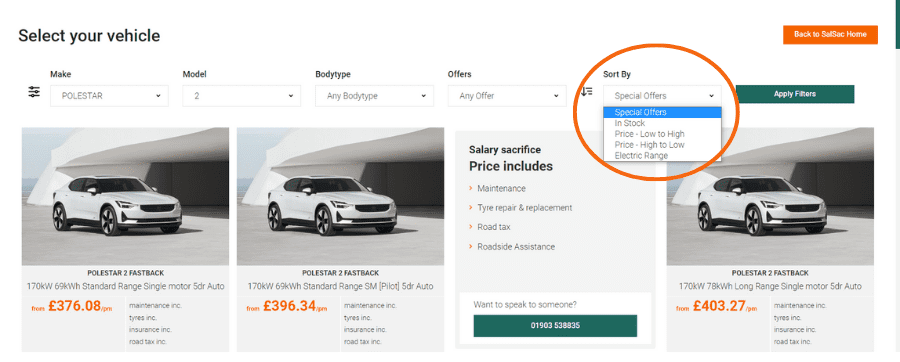 John wants a Polestar 2, because they are amazing – in his opinion. He filters the make and model to Polestar 2, and a page of offers shows. He selects the £376.08 per month offer.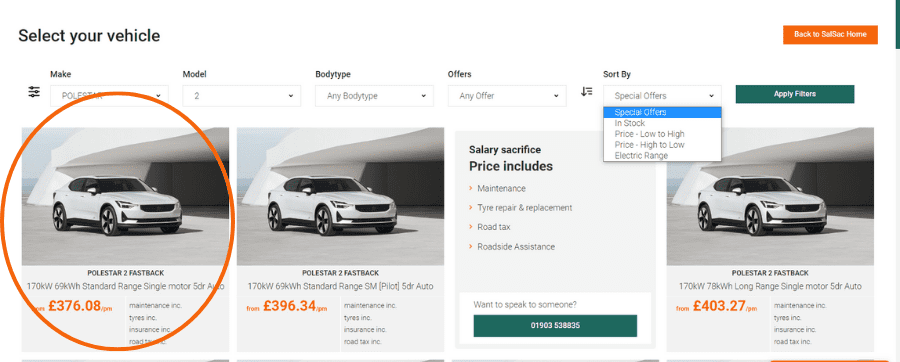 Once selecting this car, John is taken to a page outlining the contract details. Here he can alter the contract to fit his needs.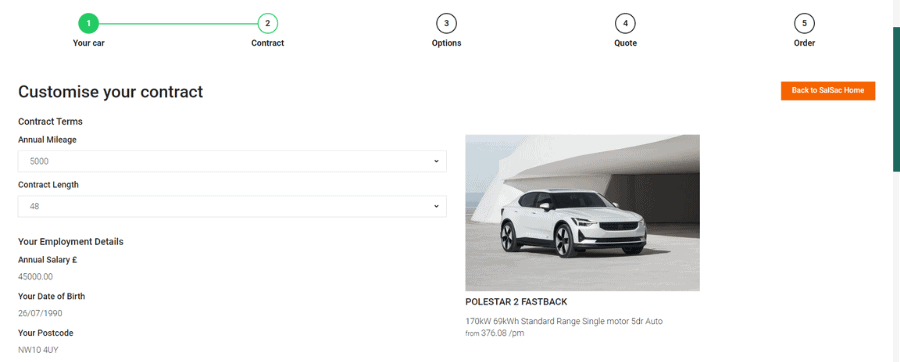 John can alter the annual mileage. We advise choosing between 5,000 and 8,000 miles for the average driver. You can increase this during the contract, subject to additional mileage charges and the employer and leasing company's approval. 
Some conditions do apply, get in touch with us for further information.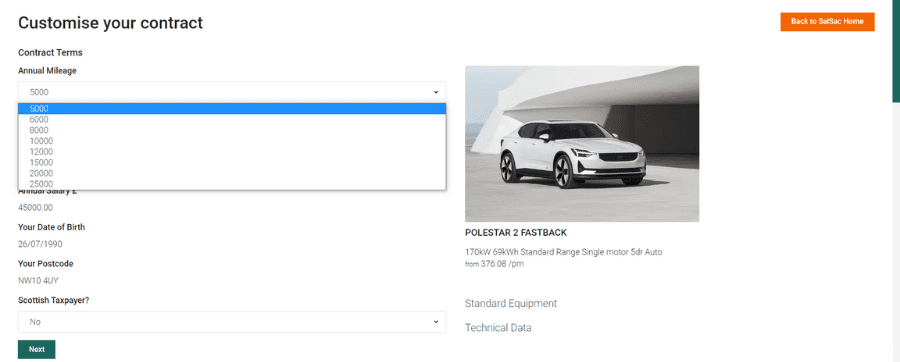 John can change how long he has the car. The bare minimum is 2 years and the maximum is 4 years.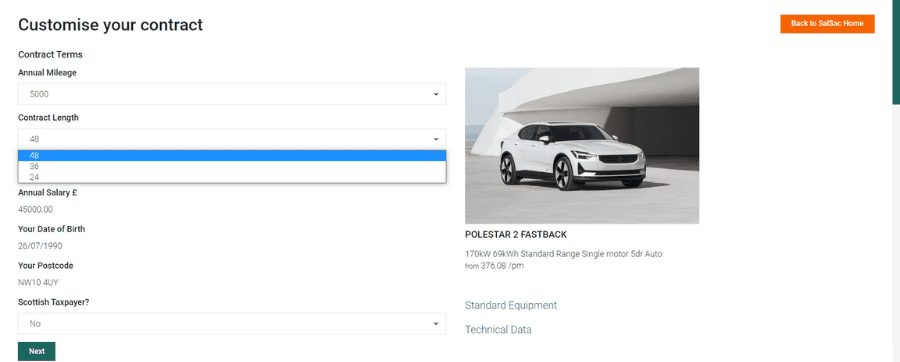 For more information about the vehicle, John can select 'Standard Equipment'.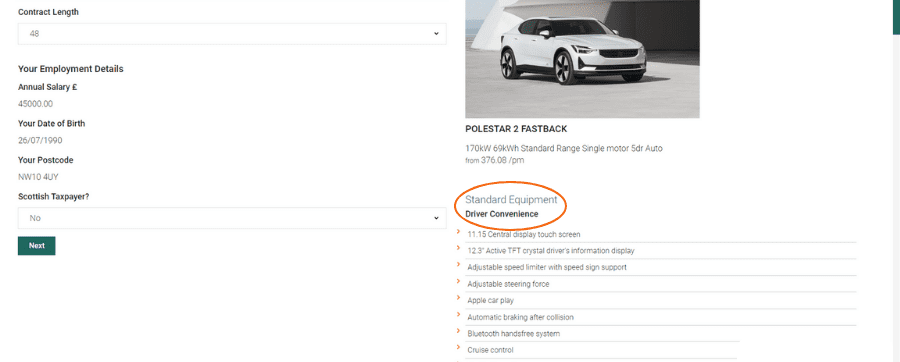 If John wants to know more of the technical data, he can access this by selecting 'Technical Data'.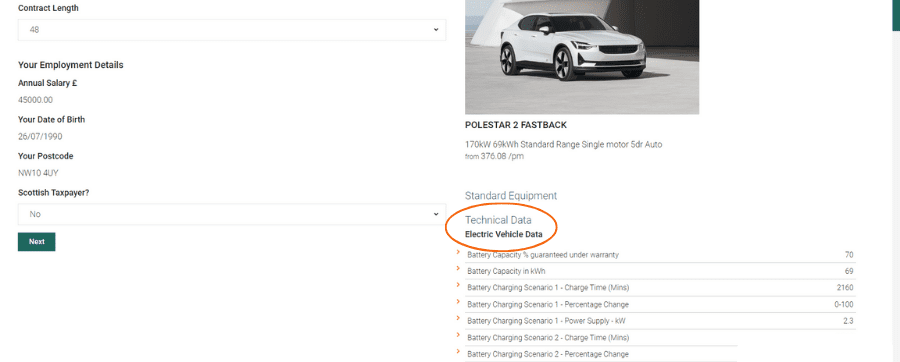 Once John is happy with the overall contract including the annual mileage and contract length, he can go to the next stage of the journey – added options.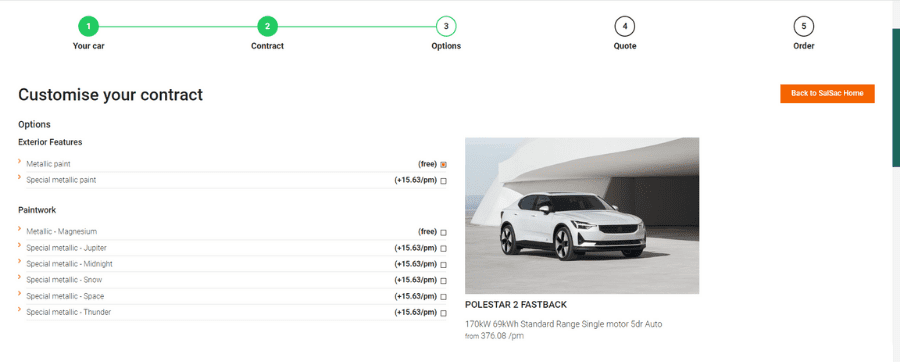 Optional extras variate between different vehicles. For the Polestar 2, this ranges from types of paintwork, wheels and interior trim. This is the final stage before requesting the quote for the vehicle.
After John has selected all the extras he would like, now is time to select 'Get Quote'.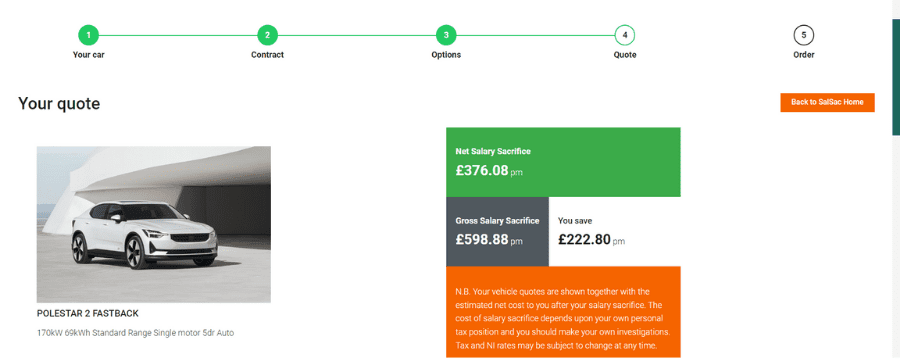 If you are not satisfied with the final quote, you can go back and make changes to the contract and added features to amend the final price.
This is a good way to visually see and test what you actually need versus what you would like.
This page also clearly shows how much John is going to be saving by getting the Polestar 2 through salary sacrifice and how much it deducts from his salary.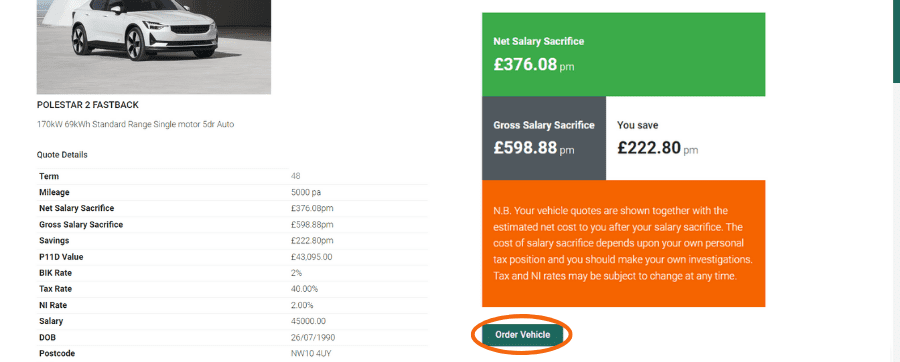 Once John is satisfied with the quote, he can go ahead and order his Polestar 2!
Before the final order submission, John should read and review his order form, ensuring all personal, vehicle and contract details are correct and he is happy.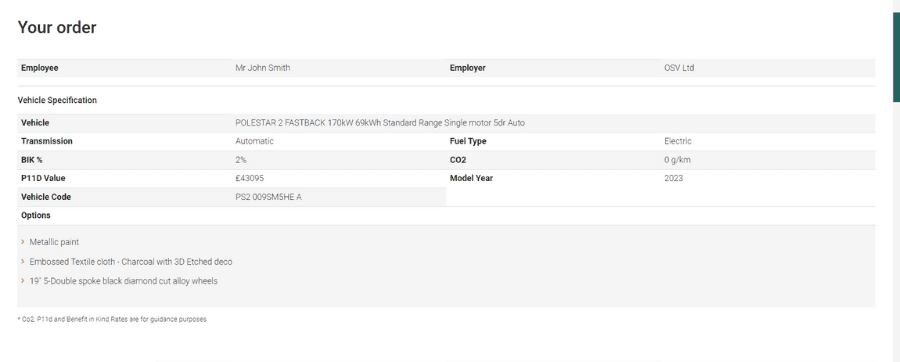 Next, it's important to read the terms and conditions including cancellation rights. We recommend thoroughly reading this before submitting the order.
If you require any further information or have any questions about this, please contact your dedicated account manager who will help.
Once everything has been read, checked, and signed (electronically) and the order form submitted, then you are done!
Your employer will be sent details of your order for approval. Once your order has been approved you will be sent confirmation of your order details. 
How do I change my details on the salary sacrifice portal? 
Changed your name? Moved address? Prefer to use a different email? Not to worry.
You can change your details at any point whilst in a salary sacrifice scheme.
To do this, simply visit the homepage of the OSV Ltd salary sacrifice portal. On the right under 'Account Summary' select the orange button 'Change Details' (as seen below).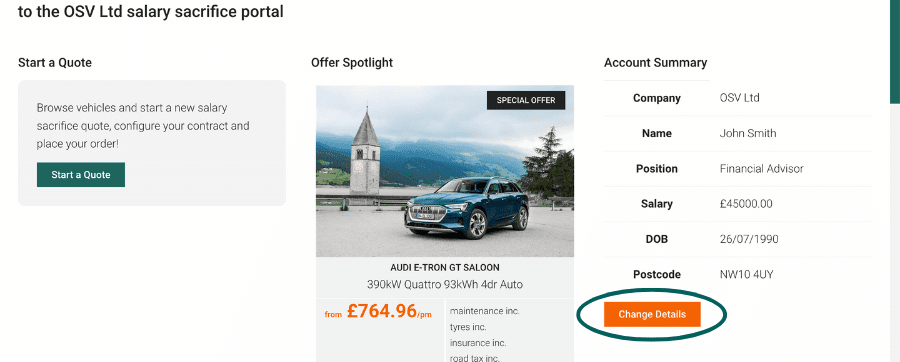 Can I change my contract details after ordering a car?  
Up until the finance documents are signed by your employer you can change the contract details including the mileage and contract length.
But once the vehicle has been delivered, the only thing that can be changed is your mileage allowance which can be increased subject to approval by your employer and the lease company.
By increasing your mileage your salary sacrifice contribution would also increase. 
Can I change or add optional extras after ordering a car?  
This depends on the stage of production of your vehicle. You should contact your account manager to discuss if any options exist.
A vehicle which has been manufactured cannot be changed, this is also known as a 'stock' vehicle.
Vehicles which have not gone to production may be able to be changed, although this may affect waiting time for the vehicle. 
Can I see the order updates?  
Once the order has been placed with the manufacturer, you will be given access to your own vehicle update portal.
Here you can see status updates on where the vehicle is and how it's progressing.  
Fed up with looking for your next vehicle?
Need advice from an experienced Vehicle Specialist on what vehicle is right for you?
Book your FREE consultation now