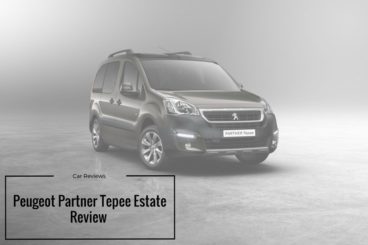 Review Of The Peugeot Partner Tepee Diesel Estate
The new Peugeot Partner Tepee Diesel Estate is a solid alternative to a conventional family car. It might not be much fun on the road, but it's well stocked-up with kit, and super practical and versatile.
It's essentially a van-based people carrier, so if you can get past its looks, this could be the best family car you've ever owned. It's affordable to run, and makes for the perfect way to get you and the kids from A to B and beyond. It's dependable, rugged, and ready to solve all your interior space issues.
OSV takes a closer look at what it's all about with our 2017 Peugeot Partner Tepee Diesel Estate review.
No, it's not much fun to drive. It's tall, looks like a van, and there is excess body lean in bends. Moreover, its gearbox is clunky and its steering is heavy. That said, no one will be looking at a car like this for the way it handles. In the town, on the motorway and on the way to your kids' sports practice, it's more-than competent.
Its high centre of gravity and raised driving position make you feel like you're driving a van. But we reckon this is a small compromise most buyers will be prepared to make for what is otherwise an excellent people carrier.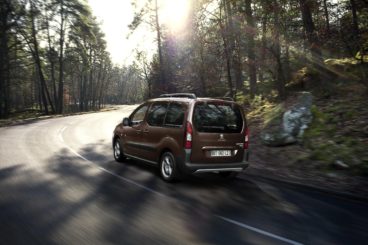 The engines are punchy, too. Both diesels are sized 1.6-litres, with the most powerful Blue HDi 120 completing the 0-62 dash in just 11.4 seconds. For a vehicle of this size, that's impressive.
On a full load, both diesels will feel a bit more overwhelmed, but they cope better than the petrols, which we've reviewed separately.
Peugeot Partner Tepee Diesel Estate Interior, Design & Build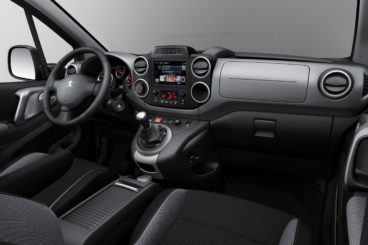 From the outside, the Partner Tepee Estate isn't much to look at, and there are all kinds of giveaways that it began as a van.
The cabin isn't the sexiest you'll ever see either, but drivers will be impressed by its functionality and ease of use. Everything is logically arranged, with all the important dials and controls within easy reach.
And anyone who assumed the Peugeot Partner Tepee Diesel Estate would be totally devoid of character would be wrong. The mixture of different plastic finishes, texture and colours help to give it a sprinkle of personality, although it also makes it look a tad uncoordinated.
Still, although it's not the most stylish cabin you'll ever sit inside, it's durable and easy to use. And that's what's important here. Moreover, there are a couple of attractive flourishes here and there, with the circular air vents being our favourite.
Fit and finish isn't the best, but befits a rugged van-based people car, while the plastics are hard. There is no evidence of soft-touch plastics, however, so if you want a bit more luxury and value, you'll have to look elsewhere.
In terms of how practical the Tepee is, this is the area where it excels. Its boot measures 675-litres when all five seats are up, and this can be extended to a whopping 3,000 when the rear seats are folded.
The rear seats are versatile, and can be split or folded, or they can tumble or recline. And because the roof is so high and the floor so flat, loading your luggage will be a cinch.
Despite being classed as a car, its interior has the vastness of a van. You can add two extra seats and turn it into a seven-seater if you wish, and head and legroom is good for all. The sliding doors make access easy, there are cubby holes everywhere as well as under-seat drawers, and roof rails are standard on all models.
Equipment & Safety Of The Peugeot Partner Tepee Diesel Estate
Standard kit is good, with even the entry-level models getting 15" steel wheels, sliding rear doors, power steering, as well as an MP3-compatible CD player. The S models add electric heated door mirrors and front fog lights, while the Outdoor trim rounds things off with air conditioning, 16" alloys and cruise control.
Although it hasn't been crash-tested by Euro NCAP, its sister model the Citroen Berlingo MultiSpace bagged three out of five stars when it was put through its paces. Standard safety kit includes air bag's, brake assist, reinforced rollover protection, and ABS.
Costs Of The Peugeot Partner Tepee Diesel Estate
Prices for the new car start out from £16,600 and rise to £20,900. If you prefer to lease, you can pick up a deal from £221 + VAT per month. For more information on our leasing deals, check out our page here.
In terms of its running costs, its economy is respectable. The 100bhp BlueHDi diesel engine is able to return 67.3mpg while emitting 112g/km of CO2, while the 120bhp version of the same engine averages 64.2mpg and emits 115g/km.
The smallest petrol engine, meanwhile, struggles a bit, and returns just 44.1mpg at best. It also emits close to 150g/km of CO2.
Both insurance and servicing costs are reasonable, with Peugeot offering fixed-price deals for servicing.
Pros and Cons Of The Peugeot Partner Tepee Diesel Estate
It's Practical
Its usability is the Peugeot Partner Tepee's biggest strength, with a 3,000-litre boot when all seats are folded is a massive highlight.
Can Fit Seven Seats
You can stick to five seats, but the seven-seater offers terrific value for money. The seats can be folded, split, reclined or tumbled.
Affordable Diesels
The diesels are willing runners, and can return over 67mpg.
Boring To Drive
If you can cope with a drab driving experience, its predictable nature will be easy to live with. For everyone else, you'll be pining for more entertainment.
Expensive Petrols
The higher-spec models get increasingly pricey. Moreover, even the basic petrol engine can't return more than 44mpg economy.
Peugeot Partner Tepee Diesel Estate vs Citroen Berlingo MultiSpace vs Fiat Doblo Estate
Let's see how the car measures up against it rivals in the comparison section of our 2017 Peugeot Partner Tepee Diesel Estate review.
Peugeot Partner Tepee Diesel Estate vs Citroen Berlingo MultiSpace
The new Citroen Berlingo MultiSpace offers excellent value for money. Prices start from just £16,600, and for that you get plenty of interior space, massive boot, and lots more usability for the whole family.
It doesn't lead the way when it comes to performance, but that was never the point of this MPV. Moreover, while it's not super quick, it's competent, dependable – and even sprightly in the right conditions.
Opt for one of the bigger options, and you'll also find that grip is excellent in slippery conditions.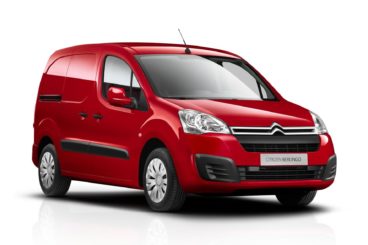 In terms of its engines, the 1.6-litre petrol engine kicks things off. It delivers just 94bhp, which doesn't sound a lot. But if you're operating on a strict budget, it should be enough. A peppier, turbocharged 1.2-litre 108bhp engine is your other petrol choice.
Diesels suit the car better, though. The BlueHDi 100 diesel develops a relaxed 98bhp, and makes good progress, covering 0-62 in 12.4 seconds. It's economical too, and can return 65.7mpg.
The bigger BlueHDi 120 diesel will prove its worth in tougher conditions. It produces as much as 118bhp, does 11.4 seconds and is a worthy purchase if your budget extends far enough. It also won't rinse you at the pumps, and can return a reasonable 64.2mpg. Bear in mind that these numbers are only possible if you specify stop-start and stick to the manual transmission.
The 1.6-litre petrol engine is the costliest to run. It returns 44.1mpg at best, and emits as much as 148g/km of CO2. We prefer the turbocharged 1.2-litre petrol, which averages 55.4mpg.
Inside, you can't expect too much from the van-based Citroen Berlingo MultiSpace. That said, its van origins means you get plenty of interior space, with head and legroom good enough for all seven adults if you opt for the 7-seater version.
The dashboard isn't much to look at, and is as functional as these things come. Citroen jazzed it up in 2015 with a facelift, and the range-topping Flair model gets a modern 7" touchscreen. Overall, though, the aesthetics are crude and there will be too much greyness for some buyers.
Still, the main reason we buy cars like the 2017 Citroen Berlingo MultiSpace is for their practicality – which this one has in abundance. You can go for either the five or seven-seater variant, with both offering more than enough room for all. The massive sliding doors make access easy, there are storage areas everywhere, and the boot measures 3,000-litres once all the rear seats are folded.
With five seats in place, it measures 675-litres – which is still awesome.
Price:
Peugeot – £16,600 – £20,900
Citroen – £16,600 – £20,865
Peugeot Partner Tepee Diesel Estate vs Fiat Doblo Estate
The award for the most unattractive car name must go to the Fiat Doblo Estate. Unfortunately, its boxy shape means it also looks decidedly unappealing. It is, however, massively practical.
With prices starting from just £14,240, it's also hugely affordable. On the road, though, it's mostly unpleasant.
There aren't many engines to choose from – just a solitary petrol and a diesel that's available in two separate guises. All feel nippy, though the fastest one is by far the 1.4-litre petrol engine that develops 95bhp and does 0-62 in 11.3 seconds.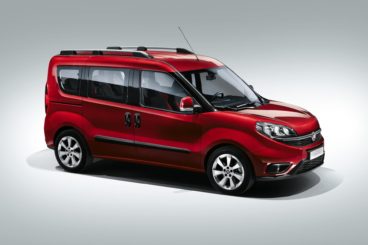 The 1.6-litre diesel covers the same stretch in 13.4 seconds, but it does feel faster than those numbers suggest.
The biggest issue the diesel has is that it's noisy. Work it hard – and you need to work it hard – and it will moan and groan. It's hardly becoming of a family car, but you get what you pay for.
In terms of how it handles, the Fiat Doblo Estate isn't actually all that bad. Accurate steering and sharp handling are positive attributes, as is the amount of grip on offer. Moreover, body roll has been reduced, and visibility is good.
Economy is decent, but not as good as the Peugeot or the Citroen. The 1.6-litre diesel is the most frugal, but returns of 51.4mpg are miles off the class best. It also emits as much as 144g/km of CO2, which results in a yearly road tax bill of £110.
The 1.4-litre petrol engine fares worse, averaging 39mpg and emitting 165g/km.
Inside, the Fiat Doblo Estate will have everything families operating on a budget need. Soft suspension means it absorbs lumps and bumps well, and insulation is good. You get to choose between a five-seater and a seven-seater, and leg and headroom is good. Even better, all the seats are comfy.
The only dampener is the quality. The Doblo is pretty old, and its cabin looks dated and functional. Again though, we don't think budget-minded families will mind that too much.
It's super usable, too. Add seven seats and leg and headroom remains good for all, while the boot outdoes both the Peugeot and the Citroen by extending to 3,200-litres when you remove all the rear seats.
Even with five seats in place, you still get 790-litres of boot space. A parcel shelf is a bonus, and can hold up to 70kg. The rear doors are sliding, making access easy.
For seven seats, the 2017 Fiat Doblo Estate simply can't be beaten when it comes to value for money. However, the major elephant in the room is its Euro NCAP crash test score of just 3/5. Its safety kit also does without autonomous emergency braking.
Price:
Fiat – £14,240 – £21,200
Verdict Of Our 2017 Peugeot Partner Tepee Diesel Estate
It's based on a van, still looks a bit like a van, and drives kinda like a van. However, the new Tepee still has a lot of appeal to families who care more about usability than aesthetics.
Its diesels are cheap to run and affordable to buy, there is room for seven people, and the boot measures 3,000-litres max. The new Peugeot Partner Tepee Diesel Estate might have zero sex appeal, but it has its own charm and won't let you down.

Will Titterington is a freelance writer, video editor and all-round content creator based in Manchester, UK.

He believes that words can take on a transformative aspect and wants to help people make better decisions today.

His influences as a writer include Hunter S Thompson and Jack Kerouac, while among his interests outside writing are music, art, foreign films and football.

He'd one day like to own a Tesla, and still holds a candle for the Ford Capri.

Latest posts by Will Titterington (see all)