Toyota Hilux – it's a legendary name in the world of pick-up trucks. Well, the original tough guy pick-up truck is back. Originally launched way back in 1968, it's been twelve long years since the last fresh Toyota Hilux arrived, and with the pick-up market really evolving in the last year or so, the pressure is on Toyota to deliver a quality product that can go up against some improved and developed rivals. It also has to fend off predators that are yet to emerge – Mercedes-Benz and Renault both have their development teams working on pick-ups – so the legendary Toyota Hilux has to be prepared for the future too.
Having previously been powered by a beefy 3.0-litre diesel engine, the headline surrounding the new Hilux is the introduction of a new 2.4-litre diesel engine. Producing 150PS and 295lb ft of torque, it isn't exactly lacking in grunt. It also produces more torque than the outgoing 3.0-litre unit, but it is the only engine offered with the new Hilux and anybody needing more pull may be forced to look elsewhere. Outside of the EU a more powerful 2.8-litre unit is offered, but the strict rules on emissions have prevented it from being obtainable to buyers here. For most customers the new lump will be plenty enough, so unless you've got some serious shifting to do, don't be put off by the loss of some cylinder displacement.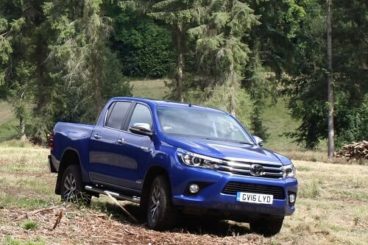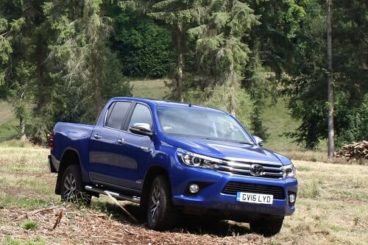 Toyota has worked hard on delivering an improved driving experience with the new generation of Hilux – and it's had to, as the improvements of road manners across the truck segment generally means new models now have to drive like cars. The improvements have certainly worked, for a vehicle that doesn't come with independent suspension – something that's not uncommon in trucks; it is very comfortable and handles the road with a great deal of composure.
While it's not the most exciting thing to drive on a road, it offers a different kind of experience altogether for those buyers new to the pick-up segment. In their own unique way, trucks like the new Toyota Hilux are actually rather good fun to drive, feeling imposing and powerful but very easy to wield and get around in.
The steering is light and all of the controls are all easy to operate, just like a normal car, which may come as a surprise to some. It's a bit like picking up a sledgehammer and finding it to be lighter than you thought.
Obviously, being a Hilux means it is highly capable when the roads disappear, and there aren't many other vehicles civilians can buy that can deal with terrain this wild. Of course, there are the off-road standard front and rear differentials that help pull and push you through the course, but there are also selectable driving modes to assist with grip. Rest assured, when it gets really tough, the new Toyota Hilux is one of the most capable and dependable vehicles out there. No wonder you see so many guerrilla factions modifying them for use in warzones.
Interior, Design, and Build
Now, it's fair to say the Toyota Hilux is known as the rough old shire horse of the Toyota stable, but the new interior is a pleasant surprise. Being a truck, it has to be fairly simple – and it is – but, the build quality, layout, and design make it a very pleasant environment to find yourself in. The interior design is straightforward and befitting of the no-nonsense personality the Toyota Hilux naturally has; everything is where you'd expect to find it and, of course, all the controls are easy to operate.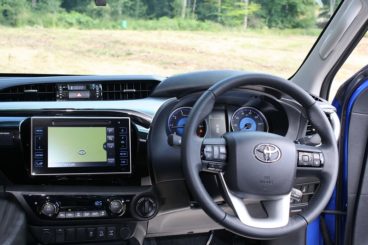 There's no real room for flair in the exterior design of a pick-up, so manufacturers tend to focus on making these trucks look strong and bold. The new Toyota Hilux has a far stronger 'jaw line' than the outgoing generation, it appears more imposing, wider, and wears a more confident face.
It seems almost a little needless to talk about the build quality of a Toyota Hilux. It feels as if it could withstand an explosion, and you certainly won't be worried about it breaking when you're out on the road. After all, watching a Toyota Hilux driving on tarmac is like seeing a mountain goat walk across a field.
Gone are the days where a Toyota Hilux's equipment would consist of a steering wheel, a gearbox, and some pedals. The technology revolution has swept into every corner of the car market and the new Hilux has some pretty handy bits of tech to help you out. Sadly, the most importance piece of tech is also the most frustrating. Toyota's 'Touch 2' infotainment system behaves much like a hungover friend in the morning, requiring substantial prods to get it to do anything. In this day and age, there isn't really an excuse for systems as infuriating as this.
On a more positive note, the safety equipment is valuable and most welcome. Toyota's 'Safety Sense' is an optional extra on trim levels 'Active' and 'Icon', and consists of a pre-collision system, pedestrian detection, road sign recognition, and a lane departure warning alert. This sort of technology can save lives, so if you have the budget; it's worth ticking the box.
Toyota Hilux: Cost, Pricing, and Leasing Rates
Here we reach the first downside to the new Toyota Hilux – its price. Starting at £22,955, the new Hilux is a pricey pick-up, and if you go for top-spec 'Invincible-X' trim, you'll be looking at a near £34,000 price tag next to your naff superhero-named truck.
The upside to the higher cost is that the Hilux tends to have a higher residual value than its rivals, and, as such, often makes for a good business purchase. Put down around £1800 and you can get a new Hilux 'Invincible' – the penultimate trim level – for around £300 a month doing roughly 10,000 miles a year on a Contract Hire. Naturally, if your mileage is higher the monthly figure will increase.
Private buyers will need to dramatically increase the deposit to get close to this monthly figure if buying on a PCP method. Be prepared to put down around £7,000 for a similar 'Invincible' trim Hilux.
As a side note, Toyota offers an excellent five-year 100,000-mile warranty on all new Toyota Hilux's, and for those of you who feel indecisive, there's also a three-day test drive facility available at dealerships.
Pros And Cons Of The New Toyota Hilux
It's Tough
It's almost impossible to name a vehicle tougher than a Toyota Hilux that isn't only available with a camouflage paint job. The new Toyota Hilux has been designed to survive dense jungles, frozen arctic tundra, and endless deserts, so your local B&Q carpark shouldn't be too much trouble for it.
It Looks Cool
Excuse us for regressing back into our seven-year-old selves here, but pick-up trucks just look fantastic. They're like Tonka toys you can climb inside and drive around; and the new Toyota Hilux has a strong, masculine appearance and looks like something an action hero would drive – admit it, you love it too.
It's Reliable
Because a truck like a Toyota Hilux has been designed to cope with extreme scenarios and difficult conditions, it should be as good as anything else out there when it comes to getting the job done. A Hilux is built to last, so you can bet it won't let you down when you need it the most.
It's Expensive
Starting at £22,955, this is one of the more expensive trucks out there, and it occupies a segment that is getting more competitive as each day goes by. Cheaper trucks are out there, and they can do nearly everything the Hilux can.
Only One engine Option
Not the end of the world for most buyers, but the poor bloke who needs loads of grunt to pull around specialist construction equipment, mining gear, or his mother-in-law will now need to look to Toyota's rivals to find a bigger and more powerful engine.
Frustrating Infotainment System
We live in a world where budget smartphones for under £100 are more responsive than the touchscreens in a £30,000 car. There really isn't an excuse for this sort of thing, and manufacturers ought to do better. The touchscreen is as tough as the Hilux's 4WD system, but as it isn't bullet – or even chisel – proof, we can't list it as a pro.
Toyota Hilux vs Nissan NP300 Navara vs Mitsubishi L200
With loads of pick-ups to throw down the gauntlet to the new Toyota Hilux, the Japanese brute will have to show why it's the go-to truck. So, let's compare it with two key foes – the Nissan NP300 Navara and the Mitsubishi L200.
Toyota Hilux vs Nissan NP300 Navara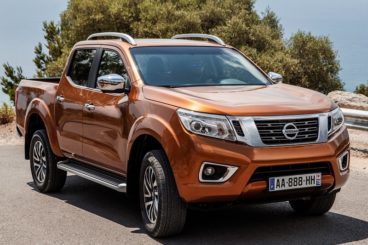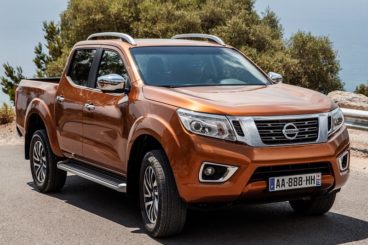 Nissan's Navara has been a consistent rival for the Toyota Hilux for quite some time now, but never has it been as strong as it is now in the shape of the new 'NP300'. Silly code names aside, the Navara is a drastically improved package now, benefitting greatly from Nissan's strides into efficient diesel engine technology.
The Navara is one of the most efficient and refined pick-up trucks out there, with excellent road manners for a vehicle primarily born into the world to tackle other terrains. The excellent twin-turbo version of the 2.3-litre diesel engine trumps the Hilux on power with its 190PS output and will keep you away from the pumps a bit longer, being more efficient.
The Navara has a slightly different character to the Toyota Hilux, focusing more on passenger comfort and ease than the new Toyota Hilux's rough, tough, ready-for-anything approach. It is slightly more expensive at the lower end, but slightly cheaper at the higher end of its trim levels. And with the focus more on comfort, we've a feeling that it may appeal more to buyers who do a higher mileage.
Prices
Toyota Hilux – £22,955 to £33,765
Nissan NP300 Navara – £22,995 to £31,845
Toyota Hilux vs Mitsubishi L200
These two are far more similar in spirit to each other than the Nissan NP300 Navara. Mitsubishi's L200 was the first of the 'next-gen' pick-ups to appear on the market and when it did, it set a new standard for what is expected of a mere truck. In a way this has also given it a disadvantage though, as the other manufacturers know exactly what to aim for and exceed in terms of capability and performance.
Despite that, the new L200 is still a fantastic pickup.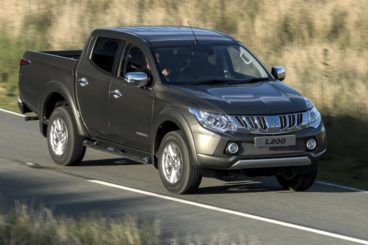 It is remarkably easy to drive on and off road – simple in the best possible way, not as intimidating to drive as its looks suggest – it would actually be a good choice for somebody in the 'my first pick-up' camp. That being said, it isn't quite as refined as some of its rivals now, the Nissan in particular has surpassed it as a refined cruiser.
It's difficult to separate the new Toyota Hilux and the Mitsubishi in driving, but the L200 does come with the option of a more powerful engine, a 180PS option is available for those with bigger loads to carry around. It is also more economical than the Toyota Hilux – but only by the finest of margins. One margin that is considerably larger is the price difference. The L200 is many thousands of pounds cheaper than the Toyota Hilux in some cases, and money always talks.
To take off our sensible hat for a minute, it's easy to see who the winner is on style. The new Toyota Hilux is a far more handsome unit and looks the stronger of the two, and that counts for something.
Prices
Toyota Hilux – £22,955 to £33,765
Mitsubishi L200 – £19,749 to £23,749
Verdict on the 2016 Toyota Hilux
Off road, the new Toyota Hilux is about as good as it gets, but of course, off road is where the margins between it and its rivals are so fine – and as such, do they really matter all that much? This generation is by far the best Toyota Hilux on tarmac though, with a much better ride and improved cabin quality very much welcome.
Ultimately though, the new Toyota Hilux is more expensive and less economical than some of its rivals. And we're not sure that immense off-road capability and improved road holding is enough to stop it being under threat from the new breed of trucks due to be coming our way soon. As of this moment in time, the Nissan NP300 Navara has its nose ahead. The Toyota Hilux is a legendary name though, and the legend is living on – for now.
Looking For A Price For The Toyota Hilux?
Fill out the form below with your details, and one of our highly qualified vehicle specialists will be in contact within 24 hours.

Latest posts by Rachel Richardson
(see all)