Review Of The Porsche Panamera Saloon
Fancy a trip to the dump in a Porsche? Sounds bizarre. But the new Porsche Panamera Saloon is a gorgeously designed, highly desirable machine that's fast, fun to drive – and super practical enough to help with the chores.
Because these don't sell in great numbers, owning one always feels a bit special. And since Porsche have smartened up its previously in-cohesive looks, owning a Panamera now feels even more special.
So much prestige is invested in the badge, and despite this being a more practical Porsche than usual (it comes with ISOFIX child seat mounts), it's still got that bit of va-va voom that sets it apart from pretenders.
OSV takes a closer look at what it's all about with our 2017 Porsche Panamera Saloon review.
Despite being (kinda) a family car, the Panamera is built for speed. There are four engines available, and all offer more power than most buyers actually need.
In keeping with its sort-of "family friendly" nature, all models are easy enough to drive. It certainly won't rip your head off like a Porsche Carrera.
It's a big car that's quick in a straight line, but it's also surprisingly fun to drive on twisting country roads. Motorway cruising is a cinch, as is overtaking. You can choose between two and four-wheel-drive, with the latter models offering a formidable amount of grip.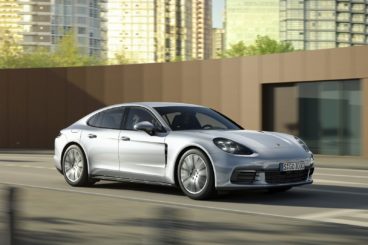 A new 8-speed dual-clutch PDK automatic transmission has been introduced for the new model, and it replaces the conventional stick that had already become dated. It shifts quickly, but the Panamera will jerk occasionally when the gearbox has trouble finding the right gear in traffic.
In terms of the engines, even the basic petrol model can do 0-62 in 5.7 seconds. This is a turbocharged 2.9-litre six-pot engine that produces up to 325bhp, and which can be got with either two or four-wheel-drive.
The 4S variant knocks power up to a mighty 434bhp, and increases the Panamera's 0-62 time to 4.4 seconds. Want even more speed? The Turbo model complies, with a 4.0-litre petrol engine that develops 542bhp, and which is able to gallop from rest to 62mph in just 3.8 seconds.
Remarkably, you can go 0.2 seconds faster whichever engine you choose by adding the brand's Sport Chrono package that comes complete with launch control.
There is also the option of a diesel engine that's arguably one of the quickest diesels you'll ever drive. It develops 416hp, and is able to complete the 0-62 sprint in 4.5 seconds. It actually feels even faster, and emits a joyous sound that enthusiasts will love.
Rounding off the range is the Porsche Panamera 4 E-Hybrid model that does 0-62 only fractionally longer than the diesel. Despite all that heavyweight performance, it has an official economy figure of 113mpg, and would have cost nothing in tax if registered before April 2017. It can run for 31 miles on a single charge at speeds topping 87mph.
Porsche Panamera Saloon Interior, Design & Build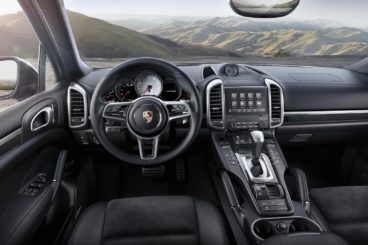 Inside, the Panamera's interior is a beautiful place to spend your time on the road. The seats are comfortable, the design is timeless, and the layout is logical and easy to get used to. There are two versions available, with the longer wheelbase able to offer a luxurious amount of legroom.
The dashboard makes one nod to the past and one nod to the future, with its rev counter analogue sandwiched between two high-res digital dials that show your cruise control and sat-nav readings. A 12.3" infotainment screen is standard on all models (there aren't any trim levels), and it's compatible with Android Auto and Apple CarPlay.
Rear seat passengers get their own touchscreen too if you add the £1,100 four-zone automatic climate control feature.
But while all these gadgets make the Panamera feel modern, some of the buttons are a tad difficult to operate.
Where the car really stands out is its family appeal. This might be a terrifically fast vehicle, but it's also practical. Although nipping to the dump in a Porsche sounds downright bizarre, it's a reality in 2017. And why not when you can?!
Head and legroom is good, the comfortable seats make longer journeys easy, and if you do need more room, you can opt for the longer wheelbase variant. The boot measures 495-litres, which is staggering for a Porsche – and good for this class. It's not the biggest in this sector, but you can fold the rear seats and extend it to 1,304-litres.
Go for the Hybrid model and you will need to live with a smaller boot.
Equipment & Safety Of The Porsche Panamera Saloon
There are no trim levels, so all models pretty much get the same amount of standard kit. The Turbo range gets treated to a few exclusive features of its own, but all models get 19" alloys, sat-nav, a 12.3" infotainment screen, keyless go, LED headlights and all-round parking sensors.
The list of optional extras is lengthy and expensive, but the £1,300 Sport Chrono package that adds 0.2 seconds to your 0-62 time will be popular. For £1,340 you can upgrade your seats, while a useful reversing camera can be picked up for £473.
It's a shame that the reversing camera isn't a standard feature, but standard safety kit does include lots of airbags, side-impact protection, ISOFIX child-seat mounts and electronic stability control.
The car also comes with reassuringly strong breaks that have titanic levels of stopping power.
Costs Of The Porsche Panamera Saloon
Prices for the new car start out from £70,900 and rise to £124,500. If you prefer to lease, you can pick up a deal from £920 + VAT per month. For more information on our leasing deals, check out our page here.
In terms of its running costs, buyers always have to be prepared for the worst when it comes to high-performance cars like the Panamera. Unsurprisingly, its economy doesn't make for pretty reading – but it's better than before.
The turbocharged 2.9-litre engine is capable of returning 37mpg if you keep things small (smaller alloys etc), and emits less than 180g/km of CO2.
The diesel unit fares even better, returning 41.5mpg at best. The hybrid, though, is the most economical in the range and has a claimed economy of 112.9mpg. Take that with a pinch of salt, though; in the real world, you won't get close to that figure.
All models are expensive to insure, with the cheapest petrol sitting in insurance group 46 out of 50.
Pros and Cons Of The Porsche Panamera Saloon
Super Refined
The extraordinary levels of refinement are what make this a luxury car.
Lots Of Interior Tech
There is some seriously eye-catching stuff inside here, from the 12.3" infotainment screen to rear-wheel steering (optional).
Massive Step-Up From Last Time
The Panamera has always been a good car, but now it's a truly upmarket one with luxurious ride quality and a want-for-nothing attitude.
Expensive
The price has gone up, which may make some buyers think twice. Moreover, no model sits below insurance group 46.
Just Four Seats
There is no room for a fifth passenger, which will disappoint some.
Porsche Panamera Saloon vs BMW Alpina Saloon vs Audi A8 Diesel Saloon
Let's see how the car fares against its rivals in the comparison section of our 2017 Porsche Panamera review.
Porsche Panamera Saloon vs BMW Alpina Saloon
The new BMW Alpina Saloon is – according to BMW – the fastest diesel production car on our humble planet at the moment. It shares its shell with the BMW 3 Series and comes with a cracking 345bhp engine that can do 0-62 in 4.6 seconds before topping out at 170mph.
The question is: Do we really still care about all that speed?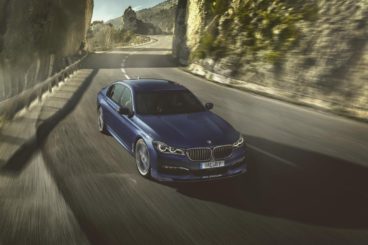 Performance diesels were all the rage a decade ago, but the numbers haven't really changed. This might be the world's fastest diesel, but it isn't really any faster than it was ten years ago.
Moreover, 0-62 in 4.6 seconds isn't even that fast in a world where the mega-tonne Panamera petrol can go faster.
Still, it's a satisfying car to drive. There is a sweetness and a precision to the steering, and the handling feels nicely balanced. Performance is effortless, and the ride feels nice and smooth.
There are different driving modes to flick through, with Comfort mode turning the Alpina Saloon into a calm and relaxing family car. Flick to Sport Plus, and the suspension primes itself for a bit more fun.
Disappointingly, the wheels are a bit fiddly, and the Alpina pin-striping won't be to everyone's tastes. They also give it away that this car is an Alpina and not really a BMW. It isn't four-wheel-drive, something that's going to frustrate a lot of you – especially when you consider how much torque it has.
It's also not really a sports car, despite looking like one, and despite it being the world's fastest diesel. However, its running costs tell you all you need to know about its manners, and BMW claim it can return 50mpg economy.
Standard kit is good, with the BMW Alpina Saloon getting 19" alloys, sat-nav, Bluetooth connectivity, automatic lights and wipers, heated adjustable seats and LED headlights as standard.
Overall, the BMW Alpina Saloon is a good package; it's suave, sophisticated, quick and composed.
Price:
Porsche – £70,900 – £124,500
BMW – £48,000
Porsche Panamera Saloon vs Audi A8 Diesel Saloon
The new Audi A8 Diesel Saloon is a powerful if unexciting-looking rival to the Porsche that's smooth, packed with tech, and affordable to run.
The driving experience is best described as enjoyable. It's not as fun as the Porsche or the BMW, but the Audi is composed, quiet, and can boast some sharp reflexes.
It's a heavy car, but a four-wheel-steering system has had such a positive impact on the way it handles that you're barely aware of its weight. It works by making the cars turning circle tighter, which improves agility in tight spots.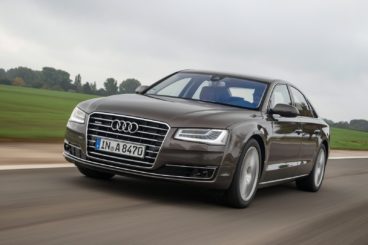 The suspension is typically firm for an Audi, but the ride quality is as smooth as it should be for such a car. Body control is impressive, and the steering is precise.
In terms of the engines, a 3.0-litre diesel unit will continue to be the best seller. It offers plenty of pulling power, develops up to 282bhp, and does 0-62 in less than 6.0 seconds. It comes with a mild-hybrid system (as all Audi A8 Saloon's do), which helps to keep running costs respectable.
If you need more power, a 4.0-litre diesel unit is on its way. It produces up to 429bhp, but no 0-62 times have yet been released.
The fact that both diesels feature a mild-hybrid system helps to offset the fact that the new A8 Saloon is actually heavier than last time. As a result, the 3.0-litre engine is able to return just over 50mpg economy. That said, it's likely that you'll be averaging 40mpg in real world conditions.
Inside, the A8's interior is a fantastic place to be. Insulation is excellent, something you notice as soon as you close the door. The clutter-free dashboard is on another level from previous Audi's, lush black gloss dominating the main body, while two screens – one 8.6" and the other 10.1" – sit on top of each other. Both are super user-friendly and come with virtual buttons that ensure ease of use.
As ever, the A8 gets the brands Virtual Cockpit Display, which has never looked crisper.
Is the car practical? It's the biggest saloon the brand has put together, but it wasn't built to be the most usable car in the world. There is enough interior room to get comfortable, but it lacks the versatility of an Estate. That said, it's designed to accommodate you and your passengers, and to give you an easy way to travel.
The boot, meanwhile, measures 505-litres.
Price:
Audi – £64,000
Verdict Of Our 2017 Porsche Panamera Saloon Review
This car has got so much better. Its platform is brand new, its engines are new, while the ride quality and levels of refinement make it a truly luxurious high-performance car. It's even more handsome than last time.
If you only need four seats, the new Porsche Panamera Saloon is a sharp, practical niche-car that – thanks also to its rarity on the road – will make you feel a bit special.

Latest posts by Will Titterington
(see all)